Welcome to bang I just stuck it up your bum.
In some ways it's stupid to have pumped out an update of this size. Whilst the servers have been upgraded over the past few months there is probably just too much in this one to withstand hundreds of thousands of deviants inhaling it all at once. But that's probably okay because I'm out of here for at least a couple of weeks so you'll have plenty of time to do exactly that.
-CLICK HERE TO SEE WHAT YOU MISSED LAST WEEK ON ORSM-
It's been a depressing end to 2014 for Aussies. Firstly, a few weeks ago there was the death of cricketer Phil Hughes who took a ball to the head, collapsed and died a few days later. A freak accident that was milked for all that it was worth by the fucktarded media. Second was a little boy who wandered out the front door of his home and vanished. People came from everywhere to assist the search before his body was found the following morning in a nearby lake. Every parent's worst nightmare and just so incredibly sad. Finally was the siege in Sydney earlier this week which we all heard (and no doubt have an opinion) about. I read that technically it satisfies the criteria to be classified a terrorist event but it realistically this was little more than mentally defective human garbage hiding behind religion... but what else is new? I remember scoffing at how sick and disturbed someone must be to send hate letters to families of dead soldiers. Hardly a shock when it was the same guy. We can only hope that his death was painful.
Thankfully my year wasn't terrible. Not compared to the previous 12 months anyway. Many lessons were learned and I'm looking forward to 2015 being a tad more relaxed. Tried hard not to harp on but I worked like a slave for almost all of it. 7 days, 4 nights and over 100 hours a week has just become the norm and it sucked. Have literally gone from one thing to the next. There was barely ever an opportunity to just chill out, see mates or even sit on the couch and watch a movie without falling asleep within minutes. Was all for something though - after god knows how long we finally finished building and are into our new home; something I'll never do again because a) the stress, b) its exhausting, c) relationship strain.
While all this was going on the GF was busy growing a baby so picking up the slack was punishing on occasion... maybe not quite so much as actually having the baby to look after though. She's about to hit 5 months and demands seem to increase by the day. A holiday certainly wouldn't go astray right now which is lucky because if you're reading this it means the Christmas break is underway. Speaking of which, we did sneak in a couple of escapes when no one was looking - Melbourne for a week early in the year and almost 2 weeks in Bali for the 'babymoon'... aka a stupid name for we need to GTFO of here for a bit.
As for Orsm... was definitely a tough road and you guys perhaps had your fair share of frustrations with a few things. I assure you much sleep was lost trying to work that shit out. Adding insult to injury the phone has rung frequently or I've often had to run off and do something or find a thingy or see someone or whatever which makes pumping out updates to a schedule ridiculously challenging. No Reader Mail all year was the unintended side effect of this but you guys will be happy to know I have an folder with well over 500 insanely awesome submissions waiting to be posted. And that's my goal for January - to post as many of them as possible. Beyond that Orsm will hit 15 years old and I'm starting to think long and hard about where things go from here. Feel free to suggest away!
Alright lets to get to the numbers. I tampered with the tracking code back in June. Still remains to be seen if I fixed or broke it but can milk enough info out to know that the majority of Orsm visitors come from the US and Australia. The busisest update was at the start of November. Also I'm glad everyone listened last year when I said to switch to Chrome browser - way more of you are using it than IE and FF. The top 5 most popular galleries were as follows:
Almost completely unsurprisingly the top 5 most smashed videos were all porn. You can enjoy them again by clicking the thumbs:
Also huge thank you to all contributors. I've fucking sucked at replying to email this year but do read everything that comes my way... eventually. Will try and be better in future or perhaps implement a different way for people to contribute. And finally a cheers to everyone who surfed on by. There'd be no point to all this if it weren't for you guys so keep coming, I'll keep updating.  
Alright. As mentioned above this update is stupid in size. Weeks of work go into a good Christmas update and this one has that little bit something extra - vids in the triple digits, images well beyond that. There's enough here to keep even the complainers occupied and amused so with that in mind... go forth and check it...
InsanoWatch This Insane Landlord Assault Her Tenant Then Accuse Him Of Rape - Bwahaha!The Garbage Truck That Got Away - Bikini SelfieBikini Girl Selfie Gets Turned Into An Amazing Mashup - Suck ShitMaybe Spend Less Time Trying To Act Like You're Cool Next Time - WeirdoWoman Signs Boyfriend's Private Parts Before He Leaves The House To Stop Him Cheating - CowaboomWhat Is It You Say? An Angry Birds Rip Off? Nope! - Real GirlsThe Motherload Of Amateur Girl Videos Will Keep You Busy Log Into The Night - Forever Alone32 Awkward Dating Site Profile Pictures That Guarantee You'll NEVER Find Love - Ffffuck!!Want To Propose? Don't Do This - Too DumbDo You Even Lift Bro? The Top-10 Gym Idiots That Should Find A Safer Hobby
Gun 'n RunIt's Simple - Kill Them Before They Kill You! - Want HerChadwick Tyler Fashion Nudity - Hot & PregNicole Trunfio Naked And Pregnant For Harpers - Boobs AhoyThose Boobs Makes Me Wish I Was Stranded On A Desserted Isalnd. Just Me And Her... - Anal FailPorn Newbz Anal Fail The Way Only Efukt Knows How - Topless DJYeah She's All Hot And Shit, But She Is The Furthest From A DJ As There Can Be - Morning WoodThere Is No Greater Use For Morning Wood Than Sticking It In Your Girl - CringeworthyWeird, Awkward And Funny One Man Christmas Carolling - WRONGAmateur Cum Guzzler Returns The Load Back To Her Man
DistanceThis Is A Historic Moment For Mankind And Your Time To Shine - Post Mortem73 Pre And Post Mortem Photographs - Say What?The Ebonics Dialect Is Strong With This Guy... Describing A Shooting In The Dumbest Way Possible - FuckedGorgeous Euro Blonde Cocksucker Fucked Hard - Hot BitchTop 10 Chali XCX Publicity Stunts Involving Her Insane Body - WhoringTetyanae Vryovkina Nips In Mesh Bikini Top - SideboobNice Big Boobs And Some Terrific Sideboob... Because That's Not Too Much To Ask! - Force FedForced To Ride Black Cock - Pop CapsThis Old Indian Dude Aint Playing. He's Pretty Shooting At Fuckers Who Are Looting His Shit - DeepthroatDont Try This At Home If You Are An Unexperienced Deepthroater...
The little boy sits on Santa's lap. Santa says "I bet I know what you want for Christmas" and with his finger he taps the boys nose with every letter he spells "T-O-Y-S". The little boy thinks a second and says "No, I have enough toys". Santa replies once again tapping the boys nose with every letter "C-A-N-D-Y". Again the little boy thinks a second and says "No, I have all kinds of candy". "Well what would you like for Christmas?" Santa asks. The little boy replies, tapping Santa on the nose "P-U-S-S-Y, and don't tell me you don't have any because I can smell it on your finger!"
--
When I was a child, I remember lying with my eyes closed waiting for Santa to come. Then there was the awkward silence as he got dressed and left.
--
When do you stop believing in Santa Claus? When you start getting clothes for Christmas.
--
Imagine my joy when I was getting out the Christmas decorations and found a present I forgot to give my kids last year. Their excited faces were a picture as they unwrapped it and opened the box. Such a pity it was a puppy.
--
I went to the garden centre today and bought a Christmas Tree. The assistant asked me "Will you be putting that up yourself?" I replied "No, you sick fuck. I'll be putting it up in my living room".
--
At my local community centre there is a picture of Santa, only he's black. Made me wonder why they decided to make him black. Then I realised...he only works one day a year and he breaks into people's houses. All the hallmarks really.
--
The best thing about Christmas is that it offends Muslims...
ORSM VIDEO
FUN FACTS ABOUT CHRISTMAS BECAUSE I THOUGHT YOU'D WANT TO KNOW...
-Each year there are approximately 20,000 "rent-a-Santa's" across the United States. These Santa's usually undergo seasonal training on how to maintain a jolly attitude under pressure from the public. They also receive practical advice, such as not accepting money from parents while children are looking and avoiding garlic, onions, or beans for lunch.
-Norwegian scientists have hypothesized that Rudolph's red nose is probably the result of a parasitic infection of his respiratory system.
-Silent Night was first sung as part of a church service in Austria. A guitar was used because the church organ was so badly rusted it couldn't be played.
-Before Christians decided on December 25 to celebrate the birth of Jesus, several dates were proposed: January 2, March 21, March 25, April 18, April 19, May 20, May 28, and November 20.
-Japanese people traditionally eat at KFC for Christmas dinner, thanks to a successful marketing campaign 40 years ago. KFC is so popular that customers must place their Christmas orders 2 months in advance.
-The Germans made the first artificial Christmas trees out of dyed goose feathers.
-In Germany and some other western European countries, St. Nicholas, or Nikolaus comes on the night from the 5th to the 6th of December, where children have their boots all shined and clean in front of a door or window. He will leave toys, nuts oranges, apples and chocolate for the good children. The bad child gets a branch to be used by the parents to beat the offending child.
-Santa Claus has different names in different countries: Sheng Dan Lao Ren in China, Father Christmas in England, Papa Noel in Brazil and Peru and Pere Noel in France.
-An artificial Christmas tree would have to be reused for more than 20 years to be "greener" than buying a fresh-cut tree annually.
-Each year more than 3 billion Christmas cards are sent in the U.S. alone.
-The "true love" mentioned in the song "Twelve Days of Christmas" does not refer to a romantic couple, but the Catholic Church's code for God. The person who receives the gifts represents someone who has accepted that code. For example, the "partridge in a pear tree" represents Christ. The "two turtledoves" represent the Old and New Testaments.
-Guatemalan adults do not exchange Christmas gifts until New Year's Day. Children get theirs on Christmas morning.
-The two biggest selling Christmas songs are "White Christmas" and "Rudolph the Red-Nosed Reindeer".
-The Nazi party tried to turn Christmas into a nonreligious holiday celebrating the coming of Hitler, with Saint Nicholas replaced by Odin the "Solstice Man" and swastikas on top of Christmas trees.
-The US playing card company 'Bicycle' had manufactured a playing card in WW2. That, when the card was soaked, it would reveal an escape route for POWs. These cards were Christmas presents for all POWs in Germany. The Nazis were none the wiser!
-Most of Santa's reindeer have male-sounding names, such as Blitzen, Comet, and Cupid. However, male reindeers shed their antlers around Christmas, so the reindeer pulling Santa's sleigh are likely not male, but female or castrati.
-In North America, children put stockings out at Christmas time. Their Dutch counterparts use shoes.
-The smallest Christmas card was made by scientists at the University of Glasgow in the United Kingdom in 2010. At only 200 x 290 micrometres in size, 8,276 of these cards would fit in one postage stamp.
-The people of Oslo, Norway donate the Trafalgar Square Christmas tree every year in gratitude to the people of London for their assistance during WWII.
-According to the Guinness world records, the tallest Christmas tree ever cut was a 221-foot Douglas fir that was displayed in 1950 at the Northgate Shopping Center in Seattle.
-The traditional three colours of Christmas are green, red, and gold. Green has long been a symbol of life and rebirth; red symbolises the blood of Christ, and gold represents light as well as wealth and royalty.
-When visiting Finland, Santa leaves his sleigh behind and rides on a goat named Ukko. Finnish folklore has it that Ukko is made of straw, but is strong enough to carry Santa Claus anyway.
-The most expensively dressed Christmas tree was valued at $11,026,900 and was displayed by the Emirates Palace in the UAE.
-During the Christmas of 2010, the Colombian government covered jungle trees with lights. When FARC guerrillas (terrorists) walked by, the trees lit up and banners asking them to lay down their arms became visible. 331 guerrillas re-entered society and the campaign won an award for strategic marketing excellence.
-According to data analysed from Facebook posts, two weeks before Christmas is one of the two most popular times for couples to break up. Christmas Day is the least favourite day for breakups.
-When distributing gifts in Holland, St. Nicholas is accompanied his servant, Black, who is responsible for actually dropping the presents down their recipients' chimneys. He also punishes bad children by putting them in a bag and carrying them away to Spain.
-The largest artificial Christmas tree measures 170.6 feet and can be found in Brazil.
-Nearly all of the most popular Christmas songs including 'Winter Wonderland', 'Chestnuts roasting', and 'I'm Dreaming of a white Christmas' were written by Jews.
-Contrary to popular belief, suicide rates during the Christmas holiday are low. The highest rates are during spring.
-In Syria, Christmas gifts are distributed by one of the Wise Men's camels. The gift-giving camel is said to have been the smallest one in the Wise Men's caravan.
-The largest Christmas star ornament measures 103 feet and eight inches tall and can be found in India.
-All letters addressed to Santa in the United States go to Santa Claus, Indiana.
-The world's largest Christmas stocking measured 106 feet and 9 inches (32.56 m) long and 49 feet and 1 inch (14.97 m) wide. It weighed as much as five reindeer and held almost 1,000 presents. It was made by the Children's Society in London on December 14, 2007.
-One town in Indiana is called Santa Claus. There is also a Santa, Idaho.
-The most lights lit on simultaneously on a Christmas tree is 194,672 and was achieved in Belgium last year.
-During the Christmas of 1914 (WWI), a truce was held between Germany and the UK. They decorated their shelters, exchanged gifts across no man's land and played a game of football between themselves.
-Christmas trees usually grow for about 15 years before they are sold.
-The popular Christmas song "Jingle Bells" was actually written for Thanksgiving. The song was composed in 1857 by James Pierpont, and was originally called "One Horse Open Sleigh".
-Although now mostly vegetarian, in Victorian times, mince pies were made with beef and spices.
-In 1867, a Boston industrialist heard Charles Dickens read A Christmas Carol and was so moved he closed his factory on Christmas Day and gave every one of his employees a turkey.
-In Poland, spiders or spider webs are common Christmas trees decorations because according to legend, a spider wove a blanket for Baby Jesus. In fact, Polish people consider spiders to be symbols of goodness and prosperity at Christmas.
-Despite the tale of three wise men paying homage to baby Jesus, the Bible never gives a number. It refers to merely "wise men".
-There are 364 gifts mentioned in "The Twelve Days of Christmas".
-Ancient peoples, such as the Druids, considered mistletoe sacred because it remains green and bears fruit during the winter when all other plants appear to die. Druids would cut the plant with golden sickles and never let it touch the ground. They thought it had the power to cure infertility and nervous diseases and to ward off evil.
-Carols began as an old English custom called wassailing, toasting neighbours to a long life.
-The Boxing Day holiday was originally celebrated in England for the servants to the rich people. After Christmas the servants "boxed up" all the left-overs from the rich people and took them home.
-The Beatles hold the record for most Xmas number 1 singles, topping the charts in 1963, 65 and 67.
LET'S KICK THINGS OFF WITH A BUTTLOAD OF CHRISTMAS AMATEURS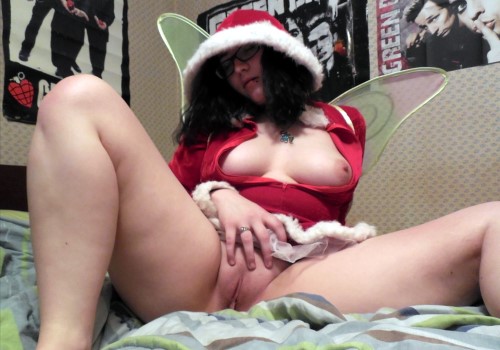 Four old timers were playing their weekly game of golf, one remarked how nice it would be to wake up on Christmas morning, roll out of bed and without an argument go directly to the golf course, meet his buddies and play a round.

His buddies all chimed in said "Let's do it! We'll make it a priority; figure out a way and meet here early, Christmas morning".

Months later, that special morning arrives, and there they are on the golf course. The first guy says "Boy this game cost me a fortune! I bought my wife a diamond ring that she can't take her eyes off of".

The second guy says "I spent a ton too. My wife is at home planning the cruise I gave her. She was up to her eyeballs in brochures".

The third guy says "Well my wife is at home admiring her new car, reading the manual".

They all turned to the last guy in the group who is staring at them like they have lost their minds.

"I can't believe you all went to such expense for this golf game. I slapped my wife on the bum and said, 'Well babe, Merry Christmas! It's a great morning... intercourse or golf course...?' She said "Don't forget your hat!".

ORSM VIDEO
Just before Christmas I was shopping at a toy store in the city. I glanced to my left and caught sight of a queue at the doll counter. They were waiting for the shelves to be restocked with Mattel dolls. As I looked I realised that in the queue was a good friend of mine.
Knowing Lennie well I was sure that he had no daughters nor did he have any nieces so I wondered why he should want to buy a doll at Christmas time.
"Hey, Lennie" I cried "I hadn't realised you collected dolls". "I don't" he replied laughing. "Really?" I queried "Then you must be buying a Christmas present then?"
"No, not at all, my friend" responded Lennie, his eyes twinkling merrily.
"If you don't mind my asking then Lennie" I said "Why exactly are you standing in this particular queue?"
"Oh that" he giggled. "It's like this, my mate" he mused "I've never been able to resist a Barbie queue".
OH YOU LIKED THAT? WELL LETS KEEP GOING WITH THE XMAS AMATEURS THEN...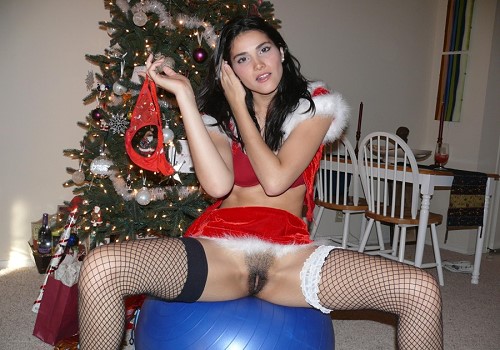 Why is MyFreeCams.com one of the most awesome websites in the history of forever? Firstly, there are hundreds of hot models online at any given time AND you can watch their live webcam feed in HQ with sound AND chat. Secondly, you don't need a credit card or have to install any dodgy software - it's all absolutely free! And finally, why do I sound so fucking excited? Because MyFreeCams really is that brilliant. Click here to check it out now!
ORSM VIDEO
FUN FACTS ABOUT CHRISTMAS BECAUSE I THOUGHT YOU'D WANT TO KNOW (continued)
-According to the UNICEF there are 2,106 million children under age 18 in the world. If there are on average 2.5 children per household, Santa would have to make 842 million stops on Christmas Eve, traveling 221 million miles. To reach all 842 million stops, Santa would need to travel between houses in 2/10,000 second, which means he would need to accelerate 12.19 million miles (20.5 billion meters) per second on each stop. The force of this acceleration would reduce Santa to salsa.
-It is said that candy canes were invented by a candy maker in Indiana. He wanted to use them to spread the name Jesus around the world.-Mistletoe kissing originated with fertility rites. The hanging sprig is a very ancient symbol of virility and therefore anybody standing beneath it is signalling that he or she is sexually available.
-America's official national Christmas tree is located in King's Canyon National Park in California. The tree, a giant sequoia called the "General Grant Tree" is over 90 meters (300 feet) high, and was made the official Christmas tree in 1925.
-There is no reference to angels singing anywhere in the Bible.
-Some zoos take donated Christmas trees and use them to feed their animals.
-Because they viewed Christmas as a decadent Catholic holiday, the Puritans in America banned all Christmas celebrations from 1659-1681 with a penalty of five shillings for each offense. Some Puritan leaders condemned those who favoured Christmas as enemies of the Christian religion.
-The first Christmas was celebrated on December 25, AD 336 in Rome.
-Nearly 60 million Christmas trees are grown each year in Europe.
-Charles Dickens grew up during a 'Little Ice Age' - it snowed for each of his first 8 Christmases, influencing his writing and hence today's tradition of a 'White Christmas'.
-Early illustrations of St. Nicholas depict him as stern, commanding, and holding a birch rod. He was more a symbol of discipline and punishment than the jolly, overweight elf children know today.
-Artificial Christmas trees have outsold real ones in the US since 1991.
-Biblical scholars believe Jesus was probably born in a cave and not a wooden stable.
-Mormon missionaries can only call home twice a year: once on Mother's Day and again on Christmas.
-In Greece, Italy, Spain and Germany, workers get a Christmas bonus of one month's salary by law.
-Christmas stockings allegedly evolved from three sisters who were too poor to afford a marriage dowry and were therefore doomed to a life of prostitution. They were saved however when the wealthy Bishop Saint Nicholas of Smyrna (the precursor to Santa Claus) crept down their chimney and generously filled their stockings with gold coins.
-St. Nicholas was bishop of the Turkish town in the early 4th century. The Dutch first made him into a Christmas gift-giver, and settlers brought him to America where his name eventually became the familiar Santa Claus.
-The chances of a white Christmas is Australia is pretty much 0.
-Telling "scary ghost stories" is an old Christmas Eve tradition that has died out in the past century.
-95% of all Americans celebrate Christmas (only 75% of the U.S. is Christian), and just 51% of the holiday's celebrators consider it a "strongly religious" holiday.
-President Teddy Roosevelt, an environmentalist, banned Christmas trees from the White House in 1912.
-In Armenia, the traditional Christmas Eve meal consists of fried fish, lettuce and spinach.
-Many theologians estimate that Jesus wasn't born sometime in September between 6BC and 30AD.
-Bohemian Rhapsody by Queen is the only record to get the UK Christmas Singles Chart Number One twice, once in 1975 and again in 1991.
-It is estimated that the single "White Christmas" by Irving Berlin is the bestselling single of all time, with over 100 million sales worldwide.
-Christmas has different meanings around the world; Christmas Eve in Japan is a good day to eat fried chicken and strawberry shortcake.
-In 1999, residents of the state of Maine in America built the world's biggest ever snowman. He stood at 113ft tall.
-Engineers designing the Voyager Space mission planned it to avoid planetary encounters over Thanksgiving and Christmas.
-Gold-wrapped chocolate coins commemorate St Nicholas who gave bags of gold coins to the poor.
-There are approximately 21,000 Christmas tree farms in the United States. In 2008, nearly 45 million Christmas trees were planted, adding to the existing 400 million trees.
-Alabama was the first US state to recognise Christmas as an official holiday, and the tradition began in 1836. Oklahoma was the last to declare it a legal holiday, in 1907.
RANDOM SHITE: CHRISTMAS EDITION
FUN FACTS ABOUT CHRISTMAS BECAUSE I THOUGHT YOU'D WANT TO KNOW (continued)
-Paul McCartney earns $400,000 a year off his Christmas song, which is widely regarded as the worst song he ever recorded.
-The first person to decorate a Christmas tree was reportedly the Protestant reformer Martin Luther (1483-1546). According to legend, he was so moved by the beauty of the stars shining between the branches of a fir tree, he brought home an evergreen tree and decorated it with candles to share the image with his children.
-Rudolph the red-nosed reindeer was invented for a US firm's Christmas promotion in 1938.
-In 1647, the English parliament passed a law making Christmas illegal. The Puritan leader Oliver Cromwell, who considered feasting and revelry on what was supposed to be a holy day to be immoral, banned the Christmas festivities. The ban was lifted only when Cromwell lost power in 1660.
-The largest Christmas cracker, 45.72m long and 3.04m in diameter, was pulled in Australia in 1991.
-Did you know that giving presents were once banned by the Catholic Church? It was believed that gift giving was connected to paganism.
-Approximately 30-35 million real Christmas trees are sold each year in the US.
-Franklin Pierce was the first president to decorate an official White House Christmas tree.
-The long shopping spree before Christmas began in America when relatives of soldiers posted overseas in the Second World War were encouraged to mail gifts early.
-Do you know why we say the Twelve Days of Christmas? It is believed that it took the 3 kings 12 days to find baby Jesus.
-The highest-grossing festive movie is 2000's How The Grinch Stole Christmas, which has raked in $345M to date.
-Christmas is a contraction of "Christ's Mass," which is derived from the Old English Cristes mæsse (first recorded in 1038). The letter "X" in Greek is the first letter of Christ, and "Xmas" has been used as an abbreviation for Christmas since the mid-1500s.
-Christmas Crackers were invented around 1846 by Tom Smith who developed them for Christmas from the French habit of wrapping sugared almonds in twists of paper as gifts.
-Jingle Bells was the first song broadcast from space when Gemini 6 astronauts sang it on December 16, 1965.
-Many years ago in England a traditional Christmas dinner included a pig head served with mustard.
-Commissioned by Sir Henry Cole, British illustrator John Callcott Horsley invented the first Christmas card in 1843.
-The Canadian province of Nova Scotia leads the world in exporting lobster, wild blueberries and Christmas trees.
-Astronomers believe the Star Of Bethlehem, which guided the wise men to Jesus, may have been a comet or the planet Uranus.
-The tradition of naughty children getting a lump of coal in their stocking comes from Italy.
-Christmas purchases account for 1/6 of all anual retail sales in the US.
-Roast turkey did not appear consistently on royal Christmas Day menus until 1851 when it replaced roast swan. The medieval dish of Boar's head remained popular with Royals for much longer.
-Upside-down artificial Xmas trees are sold to allow more gifts to be piled under.
-Tinsel was once made from real silver. It was invented in Germany in 1610.
-In the Czech Republic they enjoy dinners of fish soup, eggs and carp. The number of people at the table must be even, or the one without a partner will die next year.
-December 25 was originally a pagan celebration. Nobody knows when Jesus of Nazareth was born and nobody celebrated his birthday for hundreds of years.
-Electric Christmas lights were first used in 1854.
-Christmas pudding was originally a soup made with raisins and wine.
-There are two islands named Christmas. Christmas Island (formerly Kiritimati) in the Pacific Ocean and Christmas Island in the Indian Ocean.
-"We Wish You a Merry Christmas" was originally a threat. The ever-popular song was originally sung, loudly and repeatedly, by crowds of rowdy, lower-class servants demanding booze from their masters... or else.
-Many parts of the Christmas tree can actually be eaten, with the needles being a good source of Vitamin C.
ORSM VIDEO
Want to contribute to Orsm? Just click here and do eeeet!!
THE CHRISTMAS DIET
As we all know, it takes 1 calorie to heat 1 gram of water 1 degree centigrade. Translated into meaningful terms, this means that if you eat a very cold dessert this Christmas (generally consisting of water in large part), the natural processes which raise the consumed dessert to body temperature during the digestive cycle literally sucks the calories out of the only available source: your body fat.
For example, a dessert served and eaten at near 0 degrees C (32.2 deg. F) will in a short time be raised to the normal body temperature of 37 degrees C (98.6 deg. F). For each gram of dessert eaten, that process takes approximately 37 calories as stated above. The average dessert portion is 6 oz, or 168 grams. Therefore, by operation of thermodynamic law, 6,216 calories (1 cal/gm/deg. x 37 deg. x 168 gms) are extracted from body fat as the dessert's temperature is normalised. Allowing for the 1,200 latent calories in the dessert, the net calorie loss is approximately 5,000 calories.
Obviously, the more cold dessert you eat on Christmas Day, the better off you are and the faster you will lose weight, if that is your goal.
This process works equally well when drinking very cold beer in frosted glasses during the college bowl system.
Each ounce of beer contains 16 latent calories, but extracts 1,036 calories (6,216 cal. per 6 oz. portion) in the temperature normalising process. Thus, the net calorie loss per ounce of beer is 1,020 calories. It doesn't take a rocket scientist to calculate that 12,240 calories (12 oz. x 1,020 cal./oz.) are extracted from the body in the process of drinking a can of beer.
Frozen desserts, e.g., ice cream, are even more beneficial, since it takes 83 cal./gm to melt them (i.e., raise them to 0 deg. C) and an additional 37 cal./gm to further raise them to body temperature. The results here are really remarkable, and it beats running/jogging hands down.
Unfortunately, for those who eat pizza as an excuse to drink beer, pizza (loaded with latent calories and served above body temperature) induces an opposite effect. But, thankfully, as the astute reader should have already reasoned, the obvious solution is to drink a lot of beer with pizza and follow up immediately with large bowls of ice cream.
I SAY WE KEEP GOING WITH THE CHRISTMAS AMATEURS...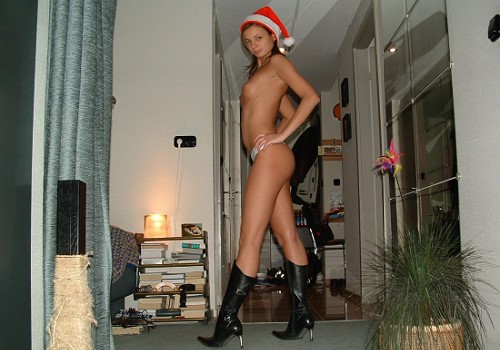 CHRISTMAS CRACKER JOKES SO BAD THAT YOU'LL WANT TO ELF HARM (continued)
-What's brown and sweet and glides around an ice rink? Bourneville and Dean.
-What's a specimen? An Italian astronaut.
-What do you call a short sighted dinosaur? A do-you-think-he-saw-us!
-What do you call a man with brown paper trousers? Russell.
-What do you call a man with a pole through his leg? Rodney.
-Why would you invite a mushroom to a Christmas party? He's a fun guy to be with.
-Why should husbands make the early morning tea for their wives? Because the Bible says He Brews.
-What's the longest word in the English language? Smiles, because there is a "mile" between the first and the last letters.
-On which side do chickens have the most feathers? The outside.
-What kind of paper likes music? Rapping paper.
-What's white and goes up? A confused snowflake.
-What do you call a woman who stands between two goal posts? Annette.
-Did you hear about the man who bought a paper shop? It blew away.
-What's furry and minty? A polo bear.
-How do snowmen get around? They ride an icicle.
-Who hides in the bakery at Christmas? A mince spy.
-What do you call a penguin in the Sahara desert? Lost.
-What does Santa suffer from if he gets stuck in a chimney? Claustrophobia!
-Why does Santa have three gardens? So he can 'ho ho ho'!
-Why did Santa's helper see the doctor? Because he had a low "elf" esteem!
-What kind of motorbike does Santa ride? A Holly Davidson!
-What do you call a cat in the desert? Sandy Claws!
-Who delivers presents to cats? Santa Paws!
-What do you call a dog who works for Santa? Santa Paws!
-What do you call Father Christmas in the beach? Sandy Clause!
-What did the sea Say to Santa? Nothing! It just waved!
-What does Santa do with fat elves? He sends them to an Elf Farm!
-What do you get if you cross Santa with a duck? A Christmas Quacker!
-Who delivers presents to baby sharks at Christmas? Santa Jaws.
-What says Oh Oh Oh? Santa walking backwards!
-What goes Ho Ho Whoosh, Ho Ho Whoosh? Santa going through a revolving door!
-Why does Santa go down the chimney on Christmas Eve? Because it 'soots' him!
-Who is Santa's favourite singer? Elf-is Presley!
-What do you call Santa's little helpers? Subordinate clauses!
-What do Santa's little helpers learn at school? The elf-abet!
-What did Santa say to the smoker? Please don't smoke, it's bad for my elf!
-Where does Santa go when he's sick? To the elf centre!
-Where do elves go to dance? Christmas Balls!
-What do elves eat for breakfast? Frosted Flakes!
-What do you call a frozen elf hanging from the ceiling? An elfcicle!
-What type of Shoes does Santa wear when he travels on a train? Platforms!
-What do you get if Santa goes down the chimney when a fire is lit? Krisp Kringle!
-Who is Santa Claus married to? Mary Christmas!
-How long do a reindeers legs have to be? Long enough so they can touch the ground!
-What do reindeer hang on their Christmas trees? Horn-aments!
-Why are Christmas trees so bad at sewing? They always drop their needles!
-What's worse than Rudolph with a runny nose? Frosty the snowman with a hot flush!
-Why did the Rudolph cross the road? Because he was tied to the chicken!
-Why did the turkey cross the road? Because he wasn't chicken!
-What happened to the turkey at Christmas? It got gobbled!
-Why did the turkey join the band? Because it had the drumsticks!
-What do you get when you cross a snowman with a vampire? Frostbite!
-What do snowmen wear on their heads? Ice caps!
-How do snowmen get around? They ride an icicle.
-What do snowmen eat for lunch? Iceburgers!
-What song do you sing at a snowman's birthday party? Freeze a jolly good fellow!
-Who hides in the bakery at Christmas? A mince spy!
-What did Adam say on the day before Christmas? It's Christmas, Eve!
-How many letters are in the angelic alphabet? The Christmas alphabet has "no EL"!
-What carol is heard in the desert? O camel ye faithful!
-What do angry mice send to each other at Christmas? Cross Mouse Cards!
-What is the best Xmas present in the world? A broken drum, you just can't beat it!
-How do sheep in Mexico say Merry Christmas? Fleece Navidad!
-How did Scrooge with the football game? The ghost of Christmas passed!
-What athlete is warmest in winter? A long jumper!
-What is the worst disease that you get at Christmas? Excemas!
-What's the most popular Christmas wine? "I don't like Brussels sprouts!"
-Why do ghosts live in the fridge? Because it's cool!
-What happened to the man who stole an Advent Calendar? He got 25 days!
-What did the beaver say to the Christmas Tree? Nice gnawing you!
-Why are Christmas Trees like bad knitters? They keep loosing their needles!
-What do crackers, fruitcake and nuts remind me of? You!
-What's the best thing to put into a Christmas Cake? Your teeth!
-What do you get if you cross a bell with a skunk? Jingle Smells!
-Where would you find chili beans? At the North Pole!
RANDOM SHITE: THE OVERLOADED EDITION
We've all heard the overused "#1 site for whatever" line but believe me when I say MyFreeCams.com is actually it! Hundreds of real girls getting nude in front of a webcam chatting, stripping and just about anything else you can convince them to do! You're able to watch unlimited live webcam shows with full audio and chat. Oh and did I mention it's absolutely totally 100% completely FREE!? Getting on is as easy as clicking here but be prepared to lose your day!
CHRISTMAS CRACKER JOKES SO BAD THAT YOU'LL WANT TO ELF HARM (continued)
-Why don't penguins fly? Because they're not tall enough to be pilots!
-What do sheep say at Christmas? A Merry Christmas to Ewe!
-What do you call a bunch of chess players bragging about their games in a hotel lobby? Chess nuts boasting in an open foyer!
-Which football team did the baby Jesus support? Manger-ster United!
-What do you call a three legged donkey? A wonky donkey!
-How do hedgehogs make love? Very carefully.
-What did the Policeman say to the stomach? You're under a vest
-Why is it so difficult to train dogs to dance? They have two left feet.
-What wobbles and flies? A Jelly-copter.
-What goes ha ha ha clonk? A man laughing his head off.
-What do you get when you cross a cat with a lemon? A sour puss!
-"Waiter! This coffee tastes like mud". "Yes sir, it's fresh ground".
-What athlete is warmest in winter? A long jumper.
-Why did the man get the sack from the orange juice factory? Because he couldn't concentrate.
-What has four legs but can't walk? A table!
-Why did the hedgehog cross the road? To see his flatmate!
-What goes up and never comes down? Your age.
-What do you give a man who has everything? Antibiotics.
-What did the fish say when it swam into a wall? Dam.
-What's brown, steams and comes out of Cowes? The Isle of Wight ferry.
-What do you call a man that plays with leaves? Russel!
-What is the definition of an American Bra? One yank and it's off.
-What's six inches long and two inches wide and drives women wild? Money.
-What is Santa's favourite pizza? One that's deep pan, crisp and even.
-Why would you invite a mushroom to a Christmas party? He's a fungi to be with.
-Who was England's first chiropodist? William the Corncurer.
-Why should husbands make the early morning tea for their wives? Because the Bible says He Brews.
-What's the longest word in the English language? Smiles, because there is a "mile" between the first and the last letters.
-On which side do chickens have the most feathers? The outside.
-What do elves learn at school? The elf-abet.
-What do you call a woman who stands between two goal posts? Annette.
-Did you hear about the man who bought a paper shop? It blew away.
-How do snowmen get around? They ride an icicle.
-Who hides in the bakery at Christmas? A mince spy.
-What do you call a penguin in the Sahara desert? Lost.
-Did you hear about the two ships that collided at sea? One was carrying red paint and the other was carrying blue paint. All the sailors ended up being marooned.
-Why are chocolate buttons rude? Because they are Smarties in the nude.
-How do you make a tissue dance? Put a boogie in it.
-What did the grape say when the elephant stepped on it? Nothing. It just let out a little wine.
-What's ET short for? Because he's only got little legs.
-What's red and white and black all over? Santa Claus after he slid down the chimney.
-Where do Snow-women like to dance? At Snowballs.
-What did Cinderella say when the chemist lost her photographs? Someday my prince will come.
-What kind of motorbike does Santa ride? A Holly Davidson!
-What do you call a cat in the desert? Sandy Claws!
-Did Rudolph go to school? No. He was Elf-taught!
-What do you get if you eat Christmas decorations? Tinsilitis!
-What do crackers, fruitcake and nuts remind me of? You!
-How do you stop a skunk smelling? Hold its nose!
-What's tall and wobbly and stands in the middle of Paris? The trifle tower!
-Which country has the largest appetite? Hungary!
-What do spacemen play in their spare time? Astronauts and crosses!
-Who delivers presents to baby sharks at Christmas? Santa Jaws
-What's green, covered in tinsel and goes ribbet ribbet? Mistle-toad!
-What do you call a bunch of chess players bragging about their games in a hotel lobby? Chess nuts boasting in an open foyer!
-How do you make an octopus laugh? Ten tickles.
-Got my wife a wooden leg for Christmas. Not her main present, it's just a stocking filler.
-What do you call a man who claps at Christmas? Santapplause!
-Why does Santa like to work in the garden? Because he likes to hoe, hoe, hoe!
-Why couldn't the skeleton go to the Christmas party? Because he had no body to go with.
-Who hides in the bakery at Christmas? A mince spy.
-What happened to the man who stole an Advent Calendar? He got 25 days.
-What do you call a skeleton detective? Inspector Columbones.
-What do ghosts eat at Christmas? Ghoulash.
-Why do birds fly south for the winter? Because it's too far to walk.
-Why don't ducks tell jokes when they're flying? Because they'd quack up.
-What is Santa's favourite pizza? One that's deep-pan, crisp and even.
-What do you call someone that's scared of Santa? Claustrophobic.
-What athlete is the warmest at Christmas? A long jumper.
-What's E.T. short for? Because he's only got little legs.
-What says 'Oh-Oh-Oh'? Santa walking backwards.
-Why did the snowman come first at the Winter Olympics? There was snow competition.
-Why did Santa have to go to the hospital? Because of his poor elf.
-What's the best Christmas present you could receive? A broken drum, you just can't beat it.
-What award goes to designers of doorknockers? A no bell prize.
-What do you get if you cross a lion with snow? Frostbite.
FINAL CALL FOR CHRISTMAS AMATEURS!?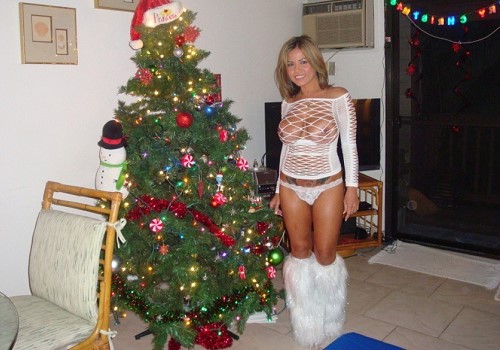 A little kid sits on Santa's lap, and Santa says "What would you like for Christmas?" The kid says "A FUCKING swingset!" Santa says "You'll have to ask nicer than that if you want Santa to bring you presents. Let's try again. What else would you like?" The kid says "A FUCKING sandbox for the side yard!" Santa says "That's no way to talk to Santa. One more time. What else would you like for Christmas?" The boy thinks for a minute, and then he says "I want a FUCKING trampoline in the front yard".
Santa lifts the boy off his lap and goes to talk to the kid's parents. He tells them what the kid said, and then says "I know how to stop it. Don't get him anything for Christmas except dog doo. Put a pile of dog doo in the backyard where he wants the swingset, put another pile in the side yard where he wants the sandbox, and another pile in the front yard where he wants the trampoline. That should make him change his tune!"
Christmas morning the kid goes downstairs to open his presents, and there aren't any. He runs out the back door, looks around, and comes back in. He runs out the side door, looks around, and comes back in. He runs out the front door, looks around, and comes back in, shaking his head.
His father says "What's wrong, son?" The kid says "Santa brought me a FUCKING dog, but I can't find him...?"
ORSM VIDEO
HOW TO MAKE A CHRISTMAS CAKE
-1 x cup water
-1 x cup sugar
-4 x large eggs
-2 x cup dried fruit
-1 x tsp. baking soda
-1 x tsp. salt
-1 x cup brown sugar
-lemon juice
-nuts
-1 x FULL bottle of your favourite whiskey
Directions:
1. Sample the whiskey to check for quality
2. Take a large bowl. Check the whiskey again to be sure that it is of the highest quality.
3. Pour one level cup and drink. Repeat.
4. Turn on the electric mixer; beat one cup of butter in a large fluffy bowl.
5. Add one tsp. sugar and beat again.
6. Be sure the whiskey is still okay. Cry another tup.
7. Turn off the mixer.
8. Break two legs and add to the bowl and chuck in the cup of dried fruit.
9. Mix on the turner.
10. If the fried druit gets stuck in the beaterers, pry it loose with a drewscriver.
11. Sample the whiskey to check for tonsisticity.
12. Next, sift two cups of salt. Or something. Who cares.
13. Check the whiskey.
14. Now sift the lemon juice and strain your nuts.
15. Add one table. Spoon. Of sugar or something. Whatever you can find.
16. Grease the oven.
17. Turn the cake tin to 350 degrees.
18. Don't forget to beat off the turner.
19. Throw the bowl out the window.
20. Check the whiskey again. Go to bed.
Who the hell likes fruitcake anyway?
And with that folks, I am done, done and done. Hopefully this update tickled everything you needed tickled.
I hope you all have a good Christmas too. Drink some beer, nom some motherfucking eggs and manage to avoid your families. God knows that what I'll be doing.
-Check out the site archives. It beats recieving shitty, unwanted presents.
-Next update will be next Thursday... just kidding. Don't expect to see anything until at least the 1st of Jan (but more likely the 8th).
-Tell your friends, family, colleagues, co-workers and neighbours to check out ORSM-DOT-NET otherwise my friend Ray will give your kids unsafe and recalled toys for Christmas.
-Need to clear your conscience? Judge me? Want to fight me? Threaten me? Sit on my lap and talk about the first thing that pops up? Show me the twins? Then go for it! Just make sure you email me here!
Until next time be good, stay off the chems and keep it safe on the roads. The person you hurt may be someone I know and I won't like that. Enjoy. Mr. Orsm.