Welcome to people who say "D'you know what I mean?" after every sentence.
With house inhabitants set to expand in a few months there's been a push to clean out, reorganise, rethink, rearrange, dejunk, plus several other words so as to illustrate my point. Everything from repurposing 'spaces' to finding new ways to store stuff we don't need is on the agenda. Our house isn't that big to begin with so sacrifices must be made. OBVIOUSLY most of these sacrifices aren't mine to bear because "I don't know why you bought that shit in the first place" plus am pretty fucking annoying motivated when it comes to decluttering. If something is lying around where it doesn't belong then I'm generally quick to ask "So is that where that's going to live now?" People [read: the GF] really love that part of my personality...
Probably the main item up for elimination is a treadmill. One weekday a couple of years ago, when we were still living with friends, came a knock at the door. Answered to find a delivery truck reversed in the driveway and two guys wondering where to put the treadmill. Some confusion followed but we soon worked out it was a present from the GF. Full of good intentions, apparently she'd taken note of my exercising woes at the time and blah blah "I dipped into savings and bought you this". Turns out she completely and utterly 100% missed my point. Winter wasn't my problem, a foot injury was. Chalk it up to... I don't know... miscommunication?
Do you know what I hate about treadmills? Everything. They're big, cumbersome and most of all defeat the purpose of exercise because if you walk half an hour somewhere, you have to walk half an hour back. If you treadmill 5 minutes then it's boring as fuck and you're done. Loooooong story short I never used the damn thing once. Literally not once. No one did. Matter of fact the only exercise I got from it was having to move it out of the way.
So after 2 years of "I'm gonna start using it soon" and procrastinating whether to sell, I finally wiped the dust off, took some pics and posted an ad on Gumtree and FB Marketplace. That was Sunday and the messages started coming within a few hours. Keep in mind it's a decent machine. Asking price is $1000... well below what the GF paid. People are going to haggle so there's wiggle room factored in. First cab off the rank is some shitstain offering $150 because it was a gift and he would have to hire a ute to move it. Dickhead. Several other offers followed; the highest was $600. Still just too low... and it's not about the money as such - I get that we're going to eat a big loss but just can't stand to give it away for next to nothing, especially to someone I hate for being a cheap motherfucker.
The mill isn't the only thing I've been trying to offload. Sometimes I'll stick whatever on the verge, come back later and it's gone. Other times it's an easy $50 because, god knows why, people would rather buy used Ikea crap instead. My other sale this week was some 'rustic' light fittings. Originally found them under a pile of junk in a scrap yard. They were from an old factory, all rusty and faded. Despite grand plans, never did find a use and they were taking up space. After some to and froing and eventually settling on a price, a couple of Asian guys rolled over to collect them. They haggled another $5 off and made me agree to take them back if they don't fit. They then started poking around the garage seeing what else was for sale. This is why I love Asians. Some of my happiest memories are doing battle with street sellers in Hong Kong. Starts with an outrageous price, a ludicrous counteroffer, some screaming, laughing and by the end everyone walks away feeling as if they won. They aren't going to take a loss and I'm not going to pay more than I have to. Again, not about the money... its about the sport of it all.
Okay enough about that. We have a brand spankin' new update to get through and delaying you guys any longer is a crime against humanity. Check it...

The HulksMartyn Ford Is A 6ft 8in 320lb Hulking Bodybuilder Called 'Nightmare' & Totally Lives Up To His Name- SuccessSuccess Is Measured In Inches, Sometimes Literally - Who Agrees?Poverty Is Sexist – Stand With Women And Girls Everywhere On International Women's Day 2017 - Fake NewsCNN Segment Gets Cut Short After Panellist Calls Discussion "Fake News" - Nasty CUNTA Teenager Down On Her Luck Turns To Porn For Some Quick Cash To Get Back On Her Feet, But What Follows Is One Of The Worst Porn Spectacles Ever! - Suck Shit!Are You Someone Who Hates Cyclists For Any Number Of Reasons? Great - You Will Enjoy This Video... - Beach TitsHot Babe With Big Tits Carelessly Flaunting Them On Beach For All To Enjoy - Well HungGives New Meaning To Well Hung - Not OkayCustomers Start To Leave As They Notice The Hot Blonde Sucking The Guy Off In The Restaurant. This Shit Isn't Really Okay Or Cool Or Funny. - Monsta ClitAfter Seeing That I Think I Am Not Going To Sleep Tonight...


Epic TitsOh Hello, It's Kate Upton Again - Funny PixFunny Pictures DCXLIV - Mariah SlipMariah Carey Is Terrifying Looking, Which Is Probably Why She Shows Off Her Tits, It's A Fat Chick Methodology For Success... If I Show My Tits People Won't Realize How Weird Looking I Am. - Cunty BitchBitch Of The Year? Entitled Girl Berates Cab Driver - Teen SquirtCute Emo Teen Gaping Anal And Squirting - Bella NudeBella Hadid Nipples For V Magazine - Mila AzulMila Azul Is Pretty Like A Flower! - Romantic AFHe Lured Her In With Some Beautiful Red Roses... Then Destroyed Her Pussy With His Fat Dong. Even Gave Her A Creampie To Finish. Love Is Well And Truly Alive. - FuckslutWow! She Survived A Cock The Size Of Her Arm... Bitch Has Got A Death Wish! - Sleep SexMadisin Lee In Trying To Sleep. Seems Like A Perfect Time To Fuck Her If You Ask Me!


PenetratingDouble Penetration Is All In A Days Fucking For These Tasty Porn Starlets. - Sex PositionsSex Positions With Satisfying Completion - RedheadsHorny Dirty Slutty Redheads: The Compilation - Burger FlashChristine Ash Flashing Her Tits While Grabbing A Burger At In-N-Out! - ButtsPhun's Bonus Butts #74 - Nips Slip OutCharlotte Mckinney Nipple Flash On The Beach - Nina AgdalNina Agdal Maximizes For Maxim - Off ChopsWatch This And You'll Never Do Drugs Again - Bad DayPedestrian Walking Across A Snowy Freeway Is Struck By A Car, Then Gets Hit Again At The End - Flaunt ItBeach Babe Naked On The Beach. She Just Wants People To Look At Her Naked Body. Why? Because Chicks Love To Tease!


I found my first grey pubic hair today. Normally things like this don't bother me, but it was in my Big Mac.
--
I was in a pet shop when I noticed a Muslim girl with the most amazingly coloured parrot perched on her shoulder. "Where did you get that from?" I asked. "Germany. There's fucking thousands of 'em!" said the parrot.
--
One day, after striking gold in Alaska, a lonesome miner came down from the mountains and walked into a saloon in the nearest town. "I'm lookin' for the meanest, roughest and toughest whore in the Yukon!" he said to the bartender. "We got her!" replied the barkeep. "She's upstairs in the second room on the right". The miner handed the bartender a gold nugget to pay for the whore and two beers. He grabbed the beer bottles, stomped up the stairs, kicked open the second door on the right and yelled "I'm lookin' for the meanest, roughest and toughest whore in the Yukon!" The woman inside the room looked at the miner and said "You found her!" Then she stripped naked, bent over and grabbed her ankles. "How do you know I want to do it in that position?" asked the miner. "I don't" replied the whore "but I thought you might like to open those beers before we get started".
--
Breast feeding in public really annoys me. The baby's head gets in the way you can't see a fucking thing.
ORSM VIDEO
IT'S PROBABLY THE BEST THING TO EVER HAPPEN TO ONLINE PORN. SERIOUSLY. EVER. HERE'S WHY YOU'LL CARE
THE BRILLIANCE OF JIMMY CARR
Jimmy Carr is the master of dead pan. If you've never experienced his sarcasm and wit, then checkout the Comedy Central Roast of Rob Lowe. Brutal. Otherwise just read through this list...
-If only Africa had more mosquito nets, then every year we could save millions of mosquitoes from dying needlessly of AIDS.
-I said to my girlfriend, you shouldn't eat before you swim. She said "Why not"? I said, you look fat.
-I'm not being condescending. I'm too busy thinking about far more important things you wouldn't understand.
-When I was a kid, I used to have an imaginary friend. I thought he went everywhere with me. I could talk to him and he could hear me, and he could grant me wishes and stuff too. But then I grew up, and stopped going to church.
-Someone came up to me last week and complained about a joke, quite a big-boned girl. She said "I think you're fattist". I said "No, I think you'll find you're fattest".
-I worry about my nan. If she's alone and falls, does she make a noise? I'm joking, she's dead.
-If we're all God's children, what's so special about Jesus?
-I saw a charity appeal in the Guardian the other day, and it read "Little Zuki has to walk 13 miles a day just to fetch water". And I couldn't help thinking, she should move.
-Years after the Chernobyl accident and am I the only one that's disappointed? Still no superheroes.
-I did a gig in the US once for the homeless. I said "It's nice to see so many bums on seats".
-When I was a kid, I used to have an imaginary friend. I thought he went everywhere with me. I could talk to him and he could hear me, and he could grant me wishes and stuff too. But then I grew up, and stopped going to church.
-I hate those e-mails where they try to sell you penis enhancers. I got ten just the other day. Eight of them from my girlfriend. It's the two from my mum that really hurt.
-People with Tourettes... what makes them tick?
-Cats have nine lives. Makes them ideal for experimentation.
-I realised I was dyslexic when I went to a toga party dressed as a goat.
-I'm not worried about the Third World War. That's the Third World's Problem.
-No matter how much you give a homeless person for tea, you never get that tea.
-I went up to the airport information desk. I said "How many airports are there in the world?"
-See no evil, hear no evil, speak no evil. Rohypnol(TM).
-When you eat a lot of spicy food, you can lose your taste. When I was in Mexico last summer, I was listening to a lot of Michael Bolton.
-A dog is for life, not just for Christmas. So be careful at the next office Christmas party.
-Jimmy "How olds your boyfriend?" Guy in Audience "He's my brother!" Jimmy "Well stop fucking him!"
-My girlfriend bought a cook book the other day called 'Cheap and easy vegetarian cooking'. Which is perfect for her, because not only is she vegetarian...
-The reason old men use Viagra is not that they are impotent. It's that old women are so very, very ugly.
-Jesus loves you... He's not 'in love' with you.
-When someone close to you dies, move seats.
-British scientists have demonstrated that cigarettes can harm your children. Fair enough. Use an ashtray.
-I live near a remedial school. There is a sign that says, slow... children. That can't be good for their self-esteem. But look of course on the positive side, they can't read it.
-Throwing acid is wrong... in some people's eyes.
-Boxers don't have sex before a fight. Do you know why that is? They don't fancy each other.
-I say no to gay marriage. It'll end up leading to gay divorce, and that'll be bitchy.
-I broke up with a girl once because she lied about her weight. I say that, she died in a bungee jumping accident.
-I've got a friend whose nickname is 'shagger'. You might think that's pretty cool. She doesn't like it.
-I of course, don't have an accent. This is just how things sound when they are pronounced properly.
-The first guy who persuaded a blind person they needed sunglasses - he must have been a hell of a salesman.
-My girlfriend recently had a phantom pregnancy. And now we have a little baby ghost.
-Cats have nine lives. Makes them ideal for experimentation.
-Has anyone else seen those incredibly powerful advertisements in cinemas where each time a famous person clicked their fingers an African child dies? I watched those and couldn't help thinking "Stop clicking your fingers".
-In the pursuit of scientific progress, animals have been tortured for the past hundred years. They're still not talking. I'm starting to think they don't know anything.
-I used to buy lottery tickets every week until I realised you could watch it on TV for nothing.
-I once did a gig in the US once for the homeless. It was nice to see so many bums on seats.
-Viagra has instructions: 'Keep away from children' - what kind of man do you think I am?
Let's face it, the gene pool needs a little chlorine.
-They say the camera adds 10lbs. Stop eating cameras!
-My mum told me the best time to ask my dad for anything was during sex. Not the best advice I'd ever been given. I burst in through the bedroom door saying "Can I have a new bike?" He was very upset. His secretary was surprisingly nice about it. I got the bike.
-Recently my girlfriend asked me if I was having sex behind her back and I replied "Yes, who did you think it was?"
-My dad's dying wish was to have his family around him. I can't help thinking he would have been better off with more oxygen.
-I did a sponsored walk, once. In the end I managed to raise so much money, I could afford a taxi.
-Is it fair to say that there'd be less litter in Britain if blind people were given pointed sticks?
-Swimming is good for you, especially if you're drowning. Not only do you get a cardiovascular workout but also you don't die.
-The first few weeks of joining Weight Watchers, you're just finding your feet.
-There was one time where I failed to perform sexually. My girlfriend said to me "Oh don't worry, it happens to a lot of guys". Okay, there are two things wrong with that. First of all who are these other guys? And second, if it's happening to more than one of us don't you think it could be your fault?
-I saw that show, 50 Things To Do Before You Die. I would have thought the obvious one was "Shout For Help".
-My father always used to say "What doesn't kill you, makes you stronger". Until the accident.
-My girlfriend said she wanted me to tease her, so I said "Alright, fatty?"
-I know a couple who get on like a house on fire. They both feel trapped and are slowly suffocating to death.
-Did you know you're ten times more likely to get mugged in London than New York City? That's because you don't live in New York City.
-Saying that you don't believe in magic but do believe in god is a bit like saying you don't have sex with dogs, except Labradors.
-I have no problems with buying tampons. I am a fairly modern man. But apparently they're not a 'proper' present.
-Say what you want about the deaf...
-I'd rather see a pregnant woman standing on the bus than a fat girl sitting down crying.
-A lady with a clipboard stopped me in the street the other day. She said "Can you spare a few minutes for cancer research?" I said "All right, but we won't get much done".
WHAT REALLY GOES ON IN NIGHTCLUBS? CLUB SLUTS GOING WILD IS WHAT...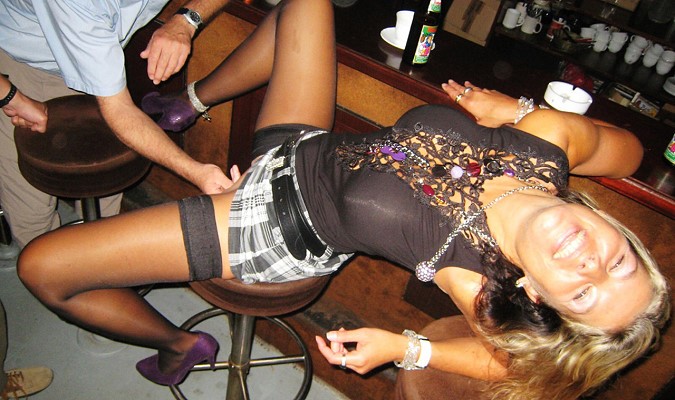 Previously on Orsm: CLUB SLUTS #1
In 1986, Peter Davies was on holiday in Kenya after graduating from university.
On a hike through the bush, he came across a young bull elephant standing with one leg raised in the air. The elephant seemed distressed, so Peter approached it very carefully. He got down on one knee, inspected the elephant's foot, and found a large piece of wood deeply embedded in it.
As carefully and as gently as he could, Peter worked the wood out with his knife, after which the elephant gingerly put down its foot. The elephant turned to face the man, and with a rather curious look on its face, stared at him for several tense moments.
Peter stood frozen, thinking of nothing else but being trampled.
Eventually the elephant trumpeted loudly, turned, and walked away.
Peter never forgot that elephant or the events of that day.
Twenty years later, Peter was walking through the Chicago Zoo with his teenage son. As they approached the elephant enclosure, one of the creatures turned and walked over to near where Peter and his son Cameron were standing. The large bull elephant stared at Peter, lifted its front foot off the ground, then put it down. The elephant did that several times then trumpeted loudly, all the while staring at the man.
Remembering the encounter in 1986, Peter could not help wondering if this was the same elephant.
Peter summoned up his courage, climbed over the railing, and made his way into the enclosure. He walked right up to the elephant and stared back in wonder. The elephant trumpeted again, wrapped its trunk around one of Peter legs and slammed him against the railing, killing him instantly.
Probably wasn't the same elephant.
ORSM VIDEO
A very good looking man walks into a singles bar, gets a drink and has a seat. During the course of the evening he tries to chat with every single woman who walks into the bar, with no luck. Suddenly a really ugly man, and I mean R-E-A-L-L-Y ugly man walks into the bar. He sits at the bar, and within seconds he is surrounded by women. Very soon he walks out of the bar with the two of the most beautiful women you ever saw.
Disheartened by all this, the good looking man asks the barman "Excuse me, but that really ugly man just came in here and left with those two stunning women - what's his secret? He's as ugly as sin and I'm everything a girl could want but have not been able to connect all night - what's going on?"
"Well" said the barman "I don't know how he does it, but he does the same thing every night. He walks in, orders a drink, and just sits there licking his eyebrows..."
35 GIRLS WHO DON'T KNOW THE MEANING OF "TOO SHORT"...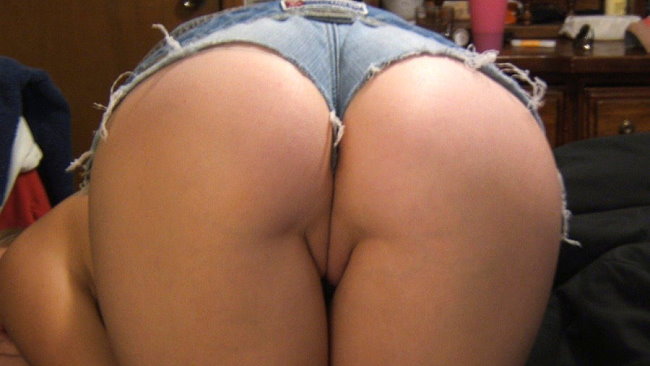 Previously on Orsm: SHORT SHORTS #4 - SHORT SHORTS #3 - SHORT SHORTS #2 - SHORT SHORTS #1
Why is MyFreeCams.com one of the most awesome websites in the history of forever? Firstly, there are hundreds of hot models online at any given time AND you can watch their live webcam feed in HQ with sound AND chat. Secondly, you don't need a credit card or have to install any dodgy software - it's all absolutely free! And finally, why do I sound so fucking excited? Because MyFreeCams really is that brilliant. Click here to check it out now!
ORSM VIDEO: THE I'VE GOT A BIG DICK AND THE BALLS TO PROVE IT EDITION
BOB'S LAST LETTER
It is important for men to remember that as women grow older it becomes harder for them to maintain the same quality of housekeeping as they did when they were younger. When men notice this, they should try not to yell. Let me relate how I handle the situation...
When I got laid off from my consulting job and took early retirement in April, it became necessary for Nancy to get a full-time job, both for extra income and for health benefits that we need. It was shortly after she started working that I noticed that she was beginning to show her age.
I usually get home from fishing or hunting about the same time she gets home from work. Although she knows how hungry I am, she almost always says that she has to rest for half an hour or so before she starts supper. I try not to yell, instead I tell her to take her time and just wake me when she finally does get supper on the table. She used to do the dishes as soon as we finished eating. It is now not unusual for them to sit on the table for several hours after supper.
I do what I can by reminding her several times each evening that they aren't cleaning themselves. I know she appreciates this as it does seem to help her get them done before she goes to bed.
Now that she is older she seems to get tired so much more quickly. Our washer and dryer are in the basement. Sometimes she says she just can't make another trip down those steps. I don't make a big issue of this. As long as she finishes up the laundry the next evening I am willing to overlook it.
Not only that, but unless I need something ironed to wear to the Monday lodge meeting or to Wednesday's or Saturday's poker club or to Tuesday's or Thursday's bowling or something like that, I will tell her to wait until the next evening to do the ironing. This gives her little more time to do some of those odds and ends things like shampooing the dog, vacuuming or dusting. Also, if I have had a really good day fishing, this allows her to gut and scale the fish at a more leisurely pace..
Nancy is starting to complain a little occasionally. For example, she will say that it is difficult for her to find time to pay the monthly bills during her lunch hour. In spite of her complaining, I continue to try to offer encouragement. I tell her to stretch it out over two or even three days. That way she won't have to rush so much. I also remind her that missing lunch completely now and then wouldn't hurt her any, if you know what I mean...
When doing simple jobs she seems to think she needs more rest periods. She had to take a break when she was only half finished mowing the yard. I try not to embarrass her when she needs these little extra rest breaks. I tell her to fix herself a nice, big cold glass of freshly squeezed lemonade and just sit for a while. I tell her that as long as she is making one for herself, she may as well make one for me and take her break by the hammock so she can talk with me until I fall asleep.
I know that I probably look like a saint in the way I support Nancy on a daily basis. I'm not saying that the ability to show this much consideration is easy. Many men will find it difficult. Some will find it impossible. No one knows better than I do how frustrating women can become as they get older.
However, guys, even if you just yell at your wife a little less often because of this article, I will consider that writing it was worthwhile.
Signed, Bob
ORSM VIDEO
Want to contribute to Orsm? Just click here and do eeeet!!
Three disabled guys -a blind guy, an amputee, and a guy in a wheelchair- are flying back with the USA team from the Paralympic games in the Middle East when their plane crashes in the Sahara Desert. The three disabled guys were the only survivors. They waited patiently for someone to rescue them, but no one showed.
They start to get real thirsty, so they decide to seek out water. The amputee leads the way, with the blind man pushing the guy in the wheelchair and, eventually they find an oasis.
The amputee leader goes into the water first, cools himself down, drinks a load of water, walks out the other side and... lo and behold - he has NEW LEGS!
He gets excited and encourages his friends to do the same.
The blind man offers to push the guy in the wheelchair, but he gets refused because the guy in the chair wants to be independent and insists the blind man goes first.
So he goes into the water, cools himself down, drinks a load of water, walks out the other side and... lo and behold - he can SEE!
Now the guy in the wheelchair's getting really excited. He starts pushing with all his might, goes into the water, cools himself down, drinks a load of water, and wheels out the other side and... lo and behold - NEW TYRES!
FLASHING IN PUBLIC... IT'S LIBERATING!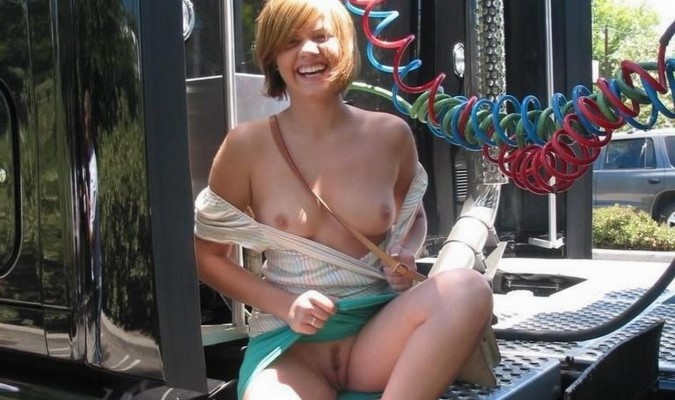 Previously on Orsm: FLASHING IN PUBLIC #2 - FLASHING IN PUBLIC #1
A filthy rich Florida man decided that he wanted to throw a party and invited all of his buddies and neighbours.
He also invited Leroy, the only redneck in the neighbourhood. He held the party around the pool in the backyard of his mansion.
Leroy was having a good time drinking, dancing, eating shrimp, oysters and BBQ and flirting with all the women.
At the height of the party, the host said "I have a 10-foot man-eating gator in my pool and I'll give a million dollars to anyone who has the nerve to jump in".
The words were barely out of his mouth when there was a loud splash. Everyone turned around and saw Leroy in the pool!
Leroy was fighting the gator and kicking its arse! Leroy was jabbing it in the eyes with his thumbs, throwing punches, head butts and choke holds, biting the gator on the tail and flipping it through the air like some kind of judo instructor.
The water was churning and splashing everywhere. Both Leroy and the gator were screaming and raising hell.
Finally, Leroy strangled the gator and let it float to the top like a dead goldfish.
Leroy slowly climbed out of the pool. Everybody just stared at him in disbelief.
Finally, the host says "Well, Leroy, looks like I owe you a million dollars!" "No, that's okay. I don't want it" said Leroy.
The rich man said "Man, I have to give you something. You won the bet! How about half a million bucks then?" "No thanks, I don't want it" answered Leroy still catching his breath.
The host said "Come on, I insist. That was amazing. How about a new Porsche and some stock in my company?" Again Leroy said no.
Confused, the rich man asked "Well, Leroy, then what do you want?' Leroy said "I want the prick that pushed me in the pool!"
RANDOM SHITE
OLDER SHITE: 16th February - 9th February - 2nd February - 26th January - 19th January - 12th January - 5th January
PICTURE THIS: YOU GO TO A WEBSITE. HOOK UP WITH AN ACTUAL REAL GIRL. GET A BILL FOR $0. HERE'S HOW
The father of 17 kids goes to the doc's with a rash on his belly. "All right" says the doc "drop' em and let's have a look".
Having been confronted with the evidence the doctor exclaims "Yes, you've got a bad rash there, but my word, what brown balls you've got. They're truly remarkable!" The patient is a bit embarrassed and says "Look Doc, what about the rash?" "Oh that's easy" said the doctor "Here's some cream to rub on. By the way, those brown balls are amazing, my I ask..."
"No" said the patient "You can't. Now, is that all, Doc?"
"Well" said the doctor "You could stop the rash coming back with a bit better hygiene. Tell your wife you need clean underpants every day. And those really are the brownest balls I've ever seen!"
The guy goes home and tells his wife that the doctor says he needs clean underpants every day.
"What?" she yells "Clean underpants every day, and me with 17 kids to chase after! Seventeen kids to wash, feed, clothe, get to school, tidy after, and you want clean underpants every day? You must be bloody joking, I haven't even got time to wipe my arse!"
"Ah" he said "And that's another thing I wanted to talk to you about..."
WHEN NATURE CALLS... QUICK SOMEONE GRAB A CAMERA!!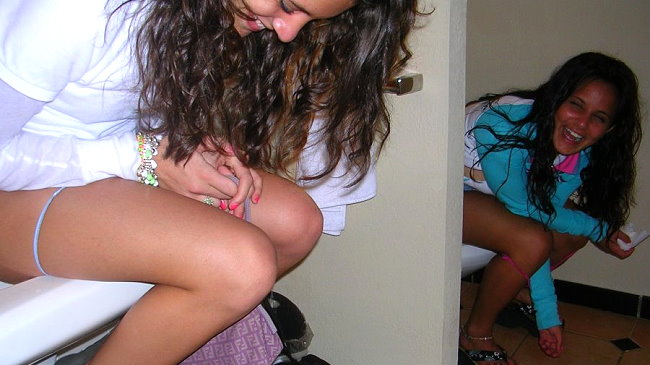 GIRLS PEEING GALLERIES previously on Orsm: #14 - #13 - #12 - #11 - #10 - #9 - #8 - #7 - #6 - #5 - #4 - #3 - #2
Once upon a time in a land far away, a beautiful, independent, self-assured princess happened upon a frog as she sat contemplating ecological issues on the shores of an unpolluted pond in a verdant meadow near her castle.
The frog hopped into the princess' lap and said "Elegant Lady, I was once a handsome prince, until an evil witch cast a spell upon me. One kiss from you, however, and I will turn back into the dapper young prince that I am, and then, my sweet, we can marry and set up housekeeping in your castle with my mother, where you can prepare my meals, clean my clothes, bear my children, and feel forever grateful doing so".
That night, as the princess dined sumptuously on a repast of lightly sautéed frogs legs seasoned in a wine and onion cream sauce she chuckled to herself and thought: I don't fucking think so.
ORSM VIDEO
A famous pilot was having dinner with a brunette and when they finished they headed to a hotel. He calls room service and asked for a bottle of red wine. When it arrived he put some red wine on the brunette's lips and started kissing her. She asks what the red wine is for and he replies "For when I have red meat - I have red wine". "Oooohh" she says.
A little while later the pilot jumps back onto the phone and orders some white wine. It arrives moments later, he splashes it on her rack and starts kissing her tits. She asks what the white wine is for and he replies "For when I have white meat - I have white wine".
Eventually he works his way down to her cunt, pulls out a can of lighter fluid and a match, sprinkles it on her muff and lights it on fire. "Aaahhhhhhh, why the fuck did you do that!?!" she yells. The pilot replies "For when I go down, I want to go down in flames!"
I was going to delete these but figured that'd be dumb. Heard somewhere you guys like looking at naked girls? Here's a bunch...
PREVIOUS SOLO GIRLS: DARIA - CHARLOTTE - RITA - JULIAH - HEATHER - GENIE - ELSIE - VALLA - MARTINA

And my work here is done. But you needn't fret!
-Follow me on Facebook and Twitter and Instagram. All the SFW stuff you see on Orsm now flows daily on to your favourite social network.
-Check out the archives. Holy shit they are impressive [like my Johnson].
-Next update will be next Thursday. Thursday's FOREVER apparently...
-Tell your friends, family, colleagues, co-workers and neighbours to check out ORSM-DOT-NET else my friend Ray will jump on you... and you don't want that. Why? Because Ray is so fat that the Death Star couldn't blow him up with its laser.
-Need to clear your conscience? Judge me? Want to fight me? Threaten me? Sit on my lap and talk about the first thing that pops up? Show me the twins? Then go for it! Just make sure you email me here!
Until next time be good, stay off the chems and see you next March. Enjoy. Mr. Orsm.