Welcome to Orsm.net. Vinegar strokes.
Aaaand summer. I'm training myself for extreme heat exposure. Writing this it's a mild 36deg and I'm trying to resist the urge to switch on the a/c. Why? Because it's an oversized and grossly inefficient electricity guzzler designed to cool a large area of which I only occupy a fraction. Also, its old and barely makes the slightest impact. Also I'm a cheap cunt who would rather avoid those $1000 power bills everyone seems to wear as a badge of honour. Now to try and convince the 3 others in the house to do that same. Suffering by example proving to be far less effective than I'd hoped though...
Moving on. I wish the great Nelson Mandela had lived forever because I cannot take the endless media coverage. Seriously gimme a break. How many Africans do we need to see dancing in the streets or interviews with past leaders who met him way back when? He had a presence - we get it! Nelson Mandela factored in my world probably as much as I did in his so continuous, inescapable coverage cheapened the whole thing by turning it into more of a circus than dignified farewell. But hey, at least lots of people got all expenses paid trips to Africa to say adios, fucker.
The next dominating topic around here is sharks. Following the death of yet another surfer a couple of weeks ago everyone has gone into opinion mode after the gov announced there would be a cull. Half the people seem to think there should, the other say that we're going into their environment and know the risks. True but I wonder how many surfers, half way down a sharks throat, would agree? I've got plans to smash the beach at every opportunity this summer and it would be better without the fear that Jaws is going to om nom my pudgy bits. That fear however might not be quite as full on if it weren't for the aerial patrols, media scaremongering and unnecessary beach closures. All things to help protect people, all things which raise their anxiety. The sharks have always been there its just now that we can see them.
Okay let's do what's been happening in my sheltered life; beginning with Friday which was the 1 year anniversary of dog passing away. Was pretty conscious of not wanting to unnecessarily overdo it so we got up early, drove to the old-new house and walked the route I used to take her each morning. From there was a whole bunch of typical Friday activities, all of which not worth mentioning. That night, the community show thing which gets a mention here annually. Can't work it out exactly but somewhere around the fourteenth time we've been. Plenty of white trash, greasy food and an awesome fireworks show always make for a good night.
Saturday was a bit crazy. Woke up shit-the-bed early and got moving immediately. The mission was to move a few hundreds leftover bricks from one building site to the house build which would save having to buy them. The very short version of this is it required two loads, with a break in between the loads to go home, shower and punch out a dim sum thing with extended not my family who are in town. The deal was if I do it then I won't have to attend the other dinners etc. Anyway as I was saying - it took a ridiculous fifteen vehicle movements and over 150 kilometres by the time I was done. The day wasn't over there though. The rest of the afternoon was soaked up by a whole bunch of cooking for the following days activities.
Awoke just as early Sunday. If anyone knows why I wake up pre-5am on weekends and give myself an extra hour during the week please let me know. No doubt there's some completely obvious biological explanation. I spent a few hours working on this very update before prying the GF from her slumber. From there we headed down to the dog beach for a walk. Probably her favourite place in the world and one that we used to visit every single summer weekend. Had been worried about suffering some sort of emotional breakdown but ended up being a nice thing to do. Returned home to make the most of a few spare hours. I put this time towards washing the car. Absolutely no signs of the dust attack from the nearby building site abating and like Beliebers, its just something I'll have to live with. Next for the day was family Christmas. It's impossible to get all the cousins and whatever rellies together on the actual day anymore because everyone is married and have commitments so there's just no way to do it so we try and catch up beforehand. All came together better this year because they've been planning it for 12 months. Anyway it was one of the better ones. No bullshit. No ego's. No dramas. Just a bunch of people happy to be spending time with one another whilst consuming substantial quantities of high-calorie food amongst the raucous noise of an inestimable number of kids. And that was about it. Xmas family commitments are now one third over.
Oh before I forget... some of you guys had been having issues with the video player. I've had a programmer code a fallback to the old player so -hopefully- that will cover enough people that everyone can watch the videos. You can access the old player with the big text link below the video you're trying to watch. [Please note that it uses a cookie to remember your preference]. If you still have issues then please drop me an email with browser and version, operating system and the exact problem.
Alllllright enough. Did that make good reading? Of course it did/didn't. so lets move on with a brand new update. Not much point me trying to sell it because as you guys are about to find out, its fucking amazing. Check it...
Mummy Mojo - Ruin The Mood - It's Gone!! - Kill The Rich - Scary - Brilliant - Naked Motion - Sophie Howard - Super Toe
Secret Is Out - Big Titties - Dirty Rats - Sloppy - Suck Shit - Not Normal - No Creampie - Decembeaver! - Overshare
Wants It - Split'er - LOL Ooops - Ho's Down - Stabbed - Sha Rizel - Stimulating - See Thru - Selfishies - Miley Claus
Silently I slipped the condom over my erect cock and unrolled it down the entire length of my throbbing shaft never once losing eye contact with the young woman as she stared in wide eyed disbelief, then breaking the nervous silence I spoke "Yes that seems to fit okay, I'll take the whole packet please"...
--
Nigella Lawson, off her tits, snorting coke? Don't care. Nigella Lawson, snorting coke, off her tits? You have my attention...
--
Bloke goes to the doctors with a golf ball stuck up his arse, the doctor takes a look and says "Fuck me, that's gone up a fairway!!"
--
Brenda O'Malley is home making dinner, as usual, when Tim Finnegan arrives at her door. "Brenda, may I come in?" he asks. "I've somethin' to tell ya". "Of course you can come in, you're always welcome, Tim. But where's my husband?" "That's what I'm here to be telling ya, Brenda". There was an accident down at the Guinness brewery..". "Oh God no!" cries Brenda. "Please don't tell me". "I must, Brenda. Your husband Shamus is dead and gone. I'm sorry. Finally, she looked up at Tim. "How did it happen, Tim?" "It was terrible, Brenda. He fell into a vat of Guinness Stout and drowned". "Oh my dear Jesus! But you must tell me truth, Tim. Did he at least go quickly?" "Well, Brenda... no. In fact, he got out three times to pee".
--
These three old girls and their dogs were sitting on a park bench having a quiet conversation when a flasher approached from across the park. The flasher came up to the ladies, stood right in front of them and opened his trench coat. Gertrude immediately had a stroke. Then Maude also had a stroke. But Tillie, being older and feebler, couldn't reach that far.
ORSM VIDEO
THE GOOD WIFE GUIDE
This is an actual extract from a home economics textbook printed in the early 60's...
Have dinner ready. Plan ahead, even the night before, to have a delicious meal ready on time for his return from work. This is a way of letting him know that you have been thinking about him and are concerned about his needs. Most men are hungry when they come home and the prospect of a good meal (especially his favourite dish) is part of the warm welcome needed.
Prepare yourself. Take 15 minutes to rest so you will be refreshed when he arrives. Touch up your make-up, put a ribbon in your hair and be fresh looking. He has just been with a lot of work weary people. Be a little gay and a little more interesting for him. His boring day may need a lift and one of your duties is to provide it.
Clear away the clutter. Make one last trip through the main part of the house just before your husband arrives. Gather up school books, toys, papers, etc. and then run a dust cloth over the tables.
During the colder months of the year you should prepare and light a fire for him to unwind by. Your husband will feel he has reached a haven of rest and order and it will give you a lift too. After all, catering for his comfort will provide you with immense personal satisfaction.
Minimise all noise. At the time of his arrival eliminate all noise of the washer, dryer or vacuum. Try to encourage the children to be quiet. Be happy to see him. Greet him with a warm smile and show sincerity in your desire to please him. Listen to him. You may have a dozen important things to tell him, but the moment of his arrival is not the time. Let him talk first, remember his topics of conversation are more important than yours.
Make the evening his. Never complain if he comes home late, or goes out to dinner or other places of entertainment without you. Instead, try to understand his world of strain and pressure and his very real need to be at home and relax. Try to make sure your home is a place of peace, order and tranquillity where your husband can renew himself in body and spirit. Don't greet him with complaints and problems. Don't complain if he is late home for dinner, or even stays out all night. Count this as minor compared to what he might have gone through that day.
Make him comfortable. Have him lean back in a comfortable chair or have him lie down in the bedroom. Have a cool or warm drink ready for him. Arrange the pillow and offer to take off his shoes. Speak in a low, soothing and pleasant voice. Don't ask him questions about his actions or question his judgement or integrity. Remember, He is the master of the house and as such will always exercise his will with fairness and truthfulness.
Once he has had a chance to have his evening meal, clear the dishes and wash up promptly. If your husband should offer to help decline his offer as he may feel obliged to repeat this offer and after a long working day he does not need the extra work. Encourage your husband to pursue his hobbies and interests and be supportive without seeming to encroach. If you have any little hobbies yourself try not to bore him speaking of these, as women's interests are often rather trivial compared to men's.
At the end of the evening tidy the home ready for the morning and again think ahead to his breakfast needs. Your husband's breakfast is vital if he is to face the outside world in a positive fashion. Once you have both retired to the bedroom prepare yourself for bed as promptly as possible. Whilst feminine hygiene is of the utmost importance your tired husband does not want to queue for the bathroom as he would have to do for his train. But remember to look your best when going to bed. Try to achieve a look that is welcoming without being obvious. If you need to apply face cream or hair rollers wait until he is asleep as this can be shocking to a man last thing at night.
When it comes to the possibility of intimate relations with your husband it is important to remember your marriage vows and in particular your promise to obey him. If he feels that he needs to sleep immediately then so be it. In all things be led by your husband's wishes, do not pressure him in any way to stimulate intimacy. Should your husband suggest congress then accede humbly all the while being mindful that a man's satisfaction is more important than a woman's. When he reaches his moment of fulfilment a small moan from yourself is encouraging to him and quite sufficient to indicate any enjoyment that you may have had. Should your husband suggest any more of the more unusual practices be obedient and uncomplaining but register any reluctance by remaining silent. It is likely that your husband will then fall promptly asleep so adjust your clothing, freshen up and apply you night time face and hair products.
You may then set the alarm so that you can arise shortly before him in the morning. This will enable you to have his morning cup of tea ready when he awakes.
BODY PAINTED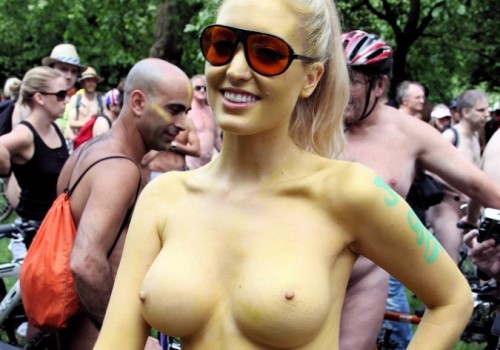 THE MODERN WOMAN
But oh how things have changed. Now lets look at a some more relevant to today's world...
Have dinner ready. Make reservations ahead of time. If your day becomes too hectic just leave him a voice mail message regarding where you'd like to eat and at what time. This lets him know that your day has been crappy and give him an opportunity to change your mood.
Prepare yourself. A quick stop at the cosmetics counter on your way home will do wonders for your outlook and will keep you from becoming irritated every time he opens his mouth. (Don't forget to use his credit card!)
Clear away the clutter. Call the housekeeper and tell her that any miscellaneous items left on the floor by the children can be placed in the Goodwill box in the garage.
Prepare the children. Send the children to their rooms to watch television or play Nintendo. After all, both of them are from his previous marriage.
Minimise the noise: If you happen to be home when he arrives, be in the bathroom with the door locked.
Some DON'TS: Don't greet him with problems and complaints. Let him speak first, and then your complaints will get more attention and remain fresh in his mind throughout dinner. Don't complain if he's late for dinner, simply remind him that the leftovers are in the fridge and you left the dishes for him to do.
Make him comfortable: Tell him where he can find a blanket if he's cold. This will really show you care.
Listen to him: But don't ever let him get the last word.
Make the evening his: Never complain if he does not take you out to dinner or other places of entertainment; go with a friend or go shopping (use his credit card). Familiarise him with the phrase "Girls Night Out!"
The Goal: Try to keep things amicable without reminding him that he only thinks the world revolves around him. Obviously he's wrong, it revolves around you.
ORSM VIDEO
A fellow has a week off and decides to play a round of golf every day. First thing Monday morning, he sets off on his first round and soon catches up to the person in front. He sees that this is a woman and, as he catches up to her on a par 3, that, in fact, she's very attractive. He's interested and suggests that they play the rest of the round together. She agrees and a very close match ensues. She turns out also to be a very talented golfer and she wins their little competition on the last hole. He congratulates her in the car park then offers to give her a lift when he sees she doesn't have a car. All in all it's been a highly enjoyable morning. On the way to her place, she thanks him for the morning's company and competition and says she hasn't enjoyed herself so much on the course for a long time. "In fact" she says "I'd like you to pull over so I can show you how much I appreciated everything". He pulls over, they kiss and she shows him her appreciation...
The next morning he spies her at the first tee and suggests they play together again. He's actually quite competitive and slightly peeved that she beat him the previous day. Again they have a magnificent day, enjoying each other's company and playing a tight, competitive round of golf.
Again she pips him at the last, again he drives her home and again she shows her appreciation. This goes on all week, with her beating him narrowly every day. This is a sore point for his male ego. But, nevertheless, in the car home from their Friday afternoon round, he tells her that he has had such a fine week that he has a surprise planned: dinner for two at a fancy candle-lit restaurant followed by a night of passion in the penthouse apartment of a posh hotel.
Surprisingly, she bursts into tears and says she can't agree to this. He can't work out what the fuss is about but eventually she admits the reason. "You see" she tearfully sobs "I'm a transvestite". He is aghast. He swerves violently off the road, pulls the car to a screeching halt and curses madly, overcome with emotion. "I'm sorry" she repeats. "You bastard!" he screams, red in the face "You cheating bastard. You've been playing off the ladies tees all week!!"
WE LIKE THE PANTIES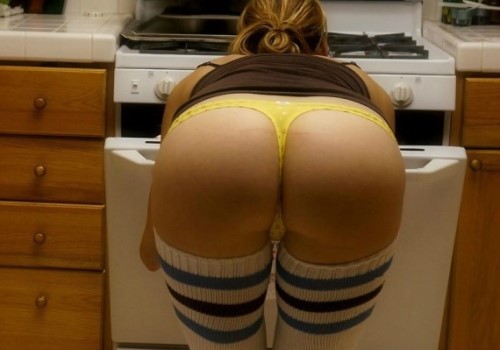 HOW TO SPEAK LIKE AN AUSTRALIAN
COMPLIMENTS
"Ya bloods worth bottling!"
"He's True Blue".
"I'd be up her like a rat up a drain pipe".
"A better man never stood in two shoes!"
YES
"Does a fat dog fart?"
"Even Blind Freddy could see it".
"Is the Pope a Catholic?"
"Does a Koala shit in a gum tree and wipe his ass on a Cockatoo?"
"Bloody oath!"
"No wuckin' forries".
"Is a frog's arse watertight?"
"Does a duck's bum pucker in a power dive?"
NO
"Pig's arse!!"
"Do chickens have lips?"
ASSORTED
"Drilling for Vegemite". (Anal sex)
"I'll have a super". (I'll have a beer)
"Make mine an unleaded". (I'll have a light beer)
"Going off like a frog in a sock". (try to picture this one)
"Like throwing a sausage down a hallway" (bad sex with a loose girl)
"Like trying to put a marshmallow in a coin slot" (sex after a few too many beers)
I'M HUNGRY
"I could eat the crotch out of a dead leper's undies".
"I could eat the horse and chase the jockey".
"So hungry I'd eat a shit sandwich".
"I could eat the arse out of a rag doll through a cane chair".
"So hungry I could eat the arse out of a low flying duck".
I'M THIRSTY
"I'm dry as a dead dingo's donger".
"I'm drier than a nuns nasty".
"I'm dry as a fuck with no foreplay".
"I'm as dry as a pommie's bath mat".
"I'm as dry as a bulls bum going up a hill backwards".
"I'm drier than an Arab's fart".
I NEED TO GO FOR A PEE
"Gonna drain the dragon".
"My back teeth are floating".
"Need to syphon the python".
"I got to take a snake's hiss".
"Gotta go have a slash".
"Gonna go water a horse".
"I'm off to drain the main vein".
"Time to splatter the bladder".
"I'm dying for a piss so bad I can taste it".
"Shake hands with the wife's best friend".
I NEED TO DO A POO
"I gotta go give birth to a politician".
"I'm takin' a stroll to the gravy bowl".
"I've got to drop the kids off at the pool"
"Off to the bog to leave an offering".
"Time to snap off a grogan".
"Have to hang a brown bear in the porcelain cave".
"I'm gonna strangle a brownie".
"There's a brown dog barking at the back door".
"I'm going to give birth to your twin".
"Need to choke a brown dog".
"I've freed Nelson Mandela".
"Taking out the garbage".
"I gotta back one out".
"Gonna lay some cables"
"Off for a James Hird"
"I'm touching cloth"
"The turtle is poking his head out for a look"
"Spray painting the Duck Bluey"
VOMIT
"I was driving the porcelain bus this morning".
"I left him a lawn pizza".
"Toss a tiger on the carpet".
"Having a technicolour yawn".
"Say hello to Ruth"
INSULTS
"I hope your ears turn into arseholes and shit on your shoulders".
"Not enough brains to give himself a headache!"
"About as useful as tits on a bull".
"You must be the world's only living brain donor".
"He's a few wanks short of an orgasm".
"She had more pricks than a second hand dartboard".
"Fell out of the ugly tree, and hit every branch on the way down".
"Face like a bashed crab".
"May your chooks turn into emus and kick your dunny down".
"He's got a few roo's loose in the top paddock".
"So stupid that he wouldn't know a tram was up him 'til the bell rang!"
"Couldn't organise a piss-up in a brewery".
"Pull your lip over your head and swallow!"
"As ugly as a hat full of arseholes".
"If I had a dog that looked like him, I'd shave it's arse and make it walk backwards".
"Got a face like a bashed in shit can".
"Couldn't tell his ass from a hole in the ground".
"Couldn't drive a greasy stick up a dog's arse".
"Couldn't organise a fuck in a brothel with a fist full of fifties".
"About as useful as a one-legged man in an arse-kicking competition".
"I'll kick your bum till your nose bleeds!"
"A stubbie short of a six pack".
"Seen better heads in a piss trough".
"You're as handy as shit on a stick".
"Tighter than a fish's arse".
"So tight that he wouldn't shout if a shark bit him".
"As ugly as a bulldog chewing a wasp".
"He could talk a dog off a meatwagon".
"Fucked in the head".
"You've got a head like a half-eaten pastie".
"He wouldn't go two rounds with a revolving door".
"Mate, shes as rough as a pigs breakfast".
"Your face is like a twisted ugg boot".
"He's got a face like a cat licking shit off a thistle".
"She's been hit with the ugly stick too many times".
"She's two pick handles wide".
"An arse like two pigs fighting in a sugar bag".
"As ugly as a bag of spanners".
"You've got a head like a dropped pie".
"He thinks his shit don't stink, but his farts give him away".
"I wish his dad had settled for a blow job".
"If I had a head like yours I'd circumcise it".
"Wouldn't know if someone was up him sideways with an armful of deck chairs".
"As thick as two short planks!"
"Oxygen Thief"
"What a pog"  (pog = pig dog)
"Shit for brains"
GIRLS LICKING GIRLS BOOBS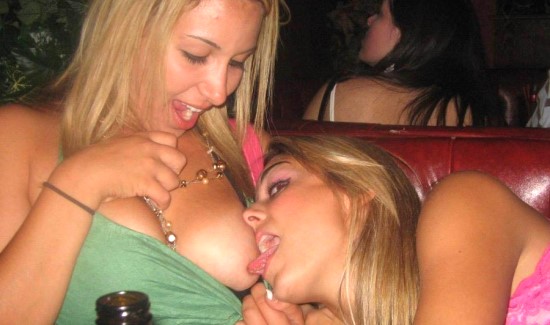 Why is MyFreeCams.com one of the most awesome websites in the history of forever? Firstly, there are hundreds of hot models online at any given time AND you can watch their live webcam feed in HQ with sound AND chat. Secondly, you don't need a credit card or have to install any dodgy software - it's all absolutely free! And finally, why do I sound so fucking excited? Because MyFreeCams really is that brilliant. Click here to check it out now!
ORSM VIDEO
An elderly couple is enjoying an anniversary dinner together in a small tavern, the husband leans over and asks his wife... "Do you remember the first time we had sex together over fifty years ago? We went behind this tavern where you leaned against the fence and I made love to you". "Yes" she says "I remember it well".
"Okay" he says "How about taking a stroll a round there again and we can do it for old times sake". "Oooooooh Henry, you devil, that sounds like a good idea" she answers.
There's a police officer sitting in the next booth listening to all this and having a chuckle to himself. He thinks I've got to see this - two old-timers having sex against a fence... I'll just keep an eye on them so there's no trouble. He follows them...
They walk haltingly along, leaning on each other for support, aided by walking sticks. Finally they get to the back of the tavern and make their way to the fence. The old lady lifts her skirt, takes her knickers down and the old man drops his trousers, she turns around and as she hangs on to the fence, the old man moves in, suddenly they erupt into the most furious sex that the watching policeman has ever seen.
They are bucking and jumping like eighteen-year-olds. This goes on for about forty minutes! She's yelling "Ohhhh, God" He's hanging on to her hips for dear life. This is the most athletic sex imaginable. Finally, they both collapse panting on the ground.
The policeman is amazed, he thinks he has learned something about life that he didn't know. After about half an hour of lying on the ground recovering, the old couple struggle to their feet and put their clothes back on. The policeman, still watching thinks that was truly amazing, he was going like a train. I've got to ask him what his secret is.
As the couple pass, he says "That was something else! You must have been having sex for about forty minutes. How do you manage it? You must have had a fantastic life together... is there some sort of secret?
"No, there's no secret" the old man says "Fifty years ago that darn fence wasn't electric".
something about chloe says daddy issues... and thats okay!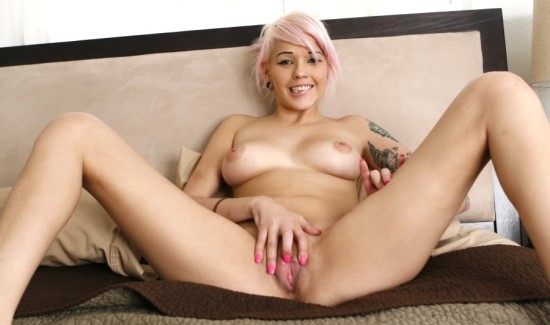 The Banker saw his old friend Tom, an eighty-year old rancher, in town. Tom had lost his wife a year or so before and rumour had it that he was marrying a mail order bride.
Being a good friend, the Banker asked Tom if the rumour was true. Tom assured him that it was. The Banker then asked Tom the age of his new bride to be. Tom proudly said "She'll be twenty-one in November".
Now the Banker, being the wise man that he was, could see that the sexual appetite of a young woman could not be satisfied by an eighty-year- old man.
Wanting his old friend's remaining years to be happy the Banker tactfully suggested that Tom should consider getting a hired hand to help him out on the ranch, knowing nature would take its own course.
Tom thought this was a good idea and said he would look for one that afternoon.
About four months later, the Banker ran into Tom in town again.
"How's the new wife?" asked the Banker. Tom proudly said, "Great! She's pregnant!"
The Banker, happy that his sage advice had worked out, continued, "And how's the hired hand?" Without hesitating, Tom said "She's pregnant too!"
Don't ever underestimate old guys.
ORSM VIDEO
Want to contribute to Reader Mail? Just click here and do eeeet!!
A married couple in their early 60's are celebrating their 40th wedding anniversary in a quiet, romantic little restaurant.
Suddenly, a tiny yet beautiful fairy appeared on their table. She said "For being such an exemplary married couple and for being loving to each other for all this time, I will grant you each a wish".
The wife answered "Oh, I want to travel around the world with my darling husband".
The fairy waved her magic wand and -POOF!- two  tickets for the Queen Mary II appeared in her hands.
The husband thought for a moment: "Well, this is all very romantic, but an opportunity like this will never come again. I'm sorry my love, but my wish is to have a wife 30 years younger than me".
The wife and the fairy, were deeply disappointed, but a wish is a wish.
So the fairy waved her magic wand and -POOF!- the husband became 92 years old.
THE MORAL OF THIS STORY: Men who are ungrateful bastards should remember fairies are female...
PURE DELICIOUS FAT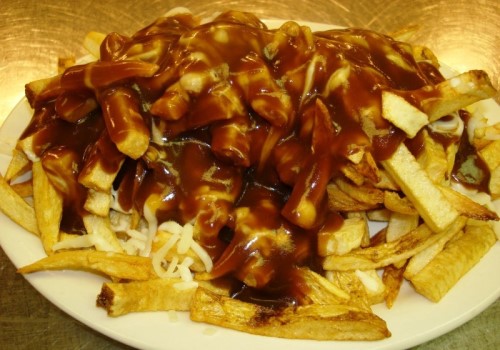 A man enters the confessional and says to the Irish Priest "Father, it has been one month since my last confession. I have had sex with Fannie Green every week for the last month". The priest tells the sinner "You are forgiven. Go out and say 3 Hail Mary's".
Soon, another man enters the confessional. "Father, it has been two months since my last confession. I have had sex with Fannie Green twice a week for the last two months". This time the priest asks "Who is "Fannie Green?" A new woman in the neighbourhood" the sinner replies. "Very well" says the priest. "Go and say 10 Hail Mary's".
The next morning in church, the priest is preparing to deliver his sermon when, suddenly a gorgeous, tall woman enters the church. All the men's eyes fall upon her, as she slowly sashays up the aisle and sits down in front of the altar. Her dress is green and very short, with matching shiny emerald green shoes. The priest and altar boy gasp, as the woman sits with her legs slightly spread apart.
The priest turns to the altar boy and asks "Is that Fannie Green?" The altar boy, whose eyes are popping out of his head, replies "No Father, I think its just the reflection off her shoes".
RANDOM SHITE
We've all heard the overused "#1 site for whatever" line but believe me when I say MyFreeCams.com is actually it! Hundreds of real girls getting nude in front of a webcam chatting, stripping and just about anything else you can convince them to do! You're able to watch unlimited live webcam shows with full audio and chat. Oh and did I mention it's absolutely totally 100% completely FREE!? Getting on is as easy as clicking here but be prepared to lose your day!
Yesterday I had an appointment to see the urologist for a prostate exam. Of course I was a bit on edge because all my friends have either gone under the knife or had those pellets implanted.
The waiting room was filled with patients.
As I approached the receptionist's desk, I noticed that the receptionist was a large unfriendly woman who looked like a Sumo wrestler.
I gave her my name.
In a very loud voice, the receptionist said "YES, I HAVE YOUR NAME HERE; YOU WANT TO SEE THE DOCTOR ABOUT IMPOTENCE, RIGHT?"
All the patients in the waiting room snapped their heads around to look at me, a now very embarrassed man. I recovered quickly, and in an equally loud voice replied:
"NO, I'VE COME TO INQUIRE ABOUT A GENDER CHANGE OPERATION, BUT I DON'T WANT THE SAME DOCTOR THAT DID YOURS".
GIRL NEXT DOOR: HOLLY WEBSTER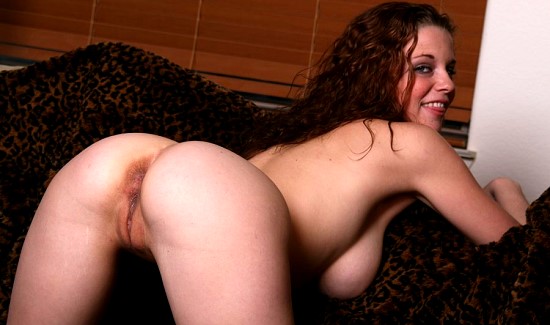 A guy walks into a truck stop with a stunned look on his face. He makes his way to the counter and sits down. The waitress comes over and asks "Can I help you?" the man just sits there with a blank stare on his face, then he spits and says "Mother Fucker sure can drive!"
Well, the waitress is offended by this and leaves. She comes back about 10 minutes later and asks again "Can I help you now?" The man replies by spitting and saying "Mother Fucker sure can drive!"
The waitress storms off and gets the manager. The manager comes up to the guy, grabs him by his collar and says "What seems to be the problem here?" The man spits and says "Mother Fucker sure can drive!" The manager tells him "Look this is a nice, respectable place, maybe if you could explain, who can drive and what you are talking about, I won't have to throw you out".
The man looks up at the manager and says "Well, I was in my 18 wheeler and I had this nineteen year old green horn kid driving, we were coming down the old mountain road, when I saw this traffic jam down in front of us so I told the kid, if you can get us out of this alive I'll suck your dick! *SPIT* AND THAT MOTHER FUCKER SURE CAN DRIVE!!"
ORSM VIDEO
Well it seems my work here is done and about that I am happy. No doubt you may have some questions so read on and be awed that they are answered below...
-Check out the site archives. Hundreds of thousands of updates just like that one you've ingested conveniently located in one place.
-Next update will be next Thursday. Last one for the year bitches!
-Tell your friends, family, colleagues, co-workers and neighbours to check out ORSM-DOT-NET otherwise my friend Ray will cancel Christmas. He's all-powerful like that. Just ask him - he'd be happy to tell you...
-Need to clear your conscience? Judge me? Want to fight me? Threaten me? Sit on my lap and talk about the first thing that pops up? Show me the twins? Then go for it! Just make sure you email me here!
Until next time be good, stay off the chems and tear down the walls. Enjoy. Mr. Orsm.