Welcome to slapping people on their ear.
The execution of the Aussies which will take place in Indonesia sometime in the next few days has me feeling angsty and sick to the stomach. Can't imagine what they or their families are going through right now. Despite last ditch, desperate pleas for clemency from Australia, there appears to be no possible way for the government to back down without looking weak to anyone considering trafficking drugs through there. Sadly for these guys they'll forever be the poster boys for not messing with drugs in Indo.
Execution debates disappeared here years ago with the abolition of the death penalty. Most people seem to find it barbaric and I'm definitely in that camp. -In my opinion- smuggling or just about anything to do with drugs aren't crimes worthy of paying with your life. Terrorism and kiddy fiddling for example are far, far worse and I'd be happy to see anyone doing that shit being executed for it. Victims of those crimes are unwilling participants whereas you'd have to say someone dying from drug use knowingly took the risk. Probably a pretty simple way to look at it and justify my own feelings but you feel how you feel right? No doubt there are a million different reasons why I have it all wrong however can't get past the fact two healthy young guys who would otherwise live for many years longer are about to have theirs taken away. It's all very fucked up.
Moving on... on to less serious things. In the wake of a long weekend there was lots happening. Friday was baby swimming classes where we rolled up to find an empty pool. Staff would only say that there had been "an incident". Am unsure why they don't/can't say one of the brats had a dump whilst in the water which escaped the swim nappy. I now realise it probably happens often and that any publically accessible pool is borderline open sewerage but what was truly surprising is the clean-up time. Yeah there's a guy with a pool scoop and someone drops in the robot cleaner to get 'bits' off the bottom and maybe they even splash in some extra chlorine. Maybe that's all you can do right? Close the pool for the day too? Nope. Ready for use again in 15 minutes! WHAAAT? #bailed #seeyouinaweek #maybe
It's been a longtime between music festivals for me. Last one I managed was Big Day Out 3-4 years ago so was all kinds of excited when mates invited me along with them... maybe a little less so after a chatting with a supermarket checkout chick though. She said that Darude was performing and how that old Darude song [Sandstorm] is "kind of like ironic now". Holy shit I felt old. Clearly remember being on the nightclub DF when the DJ dropped that track at the stroke of midnight one NY's. Everyone went mental. It was epic. Now it's ironic.
Anyway... jumped online the night before to buy a ticket. 'Final release' tix were pushing $180 each! Thought surely it was a mistake... turns out that's the going rate when you decide last minute to go. Had passed up Foo Fighters tickets at $150 each for this coming weekend and I like FF way, way more. And that was that. Got drunk and had an excellent time at a party instead so not all was lost.
Okay enough with the blogging words and stuff. Let's everyone stop holding everyone up from the update because its fucking outstanding. Let's you guys be the judge of that though. Check it...
SpectacularInsane Camera Angle Of Crashing Holden V8 Supercar - Scary ShitGirl Learns The Hard Way That Lions Are Crafty Assassins - Super-EgoExtravagant Rap Super-Ego Kanye West Summed Up In One Minute, One Take - Cats Are EvilCats Are Evil, Naughty, Mean, Selfish, But Also Incredibly Cute - Which Is Why We Love Them - OMG Want!!This TIE Interceptor Drone Is Pretty Cool - Mind BendingThese Amazing Perspective Tricks Will Mess With Your Mind (And Not A Blue/Black Dress In Sight) - Out-ChimpedIs The Monkey As Smart As You, Or Are You As Smart As A Monkey? - MonstrousGigantic 280 Pound Monster Catfish Caught By Italian Fisherman #nope - Shark LiftingSkills Required For This Game: 1. Excellent Mouse Clicking Ability
CoolnessMourn Is Strangely Addictive. Try As You May, The Chances Of Just Having A Quick Rip Seem Increasingly Unlikely. - Protest TitsTopless Protesters Protesting Against... It Doesn't Matter Does It... Because They Had Me At Topless... - SensationalMy 2 Favourite Things... Coffee And Perfect Titties! - CheatingSucking Dick In The Middle Of The Street... This Is WSH Bread And Butter - Gone GaGaLady Gaga Slips Caught Topless In Music Video Outtakes And She's Hotter Than You Realised! - Split'emHuge Cocks And Depraved Sluts Compilation. This Shit Is Quite Simply Out Of Control - U OK Mate?My Reaction Would Be Way, Way Angrier!! Someone Might Even Have Been In Line For A Punch! - Cavern-assWish I Knew A Girl Like This... Would Be A Bloody Amazing Trick To Pull Out At Parties! - Great Butt!God Knows We All Hate The Kardashians But Khloe Has Some Seriously Sweet Cheek Meat Down There - Fuck BusYoung Couple Having Sex On The Back Of A Bus
BeautifulThis Very Awesome Interactive Novel And Not Something You Would Typically Expect To Find On Orsm. Give It A Look. I Think You'll Be Very Surprised... - Messed Up"Shit White People Do" All In One Mesmerisingly Delicious Efukt-Style Compilation - PoopyThe Screams Of The Second Prank Guy Are Amazing. He Got Poop In His Eyes, And Now He Is Going To Lose His Shit - DisappointedHorny As Hell And She Can't Wait To Get A Dick Inside Her... Shame Her Boyfriend Can't Bring His Dick To The Party Though - She's All ToeColossal Camel Toe Brought To You By Leggings - Milian NipChristina Milian's Nipple Tape Gives Up And Lets Them Free - Nude YogaSexy Pics Of Busty Yoga Babe August Ames Getting Naked While Showing Off Her Flexible Body! Her Tits Are Out Of This World Awesome - AmazingThis Weasel Likes His Food Fresh! Watch A Weasel Eat A Seagull - Auto-lingusAutocunnilingus? It's The Fancy Way Of Describing A Girl Who Can't Eat Her Own Pussy!! - No Pls No!Dirty Little Slave Doesn't Like It In The Ass
Think about it... Bruce Jenner had never had an automobile accident until he became a woman.
--
Mohammed heard one of his wives was leaving him, so he rushed home where he found her on the carpet in front of the tent with her belongings. He sat beside her and said "I heard you were planning to leave me?" She replied "Yes, I heard your other wives saying you were a paedophile!" Mohammed thinks for a minute or so and then responds "That's a mighty big word for a 9 year old!"
--
Mick walks into Paddy's barn and catches him dancing naked and playing with himself in front of a tractor. Mick says "Jesus Paddy, what ya doing?" Paddy says "Well me and Mary haven't been getting on in the bedroom lately and the therapist recommended I do something sexy to attracter...
--
Whenever anyone asks more what I do for a living I tell them I'm a gynaecologist. I'm really a cloakroom assistant in the Houses of Parliament but it's the same thing, I spend all day looking at cunts...
--
A husband, wife and their seven-year-old son walk into an ice-cream shop. The dad says "I'll have a chocolate cone, and my wife here will have a vanilla". He then slaps his son on the back of the head and says "What do you want, fat-head?" The lady behind the counter, shocked, says "Why did you call him that?" "I'll tell you why" says the dad "There's really only three things a man wants in life.
First, he wants a nice big truck. See that nice big truck parked outside? That's mine. Second, he wants a nice big house. I have one of the biggest houses in town. Third, and most important, he wants a nice tight pussy and I had that too until fat-head here came along".
ORSM VIDEO
IT'S PROBABLY THE BEST THING TO EVER HAPPEN TO ONLINE PORN. SERIOUSLY. EVER. HERE'S WHY YOU'LL CARE
AND BABIES AND BABIES AND BABIES...
-The word "baby" may come from a baby's babbling, as in "ba-ba-ba-ba".
-A baby cannot taste salt until it is 4 months old. The delay may be related to the development of kidneys, which start to process sodium at about that age.
-On birth, babies do not have kneecaps. Rather they have a structure of cartilage that resembles kneecaps. They usually don't develop them fully until after six months.
-In medieval Europe, leeches were commonly used to treat babies' illnesses. For example, leeches were placed on a baby's windpipe for croup. Additionally, teething babies were commonly purged or bled.
-One would think that January sees the heaviest babies given all the holiday eating but this is untrue. May is actually the month that sees the heaviest babies born. Usually about an average of 200 grams heavier than any other month.
-In the U.S., more babies are born on Wednesday than on other days of the week. Sunday is the slowest day.
-In China, a baby is born with a birth defect every 30 minutes. Birth defects in that country have increased nearly 40% since 2001.
-They can scream and holler for what they want or need, but newborns can't technically cry. Tears can't actually be created or released until about three weeks in. However, in some cases, it isn't unusual for babies to shed their first tears until four or five months.
-The protein that keeps a baby's skull from fusing is called "noggin".
-When babies are born, they have 300 bones. Adults have 206. Bones fuse together during growth to come up with the new number.
-Newborns are more likely to turn their heads to the right than to the left
-The inner ear is the only sense organ to develop fully before birth. It reaches its adult size by the middle of pregnancy.
-Newborn birthmark are very common and normal. Around 80% of all babies are born with some form. The most common include stork bites and port wine stains.
-A baby has around 10,000 taste buds, far more than adults. They are not just on the tongue but also on the sides, back, and roof of the mouth. Eventually these extra taste buds disappear.
-The intestines of a newborn are about 11 feet long. The length will double by the time the baby grows to adulthood.
-Babies will startle at just about anything. Not because it is louder or softer, but because it is new.
-A newborn urinates about every 20 minutes and then roughly every hour by 6 months.
-Human babies are the only primates who smile at their parents.
-A newborn's eyesight is just about as good as an adult's. However, their brains aren't able to process information as well and usually start out at about eight to 15 inches of range.
-If a person who was born 8lbs and 20in at birth continued growing at the same rate as he does the first year, by the time he reached 20, he'd be 25ft tall and weigh nearly 315lbs.
-A baby is born in the world every three seconds.
-A newborn turning his or her head at a spoonful of food means they are full. This is also where shaking your head "no" comes from.
-Famous premature babies include Albert Einstein, Charles Darwin, Isaac Newton, Jean-Jacques Rousseau, Napoleon Bonaparte, Mark Twain, Pablo Picasso, Auguste Renoir, Stevie Wonder, Johann Goethe, and Sir Winston Churchill.
-The largest number of babies born to a woman is 69. From 1725-1765, a Russian peasant woman gave birth to 16 sets of twins, seven sets of triplets, and four sets of quadruplets.
-It only takes a few weeks in before a baby can visually distinguish between his or her mother and other adults. The constant sounds and sights are soothing to the child and are missed when gone.
-In 1978, the first baby was born in Antarctica: Emilio Marcos Palma.
-Each year, over four million babies are born in the U.S.
-A baby is typically capable of their first smile at only one month old.
-Approximately two or three of every 1,000 children in the United States are born deaf or hard-of-hearing. More lose their hearing later in childhood.
-Babies can suffer serious health effects if their mothers have an STD, including death, low birth weight, conjunctivitis, pneumonia, neonatal sepsis (infection in the baby's blood stream), neurologic damage, blindness, deafness, acute hepatitis, meningitis, chronic liver disease, and cirrhosis. Many of these problems can be prevented if the mother receives prenatal care that includes screening for STDs.
-The heaviest baby ever born was a boy who weighed 22 pounds, eight ounces. He was born in Italy in 1955.
-In 1970, the average age for a first-time mum in the U.S. was 21. In 2008, it was 25.
-It is estimated that new parents in the U.S. will spend on average $7,000 the first year on a new baby's diapers, formula, and day care. This does not include medical costs.
-While adults and babies can do both, only at a certain age can you do both at the same time. At around six months is when babies can both take a breath and a bite at the very same time.
-The number of babies born to single women is at record levels. In 2010, there were 9.8 million single mums living with children under 18 in the U.S., up from 3.4 million in 1970.
-Over half a million babies (1 in 8) are born prematurely in the United States each year. Low birth weight rate has increased 9% since 2000 and 24% since the mid-1980s.
-At six months in, babies have usually doubled their birth weight. A near impossibility at any other age.
-Research has shown that caesarean babies are more likely to have breathing difficulties, as it is thought they may miss out on important hormonal and physiological changes that occur during labour.
-In four or five out of every 100 newborn babies, there is discharge of milk from the nipples. This is due to unusually high levels of the mother's hormones that leak across the placenta during pregnancy. Premature babies never have this discharge, only those who are full term.
-Pound for pound, your baby is stronger than many animals. An oxen is the best example of compatible strength. Their strongest muscles? The legs.
-A baby's head is proportionally huge, being one-quarter of the total body length, compared to only one-eighth of the total adult's length.
-The grasp of a newborn baby is so strong that its whole body can hang in mid-air, with its bent fingers supporting its weight.
-Although they can't speak, babies can still communicate physically. Waving bye-bye, clapping, pointing, and others are ways that they communicate. Studies show that the more physically they communicate, the better they will verbally communicate.
-At the moment of birth, a baby's heart beats at 180 pulses per minute. Within a few hours, the rate falls to 140 pulses. At 1 year old, the infant heart rate is 115 beats per minute. An adult's average resting level is 70-80 beats a minute.
-Research shows that a baby responds positively to the fragrance of its mother's breasts and ignores breast pads used by other women. Even more striking is the discovery that a blindfolded woman has the ability to identify her own child from a host of other babies by scent alone.
-At the end of the first year, a baby's weight will have tripled. That means if they were born at ten pounds, at their first year they will weight around 30, give or take.
-New babies prefer looking at a drawing of a face rather than a random pattern, and they prefer smiling faces to grumpy ones.
-Up until 7 months old, a baby can breathe and swallow at the same time.
-At one year old, a baby will have a foot half the size of their adult size.
-The youngest person ever to give birth was a five-year old Peruvian girl, Lina Medina.She gave birth to a boy on May 14, 1939.
-On average, female babies spend a day longer in the womb than male babies. White babies, on average, spend five days longer inside their mothers than black babies, while Indian babies spend six days longer in the womb than white babies.
-By the end of age two, the average baby has been changed 7,300 times. Average speed of each change? Two minutes, which adds up to three 40 hour work weeks each year. The average dad takes one minute, thirty seconds to change a diaper. This still adds up to about two 40 hour work weeks a year if dad did all of the diaper changing.
-The very best chance a baby has of surviving gestation is when its mother is aged 22.
-The average weight of a baby at birth is 7-8 lbs. The smallest baby ever to survive weighed only 8.5oz at birth.
-Feel like your kid is all nose and ears? That's because they never stop growing. Only the eyes remain the same size.
-On the whole, boy babies are slightly heavier than girl babies. The average weight of a newborn boy is 7lbs 10oz while that of a newborn girl is 7lbs 2oz.
-The brain of a newborn accounts for 10% of its total body weight. In adults this figure is down to 2%. By the end of the first year, an infant's brain increases in size two and half times, and by the end of the fifth year, it is three times what it was at birth. At all stages, the male brain is slightly larger than that of the female.
-During the nine months between conception and birth, a baby's weight increases 3,000 million times. On average. And this doesn't even take into account for multiple births.
-Babies are born with natural swimming abilities and can hold their breath. However, this ability quickly disappears.
BLOODY WOMEN CAN'T HELP THEMSELVES!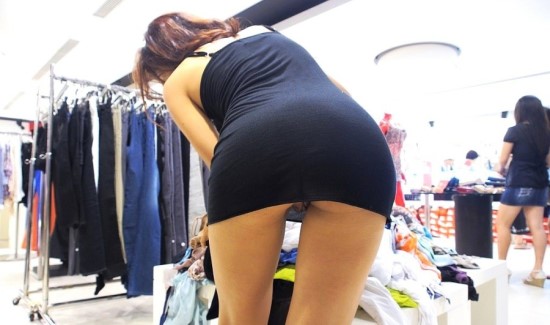 A Taliban was sitting in a cave when he hears over a dune the voice of one American solider: "One American solider is better than 10 Taliban fighters!" The Taliban angry sent over ten of his high-ranking soldiers.
After a lot of gun fire and yelling and screams of agony the Taliban heard the voice again: "One American solider is better than 100 Taliban fighters!"
 So the Taliban sends over 100 of his highest ranked soldiers; this time sure of victory.
After a lot of gun fire and yelling and screams of agony the Taliban heard the voice again. "One American solider is better than 1000 Taliban fighters!"
So the Taliban sent his toughest, meanest, personal guards over the dune. After hundreds of bullets fired, and explosions and the screaming and crying, it was over.
The Taliban now wondering what happened goes over the dune where he finds a wounded Taliban solider who says "Don't send any more men it's a trap. There is really two of them!"
ORSM VIDEO
Three dogs were sitting in the waiting room at the vet's when they struck up a conversation.
The Black Labrador turned to the yellow Labrador and said "So why are you here?" The yellow Lab replied "I'm a pisser. I piss on everything... the sofa, the curtains, the cat, the kids. But the final straw was last night when I pissed in the middle of my owner's bed".
The black Lab said "So what's the vet going to do ? " "Gonna cut my nuts off" came the reply from the yellow Lab. "They reckon it'll calm me down".
The Yellow Lab then turned to the Black Lab and asked "Why are you here?" The Black Lab said "I'm a digger. I dig under fences, dig up flowers and trees, I dig just for the hell of it. When I'm inside, I dig up the carpets. But I went over the line last night when I dug a great big hole in my owners' couch".
"So what are they going to do to you?" the Yellow Lab inquired. "Looks like I'm losing my nuts too" the dejected Black Lab said.
The Black Lab then turned to the Great Dane and asked "Why are you here? "I'm a humper" said the Great Dane. "I'll hump anything. I'll hump the cat, a pillow, the table, fence posts, whatever. I want to hump everything I see. Yesterday my owner had just got out of the shower and was bending down to dry her toes, and I just couldn't help myself. I hopped on her back and started hammering away".
The Black and the Yellow Labs exchanged a sad glance and said "So, it's nuts off for you too, huh?" The Great Dane said "No, apparently I'm here to get my nails clipped!"
CATWALK NUDITY IS WHY FASHION SHOWS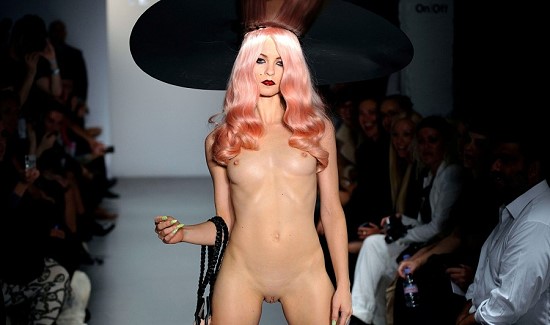 Why is MyFreeCams.com one of the most awesome websites in the history of forever? Firstly, there are hundreds of hot models online at any given time AND you can watch their live webcam feed in HQ with sound AND chat. Secondly, you don't need a credit card or have to install any dodgy software - it's all absolutely free! And finally, why do I sound so fucking excited? Because MyFreeCams really is that brilliant. Click here to check it out now!
ORSM VIDEO
AND BABIES AND BABIES AND BABIES [continued]...
-At around 6 months old, a baby learns that each object is unique. Before this time, whenever it sees a bird in a tree, it always assumes it was the same bird.
-Much like after they are born, babies eat first. Using the umbilical, they take the nutrients they need and leave the rest for mum. This is why it's so important for a woman to eat a healthy diet during pregnancy.
-Brain scans reveal that male babies have more asymmetrical brain hemispheres than female babies, and that female brains tend to have greater symmetry in the part of the brain concerned with complex mental processes. Female babies have more grey matter in the newer parts of the cerebral cortex, while male babies have proportionately more grey matter in the older, more primitive parts of the brain. Male brains are also significantly larger on the left.
-The term "infant" is from the Latin infans, meaning "unable to speak" and typically refers to the ages from 1-12 months. A "newborn" usually refers to an infant in the first 28 days of life.
-Prenatal babies take less than a month to develop and begin using their heart. On average it takes only 18 days from conception.
-SIDS (Sudden Infant Death Syndrome) is responsible for more deaths than any other cause for babies 1 month to 1 year old, claiming 7,000 babies each year in the United States, or almost one baby every hour.
-Most newborns will lose all the hair they are born with in the first three or four months of life.
-Although what they are thinking isn't certain, the brain waves of a foetus can be recorded. This usually happens at the 42nd day after conception.
-Babies are not born with psychic tearing, or tears that indicates emotional distress, though they are born with basal tearing (enough tears to keep the eyes moist and healthy) and reflex tearing (tears that respond to an irritant). Between 2 and 4 months of age, a baby will start crying with tears when it gets upset.
-Although they are not running at full speed, babies have developed or begun to develop all of their bodily systems before the second month of the first trimester is over. It usually happens by the eighth week after conception.
-Newborns prefer the cadence of their native language at birth, suggesting that some language learning starts in utero. Research suggests that babies may even cry with the intonations of their mother tongue.
-Historians of the 18th century estimate that an infant was four times more likely to be a victim of homicide than anyone else.
-A babies chances of surviving outside the womb under intensive medical care can happen at around after the six month period. A prenatal baby that is 26 weeks old after conception has over a 50% chance of surviving.
-In Europe, milk was not pasteurised until the 1890s and was avoided, particularly for infants, because people believed their child would grow up to resemble the animal.
-The Greeks thought that mother's milk was produced in the uterus and transported to the breast by special vessels in the body. There existed since the Middle Ages a vague awareness that breast milk provided some protection against sickness - but colostrum, the fluid secreted after birth, was considered dangerous, and women were advised not to feed the newborn baby for a few days. An older child would draw the breast milk first.
-Babies on ultrasound are seen to react to their mother's laughing by bouncing up and down. This can happen in as little as 32 weeks after conception.
-In Medieval Europe, unruly babies were thought to be the result of inferior breast milk.
-Up until the 7th century, doctors believed many infant sicknesses were caused by the presence of too much acid in the stomach. Babies were fed chalk, crushed eggshells, coral, and oyster shells mixed with their gruel to counteract the acidity.
-The male sperm carries either the X or Y gene that determines gender. Any other tales on position, time of day, diet, and others are just myths.
-Until the 19th century, babies were not considered to have personalities and, therefore, were not in need of the physical and psychological nurturing.
-Redheaded wet nurses were avoided because at least until the 19th century, it was thought that babies absorbed the characteristics of the person nursing them. Parents wanted to avoid the legendary tempers of redheads.
-Apparently eating yams can increase the chances of having twins. A tribe in Africa whose diet consists mostly of yams was recently found to have exceptionally high rates of twins and multiple births.
-In 1235, Henry III decreed that Christian wet nurses could not nurse Jewish babies.
-In Europe and America in the 18th century, it was tradition to wash a newborn and then scour it with salt. It would be purged of meconium with emetic syrup, oil of almonds, castor oil, or anything else the midwife had, including wine and whisky.
-The chances of giving birth to twins are especially high in certain parts of West Africa. In Nigeria, for example, the odds are 22-1. Conversely, women in Japan are less likely to have twins, with the odds as high as 200-1.
-In parts of England, a newborn's head was washed in rum for luck. It was common all over Europe to give the infant a dab of butter and a little sugar to signify the hoped for riches that the child would have in the future.
-Traditionally, the length of the cut umbilical cord was thought to predict the length of a male baby's penis.
-While the average chance of having a boy or a girl remains 50/50, the actual numbers don't match. For every 100 girls born, there are 105 boys born.
-In Ancient Rome, an olive branch would be hung from the front door of a house if a boy was born, and a strip of woollen fabric was hung if the child was a girl. Eighteenth-century London houses hung strips of ribbon on their doorknockers: pink for a girl and blue for a boy.
-The Apache Indians ritually killed one twin, arguing that the mother did not have sufficient milk to feed two infants, and some Eskimo tribes left one twin outside to die in the cold.
-Babies typically prefer a female voice over a male voice, which may explain why people raise the pitch of their voice when talking to babies, otherwise known as "motherese".
-Meconium, or the greenish-black sticky material in the baby's digestive track, stands in for faecal material and allows the intestine to develop so it can digest milk immediately after birth.
-Psychologists believe that a baby's self-awareness develops around 12 months old.
-In the late 19th century, it was medically accepted in Europe and America that "infants who persisted in the habit of sucking always become masturbators". Not only were pacifiers considered unhealthy, parents were instructed to tie their children's hands to their cribs or to stuff their hands inside aluminium mittens.
-Babies in medieval Europe were often tightly swaddled in linen strips because it was thought that swaddling would help its arms and legs grow straight. It also served to immobilise the baby.
-The infant mortality in medieval Europe was as high as 30-50%.
-Female infanticide is still a major problem in India and China. Estimates indicate that 30.5 million females are "missing" from China.
-To many Victorians, the sight of crawling infants reminded them of their ape-like origins, and they forced their children to learn to walk early with the aid of cages and walkers.
-Research suggests that infants have a complex understanding of social interactions and hierarchies by 8-10 months of age.
-Research indicates that a baby's name influences a baby's life into adulthood. For example, a newborn boy with a more "feminine" name could lead to behavioural problems in life.
-Children don't remember much before the age of 3, due to what psychologists call "infantile amnesia". Neuroscientists believe that early experiences never make it into long-term memory banks because the brain's recording machinery isn't functional yet or because memory is tied to language acquisition.
-A baby will eat an estimated 15 pounds of cereal per year.
ORSM VIDEO
Want to contribute to Orsm? Just click here and do eeeet!!
One Monday morning the postman was walking through the neighbourhood on his usual route, delivering the mail. As he approached one of the homes he noticed that both cars were still in the driveway.
His wonder was cut short by Craig, the home owner, coming out with a load of empty beer, wine and spirit bottles for the recycling bin.
"Wow Craig, looks like you guys had one hell of a party last night" the Postman commented. Craig, in obvious pain, replied "Actually we had it Saturday night. This is the first time I have felt like moving since 4:00 o'clock Sunday morning. We had about 15 couples from around the neighbourhood over for some weekend fun and it got a bit wild. We all got so drunk around midnight that we started playing WHO AM I?"
The Postman thought for a moment and said "How do you play WHO AM I?" "Well, all the guys go in the bedroom and come out one at a time covered with a sheet with only the 'family jewels' showing through a hole in the sheet. Then the women try to guess who it is..."
The postman laughed and said "Sounds like fun, I'm sorry I missed it". "Probably a good thing you did" Craig responded "Your name came up 7 times".
WE CAN START WITH ONE BOOB OUT...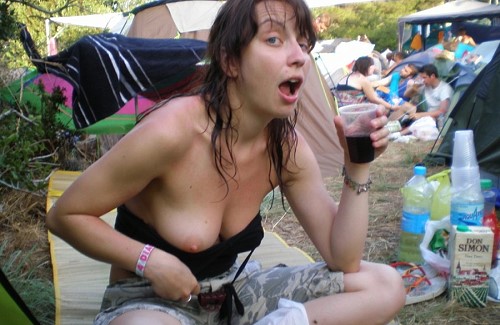 A guy has been married for about 6 months when he runs into a guy from his wedding party. The guy asked him how married life was treating him.
The married guy replied "Great except for one problem, our sex life. Every time I am getting off, she isn't, and every time she is, I'm not. We are frustrated because we heard it is so much better when you get off at the same time".
The guy from the wedding party replied "There is a simple solution to that. The next time you are and she's not, give her a little jab in the stomach. For some reason that makes women get off".
Even though it was against his better judgment, the married man promised to try it, and the two parted their ways.
About 3 months later, by chance they met up again and of course the guy is eager to find out what had happened. He asked "Hey, is everything better on the home front?" The married man replied "Not exactly! I did exactly as you told me to. I was getting ready to get off, so I punched her in the stomach. She pissed in my face and almost bit my dick off!"
RANDOM SHITE
PICTURE THIS: YOU GO TO A WEBSITE. HOOK UP WITH AN ACTUAL REAL GIRL. GET A BILL FOR $0. HERE'S HOW
Everyone seems to be in such a hurry to scream 'racism' these days. A customer asked "In what aisle could I find the Irish sausages?" The assistant asks "Are you Irish?"
The guy, clearly offended, says "Yes I am, but let me ask you something...
If I had asked for Italian sausage, would you ask me if I was Italian?
Or if I had asked for German Bratwurst, would you ask me if I was German?
Or if I asked for a kosher hot dog would you ask me if I was Jewish?
Or if I had asked for a Taco, would you ask if I was Mexican?
Or if I asked for Polish sausage, would you ask if I was Polish?"
The assistant says "No, I probably wouldn't".
The guy says "Well then, just because I asked for Irish sausage, why did you ask me if I'm Irish?"
The assistant replied "Because you're in a hardware store"...
PRAISE THY CHURCH SIGNS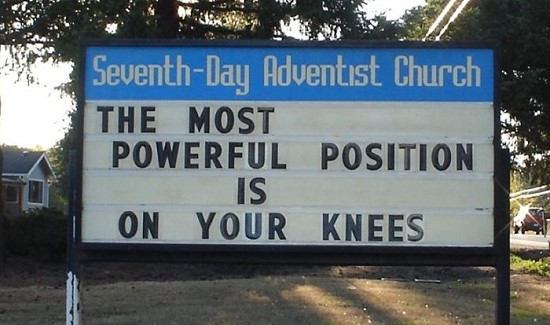 A man goes to see the Rabbi. "Rabbi, something terrible is happening and I have to talk to you about it".
The Rabbi asked "What's wrong?"
The man replied "My wife is going to poison me".
The Rabbi, very surprised by this, asks "How can that be?"
The man then pleads "I'm telling you, I'm certain she's going to poison me. What should I do?"
The Rabbi then offers "Tell you what. Let me talk to her, I'll see what I can find out and I'll let you know".
A week later the Rabbi calls the man and says "I spoke to your wife on the phone for three hours.
"You want my advice?" The man said "Yes" and the Rabbi replied "Take the poison".
ORSM VIDEO
My work here is done. Make sure you read on for the answers which you seek...
-Check out the site archives. By not, the only person you hurt is yourself.
-Next update will be next hari Kamis.
-Tell your friends, family, colleagues, co-workers and neighbours to check out ORSM-DOT-NET otherwise my friend Ray will tell your friends, family, colleagues, co-workers and neighbours for you... and no one wants that!
-Need to clear your conscience? Judge me? Want to fight me? Threaten me? Sit on my lap and talk about the first thing that pops up? Show me the twins? Then go for it! Just make sure you email me here!
Until next time be good, stay off the chems and be nice... it may get you sex [not from me sorry]. Enjoy. Mr. Orsm.