Welcome to heavens to murgatroyd.
Fuck me. You'd think that surfer who avoided being eaten by the shark did something important. Obviously coming so close to death was a traumatic event for the surfer, everyone else in the water, people on the beach and his loved ones. That said, I'm not entirely sure the encounter needed the in-depth coverage it received. The clip is fucking everywhere which is expected but days of interviewing everyone from surfers to sponsors to his mum who wanted to 'reach in through the TV and grab him' to speculation about a 'dark shadow' in the water to god knows who or what else was just too much. It really adds nothing. Why no interview with the shark? Surely a firsthand account about a guy shitting through his wetsuit would have made entertaining TV? Google has 8.7M results for Mick Fanning shark. But did anyone reporting realise that no one got attacked? It's an awful lot of attention for something that didn't happen. What did happen was: a shark swam past a dude and got punched.
And other things...
In a perfect world I would leave the house a lot more. Most weeks, Monday through Thursday it doesn't really happen - stay sat in front of the computer, eat, sleep. Friday varies but normally at least an hour or two jaunt for food gathering. Weekends sporadically as required or whatever. It generally works as: balance no, compromise yes.
The last few weekends though have been closer to imperfect world thanks to an all-consuming DIY project. As often happens, what begins as a small idea which could have been executed inside a day or so, became bigger than itself and blew out to 3-4 weekends. Sawing, cutting, painting, up and down the ladder and finally the little fucker was done. We now have a bunch of much needed storage. Not extra storage, just storage. The best part of it was something that pretty much never happens - it's 100% complete. How many times do you start a project, get most of the way through, knock off for the day and then not come back to it? It then forever exists in a functional yet unfinished state which you just live with. Anyway that was most of my weekend. The only times I escaped the house were for a couple of hardware store visits and then on Sunday for a quick bite to eat with the fam.
Speaking of the fam. It's now been a year since becoming one and whilst that has flown by at an alarmingly rapid rate and we have a very active bundle of joy to keep us amused, one of the most surprising things happened on her birthday. How do you wish a one year old happy birthday? You call/text/Facebook the mum. Don't worry about the dad! For the one phone call I got, mum got over 50. Hey assholes just because I don't have titties doesn't mean I haven't changed my fair share of shitty nappies.
Alright. Let's do dis. As you proceed try to understand that this is a revolution of the mind. Not that I'm setting expectations high or anything but if you don't like it, I guarantee your money back and a free punch in the face. Check it...
Totes InsaneThere's Crazy Neighbours And Then There's This Lady - Drive Faster!DAT MOMENT When You Realize You Won't Get To Hospital – Woman Gives Birth To 10lb Baby In Car - TrollingTrolling Tuba Player Ruins KKK Rally By Playing Hilariously Fitting Soundtrack. Also, The KKK Still Have Rallies?? - MisbehavingEver Wondered What Babies Actually Get Up To At Nap Time? This Hidden Camera Reveals All - Nude AthletesWhat The World's Elite Athletes Look Like Without Clothes (Hint: They Look Amazing) - Sweet BootyTeen Alexis Is A Big Booty Princess That Gets Well And Truly Smashed By The Biggest Dick She Could Find - Lowlife DogWorst Human Being Alive Robs Little Girls' Lemonade Stand - AbnormalA Disgruntled Pornstar Is Having A Bad Day, And Everything That Comes Out Of This Thot's Mouth Is Either Penis Related Or Comedy Gold. She Non-Stop Says Crazy Shit Until Her Co-Stars Feel Forced To Shut Her Up. - Boss RushGood Grief, Wot Will They Think Of Next. In This Fighting Game, You Will Be Slaughtering Not One, Not Two, Not Three, But Many Hideously Cute Boss Monsters. Do Not Be Fooled By Their Boggle Eyed Cuteness, These Creatures Of Death Want To Rip Your Eyeballs Out And Eat Them.


OperationYou Always Wanted To Be A Doctor... Didn't U? Didn't U??? Spill The Beans, I Know U Want To Be A Doctor, So Fess It Up Naooo!! - Unfknblvbl!!Viola Bailey Is Naked... And Why Should She Ever Wear Clothes? - Tanning TitsDestiny Sierra Caught Sunbathing Topless On The Beach - GoddessTereza Kecerova Is A Czech Model. She's Amazing. - Great SaveKid Steals His Bike Back From The Thief That Stole It - Street SexCouple With Balls Of Steel Strip Down And Fuck In The Street. - Double-AIsabella Clark Is The Double-Anal Champion Of The Internets - Absolute NutsThis Bitch Can't Handle The Fact That She Is Actually In A Perfectly Safe Box, And That The Bear Just Wants To Play. Maybe If The Bear Would Shit On The Box, Then She Could Rub It On Her Face And Chill Out. Ah Japan... - Too FarSeriously, Who Is The Racist Here? An Entire Bus Jump This White Guy For Making This Black Girl Look A Fool. Then More People Cheer The Cowards Attacking On. Who's The Racists Again? - Can I Cum?The Sybian Was Invented In The Seventies And The First Prototype Was Built In 1985. Since Then It Is Making Girls Scream, Squirt And Drool, Just Like This One.


Touch Me OnceHow Good Are You At Copying Things? You Can Copy Just About Anything Right? Copying Is Easy? Right? Wrong. In This Very Short, And Simple Enough Logic Game, Your Objective Is To Copy The Image Shown Using Neon Powered Lines Over A Hexagon Grid. That Is All There Is To It...!! - Drunk Ho'sGetting Butt Naked While Fighting To Scare Anyone From Wanting To Touch You Might Work In Some Male-Male Fights. Using It This Time Might Have Worked, But With Current Public Relations I Wouldn't Fuck With The Cops. - Don't CareNaked Guy Leaking Shit Walking Through Brooklyn - No ContestFight Between Snake And A Chameleon. Who Will Win? Hint: It's The Snake By A Mile - Machine FuckShe Wanted To Get Fucked By A Big Cock. She Ended Up With A Black And Decker Fuck Machine. - I'd Hit ItMaria Sharapova Rocking A Tiny Bikini On A Sunny Beach Somewhere - Fuck CopsShe's Fucking Sexy As Hell! And She's Open To All Types Of Shit. Win And A Win! - She's RidicWho Is Joey Fisher? She Can Be Explained In Just Two Words: Real Woman. That Body. Those Tits. That Ass. She's Ridiculous. - Cans ExposedKayleigh Morris Has Her Breast Exposed By Melissa Reeves
A drunk on his way home from a bar one night realises that he has dropped his keys. He gets down on his hands and knees and starts groping around beneath a lamppost. A policeman asks what he's doing. "I lost my keys in the park" says the drunk. "Then why are you looking for them under the lamppost?" asks the puzzled cop. "Because" says the drunk "that's where the light is".
--
How are children like cell phones? If you've lost one and haven't found it in a couple days, chances are it's probably dead.
--
An Israeli soldier who just enlisted asked the Commanding Officer for a 3-day pass. The CO says "Are you crazy? You just join the Israeli army, and you already want a 3-day pass? You must do something spectacular for that recognition!" So the soldier comes back a day later in an Arab tank! The CO was so impressed, he asked "How did you do it?" "Well, I jumped in a tank, and went toward the border with the Arabs. I approached the border, and saw an Arab tank. I put my white flag up, the Arab tank put his white flag up. I said to the Arab soldier "Do you want to get a three-day pass? So we exchanged tanks!"
--
Off the seventh tee, Joe sliced his shot deep into a wooded ravine. He took his eight iron and clambered down the embankment in search of his lost ball. After many long minutes of hacking at the underbrush, he spotted something glistening in the leaves. As he drew nearer, he discovered that it was an eight iron in hands of a skeleton! Joe immediately called out to his friend "Jack, I've got trouble down here!" "What's the matter?" Jack asked from the edge of the ravine. "Bring me my wedge" Joe shouted. "You can't get out of here with an eight iron!"
ORSM VIDEO
IT'S PROBABLY THE BEST THING TO EVER HAPPEN TO ONLINE PORN. SERIOUSLY. EVER. HERE'S WHY YOU'LL CARE
JUST ASK THE CONCIERGE...
The most unusual request my mates and I ever came up with was to have a party in a hotel room. We basically just wanted to know if a DJ would be okay. It was a presidential suite so they were very accommodating although we received a few worried looks walking through the lobby carrying some fairly large speakers. It was about midnight when they asked us to wind down the volume and the only person to complain after that was the maid who literally began shrieking and screaming after discovering the mess we made. Unforgettable night that one but it doesn't comes close to some of the out there stuff other people ask for...
-When a Fortune 500 company contacted Vegas Luxury Group VIP to help them throw a "Hangover" inspired party, the concierge service got them a great rate on the same suite used in the movie. Added to the mix were savvy bartenders, a DJ and various related characters: a 250-pound guy in a baby suit, two people in tiger costumes, a Mike Tyson lookalike, people in togas and others dressed as characters from the "Wolf Pack".
-We had a gentleman who wanted to be christened on Culloden Battlefield because he was convinced he was a Jacobite reincarnated. A retired minister did it for £75.
-A guest at Spain's Gran Hotel Elba Estepona and Thalasso Spa found the sound of the sea so irritating he actually asked hotel staff if they could do something about the noise.
-A guest staying at the Grand Del Mar in San Diego, California, wanted to surprise a friend with news of a trip away. So to give a clue, he negotiated with hotel staff to bring a llama in to help give a clue as to where he was whisking his mate off to. It was of course Peru, and they happily went off some time later. The llama was of course taken home safely.
-"A purebred collie puppy" for a little girl's birthday. The dad wanted to surprise her with 'a little Lassie'.
-Two hundred twenty-two pieces of luggage arrived with the Rolling Stones when they visited the Brown Palace Hotel in Colorado for just two nights in 2003. On another occasion, rock star Don Henley requested that his bed, stored in a truck that follows him on his travels, be placed in his hotel room. However, he later asked that it be removed because he found the Brown Palace bed so comfortable.
-One guest submitted the following request: "I would like a fish tank in my room that is sized approximately 30 cm and fully stocked before confirming this booking".
-A Cape Town GM had to go goldfish shopping after 8pm at night when one of his guests insisted that she'd never be able to drift off into la-la-land without being able to watch fish swimming around. The solution was obviously Goldfish TV.
-On another occasion, a guest asked a concierge to sell his luxury sports car when he had to unexpectedly leave the country.
-Macao's ancient Patuá, a Portuguese-based Creole language, is so rare that finding English translations is like finding a needle in a haystack. But that didn't stop the Four Seasons, Macao, concierge from helping a guest who was fascinated with the vernacular and wanted to learn more about a famous local poet. The concierge tracked down a language expert who spent six hours lost in translation and the lady was finally presented with the poet's famous work lovingly transcribed into English.
-I never knew there was a difference in taste or any way to identify one from the other, but one guest insisted he only be served the right legs for the chicken meal he ordered.
-It's always nice to have some element of home comforts when staying in a hotel and one guest made sure he wasn't going to miss out during his stay at the Premier Inn in Goldstone, Surrey, when he requested a large rubber duck for the bathroom. Other requests received by staff for the brand with the Lenny Henry commercials include a team member loaning a guest their trousers for an important last minute meeting and helping a guest buy a new bridesmaid's dress after the original ripped on wedding day.
-A guest staying at the Hotel D'Europe for a week loved gardens so much he had his gardener set up a full landscape garden on the terrace of his suite.
-The most memorable request for us is the guest who asked for 20 pounds of ice for his penguins. The penguins visited a year or two ago as part of one of the exhibits at the Boston Globe Travel Show. They stayed in the bathtub when they weren't on display at the show. Twenty pounds of ice actually isn't too much, and we have multiple ice machines at Seaport, so we filled up four bags for them.
-I had a guest request tickets to the Oscars two days before the Oscars. I was able to secure them, but the guest declined upon hearing the price of $85,000 per ticket.
-A unique wedding proposal, with a gentleman proposing to his girlfriend as staff from the resort all wearing t-shirts that spelt out MARRY ME.
-Sitting alongside the llama for one of the wackiest requests comes courtesy of the fantasy island of Hawaii. A concierge at the Four Seasons Resort Hualalai has revealed that one guest asked for a group of penguins to be waiting for them in their room, with Morgan Freeman narrating the meeting. Sadly, the guest didn't get chance to p-p-p-pick up a penguin, and the request was dismissed.
-A guest asked us to arrange live reptiles and animals on a yacht charter in the Marina. It happened.
-One guest asked the concierge of Kimpton's Alexis Hotel, to call up the guest's boss one hungover morning. After watching ER clips to get in character, the concierge gave the boss a ring to report the guest had food poisoning and needed plenty of rest and fluids.
-We were asked if we could accommodate a guest's six Chihuahuas and we obliged, as we have kennels in our underground car park. Another unique request: we had to keep the Jacuzzi private for a guest who wanted to propose to his girlfriend. She said yes.
-A guest staying at Docklands Travelodge asked the hotel team if he could practice his board presentation in Mandarin to the hotel team prior to a meeting.
-A guest who was holding a lawnmower convention at a Best Western requested permission to test out some of the new gear on the hotel property to see how well it worked.
-A guest in Bloemfontein requested a fortune teller in the middle of the night to help him make a crucial decision on a multi-million Rand business deal.
-Two hotel staff members were asked to be bridesmaid and best man for an elderly couple renewing their wedding vows in the hotel chapel.
GOOD CATHOLIC GIRLS... AND BY GOOD I MEAN LIKES TO GET NAKED.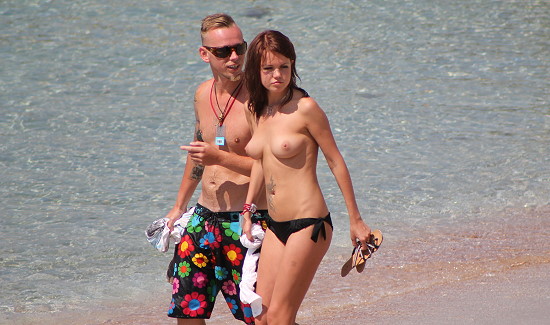 A man from Liverpool, holidaying in the Netherlands decides to try out one of the local brothels that he's heard so much about.
Looking for a cheap thrill he walks in and takes out the equivalent of 10 pounds and approaches the mistress and says "I've only got this much. What can I get?" The mistress pauses, looks him up and down once and gestures him to follow her. She takes him down a long, narrow hall, unlocks a door and holds the door open for the man. He looks inside to see a pig tied down in the middle of the room.
The man immediately thinks to himself "Great I get to fuck a pig". She closes the door and the man begins to pleasure himself with the pig. Turns out it was actually pretty awesome.
A week later he decides to return to the same brothel but this time holds out 5 pounds and asks "I've only got this much what can I get?" Once again the mistress takes him down the same narrow hall but to a different room where a room full of people are watching a couple have sex through a one-way-glass-window.
The man, excitedly sits down on an empty seat and turns to a bloke beside him and says "What a great country. For only 5 quid you can watch a couple have sex". To which the bloke replied "That's nothing. Last week we saw a guy fuck a pig!"
ORSM VIDEO: LOWEST COMMON DENOMINATOR EDITION
HOW COMPANY POLICY IS MADE
Start with a cage containing five apes.
In the cage, hang a banana on a string and put stairs under it. Before long, an ape will go to the stairs and start to climb towards the banana. As soon as he touches the stairs, spray all of the apes with cold water.
After a while, another ape makes an attempt with the same result - all the apes are sprayed with cold water. This continues through several more attempts. Pretty soon, when an ape tries to climb the stairs, the other apes all try to prevent it.

Now, turn off the cold water. Remove one ape from the cage and replace it with a new one. The new ape sees the banana and wants to climb the stairs. To his horror, all of the other apes attack him.
After another attempt and attack, he knows that if he tries to climb the stairs, he will be assaulted.
Next, remove another of the original five apes and replace it with a new one. The newcomer goes to the stairs and is attacked. The previous newcomer takes part in the punishment with enthusiasm.
Again, replace a third original ape with a new one. The new one makes it to the stairs and is attacked as well. Two of the four apes that beat him have no idea why they were not permitted to climb the stairs, or why they are participating in the beating of the newest ape.
After replacing the fourth and fifth original apes, all the apes, which have been sprayed with cold water, have been replaced.
Nevertheless, no ape ever again approaches the stairs. Why not ? Because that's the way they've always done it and that's the way it's always been around here.
And that's how company policy begins...
OMG IS THAT AN IPHONE??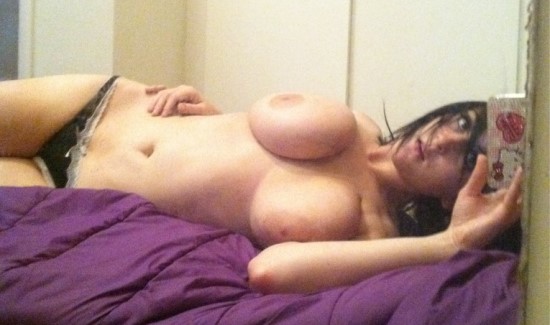 Why is MyFreeCams.com one of the most awesome websites in the history of forever? Firstly, there are hundreds of hot models online at any given time AND you can watch their live webcam feed in HQ with sound AND chat. Secondly, you don't need a credit card or have to install any dodgy software - it's all absolutely free! And finally, why do I sound so fucking excited? Because MyFreeCams really is that brilliant. Click here to check it out now!
ORSM VIDEO
JUST ASK THE CONCIERGE... (CONTINUED)
-A team from the Ritz-Carlton, Cancun, Mexico spent hours transforming a section of beach at the oceanfront hotel into a private outdoor cinema so a wealthy family could watch a movie under the stars. But there was another big problem; the guests didn't want sand in their toes! Metres of white carpet were laid so the guests could walk to their makeshift movie theatre without getting wet or dirty.
-A gentleman staying at the exclusive Landmark London hotel was granted a special request to close the gazebo to have it redecorated as an exact replica of the original coffee shop where he first met his girlfriend. The special meeting place had closed some time ago.
-We once had a guest who was vegan and waited till breakfast was served to tell us she was allergic to tofu. This same guest said not to worry about her food too much, as she hoped to one day exist only on air by breathing and not need to eat at all. We had plenty of fresh fruit and oatmeal and LOTS of air for her.
-A guest staying at Edinburgh Central Travelodge, asked the hotel manager if he could borrow his suit for the morning as he had a job interview and he forgot his at home.
-One hundred plastic pink flamingos were placed in a room at a guests request as a practical joke. We aren't sure why the guest wanted them, but they were scattered everywhere - tub, bed, desk.
-An insistent guest at the Hotel Ranga asked for a private helicopter tour to a nearby glacier where an 18-hole golf course had been created just for him. After three holes, the guest got bored and demanded to be flown back to the hotel.
-A guests asked the staff at the Loews Ventana Canyon Resort in Tucson, Arizona if they could assist him in buying two camels. The concierge, who was on her first month in the job, kept her cool, and a straight face, located a nearby dealer, and the guest's wish was fulfilled... nearly. After giving the camels a 'once over,' the camel had one too few humps for the guest's liking and he pulled out of the deal.
-We put aside our pet-friendly suite for a bride and groom so they would have a place to go after their doggie wedding. Cricket (the bride), a therapy dog who works with seniors at a local residence for women, and Black Magic (the groom), a rescue dog, rode in a limo from the ceremony to our hotel, where we had a pet menu and a wedding cake waiting for them. Cricket wasn't too sure about sharing the cake with her groom, but their handler/owner had a way of convincing them to share.
-One especially eccentric guest from The Stafford in London requested the concierge assist him in his quest to see every painting ever created by Vermeer. The only problem was that one was a part of the queen's private collection in Buckingham Palace. Despite the obstacle, the concierge was able to schedule a visit for the grateful guest.
-A Jozi hotel guest took a 'bare-bum' stroll down to reception and politely requested that someone buy him some new 'tighty-whities'. No freeballing for him.
-We booked rooms on different floors for a guest's wife and girlfriend.
-A guest of the South Beach hotel in Miami was persuading his girlfriend to relocate to London when she agreed on the condition her pet tiger could come along too. The concierge was left to deal with the details and brilliantly figured out how to transport the furry feline. The concierge pulled it off with the help of the Miami Zoo and officials from Orlando airport and the kitty arrived safely to his new home.
-A couple checking in to a property were told the room they would be given two queen-size beds instead of the king that had been requested. The angry husband pulled open his jacket and pointed to his Disneyland pin that had happy anniversary on it and shouted "Does this look like someone who should get a room with two queens?"
-One guests dream was to get a ride in the Good Year Blimp, through numerous challenges it happened.
-The Savoy's head butler Sean Davoren has had some wacky requests in his service of elite guests, with wild goat's milk for a guest's bath among the more unusual. But it was certainly achievable, at a cost. The milk itself cost a manageable £50, but the taxi fare to Wales and back to get it ran up £600 on the meter. The milk was then warmed up, and 30 bottles of heated Evian was used to rinse the white stuff off the picky guest afterwards.
-One guest asked us for a selection of 'toys' from Agent Provocateur [a U.K.-based adult clothing and novelty shop]. We got to choose.
-At the Kenwood Inn and Spa in Sonoma, California, a gentleman wanted to partially recreate his first date with his girlfriend - listening to a mariachi band at a Mexican restaurant - so he could pop the question, on bended knee, in the middle of the Golden Gate Bridge. The chief concierge arranged for the seven guys to sneak onto the bridge walking in opposite directions, have them put on their sombreros in the middle, pull out their instruments and play a tune while the man kneeled.
-The strangest request we've gotten was "Do not touch the bed!" The housekeeper was told "Leave the bed alone". And a note found on the bed said 'DO NOT TOUCH!'
-I once planned a girl's 10th birthday at the request of the parents. While this isn't especially strange, they wanted it to be "Barbie-themed" complete with models dressed as Barbie and her companions.
-One couple opted to spend the extra money for a luxury hotel instead of cheap hotels on their vacation to China. A good idea, too: when they first lie down on the luxurious beds at the Shanghai Mansion hotel in China, the couple was so impressed that they asked the concierge to ship the entire bedding set back to their home in Europe.
-A couple brought their favourite hen with them because they could only eat fresh eggs laid by the hen, named Gladys.
-A pop star staying at a boutique hotel in Montreal during the filming of a movie insisted on drinking raw cow milk first thing every morning as part of her strict diet.
ORSM VIDEO: ON THE STREET EDITION
Want to contribute to Orsm? Just click here and do eeeet!!
Dorothy is very upset as her husband Albert had just passed away. She goes to the mortuary to look at her dearly departed and the instant she sees him she starts wailing and crying. One of the attendants rushes up to comfort her.
Through her tears she explains that she was upset because Albert was wearing a black suit and that it was his dying wish to be buried in a blue suit. The attendant apologises and explains that they always put the bodies in a black suit as a matter of course, but he'd see what he could do.
The next day Dorothy returns to the mortuary to have one last moment with Albert before his funeral the following day. When the attendant pulls back the curtain, Dorothy manages to smile through her tears as Albert is now wearing a smart blue suit.
She asks the attendant "How did you manage to get hold of that beautiful blue suit?" "Well, yesterday afternoon after you left, a man about your husband's size was brought in and he was wearing a blue suit. His wife explained that she was very upset as he had always wanted to be buried in a black suit" the attendant replied. "After that it was simply a matter of swapping the heads".
FANTASTIC ASSES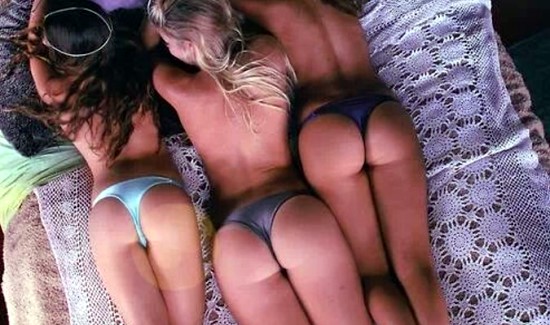 An ambitious yuppie finally decided to take a vacation. He booked himself on a Caribbean cruise and proceeded to have the time of his life. Until the boat sank. The man found himself swept up on the shore of an island with no other people, no supplies... nothing. Only bananas and coconuts.
After about four months, he is lying on the beach one day when the most gorgeous woman he has ever seen rows up to him. In disbelief, he asks her "Where did you come from? How did you get here?" "I rowed from the other side of the island" she says. "I landed here when my cruise ship sank".
"Amazing" he says. "You were really lucky to have a rowboat wash up with you". "Oh, this?" replies the woman. "I made the rowboat out of raw material I found on the island; the oars were whittled from gumtree branches; I wove the bottom from palm branches; and the sides and stern came from a Eucalyptus tree".
"B--but, that's impossible" stutters the man. "You had no tools or hardware. How did you manage?" "Oh, that was no problem" replies the woman. "On the south side of the island, there is a very unusual strata of alluvial rock exposed. I found if I fired it to a certain temperature in my kiln, it melted into forgeable ductile iron. I used that for tools and used the tools to make the hardware".
The guy is stunned.
"Let's row over to my place" she says. After a few minutes of rowing, she docks the boat at a small wharf. As the man looks onto shore, he nearly falls out of the boat. Before him is a stone walk leading to an exquisite bungalow painted in blue and white. While the woman ties up the rowboat with an expertly woven hemp rope, the man can only stare ahead, dumbstruck.
As they walk into the house, she says casually "It's not much, but I call it home. Sit down please; would you like to have a drink?" "No, no thank you" he says, still dazed. "Can't take any more coconut juice". "It's not coconut juice" the woman replies. "I have a still. How about a Pina Colada?" Trying to hide his continued amazement, the man accepts, and they sit down on her couch to talk.
After they have exchanged their stories, the woman announces "I'm going to slip into something more comfortable. Would you like to take a shower and shave? There is a razor upstairs in the cabinet in the bathroom".
No longer questioning anything, the man goes into the bathroom. There, in the cabinet, is a razor made from a bone handle. Two shells honed to a hollow ground edge are fastened on to its end inside of a swivel mechanism. "This woman is amazing" he muses "What next?"
When he returns, she greets him wearing nothing but vines -strategically positioned- and smelling faintly of gardenias. She beckons for him to sit down next to her. "Tell me" she begins, suggestively, slithering closer to him "we've been out here for a really long time. You've been lonely. There's something I'm sure you really feel like doing right now, something you've been longing for all these months? You know..."
She stares into his eyes. He can't believe what he's hearing: "You mean...?" he swallows excitedly "I can check my email from here...?"
RANDOM SHITE
PICTURE THIS: YOU GO TO A WEBSITE. HOOK UP WITH AN ACTUAL REAL GIRL. GET A BILL FOR $0. HERE'S HOW
A shy gentleman was preparing to board a plane when he heard that the Pope was on the same flight. "This is exciting" thought the gentleman. "I've always been a big fan of the Pope. Perhaps I'll be able to see him in person".
Imagine his surprise when the Pope sat down in the seat next to him for the flight. Still, the gentleman was too shy to speak to the Pontiff.
Shortly after take-off, the Pope began a crossword puzzle. This is fantastic, thought the gentleman. I'm really good at crosswords. Perhaps, if the Pope gets stuck, he'll ask me for assistance.
Almost immediately, the Pope turned to the gentleman and said "Excuse me, but do you know a four letter word referring to a woman that ends in 'u-n-t'?"
Only one word leapt to mind... "My goodness" thought the gentleman "I can't tell the Pope that". There must be another. The gentleman thought for quite a while, then it hit him. Turning to the pope, the gentleman said "I think you're looking for the word 'aunt'". "Of course..." said the Pope "do you have an eraser?"
BOOBS ON GLASS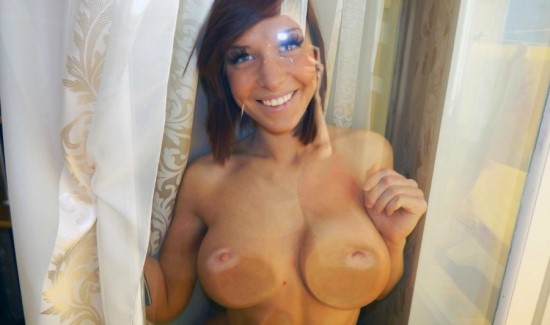 A guy walks into a bar with his pet monkey. He orders a drink and while he's drinking the monkey jumps all around the place. The monkey grabs some olives off the bar and eats them, then grabs some sliced limes and eats them, then jumps onto the pool table, grabs one of the pool balls, sticks it in his mouth, and to everyone's amazement, somehow swallows it whole.
The bartender screams at the guy "Did you see what your monkey just did?" The guy says "No, what?" "He just ate the cue ball off my pool table - whole!" "Yeah, that doesn't surprise me" replied the guy "He eats everything in sight, the little bastard. Sorry, I'll pay for the cue ball and stuff".
He finishes his drink, pays his bill, pays for the stuff the monkey ate, then leaves.
Two weeks later he's in the bar again, and has his monkey with him. He orders a drink and the monkey starts running around the bar again. While the man is finishing his drink, the monkey finds a cherry on the bar. He grabs it, sticks it up his arse, pulls it out, and eats it.
The bartender is disgusted. "Did you see what your monkey did now?" he asks. "No what?" replies the guy. "Well, he stuck a cherry up his arse, pulled it out, and ate it!" said the bartender.
 "Yeah, that doesn't surprise me" replied the guy. "He still eats everything in sight, but ever since he swallowed the cue ball, he measures everything first".
ORSM VIDEO
Aaaaaaaaaaaaaaaaaaaaaaaaaaaaaaaaaaaaaaaaaaaaaaaaaaaaaaaaaaaaaaaaaaaaaaaaaaaaaaaaand done.
-Check out the site archives because they're not something you want to miss.
-Next update will be next Thursday because it's not something I want to miss.
-Tell your friends, family, colleagues, co-workers and neighbours to check out ORSM-DOT-NET otherwise my friend Ray will speak to you in a condescending tone.
-Need to clear your conscience? Judge me? Want to fight me? Threaten me? Sit on my lap and talk about the first thing that pops up? Show me the twins? Then go for it! Just make sure you email me here!
Until next time be good, stay off the chems and Reader Mail back next week. Enjoy. Mr. Orsm.