Welcome to just happy to get the four points.
As tempting as it is to ramble on like everyone cares and all the self-importance and narcissism that goes with that, I have to keep in mind that there's a long weekend imminent and that you guys are here for the content, not to indulge me. We'll get back to that next week though I promise. In the meantime, grab some rubber gloves, a box of tissues, start a big argument with your significant other so they leave you alone for a while and get ready to experience Orsm at its utmost. Check it...
A couple were watching a program on psychology one night when the topic of conflicting feelings came up. The husband told the wife there was no such thing as feeling good about something and at the same time feel bad about it. The wife thought about it for a minute and strongly disagreed. He called her bluff and said "prove it". She said "You have the biggest dick out of all of your friends".
--
A Texan visitor to England asked an Englishman to show him the biggest building in town. "There it is" said the Englishman. "It's quite impressive, I must admit". "You call that big?" scoffed the Texan. "Back in Texas we have buildings just like that but over a hundred times bigger!" "I'm not surprised" said the Englishman. "That's the local lunatic asylum!" A Texan was standing admiring the beauty of Niagara Falls when a New Yorker standing next to him said sarcastically: "I bet you don't have anything like this in Texas". "No" said the Texan "but we've got plumbers who could fix it!"
--
There was once a man who lived in a poor country. He went to law school and became a very intelligent person. Years later, he decided to go back to his country to show them how worthy he is. He started his own office. The next day, he saw a man walking into his office. He picked up the phone and gestured the man to come in and pretended he was talking to very famous people and cancelling meetings with presidents, etc. After he put down the phone several minutes later, he apologised to the man and said "Sorry to keep you waiting. As you can see, I'm a very busy man. What can I do for you?" The man smiled and said "I'm from the telephone company. I'm here to hook up your phone".
--
A fiftyish woman was at home happily jumping on her bed and squealing with delight. Her husband watches her for a while and asks "Do you have any idea how ridiculous you look? What's the matter with you?" The woman continues to bounce on the bed and says "I don't care. I just came from having a mammogram and the doctor says I have the breasts of an 18-year-old". The husband said "What did he say about your 56-year-old arse?" "Your name never came up" she replied.
--
A little girl goes to her mum after school says "Mummy, mummy! I just saw Michael's willy!" The mum is shocked. The little girl continues "It was like a PEANUT!" The mum giggles, and replies "Why? Was it small?" The little girl says "NO! It was SALTY!"
--
A police officer was patrolling the highway when he sees a guy tied up to a tree, crying. The officer stops and approaches the guy. "What's going on here?" he asks. The guy sobs "I was driving and picked up a hitchhiker. He pulled a gun on me, robbed me, took all my money, my clothes, my car and then tied me up". The cop studied the guy for a moment, and then pulled down his pants and whipped out his dick. "I guess this isn't your lucky day, pal!"
--
A teacher was wrapping up class, and started talking about tomorrow's final exam. He said there would be no excuses for not showing up tomorrow, barring a dire medical condition or an immediate family member's death. One smart ass, male student said "What about extreme sexual exhaustion?" and the whole classroom burst into laughter. After the laughter had subsided, the teacher glared at the student, and said "Not an excuse, you can use your other hand to write".
A guy walks into a bar, sits down and orders a drink. The bartender looks at him and says" See that woman over there, she will give you a blow job and sing the National Anthem at the same time". "No way" the guy says. "Oh yeah, and she only charges $20". So he walks over and hands her a 20. She takes him into a backroom and shuts off the light. As she starts to give him head, she also starts to sing. He couldn't believe it; the words came out so clear that it was impossible. When she finished, he quickly flicked on the light and saw her popping in her glass eye.
--
I asked the young good-looking Muslim girl next door, who is very Westernised, why she still walked 100 meters behind her husband, as this is a free country and women are not dominated like they are in Islamic culture. "Oh it's nothing to do with culture and domination" she told me "I'll be fucked if I want to be anywhere near him when he sets his vest off".
--
A young woman came home and told her mum that her steady boyfriend had proposed, but she had turned him down because she found out he was an atheist, and didn't believe in Heaven or Hell. "Marry him anyway, honey. Between the two of us, we'll show him just how very wrong he is".
ORSM VIDEO
It is a slow day in a little Greek Village. The rain is beating down and the streets are deserted.
Times are tough, everybody is in debt, and everybody lives on credit.
On this particular day a rich German tourist is driving through the village, stops at the local hotel and lays a €100 note on the desk, telling the hotel owner he wants to inspect the rooms upstairs in order to pick one to spend the night.
The owner gives him some keys and, as soon as the visitor has walked upstairs, the hotelier grabs the €100 note and runs next door to pay his debt to the butcher.
The butcher takes the €100 note and runs down the street to repay his debt to the pig farmer.
The pig farmer takes the €100 note and heads off to pay his bill at the supplier of feed and fuel.
The guy at the Farmers' Co-op takes the €100 note and runs to pay his drinks bill at the taverna.
The publican slips the money along to the local prostitute drinking at the bar, who has also been facing hard times and has had to offer him 'services' on credit.
The hooker then rushes to the hotel and pays off her room bill to the hotel owner with the €100 note.
The hotel proprietor then places the €100 note back on the counter so the rich traveller will not suspect anything.
At that moment the traveller comes down the stairs, picks up the €100 note, states that the rooms are not satisfactory, pockets the money, and leaves town.
No one produced anything.
No one earned anything.
However, the whole village is now out of debt and looking to the future with a lot more optimism.
CLUB SLUTS BEING SLUTS IN CLUBS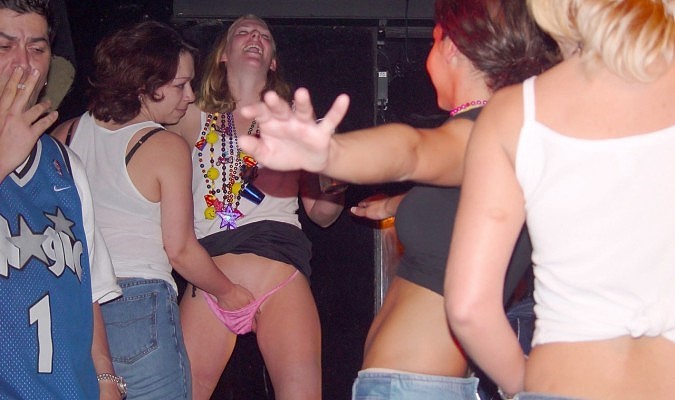 Previously on Orsm: CLUB SLUTS #4 - CLUB SLUTS #3 - CLUB SLUTS #2 - CLUB SLUTS #1 - MORE >>
ORSM VIDEO
One weekend a man asks his wife if she would like to fishing.
"No" she replies "I'm watching TV". "Ok" he says "I will take the dog".
The following weekend he asks her the same.
"No" She replies "I'm watching TV". "Ok" he says "I will take the dog".
This goes on for a few weeks until one day he gets pissed off.
"Look you can either come fishing, give me a blow job or take it up the arse" he shouts. She thinks for a moment and decides to give him a BJ. He then takes the dog fishing.
This goes on for many weeks. "Fishing, blowjob or up the arse?" to which she always chooses blowjob and he always ends up taking his poor dog fishing.
One weekend she goes down to blow him. " FUCKING HELL WHATS THAT SHITTY SMELL???" she screams. "Oh the dog didn't want to come fishing this weekend " he replies.
BE HONEST YOU PERVERTS - WATCHING GIRLS SHOWER IS ONE OF YOUR FAVOURITE THINGS!?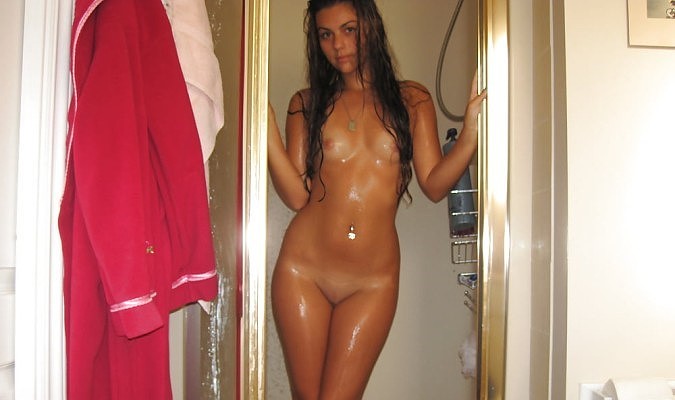 SHOWER TIME previously on Orsm: #12 - #11 - #10 - #9 - #8 - #7 - #6 - #5 - #4 - #3 - #2 - #1 - #0 - MORE >>
The day before Easter, an old man in Norway calls his son in Australia and tells him "Son, I'm really sorry but I have to tell you that your mother and I are splitting up. We can't live with each other anymore".
The son is distraught and shouts down the phone at his father "Dad, what are you talking about?"
The father replies "It's just that we can't stand the sight of each other anymore. And I'm sick of talking about this, so will you call your sister in Japan and tell her?"
The father than hangs up, and the son frantically calls his sister, who's equally distraught and exclaims "Like fuck they're getting divorced! Leave it to me, I'll take care of this".
So she calls her father and shouts down the phone at him "You are not getting divorced! Don't you dare to do a single thing until I get there. I'm calling my brother, and we'll both be there tomorrow. Until then, don't you dare do a thing about this. Do you hear me Dad?"
She then hangs up, at which point the father hangs up his phone, turns to his wife and says "Okay honey, they're both coming for Easter and paying their own airfares".
ORSM VIDEO
IT'S PROBABLY THE BEST THING TO EVER HAPPEN TO ONLINE PORN. SERIOUSLY. EVER. HERE'S WHY YOU'LL CARE
A man in the bar offers to bet anyone $100 that his dog can talk. At first everyone is dubious, but after the man clarifies he means complete grammatically correct sentences, and they make sure there are no hidden devices on the dog, several bets are made.
MAN: "Well, Charley?"
Charley lifts his paw.
MAN: "Charley, come on, say something".
Charley barks once.
MAN: "Charley, what is it, now? Say something in English".
Charley clearly doesn't understand what the man wants from him and is getting visibly nervous.
Finally the man has to give up, pays the lost money, and leaves with Charley.
After walking a few blocks in the rain the man asks sadly "Why did you do that?"
"Just imagine how much we're going to win there tomorrow!" says Charley.
NUDISTS: IF IT'S WHAT NATURE INTENDED THEN WE HAD ALL BETTER TAKE A LOOK AT THIS GALLERY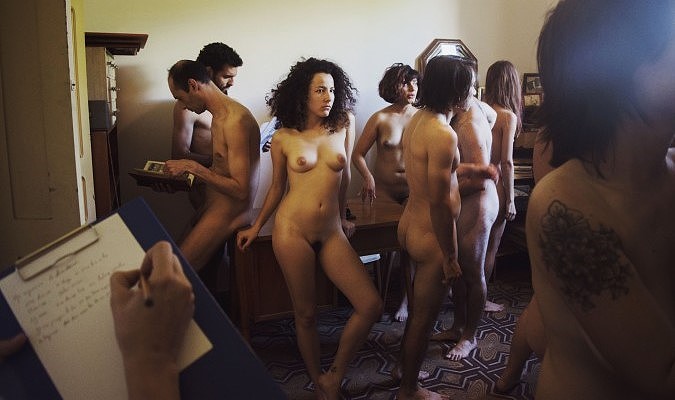 Previously on Orsm: NUDISTS #3 - NUDISTS #2 - NUDISTS #1 - VINTAGE #3 - VINTAGE #2 - VINTAGE #1 - MORE >>
ACCORDING TO WIKIPEDIA: MyFreeCams.com is a website providing live webcam performances by models, typically featuring nudity and sexual activity often ranging from striptease and dirty talk to masturbation with sex toys.
If it's on Wiki then it is FACT! ... Soooo WTF are you waiting for!? Click here!
ORSM VIDEO
The family wheeled Grandma out on the lawn, in her wheelchair, where the activities for her 100th birthday were taking place.
Grandma couldn't speak very well, but she would write notes when she needed to communicate.
After a short time out on the lawn, Grandma started leaning off to the right, so some family members grabbed her, straightened her up, and stuffed pillows on her right side. A short time later, she started leaning off to her left, so again the family grabbed her and stuffed pillows on her left side.
Soon she started leaning forward, so the family members again grabbed her, and then tied a pillowcase around her waist to hold her up.
A nephew who arrived late came up to Grandma and said "Hi, Grandma, you're looking good! How are they treating you?"
Grandma took out her little notepad and slowly wrote a note to the nephew: "Bastards won't let me fart...!"
IT AINT ALL ABOUT THE RED HAIR.... BUT IT DEFINITELY HELPS...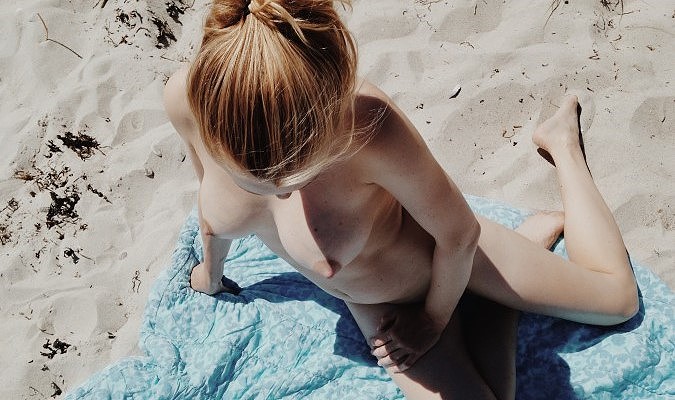 REDHEADS previously on Orsm: #10 - #9 - #8 - #7 - #6 - #5 - #4 - #3 - #2 - #1 - MORE >>
A Muslim couple, preparing for their wedding, meet the Mullah for counselling. He asks if they have any last questions before they leave.
The man asks "We realise it's a tradition in Islam for men to dance with men, and women to dance with women.
But, at our wedding reception, we'd like your permission to dance together". "Absolutely not" says the Mullah. "It's immoral. Men and women always dance separately".
"So, after the ceremony, I can't even dance with my own wife?" says the man. "No" answered the Mullah "It's forbidden in Islam". "Well, okay" says the man.
"What about sex? Can we finally have sex?" "Of course" replies the Mullah "Sex is okay within marriage, to have children".
"What about different positions?" asks the man. "No problem" says the Mullah.
"Woman on top?" "Sure" says the Mullah. "Go for it".
"Doggy style?" "Sure".
"On the kitchen table?" "Yes, yes".
"Can we do it with all my four wives together on rubber sheets with a bottle of hot oil, a couple of vibrators, leather harnesses, a bucket of honey and a porn video?" "You may indeed".
"Can we do it standing up?" "Absolutely not". says the Mullah".
"Why not?" asks the man. "It could lead to dancing!"
ORSM VIDEO
Its 1972. The elderly Italian man went to his parish priest and asked if the priest would hear his confession. "Of course, my son" said the priest.
"Well, Father, at the beginning of World War II, a beautiful woman knocked on my door and asked me to hide her from the Germans. I hid her in my attic, and they never found her".
"That's a wonderful thing, my son, and nothing that you need to confess" said the priest.
"It's worse than that, Father. I was weak, and told her that she had to pay for rent of the attic with her sexual favours" continued the old man.
"Well, it was a very difficult time, and you took a large risk. You would have suffered terribly at their hands if the Germans had found you hiding her. I know that God, in his wisdom and mercy, will balance the good and the evil, and judge you kindly" said the priest.
"Thanks, Father" said the old man. "That's a load off of my mind".
"Can I ask another question?" "Of course, my son" said the priest. The old man asked "Do I need to tell her that the war is over?"
THE SEPARATION EFFECT - IT'S A THING! ENJOY IT!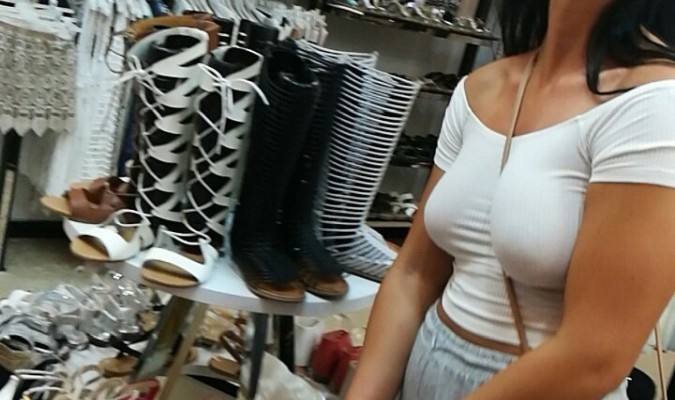 Previously: SEPARATION EFFECT #4 - SEPARATION EFFECT #3 - SEPARATION EFFECT #2 - SEPARATION EFFECT #1
Have you tidied up?" I asked my wife earlier. "Of course I'VE fucking tidied up!" she snapped. "Who else does? Certainly not you, eh!? No, definitely not you. Because YOU do sweet fuck all around here. You don't do any of the cleaning, don't go near the stove or look after the kids at all. Jesus, I can't even get you to walk the dog, so yes, YES I've fucking tidied up".
"Well in that case, have you seen a sheet of paper I'd left out?" I asked. "It's got some plans on it that I drew up".
"Oh, riiiiight" she said, sarcastically. "Mr D-I-fucking-Y and his clever-arse ideas. NO! I haven't seen your stupid fucking plans".
"Bloody hell" I groaned. "I was going to lay a patio in the garden".
"A fucking patio?" she sniggered "Over my dead body".
"AH HA!!! So you HAVE seen my plans?!"
RANDOM SHITE
OLDER SHITE: April 11th - April 4th - March 28th - March 21st - March 14th - March 7th - February 28th - MORE >>
PICTURE THIS: YOU GO TO A WEBSITE. HOOK UP WITH AN ACTUAL REAL GIRL. GET A BILL FOR $0. HERE'S HOW
John the farmer was in the fertilised egg business. He had several hundred young layers (hens), called pullets and eight or ten roosters, whose job was to fertilise the eggs. The farmer kept records and any rooster that didn't perform went into the soup pot and was replaced.
That took an awful lot of his time so he bought a set of tiny bells and attached them to his roosters. Each bell had a different tone so John could tell from a distance, which rooster was performing. Now he could sit on the porch and fill out an efficiency report simply by listening to the bells.
The farmer's favourite rooster was old Butch, a very fine specimen he was, too. But on this particular morning John noticed old Butch's bell hadn't rung at all! John went to investigate. The other roosters were chasing pullets, bells-a-ringing. The pullets, hearing the roosters coming, would run for cover.
BUT to Farmer John's amazement, Butch had his bell in his beak, so it couldn't ring. He'd sneak up on a pullet, do his job and walk on to the next one. John was so proud of Butch, he entered him in the county fair.
Butch became an overnight sensation among the judges.
The result: the judges not only awarded Butch the "No Bell Piece Prize" but they also awarded him the "Pullet surprise" as well.
Clearly Butch was a Politician in the making. Who else but a politician could figure out how to win two of the most highly coveted awards on our planet by being the best at sneaking up on the populace and screwing them when they weren't paying attention?
MASHA HAPPILY FLASHING HER BITS TO ANYONE ON THE BEACH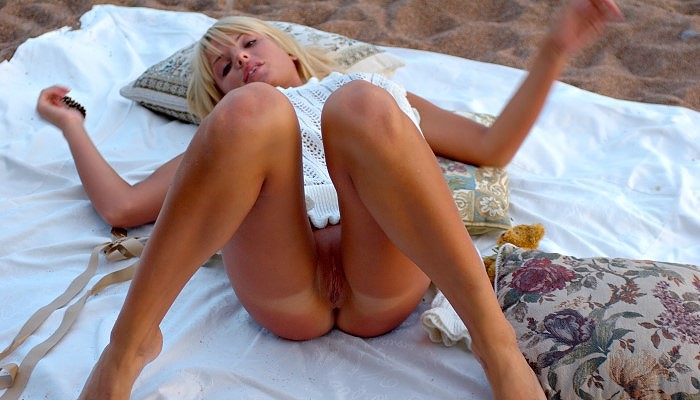 Previously: GYPSY - MIA - APRIL - NIKKI - ASHLEY - JASMINE - ALEXIS - BELLA - SATI - ERIN - ABELLA - MORE >>
A Russian woman married an Australian gentleman and they lived happily in Melbourne. The poor lady was not very proficient in English, but did manage to communicate with her husband. The real problem arose whenever she had to shop for groceries.
One day, she went to the butcher and wanted to buy chicken legs. She didn't know how to put forward her request, and in desperation, clucked like a chicken and lifted up her skirt to show her thighs.
Her butcher got the message, and gave her the chicken legs.
Next day she needed to get chicken breasts, again she didn't know how to say it, and so she clucked like a chicken and unbuttoned her blouse to show the butcher her breasts.
The butcher understood again, and gave her some chicken breasts.
On the 3rd day, the poor lady needed to buy sausages. Unable to find a way to communicate this, she brought her husband to the store...................


What were you thinking?
Her husband speaks English! Now get back to whatever you were doing. I don't know about you sometimes...
ORSM VIDEO
Well ...
-Follow me on Facebook. All the SFW stuff you see on Orsm flows there. Plus, you NEED THIS IN YOUR LIFE. Trust me - I know everything.
-Check out the archives. They'll get you through the tedium that is a four-day long weekend..............
-Next update will be next Thursday. Honestly cannot tell you guys just how happy this makes me. Its bordering on sickening.
-Tell your friends, family, colleagues, co-workers and neighbours to check out ORSM-DOT-NET otherwise my friend Ray will spike your kids Easter eggs with large doses of heroin. Ray is vindictive like that. Still a good guy at heart though,; means well.
-Need to clear your conscience? Judge me? Want to fight me? Threaten me? Sit on my lap and talk about the first thing that pops up? Show me the twins? Then go for it! Just make sure you email me here!
Until next time be good and stay off the chocs. Enjoy. Mr. Orsm.