Welcome to huge machinery wiping out the scenery.
Not going to claim it's been a relentless week... but it has. Not going to claim I'm very fucking eager to get this update up and spend some time on my PS4 wiping out a drug cartel in Bolivia... but I am. Not even going to claim I'm happy not to have Subway for dinner because all the remaining ingredients at my local store will be well and truly stale/gross by this time of day and that's if they are even still open... but I'd still love to. This in mind, and with no adieu whatsoever... check it... check this utterly beautiful update so fucking hard that it hurts. Check it. And check it again and again and again...
Going down on an old person is like eating a porkpie. You have to get passed the outer crust and jelly, before you get to the meat!
--
Saturday morning the weather was too bad to go out. I was bored with nothing to do. Then came a knock on the door. I opened it to find a young, well-dressed man standing there who said "Hello sir, I'm a Jehovah's Witness". So I said "Come in and sit down". I offered him a fresh cup of coffee and asked "What do you want to talk about?" He said "Beats the crap out of me. Never got this far before..."
--
A long interview just appeared featuring Dracula's lifestyle in the Daily Mail. And yet, he didn't appear in The Mirror OR The Sun.
--
Sometimes I wonder whether the world is being run by smart people who are putting us on or by imbeciles who really mean it.
--
One day, while going to the store, I passed by a nursing home. On the front lawn were six old ladies lying naked on the grass. I thought this was a bit unusual but continued on my way to the store. On my return trip, I passed the same nursing home with the same six old ladies lying naked on the lawn. This time my curiosity got the best of me and I went inside to talk to the nursing home Administrator. "Do you know there are six ladies lying naked on your Front lawn?" "Yes" she said. "They're retired prostitutes, they're having a yard sale"
--
A man was telling his neighbour in Port Charlotte "I just bought a new hearing aid. It cost me four thousand dollars, but it's state of the art. It's perfect". "Really" answered the neighbour. "What kind is it?" "Twelve thirty".
--
A man and his wife were having some problems at home and were giving each other the silent treatment. Suddenly, the man realised that the next day he would need his wife to wake him at 5 a.m. for an early morning business flight. Not wanting to be the first to break the silence (and LOSE), he wrote on a piece of paper "Please wake me at 5am". He left it where he knew she would find it. The next morning, the man woke up, only to discover it was 9:00 a.m. and he had missed his flight. Furious, he was about to go and see why his wife hadn't wakened him, when he noticed a piece of paper by the bed. The paper said "It is 5:00 a.m. Wake up". Men are not equipped for these kinds of contests.
--
A woman calls her boss one morning and tells him that she is staying home because she is not feeling well. "What's the matter?" he asks. "I have a case of anal glaucoma" she says in a weak voice. He says "What the hell is anal glaucoma?" She replies "I can't see my ass coming into work today".
--
A weasel walks into a bar. The bartender looks up and says "Wow! in all my years tending bar, I've never had a weasel stop by, what can I get you?" "Pop" goes the weasel.
--
A drunken man gets on the bus late one night, staggers up the aisle, and sits next to an elderly woman. She looks the man up and down and says "I've got news for you. You're going straight to hell!" The man jumps up out of his seat and shouts "Man, I'm on the wrong bus!"
--
Little Johnny once bought his Grandma a very nice, luxurious toilet brush for her birthday. But when he went to visit her a couple of weeks later, it wasn't in the bathroom. Little Johnny asked his Grandma "Gran, what happened to the toilet brush I gave you?" "Darling, I'm sorry but I just didn't like it. It was too scratchy. After all those years, I've gotten used to the toilet paper".

FuckathonStretch Was Loving That Tight, Wet Pussy. She Was Taking His Big Cock Hard All The Way Deep. You All Going To Love Watching This Teen Video Fuckathon. - She's HOT!I Came 5 Times Today To This Video, She's That HOT! - *Keeper*She Swallowed Every Last Drop... Yup, He Definitely Found Himself A Keeper! - Mega Slut700 Reasons Not To Get Married - Holy MoleyValentina's Ass REKT by Black Cock - Umm Wot!?Inhumanity - Come For The Tits, Stay For The Train Wreck! - Alpha AFAlpha Male Of The Year Goes For It At Porn Convention - Topless RoyalLady Amelia, All Topless At The Beach Like The European Rich Person She Is, Doing That Whole Social Media Super Star, Clickbait Hustle, Being As Relevant And Cool And On Trend As She Needs To Be... Is Magic... Cuz There Are Tits. - On DisplayRachel Mccord In Wet And See Through Bikini - Tit FuckedAs If Walking In On A Naked And Masturbating Lena Paul In The Bath Wasn't Enough, This Guy Somehow Turns That Into Getting A Titjob!


Sad StoryThis Is The Story Of Lara Roxx - A French Canadian Who's Career As A Hardcore Pornstar Was Derailed Before It Even Began. She Contracted HIV Just After Her First Shoot - Which Involved Taking 2 Fat Cocks Up The Ass Simultaneously... Aka "Double Anal"... Aka Just Beggin' For A Blood Transfusion. - Speaks TruthWorld's Realist Sex Tape - Epic HotnessHotter Then The Sun - Part XVI - WRONGWalking Around With Your Cock Out??? That's One Way To Meet Girls! - Crazy AnalYoung, Dumb And Crying While Fucked In The Bum - Bad Day?9 People Definitely Having A Shittier Day Than You - Uncalled ForColostomy Bag Pole Dancer - Kinky Bitch"I Record Him Fucking Me Without Him Knowing It" - Alien PornBad Acting, Bad Costumes, Bad Music And An Alien Getting Sucked Off = Perfection! - Sister SexThe Sneaky Sister


Phunny PixPhun.com's Phunny Pictures 290 - LMAOInhumanity Is A Free Porn Tube Updated With The Best Free And Bizarre Porn Videos Every Day! - BroodingBusty Babe Emily North Is Dropping A Pretty Red Dress To Pose Nude In These Pics! She's Got A Nice Classic Pinup Vibe Going In This One. - Killer RackCourtney Stodden Boobs In A Wet White T-Shirt - Breaking ButtsCrazy Compilation Of Stretching Out The Buttholes Of A Variety Of Pornstars - Savaged!Teen Babe Is Savaged Against Her Will - Skinny MiniJust A Small-Town Girl, Livin' In A Lonely World - Beefy ToeMadison Beer Fat Cameltoe - Kinky GFYou Have To See The Ass On This Young Rookie... DAMN! - Tiny TiffanyTiny Tiffany Screams Bloody Murder While Balls Deep


My wife and I went on our honeymoon to Australia. Unfortunately, I had to dial the help line. "G'day this is Tim, you've reached the Aussie help line. How can we help ya?" I told him "We were in the ocean and my wife was stung by a jellyfish on her lady parts. Her vagina is completely swollen shut. It's our honeymoon, and well... ya know". The guy on the help line replies "Ah, bummer mate!" I say "I hadn't thought of that! Thanks for the advice. You've saved my honeymoon!"
--
The wife just walked into the living room wearing a bright new summer dress she'd just bought. She said "Well? What do you think?" I said "Yeah it's nice, but your knickers are coming down". She looked down and said "No they're not!" I replied "Yes they are, or that dress is going straight fucking back!"
--
What's the difference between a joke and 3 dicks - your mum can't take a joke
--
Little Johnny and his dad were on an overcrowded elevator. Suddenly a lady in the front turned around, slapped Little Johnny's dad, and then left in a huff. "That sure is a nasty lady" Little Johnny's dad said. Little Johnny remarked "I didn't like her either, Daddy. She stepped on my toe... so I pinched her ass".
ORSM VIDEO
Saint Peter is seeing all the new arrivals trying to go through the pearly gates in Heaven.
The first applicant of the day explains that his last day was not a good one:
"I came home early and found my wife lying naked in bed. She claimed she had just gotten out of the shower. Well, her hair was dry, and I checked the shower and it was completely dry too. I knew she was into some hanky-panky and I began to look for her lover. I went onto the balcony of our 9th-floor apartment and found the guy clinging to the rail by his fingertips.
I was so angry that I began bashing his fingers with a flower pot. He let go and fell, but his fall was broken by some awnings and bushes. On seeing he was still alive I found super human strength to drag our antique cedar chest to the balcony and throw it over. It hit the man and killed him. At this point the stress got to me and I suffered a massive heart attack and died".
Saint Peter thanked him and sent him on to the waiting room.
The second applicant said that his last day was his worst:
"I was on the roof of an apartment building working on the AC equipment and I stumbled over my tools and toppled off the building. I managed to grab onto the balcony rail of a 9th-floor apartment, but some idiot came rushing out on the balcony and bashed my hands with a flower pot. I fell but hit some awnings and bushes and survived, but as I looked up I saw a huge chest falling toward me. I tried to crawl out of the way but failed and was hit and killed by the chest".
Saint Peter couldn't help but chuckle as he directs the man to the waiting room.
Saint Peter is still giggling when his third customer of the day enters.
He apologises and says "I doubt that your last day was as interesting as the two fellows that arrived here just before you". "I don't know" replies the man. "Picture this, I'm naked, hiding in this cedar chest...
33 CHICKS DOING THEIR BEST WORK FRONT AND CENTRE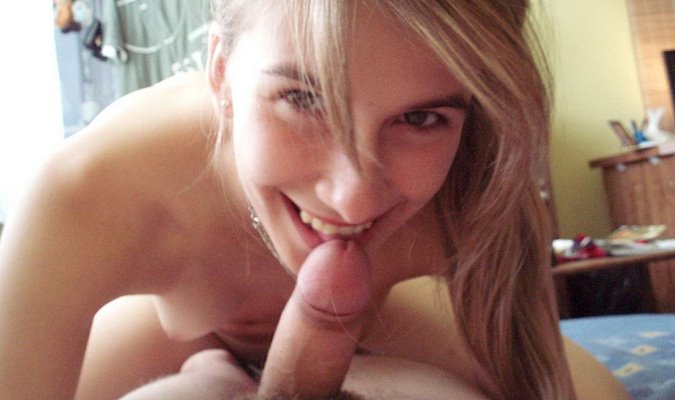 SUCKING IT previously: #15 - #14 - #13 - #12 - #11 - #10 - #9 - #8 - #7 - #6 - #5 - #4 - #3 - #2 - #1 - MORE >>
An out-of-towner drove his car into a ditch in a isolated area. Luckily, a local farmer came to help with his big strong horse named Buddy.
He hitched Buddy up to the car and yelled "Pull, Nellie, pull!" Buddy didn't move.
Then the farmer hollered "Pull, Buster, pull!" Buddy didn't respond.
Once more the farmer commanded "Pull, Coco, pull!" Nothing.
Then the farmer nonchalantly said "Pull, Buddy, pull!" And the horse easily dragged the car out of the ditch.
The motorist was most appreciative and very curious. He asked the farmer why he called his horse by the wrong name three times.
"Well... Buddy is blind and if he thought he was the only one pulling, he wouldn't even try!"
ORSM VIDEO
IT'S PROBABLY THE BEST THING TO EVER HAPPEN TO ONLINE PORN. SERIOUSLY. EVER. HERE'S WHY YOU'LL CARE
Scene: A courtroom in Oklahoma where a person is on trial for murder.
There is strong evidence indicating guilt however, there is no corpse.
In the defence's closing statement the lawyer, knowing that his client is guilty and that it looks like he'll probably be convicted, resorts to a clever trick.
"Ladies and gentlemen of the jury, I have a surprise for you all" the lawyer says as he looks at his watch.
"Within 1 minute, the person presumed dead in this case will walk into this courtroom" he says and he looks toward the courtroom door.
The jury, somewhat stunned, all look on eagerly. A minute passes. Nothing happens.
Finally, the lawyer says: 'Actually, I made up the previous statement. But you all looked on with anticipation. I, therefore, put it to you that there is reasonable doubt in this case as to whether anyone was killed and insist that you return a verdict of not guilty".
The jury, clearly confused, retires to deliberate. A very few minutes later, the jury returns and a representative announces a verdict of guilty.
"But how?" inquires the lawyer. "You must have had some doubt. I saw all of you stare at the door". Answers the representative "Oh, we did look... but your client didn't".
IT'S BATHTIME... AND YOU GUYS KNOW WHAT THAT MEANS!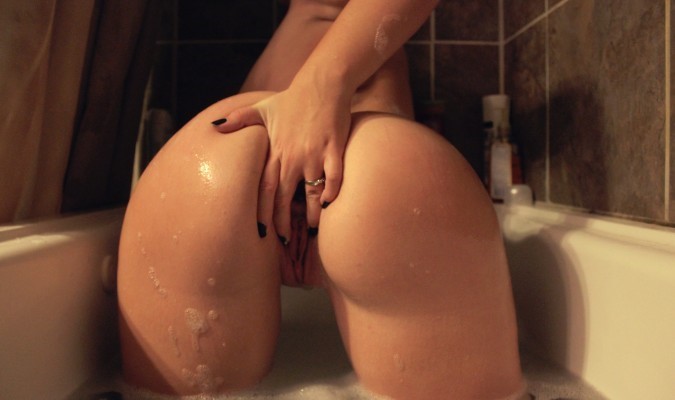 BATHTIME previously: #8 - #7 - #6 - #5 - #4 - #3 - #2 - #1 - MORE >>
ACCORDING TO WIKIPEDIA: MyFreeCams.com is a website providing live webcam performances by models, typically featuring nudity and sexual activity often ranging from striptease and dirty talk to masturbation with sex toys.
Even Wiki knows how awesome MFC is... soooo WTF are you waiting for!? Click here!
ORSM VIDEO
A WHOLE BUNCH OF STUFF YOU ALWAYS WANTED TO KNOW ABOUT AIRCRAFT CARRIERS
-Nimitz class aircraft carriers get refuelled approximately every 25 years. Since the lifespan of an aircraft carrier is about 50 years, that means they only get refuelled once. (This is the nuclear fuel for the reactors - the ship gets jet fuel every few days.)
-Almost all of the food has to be manually carried down to the mess and storage decks. This is a constant painstaking feat considering you're feeding almost 6000 people, and you're dealing with anywhere from about 4-8 stories worth of stairs, which can take as much as 10 hours in one resupply.
-All USN Aircraft Carriers are powered by steam.
-Machinery and non-airwing personnel can go longer than many submariners without seeing the sun. Many go 90-120+ days straight.
-The screws (propellers) installed on the USS Dwight D Eisenhower weight 366,200lbs (166,105kg) each and there are four of them.
-Airwing personal routinely throw overboard or flush their saltwater indicators (Man Overboard Indicator) down a toilet causing the entire crew to go to general quarters for muster in the middle of the night. If there is one reason why the ship's crew can't stand the airwing, this is that reason.
-The Screws are each 25 feet tall.
-In even remotely rough seas, the showers alternate between hot and cold with the rocking of the ship. This is hilarious if you're just using the bathroom, it's horrible if you're the one taking the shower.
-The total anchor weight including 1,082 feet of chain for one (of two anchors) is 735,000 lbs. (333,390kg).
-The machinery spaces are so far below the flight and hanger decks, there are emergency crews trained in mountain rescue, called deep rescue crews. They're trained to rescue personnel out of the escape shafts which are roughly 80ft tall.
-The total number of crew members including the deployed air wing is over 6,000 personnel.
-Nimitz and later class nuclear carriers have 2 dump-truck size nuclear reactors for power. The one Enterprise class carrier has basically 8 submarine-size nuclear reactors powering it. That may seem trivial, but 8 nuclear reactors on a floating ship, each with essentially independent systems for control and safety, is nothing short of insanity.
-The height of the keel to the mast is the equivalent to a 24-story building.
-The Flight Deck is 4.5 acres.
-Steam piping in the machinery spaces is so hot, it will kill nerve cells before someone realises they touched the wrong thing.
-You can water ski behind an aircraft carrier going full speed, not that it's safe.
-Aircraft carriers don't have sonar - the carriers are too noisy for it to be effective. (In truth, they do have sonar depth finders, but those point straight down and are only used when you're fairly close to shore.)
-Additionally, there's very little shielding from radiation on the underside of a carrier since it's usually facing the entire ocean, so a person must be certified and wear a radiation monitoring device to be under the ship in dry dock.
-The USS Midway (obviously a retired carrier) has about 5,000 miles (8046 kilometres) of wiring. A modern carrier, despite having much more electronic equipment, has only about half as much wiring because much of the data is now transported by fibreoptics.
-When the engines are engaged, the shafts rotate/twist more than an entire revolution before the propeller/screw actually moves.
-Some older carriers had escalators. The aircrew ready rooms and/or "para lockers" where survival equipment is stored, were a few decks down (these days those places are right under the flight deck), and it was easier to use escalators if you were wearing all that bulky equipment.
-Nuclear operators on carriers, and submarines and formerly cruisers for that matter, receive much less radiation than normal citizens. You get more radiation commuting to work than the people running nuclear reactors. (Chernobyl, 3 mile island, Fukushima, SL1, and some others notwithstanding)
-Many of the dining tables in the enlisted mess can be converted to hospital beds and even surgical tables in the event of mass casualties.
-Thanks to a sophisticated network of supply ships, fresh milk and soft-serve ice cream is almost always available.
-When resupplying the ship, they actually use a gun with a rope attached to it, to initially retrieve the cables from the supply ships. Just picture cruising at 20 knots with a sailor literally shooting a gun at a supply ship from the hanger deck.
-There are small ramps around the edge of the flight deck, each about 18 inches wide or so, that lead out over the water. These are "bomb chutes," and provide a way to quickly get bombs and other aircraft weapons over the side and away from the ship in case there's a fire.
-Any time weapons are brought up from or taken down to the magazines, it always requires two elevators to accomplish. They're taken about half the way, at which point they have to switch elevators since none of them go the whole distance. This is to eliminate one potential path of escape for any fire or explosion that might break out. It's not at all uncommon to be eating a meal on the mess decks, with a cart full of bombs or missiles sitting a few feet away as they're waiting to complete their journey up or down.
-Procedures have been developed and are sometimes practiced that allows for the launching and recovery of aircraft without the use of radios - no speaking whatsoever. It's called "zip lip." This is done when the ship is in EMCON condition, or "emissions control," when radio-based equipment like radar and radios aren't used in an effort to remain "silent" to enemies that might use the signals to detect the ship.
-There has never been a nuclear accident or uncontrolled release of radioactivity in the history of Naval Nuclear power, including submarines.
-The stern area of the ship at the hangar deck level is home to what's called the "jet shop." This is where in-depth repairs are made to jet engines that have been removed from airplanes. That area has jet fuel plumbing so that the engines can be tested at high power while attached (strongly) to the ship.
-It takes more than 2000 people to spell out "Ready Now" or a similarly large phrase on the flight deck.
-Every carrier landing is recorded on video, and each pilot is graded on how well they did.
-During daytime and in good weather, during an aircraft recover (landing) cycle, the goal is to have an airplane land every 45 seconds. That means each one should land, come to a stop, get free of the cable it caught and taxi out of the way in 45 seconds or less.
-A deployment is referred to as a cruise by recruiters.
Shorsh: here.
ORSM VIDEO
Want to contribute to, contact, agitate, titillate, correct my speling? Just click here and do *IT*!!
There was a man who couldn't stand his wife's cat. So, one day, he decided to get rid of him by dumping him a long way away from the house.
He put the cat in the car and drove about 20 blocks away, then he left him at the park. But when he got home, the cat was there as if nothing had happened.
The next day he decided to take the cat somewhere further away, about 50 blocks. He put him out of the car and drove home. And again, the cat was there waiting for him. 'This is impossible' said the man to himself 'tomorrow I'll make sure he can't come back!'
The next day he puts the cat in the car and he drives around, taking turn after turn - right, left, right, right and so on. Eventually, after about an hour of driving, he finally lets the cat out and drives home.
A few hours later, the phone rings at his house and his wife answers it. It's the husband, and he asks "Is the cat there?" "Why, yes". says the wife "he's been here quite a while, where are you?" "Please put him on the phone, I'm lost and I need directions".
THIS GALLERY PROVES THAT PIERCED NIPPLES ARE AWESOME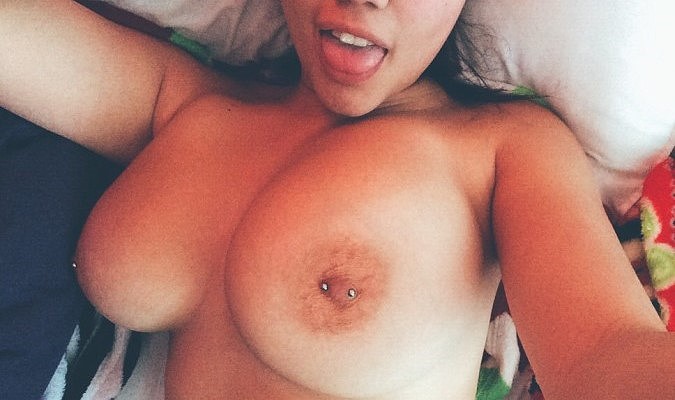 PIERCED NIPPLES previously on Orsm: #8 - #7 - #6 - #5 - #4 - #3 - #2 - #1 - MORE >
Fay Chester was a busy housewife with a demanding husband, six children and a large house. The only relief she got from her chores was the twice-a-week bridge game she shared with a dozen other women. The only flaw in the bridge club relationship was that Fay loved to tell off-colour stories and the girls didn't want to hear them.
To teach Fay a lesson, the other women decided that the next time she told an off-colour story, they'd just get up, walk out, meet at another home but without Fay.
Sure enough, at the next meeting, Fay started "You know, girls, there's a rumour going around that a busload of prostitutes will be leaving in the morning for that big gold find up in Alaska, and they say..."
just then, the women all stood up and started for the door. Fay was disconcerted but only for a moment, then she understood what was going on and said "Hey! Girls! Hold on, hold on! There's plenty of time - the bus doesn't leave till morning!"
RANDOM SHITE
OLDER SHITE: 2nd August - 26th July - 19th July - 12th July - 5th July - 28th June - 21st June - 14th June - MORE >>
PICTURE THIS: YOU GO TO A WEBSITE. HOOK UP WITH AN ACTUAL REAL GIRL. GET A BILL FOR $0. HERE'S HOW
The local news station was interviewing an 80-year-old lady because she had just gotten married for the fourth time.
The interviewer asked her questions about her life, about what it felt like to be marrying again at 80, and then about her new husband's occupation. "He's a funeral director" she answered. "Interesting" the newsman thought. He then asked her if she wouldn't mind telling him a little about her first three husbands and what they did for a living.
She paused for a few moments, needing time to reflect on all those years. After a short time, a smile came to her face and she answered proudly, explaining that she had first married a banker when she was in her 20's, then a circus ringmaster when in her 40's, and a preacher when in her 60's, and now -in her 80's- a funeral director.
The interviewer looked at her, quite astonished, and asked why she had married four men with such diverse careers.
She smiled and explained "I married one for the money, two for the show, three to get ready, and four to go".
SOMETHING IS COOKING IN THE KITCHEN AND IT'S NOT DINNER...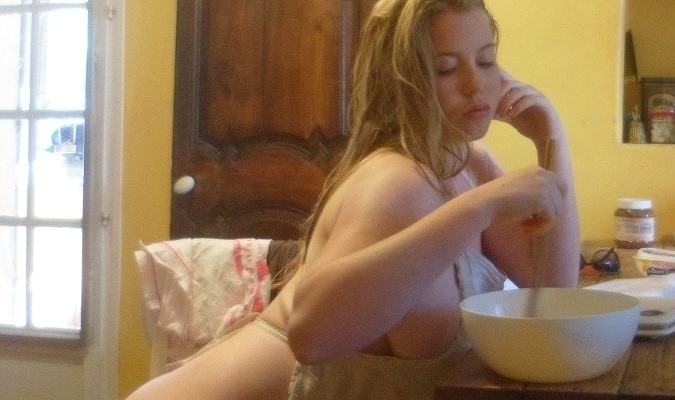 GIRLS IN THE KITCHEN previously on Orsm: #8 - #7 - #6 - #5 - #4 - #3 - #2 - #1 - MORE >>
The Captain called the Sergeant in. "Sarge, I just got a telegram that Smith's mother died yesterday. Better go tell him and send him in to see me".
So the Sergeant calls for his morning formation and lines up all the troops.
"Listen up, men" says the Sergeant. "Johnson report to Personnel to sign some papers. The rest of you men report to the Motor Pool for maintenance. Oh by the way, Smith, your mother died, report to the commander".
Later that day the Captain called the Sergeant into his office.
"Hey, Sarge, that was a pretty cold way to inform Smith his mother died. Couldn't you be a bit more tactful, next time?" "Yes, sir" answered the Sarge.
A few months later, the Captain called the Sergeant in again with "Sarge, I just got a telegram that James' mother died. You'd better go tell him and send him in to see me. This time be more tactful".
So the Sergeant calls for his morning formation. "OK, men, fall in and listen up". "Everybody with a mother, take two steps forward".
"Not so fast, James!"
OH HOW I LONG FOR SUMMER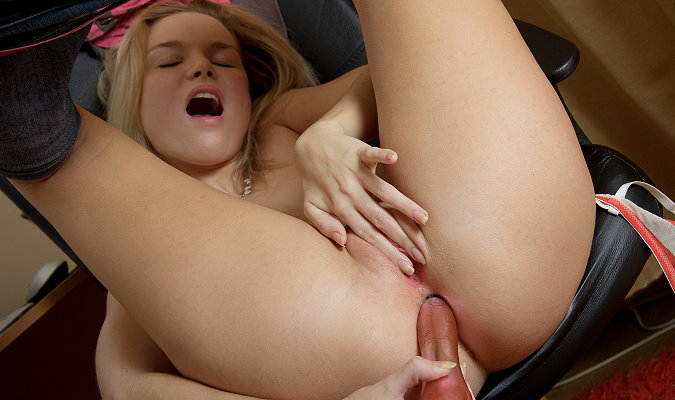 Previously on Orsm: DAISY - JANETTE - MAXINE - AMELIA - YASMINA - ELISE - SUZAN - STEPHANIE - MORE >>
Several years ago, Great Britain funded a study to determine why the head on a man's penis is larger than the shaft. The study took two years and cost over $1.2 million.
The study concluded that the reason the head of a man's penis is larger than the shaft was to provide the man with more pleasure during sex.
After the results were published, France decided to conduct their own study on the same subject. They were convinced that the results of the British study were incorrect. After three years of research at a cost of in excess of $2 million, the French researchers concluded that the head of a man's penis is larger than the shaft to provide the woman with more pleasure during sex.
When the results of the French study were released, Australia decided to conduct their own study. The Aussies didn't really trust British or French studies. So, after nearly three hours of intensive research and a cost of right around $75 (3 cartons of beer), the Aussie study was complete.
They concluded that the reason the head on a man's penis is larger than the shaft is to prevent your hand from flying off and hitting you in the forehead.
ORSM VIDEO
Well...
-Follow me on Facebook and Twitter and Instagram. All the SFW stuff you see on Orsm now flows daily on to your favourite social network.
-Check out the archives. It's probably what I'm doing right this very moment.
-Next update will be the 16th.
-Tell your friends, family, colleagues, co-workers and neighbours to check out ORSM-DOT-NET else my friend Ray will cause a catastrophic earthquake to target where you live. He's done it before and he'll do it again...
-Need to clear your conscience? Judge me? Want to fight me? Threaten me? Sit on my lap and talk about the first thing that pops up? Show me the twins? Then go for it! Just make sure you email me here!
Until next time be good, stay off the chems and don't leave me this waaaaaay. Enjoy. Mr. Orsm.