Welcome to we knew they come out hard.
//the theme from Robocop plays in the background.
I don't mean to boast... but I've got a pretty big dick epic update for you guys. And you get the lot. Check it...
Three drunk guys entered a taxi. The taxi driver knew that they were drunk so he started the engine and turned it off again. Then said "We have reached your destination". The first guy gave him money and the second guy said "Thank you". The third guy slapped the driver. The driver was shocked thinking the third guy knew what he did. But then he asked "What was that for?". The third guy replied "Watch your speed next time, you nearly killed us!"
--
The Army Airborne Major was used to harassment from Air Force fliers about crazy Army paratroopers jumping out of perfectly good aircraft. "Obviously the Air Force knows there's no such thing as a 'perfectly good aircraft'" the irritated officer finally countered one afternoon "because they pay you fucks four times as much to stay in one as the Army pays its men to jump". "You've got it all wrong, Major" an Air Force sergeant replied. "The Army figures anyone stupid enough to jump out of an airplane voluntarily is gonna be too dumb to bitch about the salary".
--
A Scottish lad and lass were sitting together on a heathery hill in the Highlands. They had been silent for a while, then the lass said "A penny for your thoughts". The lad was a bit abashed, but he finally said "Well, I was thinkin' how nice it would be if ye'd give me a wee bit of a kiss". So she did so. But he again lapsed into a pensive mood which lasted long enough for the lass to ask him "What are ye thinkin' now?" To which the lad replied: "Well, I was hopin' ye hadn't forgot the penny!"
--
Having had one too many, a bar drinker was beginning to display an ugly side. An unescorted female sat down beside him and he whispered to her "Hey! How about it babe - you and me?" As she got up to move he said loudly "Honey, you sure look like you could use the money, but I don't have an extra two dollars". She looked back and replied just as loudly "What makes you think I charge by the inch?"
--
"I ain't ready to get married" Sam Rush told his buddy, Joe. "But, when I do, I want a gal who's an economist in the kitchen, a sweet lady when we've got company and a fireball in the bedroom"."Well, time passed and Sam did get married. One day he again ran into Joe. "How's life with you, Sam?" Joe asked. "Fine and dandy, Joe. I done got myself hitched". "Great! And is she just like the gal you described to me?" "Not exactly. I sure enough did get all the qualities in my wife that I wanted. But they came a little bit mixed. Jenny's a fireball in the kitchen, a sweet lady when we got company, but she's an economist in the bedroom".
--
A Catholic girl went to confession and said to the priest "I'm pregnant". He asked "How did this happen, my child?" She said "I think it must be the second coming". The priest, shocked by this reply asked "What makes you think it's the second coming?". She replied "Because I swallowed the first one".
--
A young mother was having a consultation with a doctor. As they spoke, her Little Johnny would clearly be heard terrorising the people in the waiting room-yet she made no attempt to restrain him. Soon they heard some clattering in an adjoining room but still she did nothing. Finally, after an extra-loud crash, the woman casually told the doctor "I hope you don't mind my little Johnny playing in there". "No, not at all" said the doctor calmly. "I'm sure he'll calm down as soon as he finds the poison".
--
I don't need Viagra, I'll never have trouble getting an erection... touch wood.
--
The waitress was waiting as patiently as she could while the smartass man was dawdling over the breakfast menu. He says "I never return to a restaurant unless at least one of the sausages I'm served is a match in size for my own". The waitress replied "In that case sir, perhaps you should take a look at the children's menu"...
I said to the wife "You should go without a bra more often". "Why?" she giggled "Is it because it's sexy to see my titties jiggle up and down and my nipples poking out?" I pulled down the paper "No, not really. They pull the wrinkles out of your face".
--
A Muslim child asks his mother "Mama, what's the difference between Democracy and Racism?" Mother, dressed in her burqa says "Well son, Democracy is when the tax payers work hard every day so that we can get all our benefits, you know, like free housing, free health care, free education and grants to build our mosques and community centres, and so forth, you know that's a Democracy". "But Mama, don't the tax payers get angry about that?" "Sure they do and that's what we call Racism!"
--
Looks like the Hollywood gay community have managed to get a gay transformer included in the next film. He turns into a Prius.
ORSM VIDEO
A man walked out to the street and caught a taxi just going by. He got into the taxi, and the cabbie said "Perfect timing. You're just like Rodney"
Passenger: "Who?"
Cabbie: "Rodney M Johnson. He's a guy who did everything right all the time. Like my coming along when you needed a cab, things happen like that to Rodney M Johnson, every single time".
Passenger: "There are always a few clouds over everybody".
Cabbie: "Not Rodney M Johnson. He was a terrific athlete. He could have won the Grand Slam at tennis. He could golf with the pros. He sang like an opera baritone and danced like a Broadway star and you should have heard him play the piano. He was an amazing guy".
Passenger: "Sounds like he was something really special".
Cabbie: "There's more. He had a memory like a computer. He remembered everybody's birthday. He knew all about wine, which foods to order and which fork to eat them with. He could fix anything. Not like me. I change a fuse, and the whole street blacks out. But Rodney M Johnson... he could do everything right!"
Passenger: "Wow. Some guy then".
Cabbie: "He always knew the quickest way to go in traffic and avoid traffic jams. Not like me, I always seem to get stuck in them. But Rodney, he never made a mistake, and he really knew how to treat a woman and make her feel good. He would never answer her back even if she was in the wrong; and his clothing was always immaculate, shoes highly polished too. He was the perfect man! He never made a mistake. No one could ever measure up to Rodney M Johnson".
Passenger: "An amazing fellow. How did you meet him?"
Cabbie: "Well, I never actually met Rodney. He died. I'm marrying his widow next week".
THE BEACH: PERFECT PLACE TO GET YOUR VAGINA OUT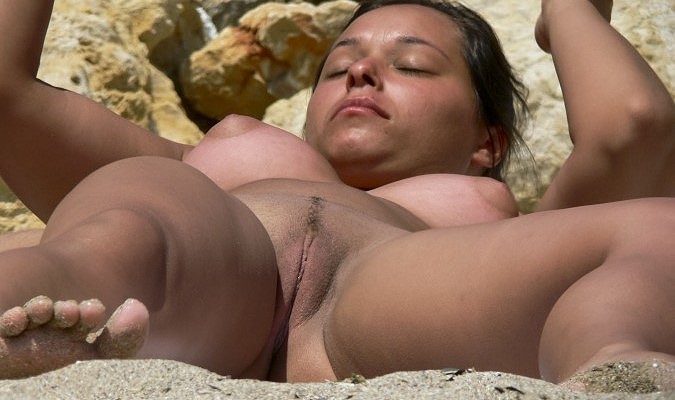 BEACH VAGINA previously on Orsm: #8 - #7 - #6 - #5 - #4 - #3 - #2 - #1 - MORE >>
ORSM VIDEO
Little Lucy went out into the garden and saw her cat Pebbles lying on the ground with its eyes shut and its legs in the air. She fetched her dad to look at Pebbles, and on seeing the cat he said, as gently as he could,
"I'm afraid Pebbles is dead, Lucy". "So why are his legs sticking up in the air like that, Daddy?" asked Lucy as she fought back the tears.
At a loss for something to say the father replied "Pebbles' legs are pointing straight up in the air so that it will be easier for Jesus to float down from heaven above and grab a leg and lift Piddles up to heaven".
Little Lucy seemed to take her Peddles' death quite well. However, two days later when her father came home from work, Lucy had tears in her eyes and said: "Mummy almost died this morning".
Fearing something terrible had happened the father shook the girl and shouted "How do you mean Lucy? Tell Daddy!"
"Well" mumbled Lucy "soon after you left for work this morning, I saw mummy lying on the floor with her legs in the air and she was shouting "Oh Jesus!! I'm coming, I'm coming!!" and if it hadn't been for the Uncle Mark holding her down, she would definitely have gone, Daddy".
WHAT DOES IT FEEL LIKE TO BIKE RIDE NAKED? LOOKS LIKE THESE GIRLS MIGHT KNOW...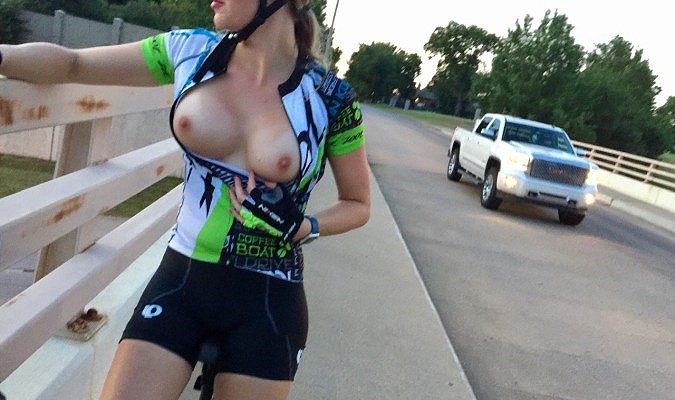 Previously on Orsm: #5 - #4 - #3 - #2 - #1 - MORE >>
Dolly Parton and Queen Elizabeth went to the Pearly Gates on the same day.
They both met with an angel to find out if they would be admitted to Heaven.
The angel said "Unfortunately, there's only one space in Heaven today so I must decide which one of you will be admitted".
The angel asked Dolly if there was some particular reason why she should go to Heaven. Dolly took off her top and said "Look at these! They're the most perfect breasts God ever created and I'm sure it will please God to be able to see them every day, for eternity".
The angel thanked Dolly, and asked Her Majesty, Queen Elizabeth the same question.
The Queen walked over to a toilet, pulled the lever and flushed it without saying a word.
The Angel immediately said "Okay, your Majesty, you may go into Heaven".
Dolly was outraged and asked "What was that all about? I showed you two of God's own perfect creations and you turned me down. She simply flushed a commode and she got admitted to Heaven! Would you explain that to me?
"Sorry, Dolly" said the Angel "but even in Heaven, a royal flush beats a pair!"
ORSM VIDEO: THE OKAY I ADMIT I'M ACTUALLY A BIT IMPRESSED EDITION
IT'S PROBABLY THE BEST THING TO EVER HAPPEN TO ONLINE PORN. SERIOUSLY. EVER. HERE'S WHY YOU'LL CARE
One day a florist went to a barber for a haircut. After the cut, he asked about his bill, and the barber replied "I cannot accept money from you, I'm doing community service this week".
The florist was pleased and left the shop.
When the barber went to open his shop the next morning, there was a 'thank you' card and a dozen roses waiting for him at his door.
Later, a cop comes in for a haircut, and when he tries to pay his bill, the barber again replied "I cannot accept money from you, I'm doing community service this week". The cop was happy and left the shop.
The next morning when the barber went to open up, there was a 'thank you' card and a dozen donuts waiting for him at his door.
Then a MP came in for a haircut, and when he went to pay his bill, the barber again replied "I cannot accept money from you. I'm doing community service this week". The MP was very happy and left the shop
The next morning, when the barber went to open up, there were a dozen MPs lined up waiting for a free haircut. And that, ladies and gentlemen, illustrates the fundamental difference between the citizens of our country and the politicians who run it.
WIND DO YOUR THING !!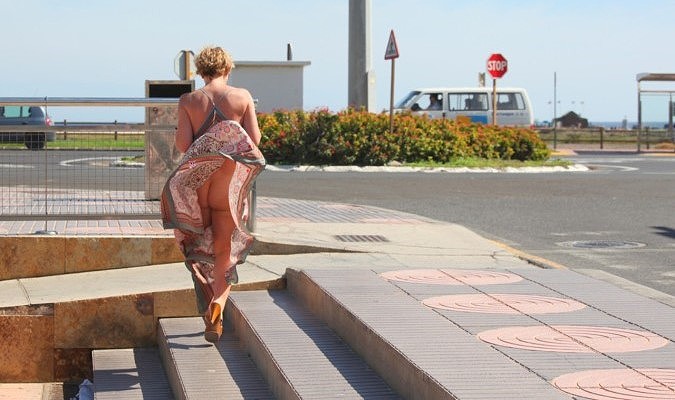 Previously: UPSKIRTS #5 - UPSKIRTS #4 - UPSKIRTS #3 - UPSKIRTS #2 - UPSKIRTS #1 - MORE >
ACCORDING TO WIKIPEDIA: MyFreeCams.com is a website providing live webcam performances by models, typically featuring nudity and sexual activity often ranging from striptease and dirty talk to masturbation with sex toys.
If it's on Wiki then it is FACT! ... Soooo WTF are you waiting for!? Click here!
ORSM VIDEO
A couple went to the hospital to have their baby delivered.
Upon their arrival, the doctor said that the hospital was testing an amazing new high-tech machine that would transfer a portion of the mother's labour pain to the baby's father.
He asked if they were interested. Both said they were very much in favour of it.
The doctor set the pain transfer to 10% for starters, explaining that even 10% was probably
more pain than the father had ever experienced before.
But as the labour progressed, the husband felt fine and asked the doctor to go ahead and kick
it up a notch.
The doctor then adjusted the machine to 20% pain transfer. The husband was still feeling fine. The doctor then checked the husband's blood pressure and was amazed at how well he was doing.
At this point they decided to try for 50%. The husband continued to feel quite well.
Since the pain transfer was obviously helping the wife considerably, the husband encouraged the doctor to transfer ALL the pain to him.
The wife delivered a healthy baby with virtually no pain and the husband continued to experience no pain. She and her husband were ecstatic.
When they got home, they found the postman dead on the porch.
PALE IS BEAUTIFULEST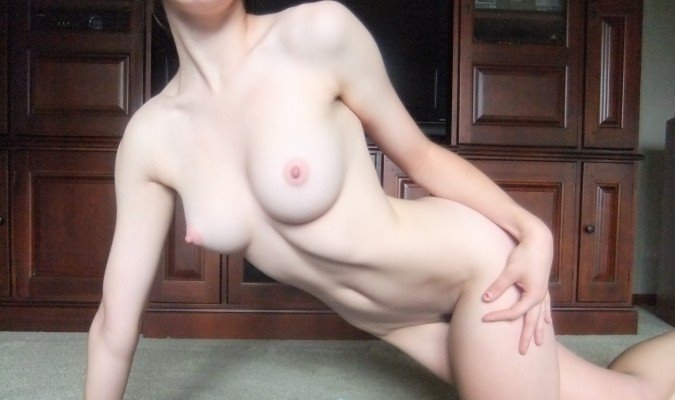 Previously: PALE #5 - PALE #4 - PALE #3 - PALE #2 - PALE #1 - MORE >>
Colin was bragging to his boss one day "You know, I know everyone there is to now. Just name someone -anyone- and I know them. Tired of his boasting, his boss called Colin's bluff "Okay Colin - how about Tom Cruise?" "Sure, yep, Tom and I are old friends and I can prove it".
So Colin and his boss fly out to Hollywood and knock on Tom Cruise's door and sure enough Tom answers and shouts "Colin! Great to see you! You and your friend come right in and join me for lunch!"
Although impressed, Colin's boss is still sceptical. After they leave Cruise's house, he tells Colin that he thinks Colin's knowing Cruise was just lucky. "No, no, just name anyone else" Colin says. "President Obama!" his boss quickly retorts. "Yep..." Colin says "I know him, let's fly out to Washington". So off they go.
At the White House, Obama spots Colin on the tour and motions him and his boss over, saying "Colin, what a surprise, I was just on my way to a meeting, but you and your friend come on in and let's have a cup of coffee first and catch up".
Well, Colin's boss is pretty shaken by now but still not totally convinced.
After they leave the White House grounds, he expresses his doubts to Colin, who again implores him to name anyone else. "The Pope!" his boss replies. "Sure!" says Colin. "My folks are from Germany and I've known the Pope a long time". So off they fly to Rome.
Colin and his boss are assembled with the masses in Vatican Square when Colin says "This will never work. I can't catch the Pope's eye among all these people. Tell you what, I know all the guards so let me just go upstairs and I'll come out on the balcony with the Pope". And he disappears into the crowd headed toward the Vatican.
Sure enough, half an hour later Colin emerges with the Pope on the balcony but by the time Colin returns, he finds that his boss has had a heart attack and is surrounded by paramedics. Working his way to his boss' side Colin asks him "What happened?" His boss looks up and says "I was doing fine until you and the Pope came out on the balcony and the man next to me said "Who the fuck's that on the balcony with Colin?"
ORSM VIDEO
An elderly couple was celebrating their sixtieth anniversary. The couple had married as childhood sweethearts and had moved back to their old neighbourhood after they retired. Holding hands, they walked back to their old school. It was not locked, so they entered, and found the old desk they'd shared, where Andy had carved 'I love you, Sally'.
On their way back home, a bag of money fell out of an armoured car, practically landing at their feet. Sally quickly picked it up and, not sure what to do with it, they took it home. There, she counted the money - fifty thousand dollars!
Andy said "We've got to give it back".
Sally said "Finders keepers". She put the money back in the bag and hid it in their attic.
The next day, two police officers were canvassing the neighbourhood looking for the money, and knocked on their door. "Pardon me, did either of you find a bag that fell out of an armoured car yesterday?"
Sally said "No. She's lying. She hid it up in the attic".
Sally said "Don't believe him, he's getting senile".
The agents turned to Andy and began to question him.
One said "Tell us the story from the beginning".
Andy said "Well, when Sally and I were walking home from school yesterday..."
The first police officer turned to his partner and said "We're outta here!"
FALLING OUT: SOME BREASTS SIMPLY REFUSE TO BE CONTAINED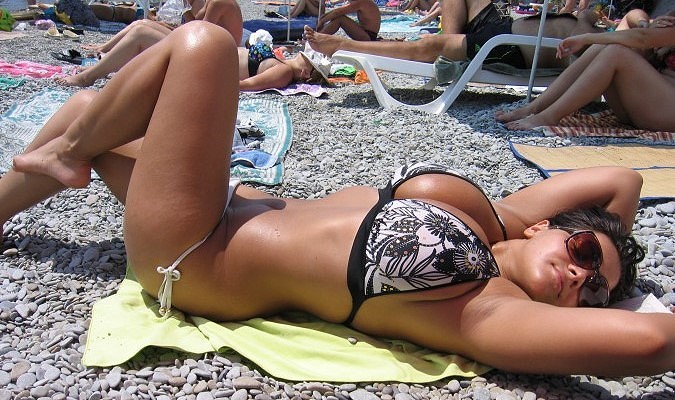 Previously: FALLING OUT #6 - FALLING OUT #5 - FALLING OUT #4 - FALLING OUT #3 - MORE >>
There were three guys, Bill, John and Gary. They travelled all the way to the top of a mountain because there was a rumour of an old legend that if you climbed to the top of this one mountain you could jump off and have any wish you would like.
When they finally reached the top John said to Bill "Umm... hey you know you were the one who made this possible so why don't you go first? Heheh" he said because he didn't think it would work.
"No that's okay you can go first John" Bill said pushing John off the side of a mountain.
"AAAAAGGGHHHHH!!!"John yelled.
"Quick make a wish Johnny-Boy!" Gary yelled out.
"I-... I WISH I WAS AN EAGLE!" John screamed as he surprisingly turned into an eagle before their eyes. "YEAH!! I'm an eagle! Awesome... ummmm... okay uhhh... now how do you fly this thing?" he screamed as he flew into the side of the mountain.
The other two started to laugh.
"Okay my turn!" Gary said. "Hmm" He jumped off and said "I wish I could be a bat!" he said as he looked into the sun. "Aaghh I'm blind! I'm blind!"
"Stupid" Bill said laughing. "Okay" he started to ponder when he slipped and fell off the side of the mountain. "OH CRAAAAP!!" When he landed, he turned into a pile of crap.
RANDOM SHITE
OLDER SHITE: May 16th - May 9th - May 2nd - April 25th - April 18th - April 11th - April 4th - MORE >>
PICTURE THIS: YOU GO TO A WEBSITE. HOOK UP WITH AN ACTUAL REAL GIRL. GET A BILL FOR $0. HERE'S HOW
2+2+2=7
TEACHER: "If I gave you 2 cats and another 2 cats and another 2, how many will you have?"
JOHNNY: "Seven, Sir".
TEACHER: "No, listen carefully".
If I gave you 2 cats, and another 2 cats and another 2, how many will you have?"
JOHNNY: "Seven".
TEACHER: "Let me put it to you differently".
If I gave you 2 apples, and another 2 apples and another 2, how many will you have?"
JOHNNY: "Six".
TEACHER: "Good. Now if I gave you 2 cats, and another 2 cats and another 2, how many will you have?"
JOHNNY: "Seven!!!"
A VERY ANGRY TEACHER: "Where in the hell do you get seven from?!?!?"
JOHNNY: "Because... I've already got a fuckin' cat!!"
MAJOR TRAIN DELAYS EXPECTED TODAY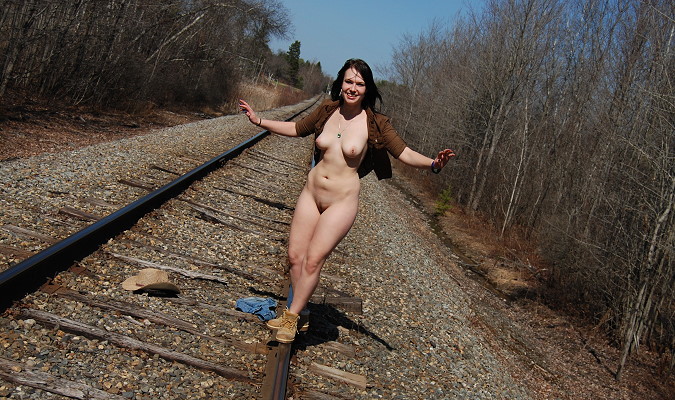 Previously: AURIELEE - PAYTON - ABELLA - BARBIE - MASHA - GYPSY - MIA - APRIL - NIKKI - MORE >>
THE SNOW(MAN)
8:00am - I made a snowman.
8:10am - A feminist passed by and asked me why I didn't make a snow woman.
8:15am - So, I made a snow woman.
8:17am - My feminist neighbour complained about the snow woman's voluptuous chest saying it objectified snow women everywhere.
8:20am - The gay couple living nearby threw a hissy fit and moaned it could have been two snow men instead.
8:22am - The transgender ma.. wom.. person asked why I didn't just make one snow person with detachable parts.
8:25am - The vegans at the end of the lane complained about the carrot nose, as veggies are food and not to decorate snow figures with.
8:28am - I am being called a racist because the snow couple is white.
8:31am - The Muslim gent across the road demands the snow woman wear a burqa.
8:40am - The Police arrive saying someone has been offended.
8:42am - The feminist neighbour complained again that the broomstick of the snow woman needs to be removed because it depicted women in a domestic role.
8:43am - The council equality officer arrived and threatened me with eviction.
8:45am - TV news crew from the ABC shows up. I am asked if I know the difference between snowmen and snow-women? I reply "Snowballs" and am now called a sexist.
9:00am - I'm on the news as a suspected terrorist, racist, homophobic sensibility offender, bent on stirring up trouble during difficult weather.
9:10am - I am asked if I have any accomplices. My children are taken by social services.
9:29am - Far left protesters offended by everything are marching down the street demanding for me to be beheaded.
MORAL: There is no moral to this story. It's just a view of the world in which we live today, and it is only getting worse.
ORSM VIDEO
Well...
-Follow me on Facebook. All the SFW stuff you see on Orsm flows there. Go check it, follow, love it or don't and keep being a complete cunt.
-Check out the archives. If they were wine........... you'd drink the whole bottle.
-Next update will be next Thursday. Next Thursday will be next update.
-Tell your friends, family, colleagues, co-workers and neighbours to check out ORSM-DOT-NET otherwise my friend Ray will shit in a pizza box and make you eat it. Ray shite wet too soooo... there's that.
-Need to clear your conscience? Judge me? Want to fight me? Threaten me? Sit on my lap and talk about the first thing that pops up? Show me the twins? Then go for it! Just make sure you email me here!
Until next time be good, stay off the chems and dance like everybody is watching and harshly judging you. Enjoy. Mr. Orsm.