Welcome to oven spring.
Ah yes... the Thursday update that simply refused to come together simply in a timely manner. I'll save everyone some time by promising that what you're about to consume will change your life. Its simply as simple as that. Check it...
A man goes to a job interview. His resume was fantastic and his qualities was perfect for the company. The interviewers were impressed. "You are a strong candidate, and we would like to hire you. However, there's this 5-year gap in your resume. What were you doing during that time?" "I went to Yale". "Wow great! You're hired". "Yay, I got a yob!"
--
A little boy ran up the stairs into his parent's room yelling "Daddy, Daddy, Daddy! Guess how old I am today!" The father says "Well, I don't know son... how old are you?" "I'M SEEEEEEEEVEEN!" "That's great son, now go tell your Grampa". He runs down the stairs "Grampa, Grampa, Grampa! Guess how old I am today!" The grandfather looks up from his paper. "Hmm, let Grampa take a look". The grandfather reaches down the front of the boy's pants and under his underwear. His hard, old hand scrapes over the boy's penis. He rolls each of the boy's testicles between his thumb and index finger. He pushes further and sticks his middle finger nail deep into the boy's anus. He flexes his hand. As he pulls his hand out of the boy's pants, he pinches the tip of the boy's penis to the point where the boy cries "Ow!" The grandfather says "You're seven". The boy "Yeah Grampa, how could you tell?" The grandfather said "I heard you tell your father".
--
A few days before his proctological exam, a one-eyed man accidentally swallowed his glass eye. He was worried for a while, but there were no ill effects, so he forgot about it. Once he was in the doctor's office, the man followed instructions, undressed, and bent over. The first thing the proctologist saw when he looked up the man's arse was that eye staring right back at him. The startled doctor jumped back in surprise then shook his head and exclaimed "For fucks sake, you really have to learn to trust me".
--
One day a 12-year old boy was walking down the street when a car pulled up beside him and the window was wound down. "I'll give you a bag of lollies if you get in the car" said the male driver. "No way" replied the boy. How about a bag of lollies and $10?" asked the driver? "No way" replied the irritated youngster. "What about a bag of lollies and FIFTY?" quizzed the driver, still rolling slowly to keep up with the walking boy. "No, I'm not getting in the car!" answered the boy "OK, I know what you want - I'll give you $100 and a bag of lollies" the driver offered. The boy sighed: "Listen Dad, you bought a Jeep - you live with it!"
--
A funeral service was being held for a young woman who had just passed away. As the pallbearers carried the casket out, they accidentally bumped into a wall. They heard a faint moan come from inside the casket. They opened the casket and found that the woman was still alive! She went on to live 10 more years and then died, and they held another funeral for her. While the pallbearers were carrying her out, her husband yelled "The wall! Watch the fucking wall!"
--
Young Susie was having trouble with her computer so she called Wes, the computer guy, over to her desk. Wes clicked a couple buttons and solved the problem. As he was walking away Susie called after him "So, what was wrong?" And he replied "It was an 'ID ten T' error". A puzzled expression ran riot over Susie's face. " 'An ID ten T' error? What's that, in case I need to fix it again?" He gave her a grin. "Haven't you ever seen an 'ID ten T' error before?" Susie replied "No". "Write it down" he said "and I think you'll figure it out"... I D 1 0 T.
--
An Emergency Call Centre worker has this week been dismissed from her job, much to the dismay of colleagues who are reportedly unhappy with her treatment. It seems a male caller dialled 000 from a cell phone stating "I am depressed and lying here on a railway track. I am waiting for the train to come so I can finally meet Allah". Apparently "remain calm and stay on the line" was not considered to be an appropriate or correct response...
A woman walks into a bar with her 5-pound chihuahua and sits down next to this guy, who she notices is looking a little bit queasy. A few minutes go buy and the guy looks at her and blows his chunks. He looks down and sees the little dog struggling in a pool of vomit and says "Whoa, I don't remember eating that!"
--
I recently got my girlfriend a new fridge for her birthday. She was thrilled. You should have seen her face light up when she opened it.
--
One night a man walks into a bar looking sad. The bartender asks the man what he wants. The man says "Oh just a beer". The bartender asked the man "What's wrong? Why are you so down today?". The man said "My wife and I got into a fight and she said she wouldn't talk to me for a month". The bartender said "So what's wrong with that"? The man said "Well the month is up tonight".
--
What do you call someone who hangs around with musicians? A drummer.
ORSM VIDEO
Farmer Brown, from Minnesota, had a bull that he was quite proud of. One day he looked at the bull and noticed his eyes were crossed. That was disconcerting, because he knew he couldn't get huge stud fees for a defective bull. He called the local vet who came right over. The vet assured him he could solve the problem.
"Farmer Brown, you stand in front of the bull and watch his eyes. I will insert this straw into the bull's rectum and blow. When the eyes uncross, yell stop".
The vet did just that, and sure enough after a few minutes of blowing, the eyes uncrossed. Farmer Brown was thrilled. Several months pass and again he sees the eyes cross.
He says to himself "I better call the vet. No, wait a minute. Last time I called the vet, he charged me $250.00 for something that only took a few moments. I will do it myself".
He went to the barn and called his trusty farm hand, Luke.
"Luke, we have a problem here and this is what I want you to do. I will put this straw in the rear of my bull and blow. You watch his eyes, and when they uncross, tell me and I will stop blowing".
Farmer Brown started blowing and blowing and nothing happened.
Finally, he said "You know, maybe I am not strong enough, Luke. Let's trade positions and you blow and I will watch".
Luke went over to the bull, pulled out the straw, turned it around and reinserted it.
"What the hell are you doing, Luke?" says Farmer Brown. "What do you think? I ain't blowing on the same end that you did!"
SHAVEN HAVEN: HOW VAGINA *SHOULD* BE DONE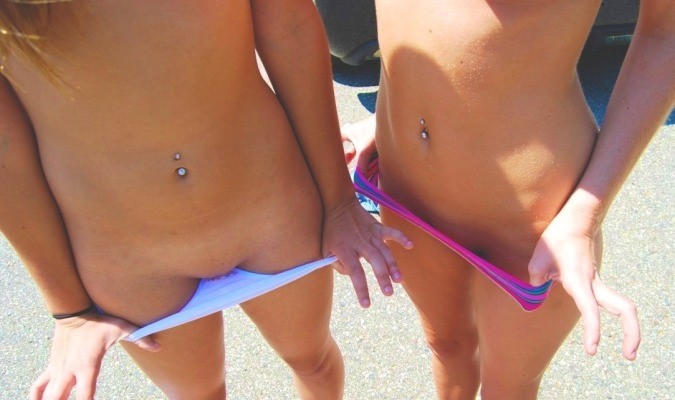 Previously: SHAVEN HAVEN #4 - SHAVEN HAVEN #3 - SHAVEN HAVEN #2 - SHAVEN HAVEN #1 - MORE >>
ORSM VIDEO
A world-renowned expert in the sounds of European wasps is walking down the high street one day when he spots an advert in his local record shop for "Wasp Sounds from around the Globe".
On further enquiry he discovers that a vinyl recording of this subject has just been released and a few copies are available in store there and then. Naturally, being a world-renowned expert in the sounds of European wasps he is curious and asks the young chap behind the counter if he can have a listen to "Wasp Sounds from around the Globe".

A few seconds later the world-renowned expert in the sounds of European wasps is standing at one of those little sound stations with his headphones on and a puzzled expression on his face. He removes the headphones, walks back to the counter and catches the young salespersons attention.
"Excuse me" he says "I'm a world-renowned expert in the sounds of European wasps and I've just been listening to "Wasp Sounds from around the Globe" and I must say, there appears to be some mistake. Those are no wasp sounds with which I am familiar".
The young man dutifully checks the recording in question and assures the world-renowned expert in the sounds of European wasps that he is indeed listening to "Wasp Sounds from around the Globe".
Puzzled, the world-renowned expert in the sounds of European wasps returns to the headphones and once again begins to listen. After a few seconds he once again returns to the counter and accosts the young fellow there.
"Excuse me" he says "As I mentioned before, I am a world-renowned expert in the sounds of European wasps and I've just been listening to "Wasp Sounds from around the Globe" and I have to say again, those are no wasp sounds with which I am familiar. Are you certain I have been listening to the correct recording?"
Slightly exasperated by now, the young man checks the disc currently playing and with a slightly sheepish grin confesses: "Oops, sorry Sir, I seem to have played you the Bee side".
COLLEGE GIRLS FTW !!!!!!!!!!!!!!!!!!!!!!!!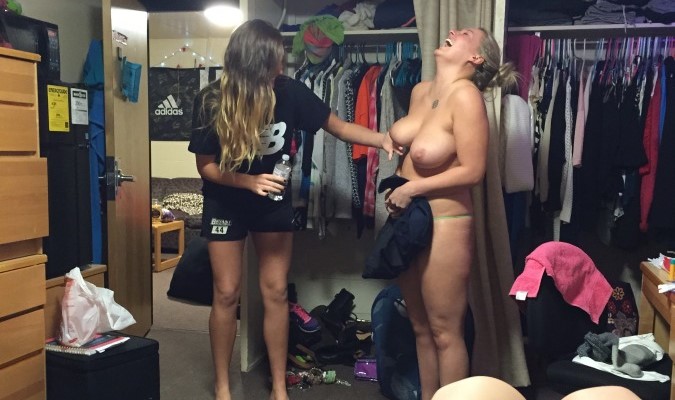 A kilted Scotsman was walking down a country path after finishing off a large amount of whisky at a local pub. He felt quite sleepy and decided to nap against a tree.
As he slept, two female tourists heard his loud snoring. When they found him, one said "I've always wondered what a Scotsman wears under his kilt".
She boldly walked over to the sleeper, raised his kilt, and saw that he wore nothing at all.
Her friend said "Well, the mystery is solved! Let's thank him for sharing!"
With that, she took off her pretty blue hair ribbon and gently tied it around the Scotsman's endowment.
Sometime later, the Scotsman was awakened by the call of nature. He raised his kilt and was bewildered at the sight of the neatly tied blue ribbon. He stared for a minute, then said "I don't know where y'been, laddie... but it's nice ta see you won firrrst prrrize!"
ORSM VIDEO
IT'S PROBABLY THE BEST THING TO EVER HAPPEN TO ONLINE PORN. SERIOUSLY. EVER. HERE'S WHY YOU'LL CARE
One day a man walks into a whore house. He goes to the pimp and says "I want something different". The pimp says "Well, we have one girl that loves to take it up the ass". "No, that's too common. I want something different". "Well, have you ever tried a Hurricane Gussy?" "I'll be damned, that is different. I'll try that".
The man goes up to the room and takes off his clothes. A minute later, a huge Amazon type woman comes in. She starts jumping up and down, blowing as hard as she can.
The man says "What the hell are you doing?" "I'm Hurricane Gussy and that is the wind coming from the Hurricane". "Okay, I'll buy that".
Then she starts beating him over the head with her breasts. "What the hell are you doing?" "Those are the coconuts nuts falling off the tree hittin' you on the head". The man says "Alright".
Then she stands over top of him and starts pissing all over him. "What the hell are you doing?!" "Those are the warm rains coming from the hurricane".
The man gets up and starts to put on his clothes. Gussy says "Where are you going?" "I'm leaving!! Who can fuck in this weather?!"
HOT GIRLS + MUSIC + TOO MUCH ALCOHOL = SOMEONE'S GONNA GET NAKED 🥳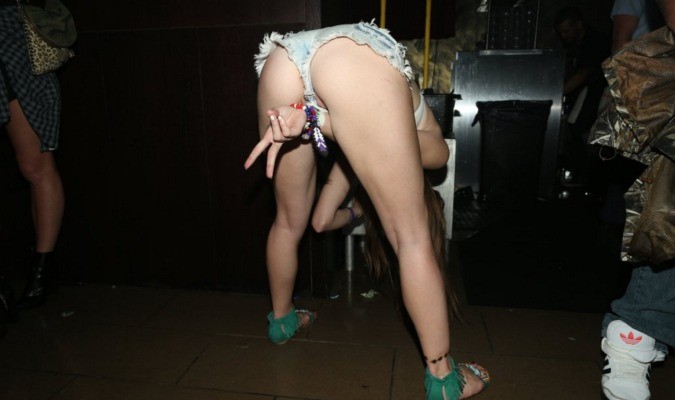 Previously: CLUB SLUTS #6 - CLUB SLUTS #5 - CLUB SLUTS #4 - CLUB SLUTS #3 - CLUB SLUTS #2 - MORE >>
ACCORDING TO WIKIPEDIA: MyFreeCams.com is a website providing live webcam performances by models, typically featuring nudity and sexual activity often ranging from striptease and dirty talk to masturbation with sex toys.
If it's on Wiki then it is FACT! ... Soooo WTF are you waiting for!? Click here!
ORSM VIDEO
The lineage is now revealed. Many people are at a loss for a response when someone says "You don't know Jack Schitt" but now you can handle this situation. Jack is the only son of O. Schitt and Awe Schitt. O. Schitt, the fertiliser magnate, married Awe Schitt, the owner of Kneedeep N.Schitt Inc.
In turn, Jack Schitt married Noe Schitt, and the deeply religious couple produced six children: Holie Schitt, Fulla Schitt, Giva Schitt, Bull Schitt and the twins: Deep Schitt and Dip Schitt.
Against her parents objections, Deep Schitt married Dumb Schitt, a high school drop out. After being married 15 years, Jack and Noe Schitt divorced.
Noe Schitt later married Mr.Scherlock, and because her kids were living with them, she wanted to keep her previous name. She was then known as Noe Schitt-Sherlock.
Dip Schitt married Loada Schitt and they produced a nervous son, Chicken Schitt.
Fulla Schitt and Giva Schitt were inseparable throughout childhood and subsequently married the Happens brothers in a dual ceremony. The wedding announcement in the newspapers announced the Schitt-Happens wedding.
The Schitt-Happens children were Dawg, Byrd and Hoarse. Bull Schitt, the prodigal son, left home to tour the world. He recently returned from Italy with his new bride Pisa Schitt.
CALL IT WHATEVER YOU LIKE BUT WE AREN'T WATCHING FOR THE FASHION !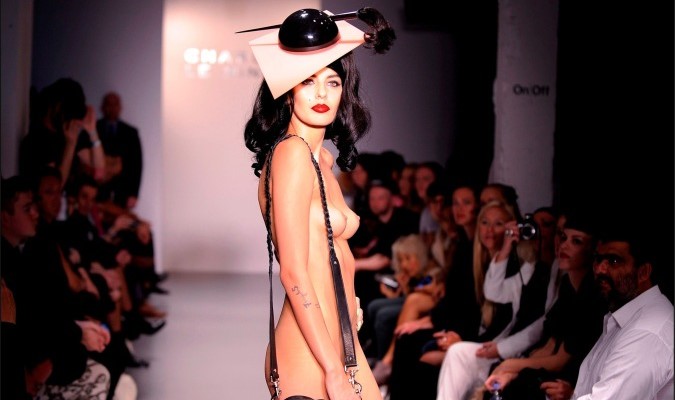 CATWALK NIP SLIPS previously on Orsm: #11 - #10 - #9 - #8 - #7 - #6 - #5 - #4 - #3 - #2 - #1 - MORE >>
There was a farmer who had a horse and a goat.
One day, the horse became ill and he called the veterinarian, who said "Well, your horse has a virus. He must take this medicine for three days. I'll come back on the third day and if he's not better, we're going to have to put him down".
Nearby, the goat listened closely to their conversation.
The next day, they gave him the medicine and left.
The goat approached the horse and said "Be strong, my friend. Get up or else they're going to put you to sleep!"
On the second day, they gave him the medicine and left.
The goat came back and said "Come on buddy, get up or else you're going to die! Come on, I'll help you get up. Let's go! One, two, three..."
On the third day, they came to give him the medicine and the vet said "Unfortunately, we're going to have to put him down tomorrow. Otherwise, the virus might spread and infect the other horses".
After they left, the goat approached the horse and said "Listen pal, it's now or never! Get up, come on! Have courage! Come on! Get up! Get up! That's it, slowly! Great! Come on, one, two, three... good, good. Now faster, come on... fantastic! Run, run more! Yes! Yay! Yes! You did it, you're a champion!!"
All of a sudden, the owner came back, saw the horse running in the field and began shouting "It's a miracle! My horse is cured. We must have a grand party. Let's Cook the goat!!"
Lesson: Management never knows which employee actually deserves the appraisal.
ORSM VIDEO
'


An Irish daughter had not been home for over five years. Upon her return, her father cursed her.

"Where have ye been all this time? Why did ye not write to us, not even a line? Why didn't ye call? Can ye not understand what ye put yer old mum thru?" The girl, crying, replied "Sniff, sniff... Dad... I became a prostitute..."

"Ye what!!? Out of here, ye shameless harlot! Sinner! You're a disgrace to this family". "Okay, Dad... as ye wish. I just came back to give mum this luxurious fur coat, title deed to a ten-bedroom mansion plus a savings certificate for $5 million".

"For me little brother, this gold Rolex and for ye daddy, the sparkling new Mercedes limited edition convertible that's parked outside plus a membership to the country club... (takes a breath)... and an invitation for ye all to spend New Years' Eve on board my new yacht in the Riviera, and..."

"Now what was it ye said ye had become?" says dad. Girl, crying again "Sniff, sniff... a prostitute dad! Sniff, sniff.

"Oh! Be Jesus! Ye scared me half to death, girl! I thought ye said a PROTESTANT! Come here and give yer old man a hug!"
NAME ONE BAD THING ABOUT NUDISTS..? GO AHEAD AND CHECK SOME OUT WHILE YOU HAVE A THINK...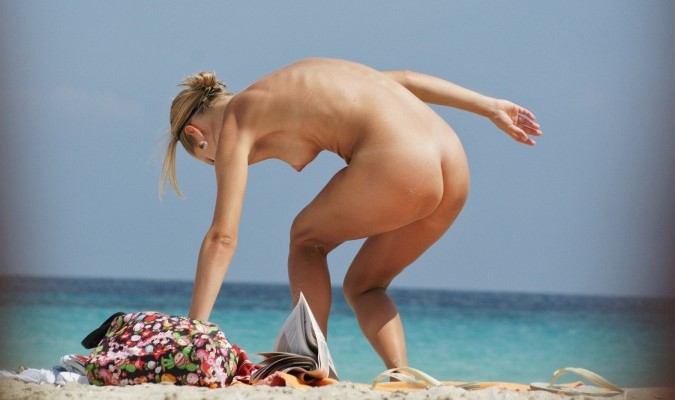 Previously on Orsm: NUDISTS #5 - NUDISTS #4 - NUDISTS #3 - NUDISTS #2 - NUDISTS #1 - MORE >>
During his physical examination, a doctor asked a man about his physical activity level.
He described a typical day this way:
"Well, yesterday afternoon, I took a five hour walk about 7km through some pretty rough terrain.
I waded along the edge of a lake. I pushed my way through bush.
I got sand in my shoes and my eyes.
I avoided standing on a snake.
I climbed several rocky hills.
I took a few 'pees' behind some big trees.
The mental stress of it all left me shattered.
At the end of it all I drank eight beers".


Inspired by the story, the doctor said "You must be one hell of an outdoors man!" "No" he replied "I'm just a crappy golfer".
RANDOM SHITE
Previously: 30th Jul. 23rd Jul. - 16th Jul. - 9th Jul. - 2nd Jul. - 25th Jun. - 18th Jun. - 11th Jun. - 4th Jun. - MORE >>
PICTURE THIS: YOU GO TO A WEBSITE. HOOK UP WITH AN ACTUAL REAL GIRL. GET A BILL FOR $0. HERE'S HOW
A redneck family from the hills was visiting the city and they were in a mall for the first time in their life. The father and son were strolling around while the wife shopped.

They were amazed by almost everything they saw, but especially by two shiny, Silver walls that could move apart and then slide back together again. The boy asked "Paw, What's 'at?"
The father (never having seen an elevator) responded "Son, I dunno. I ain't never seen anything like that in my entire life, I ain't got no idea'r what it is".
While the boy and his father were watching with amazement, a fat old lady in a wheel chair rolled up to the moving walls and pressed a button. The walls opened and the lady rolled between them into a small room. The walls closed and the boy and his father watched the small circular numbers above the walls light up sequentially. They continued to watch until it reached the last number and then the numbers began to light in the reverse order. Then the walls opened up again and a gorgeous, voluptuous 24-year-old blonde woman stepped out. The father, not taking his eyes off the young woman, said quietly to his son "Boy, go git yo Momma..."
ORSM VIDEO
My wife was standing in the kitchen, preparing our usual soft-boiled eggs and toast for breakfast, wearing only the t-shirt that she normally slept in.
As I walked in, almost awake, she turned to me and said softly "You've got to make love to me this very moment!"
My eyes lit up and I thought "I am either still dreaming or this is going to be my lucky day!"
Not wanting to lose the moment, I embraced her and then gave it my all; right there on the kitchen table.
Afterwards she said "Thanks" and returned to the stove, her t-shirt still around her neck.
Happy, but a little puzzled, I asked "What was that all about?" She explained "The egg timer's broken".
TAKE A SWIPE AT AKIRA MAY 😻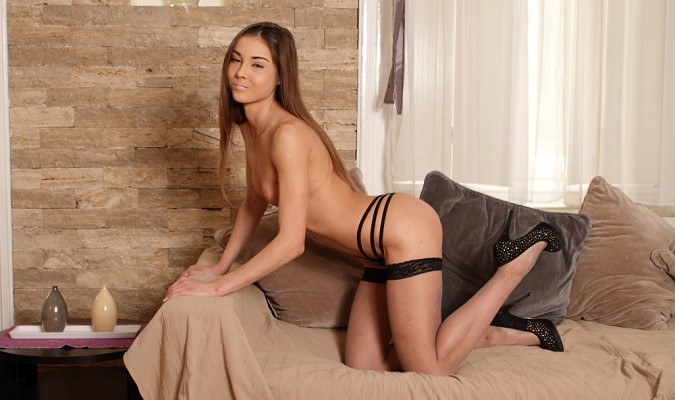 Previously: NATALIA ROBLES - ANIKKA ALBRITE - ASHLYN RAE - CHRISTY MACK - CINI ROSE - GIANNA NICOLE - MORE >>
Watch Akira May fucking like a goddamn champion at Pornhub:
Dad, Mabel and their son Dave lived on a small farm in the Murray River district of New South Wales, Australia. Poor Dave had no one to play with but he sure had a knack for getting into trouble.
One hot summer afternoon Dave was walking past the outhouse, which perched precariously on the bank of the mighty Murray river, when he had a mischievous idea. Dave was a strong lad and so he used all his might to push the outhouse into the river.
He couldn't control his laugher as the outhouse floated out of sight.
A few hours later Dad came up to Dave and asked "Dave, did you push the outhouse into the river?" "NO" said Dave.
So, Dad sat down with Dave and told him the story of George Washington and the cherry tree. Dave was impressed by the fact that George Washington's father didn't punish George because he was honest and admitted to his father that he had cut down the cherry tree.
When Dad asked Dave "Did you push the outhouse into the river?" Dave proudly answered "Yes father, I cannot tell a lie. I pushed the outhouse into the river".
Sure enough, Dad gave Dave a terrible beating with his belt.
Dave sobbed "George Washington didn't get punished when he told his father the truth". Dad replied "Yes but his father wasn't up the cherry tree".
ORSM VIDEO
Well folks...
-Follow me on Facebook. All the SFW stuff you see on Orsm flows there. It did this week -TWICE!- and it may even next week as well!
-Check out the archives. You'd be fucking mad not to.
-Next update will be next Thursday. Rebirth.
-Tell your friends, family, colleagues, co-workers and neighbours to check out ORSM-DOT-NET otherwise my friend Ray will punchfuck your mums cunt.
-Need to clear your conscience? Judge me? Want to fight me? Threaten me? Sit on my lap and talk about the first thing that pops up? Show me the twins? Then go for it! Just make sure you email me here!
Until next time be good, stay off the chems and on the chems and off the chems and the chems, the chems, the chems. Enjoy. Mr. Orsm.