Welcome to nothing... what's up with you?
We're 4 days in to the future and my body is still feeling the effects of the weekend. The notion that everyone is hibernating because of winter hasn't applied. I guess they all found some courage and ventured bravely out into the mostly perfect weather...?
Anyway... it started last Friday. Has been a very busy couple of weeks/months/year so by the time the evening rolled around I was very keen to get a move on for a boy's night. We headed for a restaurant adjoining the casino which is apparently the busiest place to go these days... the whole entertainment complex thingy that is. People everywhere and so much eye candy you cannot possibly have a bad time. We ate. We drank. Had an interesting chat with a girl who was eavesdropping on my conversation about thigh gaps - thought she was getting stuck into me but was actually agreeing with me. I think. Ultimately she admitted to having a thigh gap but thought it was good I preferred curves. I think. No idea what time the night ended. Wasn't quite messy but it was drunken and made very sure to drink a buttload of water and eat something before crashing which was smart...
... because Saturday started and remained completely hangover free. A miracle. We pumped out some exercise and returned home to continue, yet again, the ongoing garage organisation saga. This round entailed installing a pulley system to lift our bikes up off the floor. And that milestone lead to what prompted this project to begin with - brought the 18 month-old-still-yet-to-be-used treadmill across to its new home. Let's break that down shall we... we got a treadmill, call it a surprise gift. It sat unused at our last home because a foot injury prevented me from exercise; when we house moved it then had to be partially disassembled for transport; then it was stored at the neighbours because we didn't have the space; I then had to dedicate a whole bunch of weekends to building a ceiling-mounted storage area to get all the crap off the garage floor to make the space for the treadmill to live in the garage. All for a treadmill I would never have agreed to! Seriously. Girls. If they didn't have tits then what would be the point?
At some point during the morning I got a call from my bank credit card department. "Sir, did you make a purchase for $500 at a travel company in the UAE?". Nope. Impressed they identified that shit so swiftly but even more so is I rarely use that card - the details must've been stolen either a week before the fraud or over a year ago meaning the Middle Eastern terrorist types have a card scanner at my local supermarket or got the details ages ago and are really, really patient. And before you ask, no I was not an Ashley Madison user.
That night, a mates fortieth birthday dinner. I'll generally go out of my way to avoid fancy restaurants because, honestly, give me $12 plate of gnocchi from the shit hole Italian restaurant down the street over a $50 version which looks pretty but leaves you still hungry. Thankfully the vino did flow, caught up with friends, swapped stories, laughed at some embarrassing shenanigans and had a bloody good time. What else could you ask for? Once again no idea when we got home but was quick to drink a lot of water and eat something because...
... it was the foolproof strategy to avoid a potentially shocking hangover. Particularly happy with that on account of the previous weekends hangover which hurt. Badly. Spent Sunday morning working on this update before heading into the city to meet friends for lunch. We'd seen something on TV about a new dim sum place opening up and we desperately had to try it. It looked amazing and special and most of all, "cool". Turned out that whilst the food was reasonably good the only real difference was instead of cranky Chinese women pushing steam carts around and you had to order at the counter. From there we ditched the appendages and a mate and I hopped on the train to head for the football. Had scored free tix and West Coast vs Bulldogs is a game worth seeing... especially if you're a West Coast fan. Fucking awesome match and that plus a few drinks at the pub afterward helped complete the drunken trifecta.
I'd be happy to commit to alcohol free right now although seems it may not be that easy. We've got social shit on the next four nights and a couple of them have the potential to be way more fun by adding booze. If anything has been learnt from this it's that drinking more often and then having a glass of water is guarantees no hangovers...
Alright let us move on with the update. It's a fucking monster. Ridiculously ridic. Check it...

THE FUCK?Cult Leader Slept With His Son's Wife Because God Made Him? - Shit TimingWoman Live-Tweets A Couple's Airplane Breakup, Internet Is Hooked On Every Word #PlaneBreakup - Funny RacismThat Ended Up Hilarious! Comedian Handles Racial Tension Perfectly - Biker BabesThe Bosozoku Biker Girl Gangs Of Japan – Tattooed Outlaws With Varnished Nails And Badass Bikes - Life LessonLittle Boy Learns The Danger Of Cowboy Life - Science Bitch!Scientists Create Wormhole In Laboratory, Send Magnetic Field Through Extra Special Dimension - The MotherloadWelcome To The Motherload Of Free, Epic Porn. Don't Expect Much Else But Ridiculously Girls Getting Fucked Ridiculously Hard. This Is What The Founders Had In Mind When They Invented The Internets. - No Drones!Drone Pilot Gets Accused Of Being A Pedo By Random Dud - LA SharkTime To Create A Bit Of Terror In LA. This Action Game Is Not For Sensitive Peeps. If Blood, Screams, Chaos Are Not Your Thing, Then This Game Is Not Your Thing.


Mine CavesIt's A Retro Sliding-Action-Maze Game Thingy. Can You Get Through These Dangerous Pixelated Mines Alive? Will You Ever Get Back To The Non-Pixelated Universe You Were Born In? Will U Become The Next Meal For The Monsters Of The Mine Caves? - Bazinga!Visit The Dark Side Of Podiatric Porn. A Dark, Shitty Basement With A Custom Made Floor Complete With A Penis Hole. No One Should Have Such A Crazy Thing, But This Is No Normal Human Being We Are Dealing With. - Kelly BrookKelly Brook Is So Hot I Would Fuck Her On Her Period - Nips SlipThank You Nicki Minaj For Slipping Out A Partial Nipple During A Concert - Cleav Whoa!Candids Of Daphne Joy And Her Boobs Looking Spectacular In A Red Dress!! - Hawt NerdHe Promises To Fuck Her Good Later If He Can Cum In Her Mouth Now. And She Happily Accepts His Offer And His Load. - In Her ButtThe Best Ass You'll See Get Ass Worshipped And Then Cummed In - Foo FightingFoo Fighters Rick Roll Westboro Baptist Church - MonstersBefore Getting These Crazy Cocks In Their Asses They Already Realise Its Going To Be A Huge Challenge, A Good Mental Preparation Is Important To Resist The Pain And To Get The Right Relaxation Needed For Full Anal Penetration. But Still, Some Of Them Will Go Home With A Strange Feeling In Their Butt And Will Walk A Bit Strange The Next Couple Of Days Until The Mental And Physical Wounds Are Healed Again. - HeadacheyBelieve This Or Not, This Is A Good Guy. He's Not A Smart Guy, And Now He Is A Dead Guy. You Have To Be A Little More Cautious When Snipers Are Out There.


Hyper TunnelTrial By Pixelated Tunnel Fire. Now Is Your Time. - Crowd FaveThese Guys Have To Be Hard Up For Some Pussy If They Are Cheering On This Big Ole Tub Of Fun. That Or They Are Into Big Girls. She's Got A Massive Gunt, And Loves The Attention. - PhenomenalUp Close View Of A 3D Printer That Prints With Glass Is Absolutely Incredible - FingerbangSome People Read The Paper Others Finger Their Girlfriend On The Train Ride Home. - Sex QueenA Compilation Abella Dangers Best Work... And By That I Mean Fucking And Getting Fucked Like Nobody's Business! - Balls DeepBrave Couple Goes Balls Deep In A Public Bathroom - Summer HunSweet Blonde Lily Ivy Who's Showing Off Her Perky Tits In A Summery Set Which Was Shot By The Beach Somewhere In California. - God Damn!The Tasty Daughter From Modern Family Braless Pokies In The Parking Lot - SweeeetThis Is Heather Depriest, In Some Fashionable Nudity
A fellow was walking along a country road when he came upon a farmer working in his field. The man called out to the farmer "How long will it take me to get to the next town?" The farmer didn't answer. The guy waited a bit and then started walking again. After the man had gone about a hundred yards, the farmer yelled out "About 20 minutes". "Thank you. But why didn't you tell me that when I asked you?" "Didn't know how fast you could walk".
--
A man pulled up next to a little girl walking home from school and said "If you get in, I'll give you a lollypop". The girl kept walking. Following along slowly, the man said "Come on and get in the car with me and I'll give you two lolly pops". She kept her eyes on the sidewalk and continued on her way. The man said "Get in with me and I'll give you this whole bag of lollypops!" Finally, the girl turned and said "Look daddy, YOU bought the Ford, YOU ride in it!!!"
--
Man goes to a fancy costume party wearing only a glass jar on his penis. A woman asks "What are you?" He says "I'm a fireman". "But you're only wearing a glass jar...?" says the woman. "Exactly! In an emergency, break glass, pull knob and I'll come as fast as I can!"
--
Three old men were sitting around complaining about how much their hands shook. The first geezer said "My hands shake so bad that when I shaved this morning I cut my face!" The second old fogey one-upped him. "My hands shake so bad that when I trimmed my garden yesterday I sliced all my flowers!" The third old man laughed and said "That's nothing. My hands shake so bad that when I took a piss yesterday, I came three times".
ORSM VIDEO
IT'S PROBABLY THE BEST THING TO EVER HAPPEN TO ONLINE PORN. SERIOUSLY. EVER. HERE'S WHY YOU'LL CARE
READER MAIL
Alright let's do part 3. This brings us up to date on all the submissions from last year. As you will have noticed from this and this update, there was a fucking fruckload of them. And what you guys actually got/get was only a fraction of the total... by the time you factor in the thousands, or is it tens of thousands, that were rejected for whatever reason, we're talking about a lot of mail. Just an FYI though - it will be a little while before RM is back. Am already working on the next batch but worthy submissions number in the hundreds. Anyway... STFU and check it...
Damian

wrote:
Subject: Some good promo work


Hey mate. Been checking out the site for years. Best of it's kind on the web. I saw this the other day pulling out of a service station on Canning highway. I had to speed like fuck to catch him but i managed to snap a pic in time.
Fisheyebass

wrote:
Subject: Outdoorsman makes final journey by boat instead of a hearse


Ronald Bloss Sr., 78, was a Navy veteran and loved the outdoors in life. He thought it would be be a nice final tribute to make his final voyage to the cemetery on his 14-foot boat.
Eric N

wrote:
Subject: Picture submittal for the orsm.net site!


I have enjoyed your site for years, and ran across a picture that I think would fit in perfectly with your last "Bad Parenting" theme; or one of the "side bar" pictures you show occasionally. I hope you post it; and if you do, I would appreciate your letting me know - would be great thinking I had a contribution on your great site.
Sum Yung Gi wrote:
Subject: Doc my feet are sore
Do you know what frostbite actually looks like? Not what I expected!..
"Cut it off! Cut my foot off now!" -Orsm
Justin

wrote:
Subject: Another Idiot!! a real incident in Pakistan....


A Taliban suicide bomber stopped and searched by police, was found with a metal shield around his penis. Asked about the purpose of this protection, his response was: "I want to keep my penis intact after the explosion, so as not to have sexual problems once I get my 72 virgins in heaven...!" Just wondering... Is this the true interpretation of a Cock-head
Akousa

wrote:
Subject: One for Random Shite


Hi Mr. Orsm, It's been ages since I submitted anything. I saw this and couldn't hold back. Hope to submit more soon. Keep up the great work.
Kirum

wrote:
Subject: Sir Camel Tow


Hi ORSM. I was at the county swimming pool this Sunday and saw this couple in a big fight. They fought for over 1 hour, until I realized the guy has a toe. My guess is that's what the argument was about.
DP

wrote:
Subject: Maybe a photo you can use.


Hi. We all enjoy reviewing your site each Friday when having lunch, keep up the good work. Find attached a photo we took that we thought might be useful.
Justin

wrote:
Subject: Emailing


lol
Gordon wrote:
Subject: Emailing
trolley collectors went to smoko
Mike

wrote:
Subject: Officers escort drunk home


A reveller who got so drunk he could barely walk woke up with more than a sore head after running into the police on his way home. The man avoided a night in the cells after two officers escorted him home and left a note explaining what had happened. The 'comedians' didn't leave their real names, instead signing the letter Cagney and Lacey, referencing the popular American TV cop drama of the same name from the 1980s.
karl

wrote:
Subject: funny pictures


Hi have been visiting your site regularly but have never had anything to send in until I recently found this in a variety shop and found it amusing ,as a teenager (25years ago) I used to call ambulances, meat wagons .Don't know where I got the term or heard it but at the time it was amusing. Then found this - got to love engrish. Sorry about crap photography
xitz wrote:
Subject: Nauru - Self Explanatory Photos
Below (see attached) is an extract of a letter from the Construction Manager at Nauru. Personal information has been deleted. He refers to the damage caused by the illegal boat people to the new facilities constructed for them last year.
"Sorry it has taken so long to get back to you. As you may have heard the camp we have been constructing over the past 8 months has been burned to the ground. The riot and subsequent fire occurred on the evening of Friday the 19th since then we have constructed a temporary camp (tent city) for the detainees that are not banged up in the Nauru jail. The accommodation that was burned was of a very high standard and the dining facilities were second to none. These bastards were being fed better than us worker bees and living in accommodation better than the locals.
Before I came here I was somewhat sympathetic toward refugees believing some were genuine. After the events of the 19th I am of the opinion that the group of male refugees here on Nauru are nothing more than violent arrogant criminals. The Iranians are no better than the Tamils or any other of the ethnic groups that we have here - they are all the same. These people should under no circumstance be permitted to live in Australia.
I have attached a before and after snaps of the accommodation buildings only, the rest of the damage is out of the shot."
Cheers ............... And misguided Greens would like to have them live in your neighbourhood.
<

with held

> wrote:
Subject: Random shite?


Before somebody steals my picture off FB and claims it for their own, this is what my cats are telling me of their opinion of the food I give them. Love your work. Sign me as Robb and hide my deets.
<

with held

> wrote:
Subject: Titty fuck


Hide my details. Thought I would show off my ladies fantastic tits. What do you think?
Bill

wrote:
Subject: Hippies


Gotta LOVE those old hippies!!!
Ross

wrote:
Subject: It had to Happen


Schapelle Corgi



Brian

wrote:
Subject: Corby


Nando's pokes fun at Corby release
Elmer J. Fudd

wrote:
Subject: Randem Shite, You scwewy wabbit


Finally got you, you scwewy wabbit!!! Haahaahaahaahaa.
craig

wrote:
Subject: Emailing


Had to laugh at this..
Graham

wrote:
Subject: Webcam hottie


Seen on your favorite free web cam site recently - almost enough to put you off browsing the site...
Adrian wrote:
Subject: Classic - Laugh till you cry
Too good no to share with the best site out there: This review is from: Haribo Gummy Candy, Sugarless Gummy Bears, 5-Pound Bag (Grocery)
Kel wrote:
Subject: FANTASTIC NEWS FOR SENIORS PENSIONS...
نور اگر رفت سايه پيدا نيست نقشديوار و چشمخيره ما نقش سايه دگر نمي دان نور اگررفت سايه. ر رفت نور اگر رفت سايهپيدا نيست نقش ديوار و چشم خيره مانقش سايه دگرنمي دان نور اگر رفتسايه. ر رفت ديوار و چشم خيره مانقش سايه دگرنميدان نور اگر رفتسايه پيدانيست نقش ديوار و چشمخيره ماسايهديواروچشمخيرهمانقشسايهدگرنميداننوراگررفتسايهپيدانيس

If I hear anything else, I'll let you know.
PJ

wrote:
Subject: hairy


Quality viewing from Ch 9 Weekend show.
Sum Yung Gi

wrote:
Subject: Emailing


Its not hard but lets face it...... people are stupid.
Ben

wrote:
Subject: I saw this and had to laugh!


WTF, a guy with a tramp stamp!
Brian

wrote:
Subject: What the Pentagon bought in 2012


What the Pentagon bought in 2012
As a bagpiper, I play many gigs. Recently I was asked by a funeral director to play at a graveside service for a homeless man. He had no family or friends, so the service was to be at a pauper's cemetery in the Southwest of Western Australia.
As I was not familiar with the backwoods of the Southwest, I got lost and didn't stop for directions. I finally arrived an hour late and saw the funeral guy had evidently gone and the hearse was nowhere to be seen. There were only the diggers and crew left and they were eating lunch. I felt badly and apologised to the men for being late. I went to the side of the grave and looked down and the vault lid was already in place. I didn't know what else to do, so I started to play. The workers put down their lunches and began to gather around. I played out my heart and soul for this man with no family and friends. I played like I've never played before for this homeless man. And as I played "Amazing Grace" the workers began to weep. They wept, I wept, we all wept together.
When I finished, I packed up my bagpipes and started for my car. Though my head was hung low, my heart was full.
As I opened the door to my car, I heard one of the workers say "I never seen anything like that before, and I've been putting in septic tanks for twenty years".
EVERYONE WANTS TO BANG THE OFFICE HOTTIE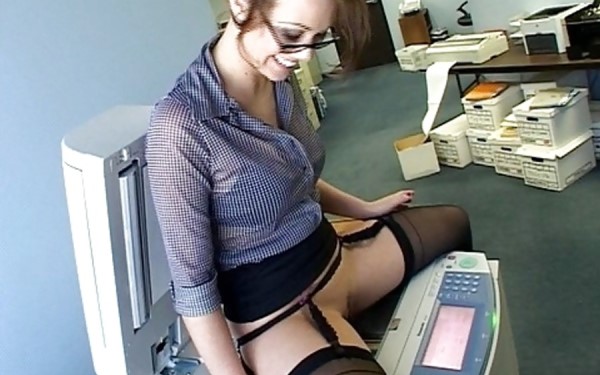 READER MAIL (CONTINUED)
Damon

wrote:
Subject: Hey !!


This is the wife-y-poo (not bad for 39, huh?), feel free to use any pics I send you



<

with held

> wrote:
Subject: Emailing


See Any Difference?
Bill

wrote:
Subject: Best homeless sign


Best Homeless Sign. Give the guy a dollar
christopher

wrote:
Subject: Emailing


Postage costs express is costly
<

with held

> wrote:
Subject: Emailing


Putin's New Caddy.................
luis

wrote:
Subject: Emailing


Y SE TERMINA EL 2013 (and so ends 2013)
P G

wrote:
Subject: Emailing


Russia
Ross

wrote:
Subject: Emailing


Sochi flag fail



Justin

wrote:
Subject: No sex after surgery . . .


A recent article in the West Australian newspaper reported that a woman, Mrs. Maynard, has sued a Perth Hospital, saying that after her husband had surgery there he lost all interest in sex. A hospital spokesman replied: "Mr. Maynard was admitted for cataract surgery. All we did was correct his eyesight."
Brian

wrote:
Subject: Emailing


Look closely
<

with held

> wrote:
Subject: Emailing


Darwin Awards 2013
xitz

wrote:
Subject: HOW TO GET RID OF ANTS ((Apparently this really works))


My buddy from Gnowangerup swears this works. Go to Bunnings or Kmart and buy a can of black spray paint, any brand will do! Stir up each ant mound as you go and the area around them with a stick. Now spray 1/3 to 1/2 can on each mound and surrounding area, making sure you get plenty of paint on the ants as well. Once the Ants realize they live in a black neighbourhood, they'll quit working and start drinking fighting & killing each other.
Stan

wrote:
Subject: funny ad


I was checking out jobs on craigslist and thought my fellow ORSM fans would enjoy the language misuse. BTW, I did NOT call on that listing. You have a very entertaining website. If you post this, no details, first name OK.
<with held> wrote:
Subject: good times in Delaware, USA
How I get down almost daily, hide the details please.

You bake cakes?? -Orsm
<

with held

> wrote:
Subject: Longtime Listener, First-Time Caller


Just a girl I met on vacation. Julie, I think her name was. She was up for anything! Please keep my details private. Thanks. And you're a damn good writer, btw.
<

with held

> wrote:
Subject: I got mine


.... before they were removed from the stores......
Sum Yung Gi

wrote:
Subject: Emailing


Shouldnt it be 'my'?
<

with held

> wrote:
Subject: Emailing


Hi Mr Orsm, I'm a follower of this page since 2006 and I think this pic is enough interesting for the Random Shite section. Sorry for my english. Greetings from México. Please don't show my name. See you later.
<

with held

> wrote:
Subject: For the awesome orsm guy


So I took this picture today and now it's yours to do with what you like. Hopefully nice things. Thanks
Anthony wrote:
Subject: The $383.00 Paint Job
The man told his wife he needed to paint his car and when he told her how much it would cost, she told him to "save his pennies". 1949 Cadillac, completely covered with 38,295 pennies! They were affixed one by one using Silicone. They added over 200 pounds to the vehicle's weight. The entire project took 6 weeks. The pennies are American, and include an 1817 "Big Cent", two Error Pennies, and four 1943 Steel pennies; (but who's counting?). And, it won't scratch.
<with held>
Subject: FMLLLLLLL
Meet the golden silk orbweaver, a spider so large it can prey on birds and snakes. . . the cunt ! ! !
Claire wrote:
Subject: Please post this and make his day :)
Hi. My boyfriend is a huge fan of your site, he spends hours every Thursday reading and chuckling away! Sometimes we sit together and watch the videos and look through the photos and now I've become a fan too!! He always makes comments about how funny it would be if he sent in a photo of me and I didn't know, he'd love to see my reaction. I think it would make his year if you could post this photo of me (and would make mine to see his reaction). It's just a silly one I took for him once and he claimed it was 'the one for the internet'. Could you title it/comment 'Simon this is for you'? I know it's a bit random but if you could find a place to squeeze it in asap that be so awesome. I hope to hear from you soon! Keep up the good work :) Thank you!!

Raymond

wrote:
Subject: Silly picture "redneck gazing ball"


Just wanted to send you a silly picture. This is in my own backyard and is mine.
<

with held

> wrote:
Subject: improper ad placement


Mr. Orsm - Love your site. Was researching theme park accidents and came across this site. Not only did it have several write-ups about deaths on theme park rides, but it also had a Disneyland advertisement on it!Hide deets. Again. Thanks!
<

with held

> wrote:
Subject: Emailing


Poor mother fuckers never had a chance if this is a typical learn english text book...
Martin

wrote:
Subject: Emailing


The Sofa King! Priceless!!
Bill wrote:
Subject: Emailing
From my half-sister Betsy, a great golfer.... Taken from May issue of Hemisphere magazine on United Airlines flight
<with held> wrote:
Subject: Vaccinate
Topical for you orsm

Not really... -Orsm
Neil

wrote:
Subject: Glacier


If you were the first one to discover this hanging glacier, what would you name it?... Me too!!!!
ORSM VIDEO
A retiree and his aged wife started having problems in remembering, so they decided to go to their doctor to get checked out to make sure nothing was wrong with them. When they arrived at the doctor's, they explained to the doctor about the problems they were having with their memory.
After checking the couple out, the doctor tells them that they were physically okay but might want to start writing things down and make notes to help them remember things. The couple thanked the doctor and left.
Later that night while watching TV, the wife got up from her chair and her retired husband asks "Where are you going?" She replies "To the kitchen". He asks "Will you get me a bowl of ice cream?" She replies "Sure". He then asks "Don't you think you should write it down so you can remember it?" She says "No, I can remember that".
He then says "Well, I also would like some strawberries on top. You had better write that down cause I know you'll forget that". She says "I can remember that, you want a bowl of ice cream with strawberries".
He replies "Well, I also would like whip cream on top. I know you will forget that so you better write it down". With irritation in her voice, she says "I don't need to write that down, I can remember that!"
She then fumes into the kitchen. After about 20 minutes she returns from the kitchen and hands him a plate of bacon and eggs. He stares at the plate for a moment and says "You forgot my toast!"
RUNNING, JUMPING... AND THE FEMALE BODY...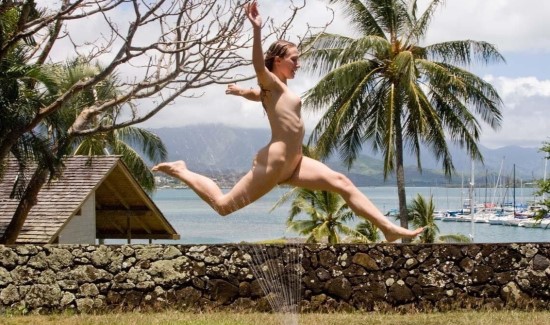 Why is MyFreeCams.com one of the most awesome websites in the history of forever? Firstly, there are hundreds of hot models online at any given time AND you can watch their live webcam feed in HQ with sound AND chat. Secondly, you don't need a credit card or have to install any dodgy software - it's all absolutely free! And finally, why do I sound so fucking excited? Because MyFreeCams really is that brilliant. Click here to check it out now!
ORSM VIDEO
READER MAIL (CONTINUED)
Ross

wrote:
Subject: Oops...


Riders quite often give us a victory celebration when they see us by the side of the road during an event. This chap in the Mitie London Revolution maybe wished he hadn't. What could possibly go wrong?
Justin wrote:
Subject: Things to do before you get old!!
Fortunately, I am ALREADY old, and I didn't get this way by being stupid!
Kel wrote:
Subject: The Bobby Darin Dream Car
When fins were in. What, a blind spot? Therefore they made the rear roof all glass. The 1960 DiDia 150 was a luxury, custom-designed iconic, handmade car also known as the "Dream Car" forever associated with its second owner, singer Bobby Darin.
<

with held

> wrote:
Subject: Winter Olympic Photos


First Winter Olympics 1924 Chamonix, France. They would be shocked to see the technology that has gone into all the events today.
<with held> wrote:
Subject: Video & pics!
Hi! A video and some pics of a mate of mines girl! She's from London. Please keep my details private!
Kel wrote:
Subject: THE WEATHER IN AUSTRALIA
Some great photographs that show the Weather and Mother Nature at work in and around Australia..
<

with held

> wrote:
Subject: Emailing


Facts about North Korea.
Dave

wrote:
Subject: Road signs


Saw this today. Maybe you can use some of it in a later update.
<

with held

> wrote:
Subject: Duct Tape Fixes Most Problems


Magic tape....just add more
<

with held

> wrote:
Subject: Emailing


Graphs that explain reality
Brian

wrote:
Subject: Emailing


Places forgotten and abandoned
Mike

wrote:
Subject: Emailing


2014 Winter Olympics - Hockey Canada
Justin wrote:
Subject: An Amazing Discovery.
Road workers were given the task of widening a road in the Jiangsu Province. They were digging about 6 feet below the surface when they came across something completely by chance that no one was expecting to find. They hit something solid while digging and after a bit of research they realized that they had actually hit buried tomb. It was time to call in professional archeologists to unearth and reveal this mystery.
Ross wrote:
Subject: Emailing
Do you wish to know the endings of fairy tales ?
gordon lightfoot

wrote:
Subject: Girl Pics


I started chatting to this girl online and next thing I get a deluge of pics. Gonna hook up and fuck her soon. Use them, don't use them.
R.W. Rick wrote:
Subject: Graveyards
Ten Unique Graveyards - Not What You May Think
Ross wrote:
Subject: Al Capone's 1928 Cadillac 341a Town Sedan...
Capone's car was a sight to behold. It had been painted black and green so as to look identical to Chicago's police cars at the time. It also had a specially installed siren and flashing lights hidden behind the grille, along with a police scanner radio.
John

wrote:
Subject: pics of the ex


She posted these on an adult classified site. Since that's where they're available. No worries right?
Jeff

wrote:
Subject: Dating site chic


His Holiness, Mr. Orsm, Been a while since my last submission, and this one is a belter! This is an Indonesian chic I met on a dating site. Did not bed, but did see the goods. Enjoy all!
Rob

wrote:
Subject: Orsm Randoms


Hi Mate, Do us a favour Post these for me would ya, and help your little cousins over here in kiwiland. This cunt is fucking us !!!! Love the site, banter and effort. Well done man. Take Care
<with held> wrote:
Subject: Stunning Miss Universe Winners From the Past
For nearly 60 years the Miss Universe contest has picked some of the most beautiful women in the world and gave them a most prestigious title. A look into the past reveals just how that perception beauty has changed over the years, and just how different the winners of the pageant look as the years go by. If you ask me, true beauty is the same no matter where you are from, or when you are from. I'm sure a look at these beautiful past winners will make you think the same.
Pea Wubbleyou wrote:
Subject: Tied up and fucked
Been a long time viewer of ORSM and thought you might like these for the reader mail section. This is my slutty girl. She loves being tied up. If anyone wants to send her filthy comments, mail at peawubbleyou@yahoo.co.uk. Enjoy ;)
martin wrote:
Subject: Pics from around the world ...
Around The World - some excellent pictures
Boobies

wrote:
Subject: Thoughts for the day...


Some of these are quite funny.
S

wrote:
Subject: A girl I'm playing with...


Hey! Just a starter. More might follow. Enjoy and feel free to post. There's a lot more where this came from. So long
Anthony

wrote:
Subject: Emailing


life hacks
<

with held

> wrote:
Subject: ex pics


hi, these are some pics of my ex, after i fucked her hard and 1 of me lol, enjoy, please hide/dont use my details
Bill

wrote:
Subject: How to spot a liberal


Take heart my friends..... HOW TO SPOT A LIBERAL! FUNNY BUT TRUE. President Obama's approval ratings are so low now - the Kenyans are now accusing him of being born in the United States.
<with held> wrote:
Subject: Scotland.........
TWENTY FIVE REASONS TO LOVE SCOTLAND !!!!!!
Justin

wrote:
Subject: These photos have stories to tell....


These Photos Have Incredible Stories to Tell. This is one of the most amazing collections of photographs I've ever seen. Not because they are especially beautiful (although some are), but because of the meaning each of them has, and how each of them makes us think or feel something. These are worth more than a thousand words, and each tells a story about the world we live in.
Boobies

wrote:
Subject: The Dachshund & The Pink Pig


This is gorgeous. This Dachshund is fostering this little guy for another mom who couldn't take care of him. He had his eyes closed, but now they are open. He is just a little bigger than her other pups. She loves this little guy as much as the other puppies and she is nursing him back to health. He is the cleanest pig-puppy ever, because she licks him all the time! HIS NAME IS PINK....
ORSM VIDEO
Want to contribute to Orsm? Just click here and do eeeet!!
A couple of women were playing golf one sunny Saturday morning. The first of the twosome teed-off and watched in horror as the ball headed directly toward a foursome of men playing the next hole. Indeed, the ball hit one of the men and he immediately clasped his hands together at his crotch, fell to the ground and proceeded to roll around in agony. The woman rushed down to the man and immediately began to apologise.
She then explained that she was a physical therapist and offered to help ease his 'pain'. "Please allow me to help, I am a physical therapist and I know I could relieve your pain if you'd just allow me!" She told him earnestly. "Ohh no, I'll be alright... I'll be fine in a few minutes" he replied as he remained in the foetal position still clasping his hands together at his crotch.
The woman takes it upon herself to begin to 'ease his pain. She began to massage his groin. After a few moments she asked "Does that feel better?" The man looked up at her and replied "Yes, that feels pretty good... but my thumb still hurts like hell!"
GIRLS RUBBING ONE OUT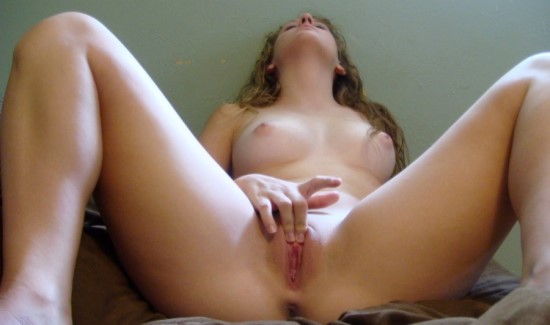 READER MAIL (CONTINUED)
Philip

wrote:
Subject: Video


I think he missed his exit....
Steve B wrote:
Subject: Raving ants...
Here for your delectation and delight is an ant that's off his nut after munching out on some sugar icing I dropped for him...
Kel

wrote:
Subject: Telstra's new ring tone


Thought you should know this. Telstra has received many complaints that people are not answering their telephones. As from 1st July 2014, all Telstra home phones and mobiles will have this standard ring tone. All other manufacturers of home telephones and mobile phones will be required to insert this standard ring tone as from 1st August 2014.
Steve W

wrote:
Subject: Proof that Angels watch over the sublime idiots!


Hey watch the attached. Note the driver to the left drives ahead on the Green arrow AND MAKES IT THROUGH! Also note the Police car that was waiting on the left ignores the serious life threatening breach and makes a R/H Turn and drives off in the opposite direction. This was Anzac Pde, SYDNEY heading To Randwick.
Neil

wrote:
Subject: Aberdeenshire Scotland stag do


Stag 'blackening' north east Scotland, bucket of rotten fish guts gets thrown over the whole truck - everyone pukes. Don't know about you Nath but the dude that washes the shit off his face with beer is the hero!
BH

wrote:
Subject: Neighbour's day


Hello Friend, I present you My neighbor the gardener! See u soon.
<

with held

> wrote:
Subject: Emailing


Hide my details please
<

with held

> wrote:
Subject: Submission


Short hj clip. Please. Hide info!
Micah wrote:
Subject: Neighbour's day
Best man speech. William Shatner and Bryan Adams, I couldn't have done it without you. [Youtube link here]
RANDOM SHITE
PICTURE THIS: YOU GO TO A WEBSITE. HOOK UP WITH AN ACTUAL REAL GIRL. GET A BILL FOR $0. HERE'S HOW
The Reverend John Fuzz was pastor of a small congregation in a little Pennsylvania town. One day he was walking down Main Street and he happened to notice a female member of his congregation sitting in the town bar, drinking beer. The reverend thought this was sinful and not something a member of his congregation should do, so he walked through the open door of the bar and sat down next to the woman.
"Mrs Fitzgerald" the reverend said sternly. "This is no place for a member of my congregation. Why don't you let me take you home?" "Shure" she said with a slur, obviously very drunk. When Mrs Fitzgerald stood up from the bar, she began to weave back and forth. The reverend realised that she had had too much to drink and he grabbed hold of her arms to steady her.
When he did, they both lost their balance and tumbled to the floor. After rolling around for a few seconds, the reverend wound up lying on top of Mrs. Fitzgerald, her skirt hiked up to her waist. The bartender looked over the bar and said "Here, here, buddy, we won't have any of that carrying on in this bar". The reverend looked up at the bartender and said "But you don't understand, I'm Pastor Fuzz".
The bartender nodded "Well, heck, if you're that far along you might as well finish the job".
gotta love TIGHT DRESSES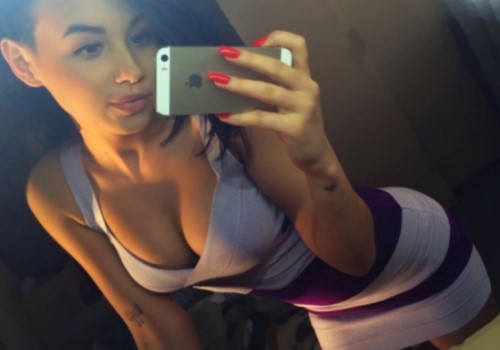 During the wedding rehearsal, the groom approached the Bishop with an unusual offer: "Look, I'll give you $100 if you'll change the wedding vows. When you get to the part where I'm supposed to promise to 'love, honour and obey' and 'be faithful to her forever,' I'd appreciate it if you'd just leave that out".
He passed the minister a $100 bill and walked away satisfied. On the day of the wedding, when it came time for the groom's vows, the Bishop looked the young man in the eye and said: "Will you promise to prostrate yourself before her, obey her every command and wish, serve her breakfast in bed every morning of your life, and swear eternally before God and your lovely wife that you will not ever even look at another woman, as long as you both shall live?"
The groom gulped and looked around, and said in a tiny voice "Yes" then leaned toward the Bishop and hissed: "I thought we had a deal". The Bishop put a $100 bill into the groom's hand and whispered: "She made me a better offer".
ORSM VIDEO
Well that was a lot of of update. You know what else is a lot of update? Read on...
-Check out the site archives. All updates going backward from now until a long time ago.
-Next update will be next Thursday unless you're killed in which case this one is it for you.
-Tell your friends, family, colleagues, co-workers and neighbours to check out ORSM-DOT-NET otherwise my friend Ray will go take a shit.
-Need to clear your conscience? Judge me? Want to fight me? Threaten me? Sit on my lap and talk about the first thing that pops up? Show me the twins? Then go for it! Just make sure you email me here!
Until next time be good, stay off the chems and come onnnn touch the D. Enjoy. Mr. Orsm.