Welcome to dad jokes with a two drink minimum.
I must have written 4-5 lengthy paragraphs over the past few months about these asstards who leave Australia to fight in Syria. You haven't seen anything because I delete them after realising it'd be hypocritical to comment but they've pushed me too far. It's just about every week we hear about a kid from where ever having told his family he was going on a goat fucking holiday but they've since learned he's fighting with his brethren in Syria. Okay... and? Basically my whole point was why do the media give them any coverage at all? Surely they don't expect we're watching the news thinking "How sad that this poor boy was brainwashed". No. We're thinking "Good. Fuck off, idiot".
Now it's come full circle. Apparently there's up to 250 who've gone over only to realise the war aint what it's cracked up to be... and want to return to Australia! Unfortunately though there's laws which would see them jailed for ten years upon doing so. Their passports have long since been cancelled as has any welfare or entitlements. They are stateless and fucked no matter what they do. This has to be one of the best "suck shit" moments a society can have but incredibly they have lawyers advocating their return arguing they represent an intelligence value; as in what they could tell us about recruitment, threats to Australia etc. It was around then I began to truly respect lawyers. Someone comes to you with a problem and to fix it, to earn your pay, you'll have to publicly make a fuckwit of yourself trying to convince people that these guys are safe to let back in; that they aren't really coming home with sinister intentions. Oh how the heart bleeds. Good riddance to bad rubbish.
-CLICK HERE TO SEE WHAT YOU'VE MISSED THIS MONTH ON ORSM-
Moving on from the redneck/bogan rant, let's run through my week and associated goings-on. Beginning with Saturday... which kicked off wetter than a cougar at a 1D concert. Actually most of the weekend was that way restricting activities to mostly indoor. Anyway, it was a stupid early start to collect building supplies for the next home project [coming soon]. The rest of the day was sat in front of the computer. After I don't know how many times over the years being caught out by failed hard drives and unrecoverable data loss, these days I'm a data Nazi. There's the working copy of all my important files which backs up every night to an external device which in turn backs up once a week to another external device running RAID5. All three devices are separated from each other meaning it will take the house being totally destroyed by fire or major act of god to lose my shit. Next I'll look at internet cloud storage so not only will the NSA have complete and unencumbered access, but I should be covered against every possible calamity. Dear universe, this is not a challenge.
Had a grand plan for that night. GF was out with friends leaving me on baby duty. I simply had to feed and put baby to bed before moving on to a ridiculously spicy dinner and [sci-fi] film of my choosing. Of course it didn't happen that way. For starters the baby was sick so everything took... a bit... longer. By the time dinner was ready, Skype started making noises. Best mate from overseas so scoff food and jump on. An hour into the convo the GF arrives home... and that was about it. Thwarted.
In many ways Sunday mirrored Saturday. Rain. Cold. Did finally escape around midday to visit family then go for a quick drive through the city before calling it a day. And that was about it... probably no point elaborating when there is a fucking sweet, brand new update ready for you guys to ingest. It will hopefully keep you amused and occupied long into the night, long after the missus has gone to bed and you need to rub one out. Check it...
Un-Fucking-believableCops Open Fire After Foolish Driver Refuses To Listen - Hey WT??You Move, The Painting Moves. It's Witchcraft I Tell You! Witchcraft!! - No No NO!Thousands Of Spiders Rain Down In Australia In Bizarre Natural Phenomenon Known As 'Angel Hair' - So GROSSThe Queen Termite Is Possibly The Grossest Thing You Could Ever Eat—Or See, Or Anything - All Or NothingWith Cable It's All Or Nothing - Double HighMarijuana Coffee Pods Will Make Sure You Start Your Day In The Most Unproductive Way Possible - Bad IdeaConcertgoer Finds Out The Hard Way It's A Bad Idea To Punch A Security Guard - Best Yet!!The Simpsons Vs Rick and Morty + 63 Signs That You'd Only Expect To Find In Springfield - This RulesSay Goodbye To The Rest Of Your Day With This One!


Cube EscapeThat Party Last Night Was Wild... Really Wild. You Must Of Passed Out After The Ninth Or Tenth Drink... You Can't Remember. But Now The Consequence Of Unhealthy Drinking Has Materialised. - Ballsy MovesCovert Perverts Pulling Off Risky Guerrilla Sexual Tactics In Broad Day Light On Clueless Civilians. These Are The Sort Of Legendary Faps You Hear About In The News... - She's RidicSome Victoria's Secret Model Called Elsa Hosk Who Is Nothing Short Of Stunning - Pussy SlipPhoebe Price Pussy Flash At The Reality Awards Show - Epic RackA Topless Leanne Crow Is Playing With Her Puppies In Bed. I Love Puppies And I Really Wanna Play With Leanne's Big Juicy Ones. - J-Porn WinThose Giant Melons Were Made For Titty Fucking. And He Gladly Obliges. - Face FuckedNot Sure Just How 'In To It' She Is But There's No Getting Off This Face Fuck Ride Now. - BreakdownReporter Has A Nervous Breakdown On The Red Carpet Because Of A Chucky Look Alike - WARTS?Its Clear The Guy Has A Serious Issue With All Those Warts On His Dick But She Just Sticks It In Her Holes Without Any Protection. How Stupid Can You Be!? - StupidassWell This Guy Is Clearly A Moron. He's Trying To Steal An ATM Because He Sure Isn't Smart Enough To Do A Job That Requires Any Logical Thinking.


London RexIn This Munching Game, It Is Your Job To Control The T-Rex And Eat Every Motherfucker That Gets In Your Way. - No Smoking!Apparently This Is How Isis Punishes Its Members For Smoking. Bit Harsh Perhaps... - Punch FuckExtreme Fist Fucked Amateur Has Her Cunt Stretched Wide. Really, Really Wide. - WhoreThat Ass Is Bullet Proof. She's Either One Pain Loving Pig, Or Her Ass Is Lined With Kevlar. - OopsieSophie Marceau Nip Slip At Cannes - So SweetTerrific Diary Pics Of The Lovely, Wonderful, Astounding Tessa Fowler Flashing Her Huge Shiny Boobs!! Right Now, She Is The Queen Of Boob Models. Period. - Drunk SlutsDrunk Sluts Are The Best. Especially When You Get To See Their Clothes Coming Off. If She Can Ride The Bull That Well, I Wonder How She Can Ride The Cock. - Queen's TitsQueen Latifah Gets Her Tits Out. Not Sure If I Wanted To See Them Or Not... - UnfortunateOut Of Control Firework Display Leaves Fucks Two People Up - Going Solo52mins Of A Ultra Cute Girl Masturbating The Fuck Out Of Herself Is What You Came Here For


A farmer passed away and left 17 mules to his three sons. The instructions left in the will said that the oldest boy was to get one-half, the second oldest one-third, and the youngest one-ninth. The three sons, recognising the difficulty of dividing 17 mules into these fractions, began to argue. Their uncle heard about the argument, hitched up his mule and drove out to settle the matter. He added his mule to the 17, making 18. The oldest therefore got one-half, or nine, the second oldest got one-third, or six, and the youngest son got one-ninth, or two. Adding up 9, 6 and 2 equals 17. The uncle, having settled the argument, hitched up his mule and drove home.
--
A young Asian girl had been taught all of her life that when she married she was to please her husband and never upset him. So the first morning of her honeymoon when the young Asian bride crawled out of bed after making love and she stooped down to pick up her husband's clothes, she accidentally let out a big fart. She looked up and said: "So sorry.... excuse please, front hole so happy back hole laugh out loud".
--
Paddy thought his new girlfriend might be the one, but after looking through her knickers drawer and finding a nurse's outfit, a French maids outfit, and a police woman's uniform, he finally decided if she can't hold down a job, she's not for him.
--
It's a really hot day and this penguin is having car trouble, so he takes it into a garage. The penguin asks "How long will it be?" The mechanic says "Just a few minutes". So the penguin decides to go get an ice cream at the grocery store across the street. When the penguin gets there he climbs inside the big freezer door and starts to eat ice cream. Three hours go by before the penguin looks at his watch and jumps out of the freezer and races back to the garage. With ice cream all over his face and his stomach he says "So, how's my car?" The mechanic comes walking out wiping his hands on a rag and says "Looks like you blew a seal". The penguin says "No, no, no, I was just eating ice cream".
ORSM VIDEO
IT'S PROBABLY THE BEST THING TO EVER HAPPEN TO ONLINE PORN. SERIOUSLY. EVER. HERE'S WHY YOU'LL CARE
CUSTOMER SERVICE: SOMETIMES IT'S GOOD, USUALLY IT'S BAD
-One time I went to FYE. When I walked in there was a 16- year-old kid behind the counter wearing a hat that said 'Fuck You.' I asked him if they had any of the older 'Hootie and Blowfish' CDs still in stock. He asked me if I was "Some sort of fag or something".
-I had a problem with a new piece of electronic equipment and called for assistance. The first technician I talked with insisted that there was nothing wrong with his company's equipment, that it must be my fault. When I explained that everything in the network had worked perfectly until I powered the new item up, he laughed at me. When I asked to talk to his supervisor, he responded with the infamous two letter expletive and hung up. I called back and spoke with a different tech who was able to resolve the problem in a matter of minutes and who then asked his supervisor to join us on the line. When I told the supervisor of my earlier experience, she asked me to give her one day so she could resolve the problem. She called back in less than fifteen minutes to tell me that she and the call centre manager had reviewed the tape of the call, fired the original technician, and promoted the second one to a customer service training position. It went from being the worst customer service experience ever to one of the best in less than half an hour.
-My son had requested a book for Christmas. The young lady looked in the computer inventory to see if they had the requested book. It showed there were some in stock, still packed. She went to look through the packed books and could find none. The next shipment was arriving in the next few days, however, arrival time uncertain. This young lady then called the competition, Borders, and requested they check their inventory. She gave me the contact name at Borders and told me to just go up to the counter and my book would be waiting".
-I was trying to get some information from Comcast, about my bill. I couldn't understand the different groupings of channels which had no explanation just names like Extended Package. She couldn't explain it and kept getting the same channels in different groupings. I said, very politely "I don't understand your explanation, is there someone else who can explain it to me so I will understand it". She replied: "You're stupid". Then she hung up.
-I paid about $20 extra to have a package delivered to arrive by Christmas. It went out on Dec. 22nd and arrived on the 27th. I spoke with three different customer service representatives who said I couldn't get any money back because there was unexpected bad weather. One actually told me they weren't responsible for 'acts of God.' Maybe they should say "Pay $20 and we'll be sure to get it there unless the weather's bad".
-In our local grocery store, I asked about the cinnamon buns that were in the sample dome. The employee I asked said that they were very fattening and I could do with losing some weight!
-I set my stuff on the counter to pay. The cashier had to go check a price. She returned with a manager, who was obviously having a bad day, and I was told that I could not buy five of the things. I wanted to know why not. She said "I can't sell you these". She said that "until corporate faxed the prices none of them could be sold". I asked why were they out, and she responded "Our shipment came in yesterday". I said "I know they will be gone the next time I come in" and she said "I don't know what to tell you. I cannot sell them to you".
-I explained to a computer company rep that I had 12 new laptops that would not power on no matter what I did. His answer to me was "What do you want me to do about it?" I said excuse me? He clarified by saying "if they don't power on I can't trouble shoot them and if they aren't powering on, it has to be something you did to them that made them not work".
-I bought a monitor which turned out to be DOA. I called the Dell customer support number and got a guy with a very heavy Indian accent who directed me to the monitor manual on CD, provided with the computer. I asked him if he understood the irony of putting the monitor troubleshooting guide on a CD since if the monitor didn't work you'd have no way of reading the guide. After 40 minutes of being on hold and talking to a supervisor, they said they'd have to send a new one... the very suggestion I'd made at the beginning of the call.
-"You will have to go online to and fix this". I replied "Seriously? I am talking to customer service - a real live human being and you can't do a thing for me? "Yes ma'am, you need to go online to do this". So I asked her "What exactly do you do?" Silence.
-My brother and sister-in-law's house burned to the ground, and they lost literally everything. I went shopping at Nordstrom to get them some essentials. The Nordstrom salesperson was so helpful, taking me from department to department. Then she went in the back for a few moments and returned telling me that Nordstrom was going to wrap and ship ALL $500 plus worth for FREE ... That's what I call SERVICE!"
-I'm still fuming from my experience with an online site for booking airfares. Woke up sick as a dog, needing to catch a flight at 7:00. I've probably booked one hundred flights through this company's site and I have always paid the $20.00 insurance if changes ever come up, including unexpected illness. I have never actually used this insurance but was happy to have it until I was told: "I'm sorry, there's nothing we can do for you". And, then again from online booking site "I'm sorry, there's nothing we can do for you". Lesson learned. Don't buy insurance from an online booking site.
-I was at Atlanta International. I placed my carry-on on the belt. A female agent came over and slammed the bag on its side. Fine, except when I was waiting on the other side for it, the scanner suddenly yells "Whose bag is this?" I raised my hand, and he picked it up and slammed it back on the other side of the scanner in the same position I'd originally put it. I wouldn't even mind if they would actually catch a 'live one' once in a while, but no. Undercover agents carry everything from box cutters to acid through without getting so much as a dirty look
-My father passed away. I called his credit card company to cancel his account. I said "My name is Debra. My father Pat passed away and I am the Executor of the Estate. I am calling to cancel his account". The rep replied "Well, I need to talk to Pat". I said "Listen very carefully. He's DEAD - now if you want to talk to him, you'll have to figure out how to. GIVE ME YOUR SUPERVISOR!" The Supervisor got on the phone and I said "Do you have a connection with God?" She cracked up laughing - she had heard about the conversation.
WANT TO BANG THE GIRL NEXT DOOR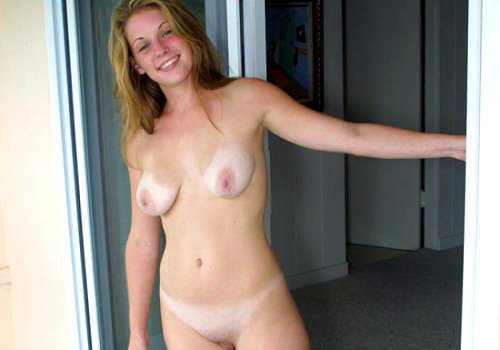 An avid duck hunter was in the market for a new bird dog. His search ended when he found a dog that could actually walk on water to retrieve a duck. Shocked by his find, he was sure none of his friends would ever believe him. He decided to try to break the news to a friend of his who refused to be impressed with anything. This, surely, would impress him. He invited him to hunt with him and his new dog.
As they waited by the shore, a flock of ducks flew by.
They fired, and a duck fell.
The dog responded and jumped into the water. The dog, however, did not sink but instead walked across the water to retrieve the bird never getting more than his paws wet.
This continued all day long; each time a duck fell, the dog walked across the surface of the water to retrieve it.
The friend watched carefully, saw everything, but did not say a single word. On the drive home the hunter asked his friend "Did you notice anything unusual about my new dog?" "I sure did" responded the friend. "He can't swim".
ORSM VIDEO
Desperate to use a payphone, a visitor to town searched high and low, and when he eventually found one, it was already occupied. Hoping that the man inside the kiosk wouldn't be long, the visitor waited impatiently outside, constantly looking at his watch.
In an attempt to convey a sense of urgency, the visitor kept staring at the man on the phone but soon noticed that he wasn't actually saying anything.
As the minutes passed, the visitor kept looking, nodding and pointing to his watch, but the guy inside paid no attention and just stood there with the phone in his hand, saying nothing into the receiver.
After a quarter of an hour, the guy inside had still not said a word into the phone. Thinking that he was being deliberately obstructive and just wasting time, the visitor finally lost his cool. Opening the door of the box, he tried to snatch the phone from the other man's hand.
"Do you mind!" said the guy with the phone. "I'm talking to my wife!"
GIRLS PEEING... BECAUSE JUST WANNA SEE THE VAGINA...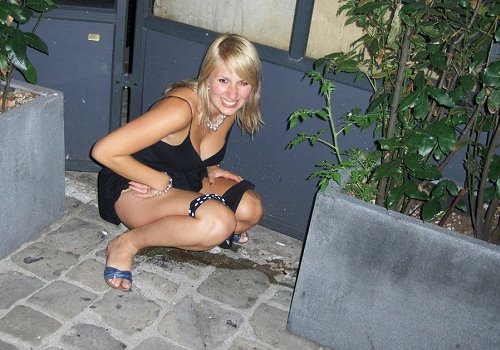 Why is MyFreeCams.com one of the most awesome websites in the history of forever? Firstly, there are hundreds of hot models online at any given time AND you can watch their live webcam feed in HQ with sound AND chat. Secondly, you don't need a credit card or have to install any dodgy software - it's all absolutely free! And finally, why do I sound so fucking excited? Because MyFreeCams really is that brilliant. Click here to check it out now!
ORSM VIDEO
CUSTOMER SERVICE: SOMETIMES IT'S GOOD, USUALLY IT'S BAD (CONTINUED)
-I searched for a game and located the empty place where the game had been. An employee, walking past me, asked if he could help. I explained that I was looking for the game ... He volunteered to go in the back and look for me. I thanked him and waited... and waited... and waited. After 10 minutes, he had still not returned and I stopped another employee. He replied that the first employee had GONE HOME. He never returned to let me know, or told me his shift was almost over.
-I called computer printer company's customer service about my new printer that wouldn't interface with my computer even though the company swore it would easily work. After hours of being on hold and being told that I had obviously done something wrong or just couldn't understand, the rep told me "Yeah, really not my problem, lady".
-I recently drove into the auto wing of Sears and stood at the counter to check in. The lady behind the counter was dealing with another customer. Ten to fifteen minutes later she was still dealing with the customer and in all of this stated to another colleague that she was finished working in 20 minutes. She was walking in the back then to the front, typing on her little computer and NOT ONCE did she even look at me. I asked two other people working there if there was someone who could help me, and they just pointed to her. Needless to say I just got in my car and drove out.
-My favourite bad customer service response was "it is working as designed" after the support agent was able to duplicate an obvious bug/error in a popular word processing program.
-I chose a laptop because the salesman gave it high marks, and there was $150 in rebates, which brought the cost in line with an HP I was looking at. I did a presentation that afternoon, but the computer kept freezing up, and I was having to reboot during the presentation. I went back to Circuit City and asked to replace it with another computer. They wanted $200 to restock the item even though it had only been 3 days. They pointed out that that I only had 15 days to return it. I showed them the receipt only being 3 days old. They would not do anything about it.
-"You should buy one of those bust reducing bras". This was said by one of the stick thin pre-pubescent staff in the clothing store I was in.
-I was going to Peru and four days before I went to my local Sears to see if they would have the stowaway raincoat in stock. When I got to the store they said they don't stock them but I could order on the computer. When I told them that wouldn't work because I was leaving soon, the salesman called the order in for me and explained that I was leaving and they put a rush on it and I had it two days later.
-I had spent well over 3 hours on the phone with customer tech support, having been repeatedly put on hold, transferred, and disconnected. I called back after yet another disconnection after being on hold for several minutes. The person who answered started to go into their script, asking me for irrelevant information. I told the person that I just needed to be connected to XYZ because I had been disconnected after being on the phone with them for over three hours. The rep went to a very long speech about how he'd be happy to transfer me. I didn't need a speech. I just needed him to transfer me. I told him this. He repeated the speech. His "inhuman courteousness" just made me angry and hate the company.
-At the post-Christmas sales, a sign said 'standard Posturepedic pillows $3.99. I had four. When I got to the register she said the amount total and I said "Your sign says different". She went and looked and said "Oh no, you're right" called her manager and let me have them at the price. She said the stocker had put the wrong pillows in the bin.
-I was hosting a party for 150 people and needed catering prices 7 weeks prior to the party to review bids. I had a drop-dead due date and explained that. When I contacted the caterer for prices because I hadn't heard from them by the date, my main contact was on vacation and left no information. I was fuming. Obviously, they didn't get my business. When I finally reached the caterer to determine how they could have made such an error, he said "I decided you didn't need it by your due date". Appalling.
-I thought it would be nice to go to Subway to get everybody some food. I went in, made my order and left. I forgot to get my boss his food, so I went back in and told her I needed to order another sub. She replied "Well did you have to go out and then come back in? Did it just pop in your head that you had to get another sub? GEEZ".
-I lost my cable service for 3 days. Apparently, it was a system wide failure and thousands of customers were affected. During the course of my conversation, I said something like "Please just credit me for 3 days' worth of service". The rep said "We can't do that. Do you know how much it would cost us if we credited everyone for the past three days?"
-I was speaking with a customer service representative about a problem I was having. I said "I know it's not your fault". She said "That's right. It's not my fault!"
-Several years ago while traveling, I stopped at a McDonald's. I was the second person in line, and it still took them 15 minutes to get to me. Then I ordered my coffee. The cashier then took two other orders, and I was left standing there. Finally, after speaking up, I received my cup. I went to the coffee urn, and, guess what? It was empty. So I stood at the counter again for another five minutes or more before someone asked me my problem. When I told them the coffee urn was empty, they filled my cup from behind the counter. After a few sips, I realised it tasted like a mixture of coffee and TEA!
-There was a charge on my MasterCard from a vendor who renewed my $400 membership without asking me. I spoke with the vendor and he agreed to send a credit into the credit card company for the charge. Since the credit card bill was due in 15 days, I called the credit card company to ensure that I wouldn't have to pay $400 up front only to have it credited back later. The rep who answered the phone went into his long drawn out scripted answer. I asked to speak with a supervisor and after waiting on hold, the supervisor started another scripted answer. I said "I am a busy person and I just need a simple direct answer instead of the script". He replied: "I am sorry you called when you were busy. We are open 24 hours a day". I stopped using that card.
-I had a credit card and somehow after a year the bank changed my zip code and I didn't get the bill. When they called I explained I never got a bill. After we found the issue I asked for a refund of the late fee. Though I got it eventually I was initially told "You are responsible for your bill, we only send the statement as a convenience to you".
ORSM VIDEO: THE FOODIE EDITION
Want to contribute to Orsm? Just click here and do eeeet!!
Three young candidates for the priesthood are told by the Monsignor they have to pass one more test: The Celibacy Test. The Monsignor leads them into a room, and tells them to undress, and a small bell is tied to each man's penis.
In comes a beautiful woman, wearing a sexy belly-dancer costume. She begins to dance sensually around the first candidate. *Ting-a-ling* goes the bell...
"Oh Patrick" says the Monsignor "I am so disappointed in your lack of control. Go take a long, cold shower and pray about your carnal weakness". The candidate leaves.
The dancer then continues, slowly dancing around the second candidate and peeling off her layers of veils. As the last veil drops: *Ting-a-ling* goes the little bell...
"Joseph, Joseph" sighs the Monsignor. "You, too, are unable to withstand your carnal desires. Go take a long, cold shower and pray for forgiveness".
The dancer then proceeds to dance her sensuous dance around the third candidate. Slowly around him she dances, now devoid of all of her veils, but the third candidate remains unmoved.
"James, my son, I am truly proud of you" says the Monsignor. "Only you have the true strength of character needed to become a great priest". Now, go and join your weaker brethren in the shower".
*Ting-a-ling*
HARD NIPPLES ARE REALLY JUST POINTING OUT THE OBVIOUS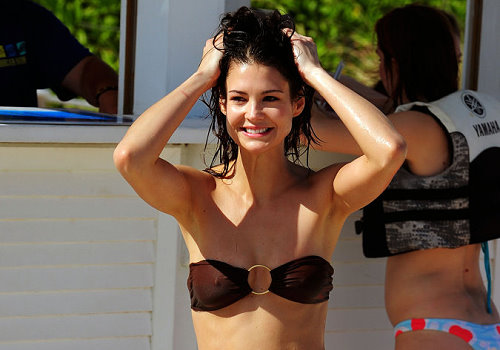 George was planning on going out with 'the boys' when his wife told him that he wasn't leaving the house. George's wife said: "The last time you went out with your friends you got so drunk that you puked on your shirt". George: "But Honey, I promise that I won't drink a drop of alcohol all night!" So after begging his old lady for an hour, George got the okay the go out as long as he stayed off of the booze.
George met up with the guys at a local bar and proceeded to get shit-faced. After about 3 hours of guzzling liquor, George blew chow all over his shirt. George: "Shit! The old lady is going to throw my ass out of the house for getting drunk and puking on my new shirt!"
Bill, George's best pal, gave drunk ass George an idea of how to keep from getting in trouble with the wife. Bill: "All you got to do is have a $20 bill in your hand when you walk through the door. Then, when she accuses you of barfing all over yourself, just tell her that some other drunk puked on you and that he gave you $20 to get the shirt cleaned".
So, when drunk George walked into the house with money in hand, his wife was waiting for him in the living room. George's wife: "I knew that your drunk ass would spew bile and booze all over that new shirt!" George: "Honey, let me explain! This drunken fool at the bar puked on me and gave me 20 bucks to have it cleaned".
His wife snatched the money out of his hand and observed that he was holding two $20 bills. George's wife: "Is that so? Then where did the other 20 dollar bill come from?" George: "Oh, That's from the guy who shit in my pants".
RANDOM SHITE
PICTURE THIS: YOU GO TO A WEBSITE. HOOK UP WITH AN ACTUAL REAL GIRL. GET A BILL FOR $0. HERE'S HOW
Two men met at a bus stop and struck up a conversation. One of them kept complaining of family problems.
Finally, the other man said "You think you have family problems? Listen to my situation. A few years ago, I met a young widow with a grown-up daughter, and we got married. Later my father married my stepdaughter. That made my stepdaughter my stepmother and my father became my stepson. Also, my wife became mother-in-law of her father-in-law".
"Then the daughter of my wife, my stepmother, had a son. This boy was my half-brother because he was my father's son, but he was also the son of my wife's daughter, which made him my wife's grandson. That made me the grandfather of my half-brother".
"This was nothing until my wife and I had a son. Now the half-sister of my son, my stepmother, is also the grandmother. This makes my father the brother-in-law of my child, whose stepsister is my father's wife. I'm my stepmother's brother-in-law, my wife is her own child's aunt, my son is my father's nephew and I'm my own grandfather!"
"And you think you have family problems!"
GUYS WAITING FOR WIVES TO SHOP. SEEMS ABOUT RIGHT.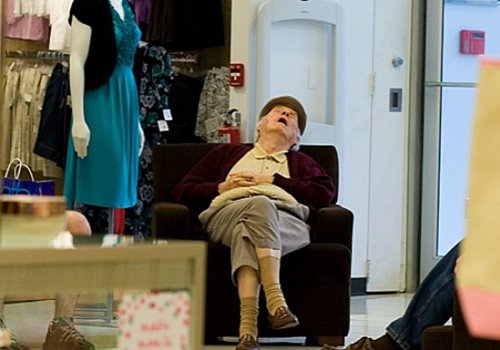 NASA was interviewing professionals to be sent to Mars. Only one could go, but with one catch - he could not return to Earth.
The first applicant, an engineer, was asked how much he wanted to be paid for going. "One million dollars" he answered "because I want to donate it to M.I.T".
The next applicant, a doctor, was asked the same question. He asked for two million. "I want to give a million to my family" he explained "and leave the other million for the advancement of medical research".
The last applicant was a lawyer. When asked how much money he wanted, he whispered in the interviewer's ear "Three million dollars". "Why so much more than the others?" the interviewer asked. The lawyer replied "If you give me $3 million, I will give you $1 million, I will keep $1 million, and we will send the engineer".
ORSM VIDEO
Well my work here is done. And with that I'll slip in to the night. Of course you may have some questions and before you ask, rememeber - there is such a things as dumb questions. To avoid them please read the following...
-Check out the site archives. Don't be gentle. Just force yourself in HARD.
-Next update will be next Thursday, Kylie Minogues birthday.
-Tell your friends, family, colleagues, co-workers and neighbours to check out ORSM-DOT-NET otherwise my friend Ray will fit defective airbags to your car.
-Need to clear your conscience? Judge me? Want to fight me? Threaten me? Sit on my lap and talk about the first thing that pops up? Show me the twins? Then go for it! Just make sure you email me here!
Until next time be good, stay off the chems and choose life. Enjoy. Mr. Orsm.