Welcome to good shot kid, I think you got him.
This update was starting to feel a lot like it would never fucking end... and as you guys surf through it you will see why. If it were food it'd make several very fat people very happy - there's a lot in it. Unfortunately at this point I just don't have the energy or inclination to type anything significant or substantial at the top here so I'ma slide into a big bunch of jokes which in turn becomes yet ANOTHER exceptional update. Okay so that might sound like I'm blowing my own trumpet but you are probably forgetting or perhaps don't know just how fucking amazing I am. Check it...
My girlfriend said that I could pick a couple of my favourite fantasies for some role-play to spice things up. So now I need a new girlfriend, but at least I ticked snuff and necrophilia off my bucket list.
--
Teacher asks her class if any of them can give her a sentence using the word 'contagious'. Up goes Susie's hand....Daddy had the flu and Mummy said to keep away from him cause it is contagious. Teacher says very good Susie. Little Johnny's hand goes up. Teacher dreads this but no one else raises a hand. OK Johnny....I asked Mummy how long Daddy would be out fishing and she said it would take the contagious.
--
Jack is on his death bed, and he says to his wife "Can you give me one last wish?" She says "Anything you want". He says "After I die, will you marry Larry?" She says "But I thought you hated Larry". With his last breath, he says "I do".
--
A black guy walks into a bar with a parrot on his shoulder and asks for a beer. The bartender brings a beer and notices the parrot on his shoulder and says "Hey that's really neat. Where did you get it?" The parrot responds "In the jungle, there's millions of them".
--
A super-hot chick walks into her church and says to the priest "Forgive me Father, for I have sinned". The priest says "Tell me dear, what's on your mind?" "Well Father, I am a sex addict, and lately I discovered that I like doing it with priests. I had sex with the one from the church two blocks from here, the one five blocks from here, and also the one from the church nearby". The priest says "It's okay, just pray three times a day for one week and it will all be okay". As the girl tries to go out, the priest says "Oh, and don't forget that I will always be here for you!"
--
A woman went to her psychiatrist because she was having severe problems with her sex life. The psychiatrist asked her many questions but did not seem to be getting a clear picture of her problems. Finally he asked "Do you ever watch your husband's face while you are having sex?" "Well, yes, I did once". "Well, how did he look?" "Very angry". At this point the psychiatrist felt that he was really getting somewhere and he said "Well that's very interesting, we must look into this further. Now tell me, you say that you have only seen your husband's face once during sex... that seems somewhat... unusual. How did it occur that you saw his face that time?" "He was looking through the window".
--
Three couples travel together to a resort hotel, only to find that their reservations have been screwed up, and they all have to stay in one room. There are 2 king-sized beds, and it is decided that the men will all sleep in one, and the women in the other. In the middle of the night, the guy in the middle wakes up, and says to the man next to him "Let me out. I have GOT to get to my wife! I have the biggest hard-on I have ever had, and I've got to get to her NOW!" The other guy says "Okay. Do you want me to come with you?" "What the hell for?" asks the other. "Because that's MY dick you're holding!" he says.
--
A blonde walked into a doctor's office with two burnt ears. The doctor asked her "What happened to your ear?" The blonde replied "I was ironing and the phone rang, so instead of picking up the phone, I picked up the iron and put it to my ear. Still not satisfied, the doctor asked "Well, what happened to the other ear?" "The sucker called again!"

Straight Up FreakHollyberryxxx Been Around For A Minute. She A Straight Freak. She Loves Big Black Dick, Gangbangs, Fuckin' In Her Ass, She Down For Whatever. Her Head Game Is Off The Planet... Big Dick And Swallows It Like It's A Cough Drop - Porn WTF'sFive Of The Most WTF Porn Moments We Could Find. A Cum Covered Slut Beating Up A Midget, The First Female Cumshot Caught On Film, Tory Lane's Broken Brain And An Innocent Question With A Very Questionable Answer. - AmbushedCute Step Sister Blackmailed By Brother For Smoking Weed - Can't WatchDon't Try This At Work: Penis Vs Nail Gun - Still Hot!!Avril Lavigne Is In A Bikini... So I Guess, Dreams Do Come True. - Feelin' ToeyAriel Winter Cameltoe In Workout Gear - Fat Clothes :-)Candids Of Jemma Lucy Wearing A Revealing Outfit While Throwing Away A Tv Box! This Reminds Me Of Two Things I Need To Do. 1. Fuck A Girl With Big Tits And 2. Finally Get A New 4k TV! - Fuck SlowlyThat Ass Is Magic. How Can She Take This Cock?! - Porn OperaCumming Can Be Like Music To The Ears


Hookers? HaNot Since Paying Backpage.com's Finest In Pennies Have You Seen A Sexual Arrangement Become Such A Challenge. - Katy CummingsKaty Cummings Titty Fucks A Big Dick - Serious KinkKinky Stuff Is What It Takes To Make These Nympho Girls Happy!! - In ShapeI Don't Know About You, But I Like Girls That Are In Shape. It Should Be Too Crazy, So That She Still Looks Like A "Woman", But A Fit One! - Insta-SlutHorny Instagram Model Bangs The Photographer - So Much HahaWho Da Bitch Now?! - GREAT TitsKelly Brook's Huge Tits Are Incredible - Looking NiiiceCurvy And Busty Lillias Right Is Picking Up Some Water Before Heading To The Beach! Then She Shows Us Her Tits And A Hint Of Her Pussy! - BralessJoy Corrigan Without Her Bra In See Through Jumpsuit


Celeb ButtsPhun's Celebrity Butts #18 - Only JapanDrinking From The Tit??? Thanks Japan! - Knock-KnockShe Loves It Deep And Huge And Hard In The Vagina - Got Creepy?Carefree Deviant Cruises Around Town, Chode In Hand, Looking For A Little Entertainment. And After 291 Consecutive Failures, It Looks Like Our Little Thomas The Fap Engine Finally Caught The Big One(s). - *squirter*The Most Intense 60 Seconds I'm Gonna Have Today - Performing - Wife LeakedWOW! Idiot Just Accidentally Shared His Stunning Wife's Nude Photos Online - She NastyFlorida.......? Seriously Is This What Goes On There??? - On DisplayRoshelle Braless In Sheer Jumpsuit


A blonde walks into a barber shop with headphones on. She tells the barber what cut she wants, but that he has to cut around her headphones. The barber looks a little puzzled but agrees. So, he starts cutting the best he can but accidently he knocks the headphones off. Within a few seconds the girl dies. Very startled, the man walks over and picks up the headphones and hears "Breathe in, Breathe out".
--
A desperate looking woman stood poised on the edge of a high bridge, about to jump off. An old homeless guy who was wandering by stopped and said, "Look, since you'll be dead in a few minutes, and it won't matter to you, how about a quickie before you go?" She screamed, "NO! Bug off you filthy old bastard!" He shrugged and turned away saying, "Okay then, I'll just go and wait at the bottom."
--
A large fat, big mouthed American is on a bus tour of Sydney and has been bragging on about how everything is bigger and better in the good ol' US of A and how everything is small in Australia. As they meander around Randwick, he points his podgy finger at a small building attached to The Prince of Wales hospital and says to the tour guide "See that hospital building over there? Why if that was in the States it would be a hundred times bigger". The tour guide says "I'm not surprised mate. That's the obesity wing".
ORSM VIDEO
'WE'RE FUCKING DONE!" - BAD BREAK UP STORIES
The problem with a relationship ending is that usually one half of the couple has passed the point of giving a fuck about their soon to be Ex. This means breaking their heart or callously stomping on feelings isn't that hard and maybe even a little bit enjoyable. Ahh emotional detachment you wicked, wicked beast. There's some absolute crackers in this lot. Check 'em...
-We were on our fourth date at a fancy restaurant - his suggestion. Had a lovely time: lots of wine, nice food, etc. When the bill came, he suggested we should guess the total and whoever got closest had to pay. Bit weird, but OK. I guessed £150 and 'won' the game, at which point he told me he had forgotten his wallet. My most expensive break up to date.
-Uprooted and moved across the country with the guy, realised after the fact just how dependent he was on his parents for EVERYTHING. They basically controlled his life because he didn't have a real job and lived off of their money. He spent ridiculous amounts of cash on stupid stuff like his train modelling hobby, but they somehow blamed me for all of his failures instead of him (despite me landing freelance work then a full-time job within three months of quitting my job and moving with no job prospects). He came home from a trip to see them two days before New Year's Eve and told me they gave him an ultimatum: me or their money. He chose the money. I had to live in the apartment for another two months, sleeping on the sofa bed, while he moved another girl in. Ugh. My fuck buddy and I broke his couch bed, though, so it wasn't all bad in the end.
-He got drunk after a 5K on St. Patrick's Day, left five minutes before I got there to walk home. He was apparently blackout drunk by this point. On the way home, he (for whatever reason) decided to make a stop at a lawyer's office and break in. He caused over $30,000 worth of damage and threatened the arresting officers with a printer. He was convicted of a felony, dishonourably discharged from the military and I supported him through it all because I loved him. And then he decided to move back home (since he wanted his mom to support him financially), broke up with me, and less than a month later was dating a high school girl. Oh, and he took the dog we got together and that I had helped pay for and train. There was nothing I could do, because he had gotten the dog micro-chipped in his name.
-Dumped on a train platform by my university boyfriend. I was getting on the train home for the summer holiday and said "See you in a week" as he was coming down to visit. He replied "Err, no you won't" as the conductor blew his whistle and yelled at me to get on the train. I cried the whole five-hour journey home. A few months later he rang my mum to say he had made a mistake. She replied "Yes you have".
-I dated a guy for a few months. One day, he stopped returning my texts/calls. He told me he was having "family trouble" and couldn't talk. This went on for a few days until I found out the real reason he wasn't talking to me: - he was waiting for his breakup postcard to arrive in my mailbox. That's right. He broke up with me via A POSTCARD.
-He walked out while I was in the shower and I never saw or heard from him again. Fuck you, Mike.
-My first relationship lasted five years, during which my boyfriend explained that he needed to be with someone for five years before he knew if it was going to last. He had mentioned multiple times that he would propose on our fifth anniversary. Day comes around, he takes me to dinner, then to the location of our first kiss. Where he proceeds to break up with me.
-A month into a relationship, in the middle of intercourse. Then he told me not to cry because I was a beautiful person. Shut the fuck up dude.
-I was 18 (this was in 2002) working for $5.50 an hour at the grocery store part time and in college. I saved up for about six months to take my girl at the time to Red Lobster for Valentine's Day. I threw on a tux, drove about 40 miles to get her, and her mom said that she wasn't there...and that I should just go back to my dorms. She never hit me back that day. The next day she called me back and said she didn't want to see me again and hung up. I bought myself a video game with the money that I was going to spend on her dinner.
-There was the guy that broke up with me JUST before I met his parents, and I had to sit through lunch with them for 3 hours afterward. Then I got the bus home.
-In a general conversation about break ups, my girlfriend of over a year mentioned that she was scared to dump people straight out so she phased them out. Fast-forward a few months, my girlfriend is getting distant, saying she is slammed at work. I take her out for lunch and she is acting strange. After a drawn out conversation, I ask outright if she wants to break up. She is adamant that she doesn't, adding that she doesn't want to hurt me and doesn't know what to do. I had to break up with her and was in floods of tears. Fair play: she told me exactly what she was going to do, then did it. I was too in love with her to realise.
-We had dated for a while and talked about getting married. After a couple months of future planning we decided to go look at rings. The next night after looking at rings, he showed up at my house, knocked on the door, gave me a hug and kiss, looked deep into my eyes, and said "I think we should break up".
-I had a pretty important test in school and she ended it right before I went in, fucked me over. Fuck you Melissa, I know you did it on purpose.
-Nearly two months into the relationship, we were working a high school reunion and these two guys I knew showed up to volunteer. Naturally, we, as the youngest people there, starting chatting and whatnot. The party had just started and I was the starting runner for the night, so I was chilling by the buffet tables while my ex and the others worked the buffet. At one point, I looked over at him and noticed that he was visibly irritated that I had male company. I shrugged it off, knowing that these guys were just acquaintances. Upon returning to our room, he took his laptop and went down to the lobby. I followed him down a bit later, under the assumption that maybe we'd watch stupid videos or something. Instead, he opened Notepad and started typing. I don't remember what was written exactly, but we had a back and forth silent breakup through a freaking word processor. A WORD PROCESSOR. We were sitting next to each other.
DOUBLE BLOW JOBS: 30 PENISES ACHIEVING THIER LIFE GOALS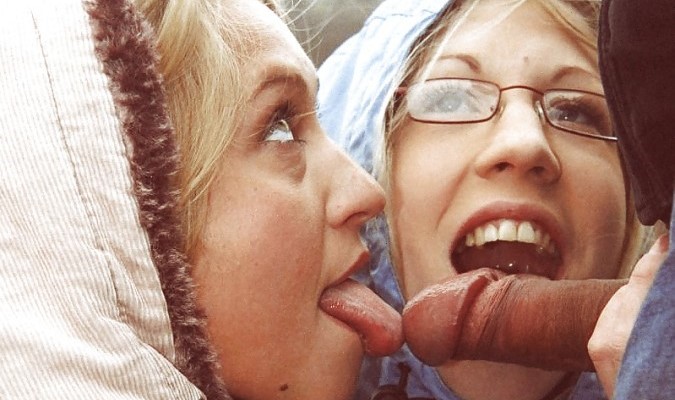 Previously on Orsm: DOUBLE BLOJE #1 - MORE >>

It was the day of the big sale. Rumours of the sale (and some advertising in the local paper) were the main reason for the long line that formed by 8:30, the store's opening time, in front of the store.
 A small man pushed his way to the front of the line, only to be pushed back, amid loud and colourful curses. On the man's second attempt, he was punched square in the jaw, and knocked around a bit, and then thrown to the end of the line again.
As he got up the second time, he said to the person at the end of the line... "That does it! If they hit me one more time, I won't open the store!"
ORSM VIDEO
IT'S PROBABLY THE BEST THING TO EVER HAPPEN TO ONLINE PORN. SERIOUSLY. EVER. HERE'S WHY YOU'LL CARE
A man and a woman were having a quiet, romantic dinner in a fine restaurant. They were gazing lovingly at each other and holding hands.
The waitress, taking another order at a table a few steps away, suddenly noticed the woman slowly sliding down her chair, under the table and under the table cloth... but the man stared straight ahead.
The waitress watched as the woman slid all the way down her chair and totally out of sight under the tablecloth. Still, the man stared straight ahead.
The waitress, thinking this behaviour a bit risqué and worried that it might offend other diners, went over to the table and, tactfully, began by saying to the man "Pardon me sir, but I think your wife just slid under the table". The man calmly looked up at her and said "No, unfortunately, she just walked in".
PIGTAILS, PONYTAILS AND OTHER STYLES NAKED GIRLS WEAR THEIR HAIR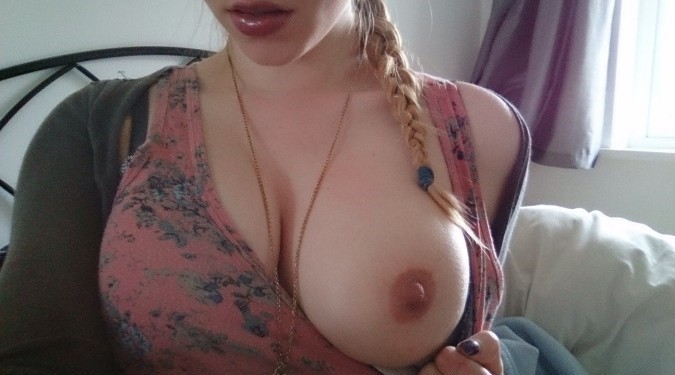 Previously on Orsm: PIGTAILS #1 - MORE >>
ACCORDING TO WIKIPEDIA: MyFreeCams.com is a website providing live webcam performances by models, typically featuring nudity and sexual activity often ranging from striptease and dirty talk to masturbation with sex toys.
Even Wiki knows how awesome MFC is... soooo WTF are you waiting for!? Click here!
ORSM VIDEO
BAD BREAK UP STORIES [CONTINUED]
-I had to break up with my ex over text. I felt horrible about it, but I would text him "Hey" every two or three days and get nothing. The minute I texted "I really care about you but I'm pretty sure you don't care about me, so sorry but I have to break up with you" he texts back - and I am not kidding - "K" in less than two seconds. It was the fastest interaction we had ever had.
-We went out to a wanky club for my girlfriend's 30th but I wasn't happy. Ended up in the loos with my mate, confessing that I planned to end it but didn't want to ruin my girlfriend's birthday. Of course, in the stupid wanky club, the loos were unisex. My girlfriend was in a cubicle and heard everything. She broke up with me on the spot and I ruined her birthday after all.
-He used to make me these mix CDs filled with love songs. He signed them all 'Love' in blue sharpie marker. I played them until they skipped. Then he started getting weird. He once told me my go-go boots made me look like a streetwalker. He'd stand me up on our coffee dates, then accuse me of not showing up saying he'd waited for an hour. When he made me buy my own Jr. Mints at the movies, I knew it was coming to an end, but when he showed up with a mix CD with Billy Bragg's 'A Lover Sings,' well... that was the official end of the road. "You and I are victims of a love that lost a lot in the translation" was the lyric that did it. He stopped calling, stopped emailing. We touched base a few years back, had an awkward and sad kind of lunch, and haven't spoken since.
-I had been with a man for a few months when he proposed. It was quick but I was head over heels. We got engaged and a few weeks later I found out I was pregnant. That bumped up our wedding plans. Got married, and two months later I caught him in bed with a 19-year-old. Being pregnant, I was scared of being alone, didn't know what to do, but after trying to work it out for a year, I divorced him.
-I was 17 and dating this guy, D, who was lovely but who I didn't fancy. Then there was E, the local bad boy who I definitively did fancy. Being in the countryside, our social life consisted of meeting in the park and drinking. One Friday we were in a massive group. There was a lull in the conversation so I turned to D. "Sorry D, you're dumped. It's not working". And I strode over to E and snogged him. After a few months of dating E, I'd realised he was a) beautiful and b) intensely stupid. I needed to dump him. We sat on a bench, I told him it was over and then watched in horror as the village bad boy started to sob. As I started to walk home, he yelled "Hannah I love you! Babe, don't leave me I love you". His voice echoed across the village green as I hurried home with my head down.
-I dated a guy for a year and we spent our anniversary together. The day after, I went to visit my family for a week. He had ignored all of my texts for the week, and I couldn't get a hold of him so I called his house phone on my last day to see if I could see him on my way back. His dad answered (he lived at home) and told me that my boyfriend had moved to New York to live with his sister (we live in Michigan). I asked a few of his friends if they knew anything. They told me that he had been planning on moving for the last five months, with a predetermined date set. As if that wasn't bad enough, one of them asked why I was upset. Confused, I asked why he'd think that I wouldn't be upset. He responded by saying that my boyfriend had told him that we had broken up four months ago. He didn't even think we were together, and thought we were still just close.
-A guy, hurt that I asked to take it slow, sulked for a month, then decided to take me out to dinner on Valentine's Day, showed up an hour and a half late, no apology, took me to a restaurant, didn't talk much, and when the bill came, hesitated about paying then walked out without giving me a hug. The whole thing was to make a point that he was breaking up with me and not the other way around. Then after about six months, he started texting me every single Thursday for a year. Never once asking me out but always saying something bizarre like "Hey, I saw a squirrel and thought of you" or "Hey do you know President Obama? So do I". Then he asked me out... on April Fool's Day. Yep. As a joke.
-I was dating this guy for three years, and things were getting pretty serious. He had already bought an engagement ring, and he bought me a promise ring for my 21st birthday. Things started to get rocky when he told me he wanted to go to three to four video game competitions a year. As we were getting more serious, I was thinking about the future and what that money could go to, and he just wanted to continue to play video games professionally. An hour later, he broke up with me, saying "Video games are my biggest dreams, and this is my biggest opportunity, and this is what I want to do and this is who I am". I gave him back all his stuff. Now, he won't give me back my Pyrex dish, or my T-shirts because he just doesn't want to. A breakup, all because of video games. And, all I want is my Pyrex dish back.
-A game of hangman. "I want to be single" was the phrase that I had to guess. Needless to say I cried while walking 3 miles home.
-We were constantly breaking up and getting back together for the three years we dated. The worst breakup was when he texted me unexpectedly "I can't do this anymore". I called him and he wouldn't pick up the phone so I drove over to his place. That's when I realised he had packed up all his stuff and started the thousand-mile drive back to our home state when he texted me.
-My sister got broken up with in her birthday card. Yeah, he gave her a birthday card in which he writes "I want to break up". It happened in middle school. Later that day our brother and I pushed the guy around a bit.
-She had her step sister call my parents phone (didn't have a cell phone then) to break up with me. Except my dad answered so she told him it was over. He simply said "I think you want to talk to my son". Looking back I think it's hilarious.
Delcious sauces: 1, 2, 3, 4, 5 & 6
ORSM VIDEO
Want to contribute to, contact, agitate, titillate, correct my speling? Just click here and do *IT*!!
A young doctor had moved out to a small community to replace a retiring doctor. The older doctor suggested that the young one accompany him on his rounds so the community could become used to the new doctor.
At the first house a woman complains "I've been a little sick to my stomach ". The older doctor says "Well, you've probably been overdoing the fresh fruit. Cut back on the amount you're eating and see if that does the trick".
As they left, the younger man said "You didn't even examine that woman. How'd you come to the diagnosis so quickly?" "I didn't have to. You noticed I dropped my stethoscope on the floor in there? When I bent over to pick it up I noticed a half dozen banana peels in the trash. That was what probably was making her sick".
The younger doctor said "Pretty clever. If you don't mind I think I'll try that at the next house".
Arriving at the next house, they spent several minutes talking with a younger woman. She said that she just didn't have the energy she once did and said "I'm feeling terribly run down lately ".
"You've probably been doing too much for the Church" the younger doctor told her. "Perhaps you should cut back a bit and see if that helps". As they left, the elder doctor said "I know that woman well. Your diagnosis is almost certainly correct, she's very active in the church, but how did you arrive at it?"
"I did what you did at the last house. I dropped my stethoscope and, when I bent down to retrieve it, I noticed the priest under the bed.
PEOPLE WHO DRANK WAAAAAY TOO MUCH AND DEFINITELY REGRETTED IT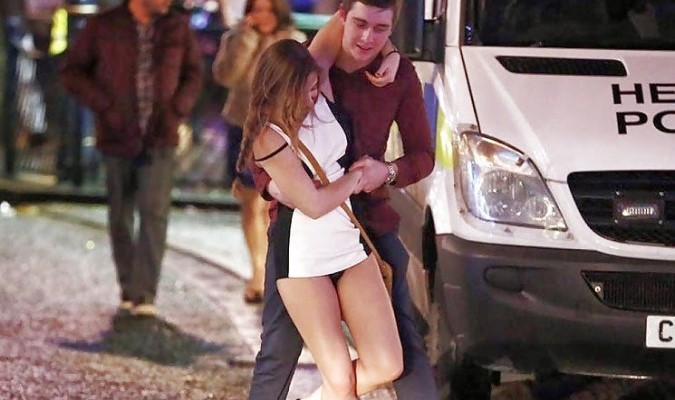 DRUNK PEOPLE previously on Orsm: #9 - #8 - #7 - #6 - #4 - #3 - #2 - #1 - MORE >>
Yesterday my daughter emailed me again, asking why I didn't do something useful with my time.
"Like sitting around the pool and drinking wine is not a good thing?" I asked.
Her talking about my "doing-something-useful" seems to be her favourite topic of conversation. She was "only thinking of me" she said and suggested that I go down to the Senior Centre and hang out with the gals. I did this and when I got home last night, I decided to play a prank on her.
I emailed her and told her that I had joined a Parachute Club. She replied "Are you nuts? You are 78 years old and now you're going to start jumping out of aeroplanes?" I told her that I even got a Membership Card and emailed a copy to her.
She immediately telephoned me and yelled "Good grief, Mum, where are your glasses? This is a Membership to a Prostitute Club, not a Parachute Club".
"Oh man, I'm in trouble again" I said "I really don't know what to do. I signed up for five jumps a week!"
The line went quiet and her friend picked up the phone and said that my daughter had fainted.
Life as a Senior Citizen is not getting any easier, but sometimes it can be ever so much fun.
RANDOM SHITE
OLDER SHITE: 15th March - 8th March - 1st March - 22nd February - 15th February - 8th February - MORE >>
PICTURE THIS: YOU GO TO A WEBSITE. HOOK UP WITH AN ACTUAL REAL GIRL. GET A BILL FOR $0. HERE'S HOW
A rabbi, a priest and a Baptist minister are all killed instantly in a car accident. Arriving at the pearly gates, they are stopped by St. Peter who advises them that they must pass a short quiz to enter.
Peter asks the rabbi "Who was the first man?" Rabbi replies "That's an easy one - Adam!"
And with that, the organ plays a triumphant melody, blue birds chirp and fly around, cherubim flit back and forth, flowering vines emerge from the ground, the gates swing open, and the rabbi walks in. Then, everything becomes quiet - the birds and cherubim disappear, the vines withdraw. All is silent.
Peter solemnly turns to the priest "Who was the first woman?" Priest replies "That's an easy one! Eve!"
Again, the organ plays a triumphant melody, blue birds chirp and fly around, cherubim flit back and forth, flowering vines emerge from the ground, the gates swing open, and the priest walks in. Then, everything becomes quiet - the birds and cherubim disappear, the vines withdraw. All is silent.
Finally, Peter turns to the Baptist minister, who is confidently rocking back and forth on heel to toe and smiling. With a sly grin, Peter says "What was the first thing Eve said to Adam?"
The Baptist minister frowns, grows quiet, applies his fingers to his brow, and thinks. Then he mumbles "That's a hard one..."
And the organ plays a triumphant melody...

CHANGING ROOM SELFIES AKA "DO MY TITTIES LOOK GOOD IN THIS?"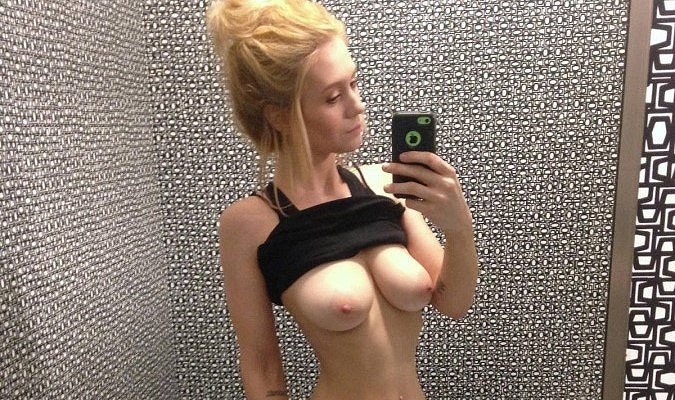 CHANGING ROOM SELFIES previously on Orsm: #8 - #7 - #6 - #5 - #4 - #3 - #2 - #1 - MORE >>
Morty arrives home from work and as soon as he sets foot in the house, Sadie is on to him, telling him that their friend Marvin has finally quit smoking.
"Imagine that, Morty" she says "Someone who smoked 3 packs a day for 20 years has stopped smoking just like that. Now that's what I call will power. Something that you definitely don't have!"
But Sadie hadn't finished. "And that's not all. I hear that Bernie, that drunken friend of yours, is finally giving up drinking. Another example of the kind of will power that you don't have".
"OK, Sadie" said Morty "you want to see will power, do you? Well here's will power. I am going to sleep in the spare room from now on. I am going to prove to you that I won't be affected at all by not sleeping with a woman".
Morty keeps to his word. One night, when he had been sleeping alone for a week, there is a knock on his bedroom door. Morty shouts out "What do you want?" Sadie replies "Err... Marvin has started smoking again".
BIKINI BABES WASHING CARS 👌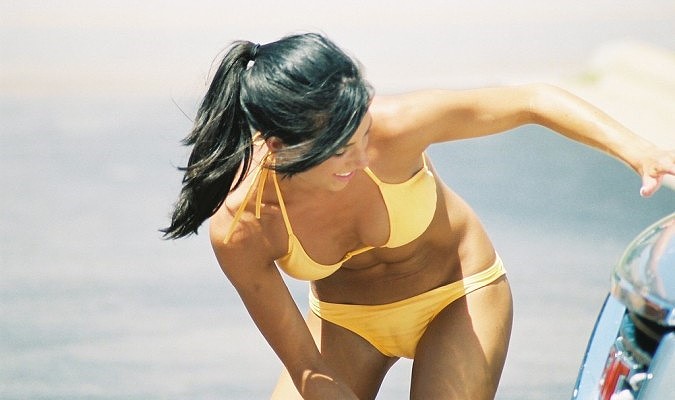 This is a story of self-control and marksmanship by a brave, cool-headed woman with a small pistol against a fierce predator. What is the smallest calibre that you would trust to protect yourself? A Beretta Jetfire testimonial! Here is her story in her own words:
"While out walking along the edge of a bayou just outside of Fort Lauderdale, in 'Alligator Alley' with my soon-to-be ex-husband discussing property settlement and other divorce issues, we were surprised by a huge 12-foot alligator, which suddenly emerged from the murky water and began charging us with its large jaws wide open. She must have been protecting her nest, because she was extremely aggressive. If I had not had my little Beretta Jetfire .25 calibre pistol with me, I would not be here today! Just one shot to my estranged husband's kneecap was all it took. The 'gator got him easily and I was able to escape by just walking away at a brisk pace. It's one of the best pistols in my collection! Plus the amount I saved in lawyer's fees was really incredible".
AT LEAST SHE KNOWS HER PLACE!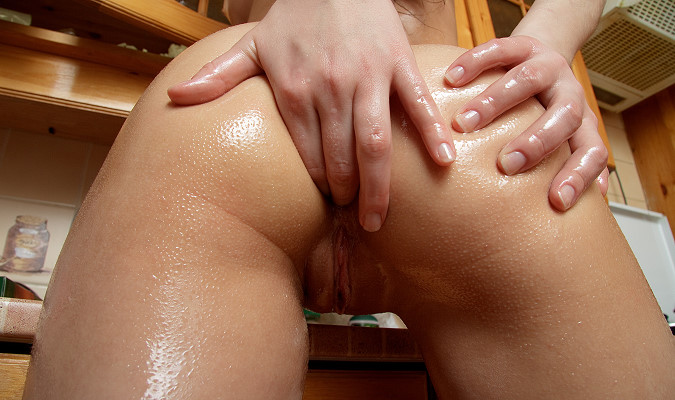 Previously on Orsm: ALESSANDRA - HOLLY - IVETA - MARTINA - ABBY - VAL - CLARISE - ALICE - MORE >>
ORSM VIDEO
Well ...
-Follow me on Facebook and Twitter and Instagram. All the SFW stuff you see on Orsm now flows daily on to your favourite social network.
-Check out the archives. Better than a really, really, really, really, really, really, really, really, really, really good choc milk.
-Next update will be next Thursday. Pre-Easter weekend. It doesn't really mean anything to next weeks update I just wanted to write a longish sentence and have you read it.
-Tell your friends, family, colleagues, co-workers and neighbours to check out ORSM-DOT-NET else my friend Ray will ejaculate on to a baking tray, put the tray into the oven at very low eat to dry it out, grind the remaining substance into a fine powder and sell it to you as 'high grade cocaine'. Ray's cum smell will be in your nose for hours.
-Need to clear your conscience? Judge me? Want to fight me? Threaten me? Sit on my lap and talk about the fi??rst thing that pops up? Show me the twins? Then go for it! Just make sure you email me here!
Until next time be good, stay off the chems and talk to me about something/ANYTHING else. Enjoy. Mr. Orsm.