Welcome to what plants crave.
Ah where to begin. The first thing I can say is that travelling with kids is vastly different to travelling with kid and, perhaps not surprisingly, different again to travelling without any of at all. We've attempted it with one, traipsing to the other side of the globe, and it was varying degrees of clusterfuck. Most adult humans can go city to city on minimal sleep whilst seeing the sights in between. You push through it because adventure yayyy. Kids cannot do this. God help you if they catch a cold or that sleep cycle gets messed up... which there's no possible way it doesn't + a kajillion other things which make the experience an exercise in stupidity.
This in mind, we carefully chose an overseas destination that wouldn't put anyone's mental health at risk. That meant staying in more or less the same time zone and choosing one place to go and staying there, not multiple. No one needs to be a hero after all.
With Australia as the launching pad pretty much all of Asia was an option but going with what we knew seemed smartest. Bali? Done to death for most Aussies. Think I've been 4 times. Singapore? Three times. It's so sterile and... just sterile. Hong Kong. Tempting but too fast paced. The possibilities are endless but in the end we settled on Thailand. Hit it five years ago and shit was awesome. Good climate, good beaches, good food etc.
The main difference was where we decided to stay. Last time was in Patong on the island of Phuket. Cheap hotel with a pool, free shuttle bus and not much else. Perfect. This trip we stayed the first couple of days there because wanted to do some shopping plus the nightlife is pretty epic before moving a short drive south to a resort.
How the hell did I not know about resorts before? It prob comes back to that unencumbered traveller thing - without kids you care less about where you stay as long as it's somewhat central. WITH kids a resort is heaven. Why? They have stuff like kids clubs, and kids waterpark and playgrounds and access to babysitters and all meals inclusive. What that means for me is less running around trying to entertain a child and more getting sunburnt drinking beer by the pool whilst watching Instagram models pose for photos. The hardest decision on any day is if you're going to have pad thai or a burger for lunch. Wake up, go swim, breakfast, swim, lunch, nap, swim, dinner, repeat tomorrow. There's no need to leave the resort to do anything, not only because they have everything you need but also because done all the touristy shit on our first visit to Phuket.
A huge plus was the size of the resort which provided endless people watching. No doubt it's different in different places but where we were was mainly Russians and Chinese. The rest, various Euros and Aussies. Hardly any Middle Easterners at all.
Not sure Russians are my favourite people or anyone's favourite people for that matter. They are the easiest fuckers to spot because they never smile or acknowledge you back. Someone told us they see being friendly to strangers as a sign of weakness. Makes sense. That's just not the Aussie way. How do you spot an Aussie? You'll get a "G'day mate", a smile and a 5 minute chat about where you're from and what you've been doing. Any longer than 5 minutes and that's who you're having dinner with. Anyway as I was saying - the Russians ranged between stone-faced strong silent types to outright arrogant arseholes. Watched in amazement as they'd be obnoxious with workers over the most petty of things. BUT... if there was an impossibly woman by the pool you can guarantee she was a Ruski.
If we want to talk about the rudest cunts in the world then hello to all the Chinese. I don't think they do it deliberately... it's just that they exist only in their own social unit and are completely oblivious to anyone else. For example I walked up to a door to enter a building as a Chinese group were exiting. Now... if you had to choose between a) one of the group saw I was trying to get past and moved slightly so I could get by and b) they blocked the doorway whilst talking amongst themselves, which would you go with? Unbelievable.
Chinese seem to have a personal space problem too. Or perhaps the concept of personal space between a country with a 1.3B+ population and one with 24M is just always going to be radically different. Regardless, do you have to stand so close to me in a line?? I promise the plane won't take-off without if you don't rub against me! Another was anything to do with pools, particularly oversize floaties... for adults. It's great you don't want to drown but do you really need an inflatable ring so large it could knock earth out of orbit? Next, no idea if it's a legit fear of skin cancer or the Asian fascination with light coloured skin but the Chinese visitors tended to cover up from the sun so much that it wasn't clear if they were trying to protect from sunburn or withstand a nuclear explosion.
Can't believe I almost forgot - boundaries. Our little ones have blonde hair and were regularly mobbed. A couple of times you'd have thought Justin Bieber rolled in because near hysterics. Not joking. Admittedly wasn't always Chinese people but they were the main offenders. In Australia if someone started taking photos of your children without permission you would punch them in the face and call the police. One morning a woman actually sat at her table videoing us during breakfast like we were zoo animals. How could anyone not think it was rude?
Thai people are awesome. Have only good things to say. Friendly, helpful, warm. They're cool if you're cool. All they ask is visitors are respectful. They adore children too but in less of a 'must take photos' and more of an 'I would give anything to hold your baby' kind of way. We quickly worked out that the moment restaurant wait staff began cooing in baby's direction, you had a babysitter. That whole thing where one parent eats while the other holds the bub didn't have to happen.
The Thai massage girls are still everywhere too. Don't be fooled - it's less about massage and more about wanking dudes off. Thankfully pushing a stroller is like kryptonite to them... the girl's aren't backward in coming forward when you walk by solo though. One massage girl dragged me off the sidewalk and unashamedly listed her services which included "handjob, blowjob or suckjob". Absolutely no idea what the difference between the last two was but catching an STD just to find out wasn't worth it.
All up it was an amazing break. Twice the distance of Bali but I'd choose Thailand every damn time. Everything went smoothly, came home relaxed and rejuvenated. Could not have had a better time. And with that enormously long blog which everyone definitely read, let's get on with this week's update! Check it...

Its A Mash-ski!Mashup Artists Turn The Obergurgl-Hochgurgl Ski Resort into Amusingly Surreal Songs - GIF MegaloadPorn GIF Awesomenss (51 GIFs) - BLASTEDA Civil War General Once Said, "Don't Fire Until You See The Whites Of Their Eyes". He Lost That Battle... But I Like To Think That The Saying Still Applies For Porno Facials. Especially If Your Unloading A 1/2 Pint Of Semen Under High Pressure. - She Likes ItDon't Let The Impressive Tits And Hollow Brain Cavity Fool You: Porn Is The Last Place She Should Be Showcasing Her Talents. - LOL 'StrayaI've Watched This Several Times, And I Think The Croc Got His Head. I'm Not Sure, But He Probably Left A Few Pounds Lighter. - LegendaryThis Dude Is Knuckles-Deep In Octoberfest! - Britney SlipBritney Spears Nip Slip On Stage In Vegas - God Damnnn!Ariel Winter And Her Big Boobs Front And Centre At A Party! Aside From The Glorious Titties, Nothing, They Are Glorious. - Aussie TitsMontana Cox From Australia's Top Model In All Her God Damn Glorious Glory.


Bad TeacherTeacher Who Forced Students To Fuck For Good Grades - Up The BFirst Time Anal Penetration Don't End Well...Torn Rectum In 3.. 2.. 1.. - First AnalThe Hottest Brazilian Teen Ever Tries Anal For The First Time - PhunnyFunny Pictures DCLXXXII - Tasty TeenTiny Teen Struggles With A Mammoth Dick - $22M SMHKendall Jenner Made 22 Million Dollars Last Year. WTF!? - She SUCKSThe Worst Pornstar Ever - An EscapeeCamilla Cabello Areola Peek In Lacy See Through Top - Oozing SexBusty Assistant Anissa Kate Will Do Whatever It Takes To Please Her Boss. She Is Very Dedicated. If He Needs Her To Get Naked So He Can Fuck Her In The Ass... She Will Do It! - Kinda SickI Finally Found A Katy Perry Video I Can Jerk Off To!


InhumanityInhumanity - Come For The Tits, Stay For The Train Wreck! - Bad DayTina's Having A Bad Day. This Is Why You Don't Eat Before Sucking Dick In A Porn Video... - Fucking HardWARNING: For Advanced Deviants Only!!! - Porn BlooperSlut Gets One To The Face While Fucking, And I Don't Mean Cumshot - Hopefully FakeLOL Necrophilia - MORE Butts!Phun's Bonus Butts #109 - Spicy IndianAmazing Indian Gets Her Tikka Masala-e - NOT RamboOh Would You Look At That - You CAN Fix Stupid! - Cute RackIt Wasn't A Nude Beach Until This Bodacious Babe Showed Up


Flight fifty has a pretty rough time above the ocean. Suddenly a voice comes over the intercom: "Ladies and gentlemen, please fasten your seat belts and assume crash positions. We have lost our engines and we are trying to put this baby as gentle as possible down on the water". "Oh stewardess! Are there any sharks in the ocean below?" asks a little old lady, terrified. "Yes, I'm afraid there are some. But not to worry, we have a special gel in the bottle next to your chair designed especially for emergencies like this. Just rub the gel onto your arms and legs". "And if I do this, the sharks won't eat me anymore?" asks the little lady. "Oh, they will eat you all right, only they won't enjoy it so much".
--
On the first day at the new senior's complex, the manager addressed all the new seniors pointing out some of the rules: "The female sleeping quarters will be out-of-bounds for all males, and the male dormitory to the females. Anybody caught breaking this rule will be fined $20 the first time". He continued "Anybody caught breaking this rule the second time will be fined $60. Being caught a third time will cost you a fine of $180. Are there any questions?" At this point, an older gentleman stood up in the crowd inquired... "How much for a season pass?"
--
Two Syrian refugees compete to see who can become the most English in three weeks. After three weeks the Syrians meet again at a McDonalds. The first Syrian makes his case for him being more English by saying "Every day I have taken my son to football practice and my daughter to dance class. I've recently started going to the pub and drink pints of Carling and every Friday I have fish & chips. My favourite football team is Manchester United. Beat that!" The other Syrian simply replies with: "Get out of my country, you fucking paki cunt".
--
I walked in on the wife the other day struggling with the ironing board. She usually keeps it folded up and out of the way behind the laundry room door and then pulls it out on the rare occasion something actually needs ironing, like one of my dress shirts or a blouse she's planning on wearing. She was pulling and yanking on the thing when she saw me and declared "You need to go out and buy me a new ironing board. It's almost impossible to get this thing's legs open". "Now you know what I have to deal with" I responded.
ORSM VIDEO
IT'S PROBABLY THE BEST THING TO EVER HAPPEN TO ONLINE PORN. SERIOUSLY. EVER. HERE'S WHY YOU'LL CARE
An American oil tycoon dude is on business in Japan. He is staying at a swish Tokyo hotel. As he books in he asks the concierge "Where can I get some girlie action tonight?" the concierge replies that he will have a girlie sent up to his room at 9pm.
9pm finally comes and there is a knock at the door. The yank opens it to find a stunning Japanese hottie stood there in a fur coat and little else. He can't believe his luck and immediately gets her to strip so he can fill his need.
Soon, they're going at it hell for leather and he's impressed by his own stamina. The Japanese hooker is writhing around and squealing, in fact she keeps squealing something in Japanese: "SUNG WAH, SUNG WAH!" she moans. "Must be Japanese for excellent" thinks the arrogant yank.
He cums, she leaves.

Next day on the golf course the CEO of the big Japanese firm the yank is doing business with gets a hole in one. the yank decides to impress his counterpart, claps his hands in appreciation and says "Sung wah, sung wah!"
The Japanese CEO looks bemused "Wrong hole? What do you mean wrong hole??!"
MILF's... THEY'VE STILL GOT IT...!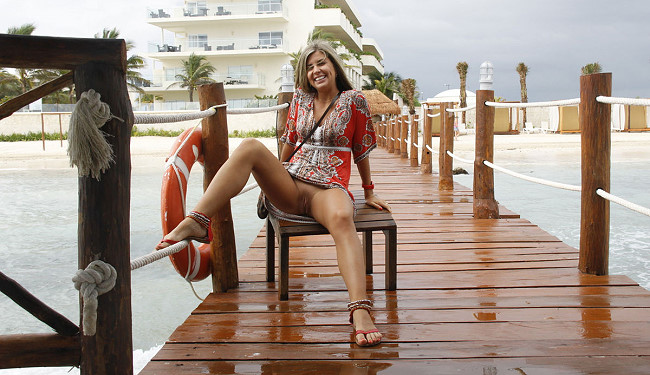 Previously on Orsm: MILF #6 - MILF #5 - MILF #4 - MILF #3 - MILF #2 - MILF #1 - MORE >>
A woman gives birth, and a nurse takes the baby into an adjacent room to clean it up. She re-enters and approaches the mother, the babe wrapped up in a towel in her arms.
"Congratulations" she says. "It's a healthy baby girl". As she says this, she accidentally drops the baby, which promptly lands right on its squishy noggin.
"My baby!" screams the mother.
"Don't worry, I'll get it!" smiles the nurse. However, she unfortunately stumbles and places her foot right on the baby's face, before accidentally kicking it across the room. It hits the wall with a sickening crack before the nurse runs over to it, peels it off the floor and throws it out of the window.
"WHAT ARE YOU DOING?!" yells the mother. "April Fools!" replies the nurse. "It was already dead!"
ORSM VIDEO
A man was having problems with premature ejaculation so he decided to go to the doctor.
He asked the doctor what he could do to cure his problem. The doctor said "When you feel you are ready to ejaculate try startling yourself". That same day the man went to the store and bought himself a starter pistol. All excited to try this suggestion he ran home to his wife.
At home he found his wife in bed naked and waiting. As the two began they found themselves in the 69 position. The man moments later felt the sudden urge to ejaculate and fired off the starter pistol.
The next day the man went back to the doctor. The doctor asked "How did it go?" The man answered "Not that well. When I fired the pistol my wife shit in my face, bit my penis, and my neighbour came out of the closet with his hands in the air".
GIRLS FROLICKING IN THE SURF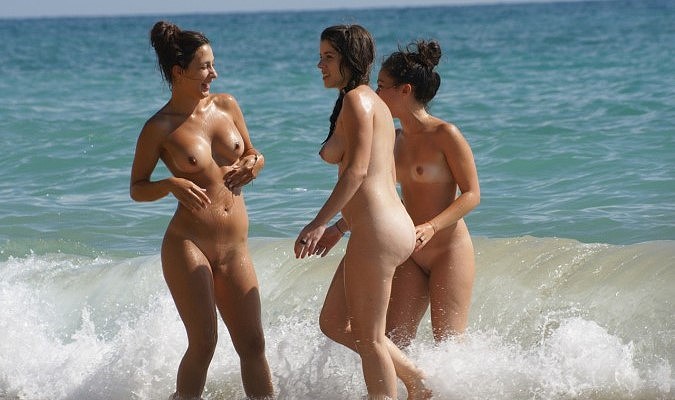 Previously on Orsm: GIRLS FROLICKING IN THE SURF #2 - GIRLS FROLICKING IN THE SURF #1 - MORE >>
Why is MyFreeCams.com one of the most awesome websites in the history of forever? Firstly, there are hundreds of hot models online at any given time AND you can watch their live webcam feed in HQ with sound AND chat. Secondly, you don't need a credit card or have to install any dodgy software - it's all absolutely free! And finally, why do I sound so fucking excited? Because MyFreeCams really is that brilliant. Click here to check it out now!
ORSM VIDEO
HOLLYWOOD HAS BEEN LYING TO US

-Jumping through windows is generally pain free.
-Egyptians lives revolve around pyramids.
-There is way more Jewish culture portrayed in the movies than the percentage of people practicing Judaism in the world.
-Sheets are L-shaped and the woman always gets the longest bit. Of sheet, that is.
-You can survive an atomic bomb explosion by going inside a refrigerator.
-People getting shot and continue to fight like nothing happens. While you rarely die in an instant, a gunshot wound is still a serious injury that incapacitates most people within minutes.
-Concussions don't exist.
-When in France, a person who just went to the grocery store always has two baguettes in their bag. In fact, the French never buy baguettes at the supermarket. They buy them at a Boulangerie.
-If you're stabbed the best thing to do is remove the knife.
-Violence is an excellent, and indeed optimal way, of resolving problems. Certainly better than negotiation, mediation or compromise. Compromise is a very bad thing.
-The FBI Behavioural Unit doesn't take over running investigation but provides guidance and specific parts of an investigation.
-High speed and violent car chases with criminals that involve a lot of crashes. Considering how often it is depicted in movies, it's actually very rare in real life. Something that dramatic would certainly make national news these days, and it has been years since I heard about the last incident worth mentioning.
-Nobody gets tired in a fight.
-American colleges are filled with hot white women and men, who either study history or psychology, or end up having sex almost every day at any point in time.
-If you are in a blast radius of three meters of a bomb being detonated you tend to die or severely injured not just get up and run like hell.
-French drink fine wine and write poetry under the stars.
-Women are always idiots when scared and run upstairs as if they've never seen a damned horror movie themselves. And they never fight back. If they have a weapon, they drop it or are useless with it.
-If you believe in yourself with determination and follow your dreams to be a superstar you will probably fail and end up in a normal job like everyone else.
-99.9% of aliens land in good old USA and speak bad/broken English.
-Brazilians play soccer in the day, and do samba all night.
-There are lot more African Americans at top positions in Hollywood films than in the real world.
-A few witty lines will not make beautiful exotic wealthy men/women fall in love with you.
-Not all Hispanic men are either gangbangers or gardeners.
-When you turn up and say "no time to explain, just get in the car you're in danger" she will correctly assume that you are a delusional idiot and call the police.
-Germans = Nazis. Russians = Commies/Criminals. Chinese = Kung Fu, Mexicans = Maids/Criminals, Indians = Bollywood/Techies. Every single American is a hero.
-There is no need to protect children from seeing dead bodies in films. Only naked ones.
-Knocking somebody out with one blow is not impossible but the default.
-Indians drive taxi in the day and work in call centres at night.
-Cars are shockingly indestructible and everyone is a racecar driver when they have to be.
-Almost in all war movies, the Americans always have a moral high ground. It is always them vs the evil.
-People who have slept together have none the less retained some items of clothing for modesty reasons, which have mysteriously remained unruffled and unstained.
-All scientists and engineers are nerds. All doctors and detectives are arrogant.
-Spies are always creating a huge ruckus while collecting intelligence or chasing a target. In reality, they are never supposed to be conspicuous. Plus, we never get to hear about the spies who sit in the office, a desk job, and analyse thousands of pages of data.
-It's easy in a shootout to shoot the other person in an area that will be lethal.
-Shooting from driving cars at other cars. The windshield always burst. The real fact is that it is freaking difficult to hit a moving object from a moving object especially when you are talking pistols and revolvers on a range that is exceeding 20 yards.
-Africans are eagerly waiting to entertain you with a lion.
-Every single man on the planet is secretly incredibly romantic and knows exactly what women want.
-Germans are inventing the next big machine in their backyard.
-All police investigators have temper issues, at some point they start yelling to get the truth.
-Bullets can travel under water.
-The President is almost always on a plane and he agrees with the common people. It is the vice-president and Chief Security Officers that want to attack or retaliate. But in the end, they realise their mistake.
-If someone calls and tells you to turn on the news all you have to do is turn on the TV and it's there.
-That when a woman has sex, she wakes up the following morning with her hair just barely tousled and all her makeup intact, and there's no such thing as morning breath.
-A CCTV camera can detect the face and number plates of a rogue in a car in 1080p resolution.
Enjoy this list? We got you covered. Find parts 1 and 2 in the Orsm Archives here and here. Souwce here.
ORSM VIDEO
A drunk staggers into a diner and orders a couple of eggs. The waiter, suspecting that they've run out, goes back to question the chef. "Hey, Gus, do we have any more eggs?" Frank replies "I ran out of fresh eggs, I only have two rotten eggs left". The waiter tells him "Give him the rotten eggs. He's so plastered he won't know the difference!"
Frank scrambles the rotten eggs, heaps on hash browns, sausage and toast. The drunk is so hungry, he wolfs down the breakfast without comment.
He goes to pay the cashier and asks "Where'd you get those eggs?" She answers "We have our own chicken farm".
The drunk asks her "Do you have a rooster?" "No" she says.
The drunk replies "Well, you'd better get one, because some skunk is screwing your chickens!"
LIBRARY FLASHERS BECAUSE WHO DOESN'T LOVE A NAUGHTY BOOKWORM?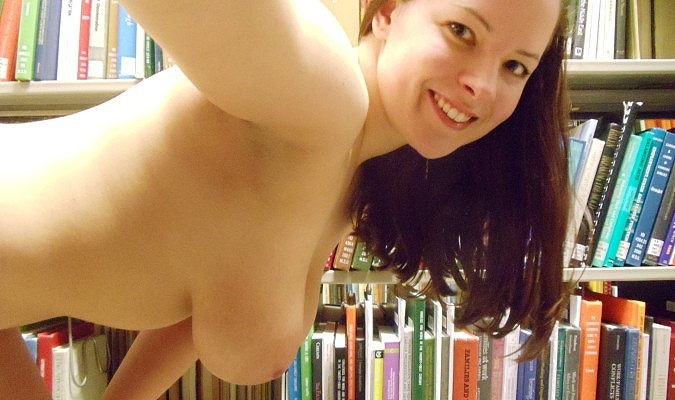 Previously on Orsm: LIBRARY FLASHING #2 - LIBRARY FLASHING #1 - MORE >>
On the outskirts of a small town, there was a big old pecan tree just inside the cemetery fence. One day, two boys filled up a bucketful of nuts and sat down by the tree, out of sight, and began dividing the nuts.
"One for you, one for me, one for you, one for me" said one boy. Several dropped and rolled down toward the fence.
Another boy came riding along the road on his bicycle. As he passed, he thought he heard voices from inside the cemetery, so he slowed down to investigate. Sure enough, he heard "One for you, one for me, one for you, one for me..."
He just knew what it was. He jumped back on his bike and rode off.
Just around the bend he met an old man with a cane, hobbling along. "Come here quick" said the boy "you won't believe what I heard! Satan and the Lord are down at the cemetery dividing up the souls!"
The man said "Beat it kid, can't you see it's hard for me to walk".
When the boy insisted though, the man hobbled slowly to the cemetery. Standing by the fence they heard "One for you, one for me. One for you, one for me".
The old man whispered "Boy, you've been tellin' me the truth. Let's see if we can see the Lord!"
Shaking with fear, they peered through the fence, yet were still unable to see anything.
The old man and the boy gripped the wrought iron bars of the fence tighter and tighter as they tried to get a glimpse of the Lord.
At last they heard "One for you, one for me. That's all. Now let's go get those nuts by the fence and we'll be done..."
They say the old man had the lead for a good half-mile before the kid on the bike passed him.
RANDOM SHITE
OLDER SHITE: 16th November - 9th November - 2nd November - 26th October - 19th October - 12th October - MORE >
PICTURE THIS: YOU GO TO A WEBSITE. HOOK UP WITH AN ACTUAL REAL GIRL. GET A BILL FOR $0. HERE'S HOW
At school little Johnny's class is learning about medicines. Sister Catherine, the teacher, asks the pupils what kind of medicines they know and what they are used for.
The first pupil said: "Tylenol?" "Very good! And what is it used for?" "It is used for a headache".
The second pupil said: "Nytol". "Excellent!" said Sister Catherine. "And what it is used for?" "To help you sleep" replied the student.
Now it is Johnny's turn and he said: "Viagra". "And what is it used for, Johnny?" asked the surprised Sister Catherine. "It is used for diarrhoea". "And who told you this, Johnny?" "Nobody, but every evening my mother tells my father "take a Viagra, and maybe that shit will get harder'".
nOT ALL WOMEN DRIVERS ARE BAD !!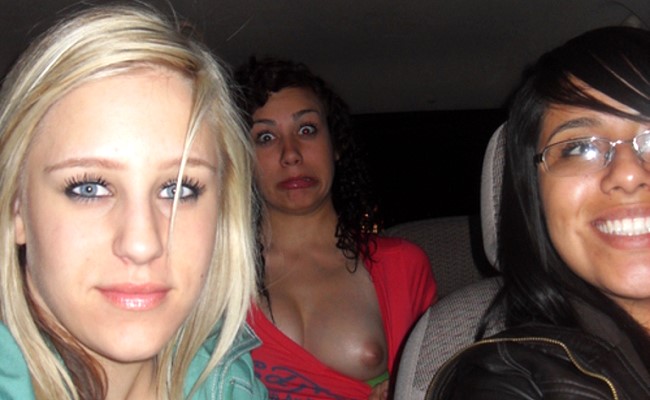 GIRLS IN CARS previously on Orsm: #10 - #9 - #8 - #7 - #6 - #5 - #4 - #3 - #2 - #1 - MORE >>
A little old lady goes into the store to do some shopping. She is bewildered over the large selection of toilet paper.
"Pardon me, sir" she says to the store manager "but can you explain the differences in all these toilet papers?"
"Well" he replies pointing out one brand "this is as soft as a baby's kiss. It's $1.50 per roll".
He grabs another and says "This is nice and soft as a bunny, strong but gentle, and it's $1.00 a roll".
Pointing to the bottom shelf he tells her "We call that our No Name brand, and it's 20 cents per roll".
"Give me the No Name" she says.
She comes back about a week later, seeks out the manager and says "Hey! I've got a name for your No Name toilet paper. I call it John Wayne". "Why?" he asks. "Because it's rough, it's tough and it don't take crap off anybody!"
PUBES ARE SO HOT RIGHT NOW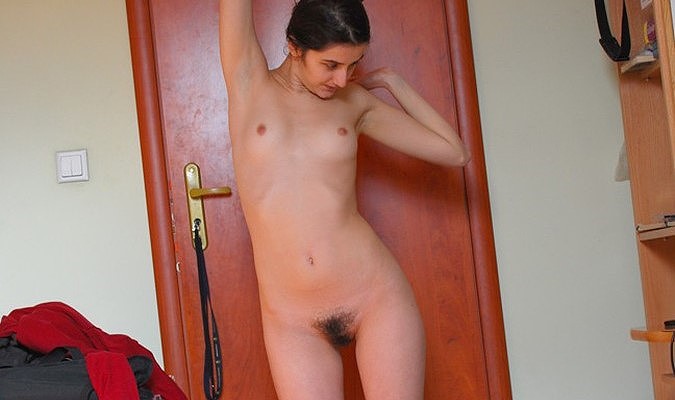 UNSHAVEN GIRLS previously on Orsm: #7 - #6 - #5 - #4 - #3 - #2 - #1 - MORE >>
ORSM VIDEO
The middle-aged man was visibly shaken when his Doctor advised that he had only 6 months to live because of the terminal disease that was detected during a recent physical check-up.
The Doctor suggested that he should get his 'house in order', make sure his will was current and ensure all final arrangements were in place for the funeral. He should then make plans to enjoy what might be left of his life, to the fullest.
"What will you do for the last six months?" asked the Doctor. His patient thought for a few moments then replied "I think I'll go and live with my mother-in-law".
Surprised by the answer, the doctor asked "Of all people, why in the hell would you want to live with your mother-in-law?" "Because it'll be the longest six months of my life!
LIRA is into some orgasmic shit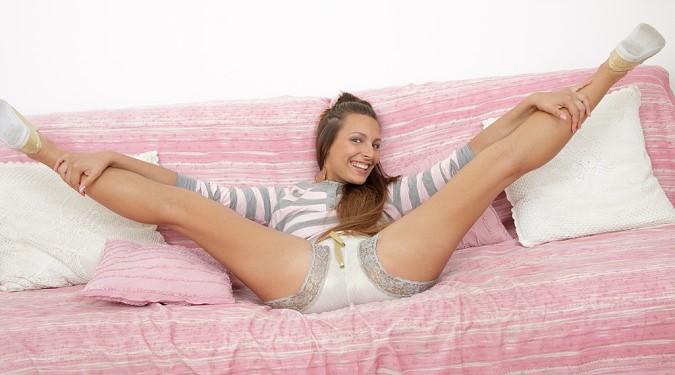 Previously on Orsm: NATASHA - CHARLOTTE - RITA - AUTUMN - SASHA - ARIEL - JUNE - ERIKA - NICOLE - MORE >>
Well that was big but do you know what is bigger? Let me tell ya...
-Follow me on Facebook and Twitter and Instagram. All the SFW stuff you see on Orsm now flows daily on to your favourite social network.
-Check out the archives. Dirtier than your mums cunt and mouth.
-Next update will be next Thursday. Fourth last for the year!!
-Tell your friends, family, colleagues, co-workers and neighbours to check out ORSM-DOT-NET else my friend Ray will make you take pity on him without even trying. Ray's enormous size is an undeniable disability. The same way you feel when you see a severely disabled person is how you'll feel when you see Ray. It's true - Ray is so fat that he falls asleep after eating.
-Need to clear your conscience? Judge me? Want to fight me? Threaten me? Sit on my lap and talk about the first thing that pops up? Show me the twins? Then go for it! Just make sure you email me here!
Until next time be good, stay off the chems and and eat with your hands. Enjoy. Mr. Orsm.