**this section is way, way, waaaaay out of date.
Welcome to the damn site! This page is here to answer a few questions that I receive from nosey readers [such as yourself] from time to time. First up why is this site here... well it's here because it keeps me amused and also appears to do the same for a whole heap of others. It was born out of me wanting to see how all this web stuff works and so far it's pretty cool.
For those of you that are wondering - Orsm is not short for Orgasm. It's a play on the word Awesome. Not that I am calling myself awesome or anything, it was just a cool license plate for my car at the time and just sort of stuck.
What will you find here? What won't you find here is more like it. When I first got online I got pretty tired, pretty quickly of not being able to find the stuff I was looking for AND find it for free. That's not to say ofcourse that I was just looking for porn [I'm not a complete weirdo/pervert!] - if you read through the archives, you'll see that I crap on about whatever it is that's taken my interest at the time. There's so many sites out there that have absolutely zero content and just link to more sites that do the same. Frustrating. Everything you'll find on this site is brought to you 100% free. You'll never have to pay for any of it. This sounds cheesy but I really do consider this YOUR site. Without you guys surfing here I probably wouldn't bother.
If you're here to just see naked chicks and shit like that, then I can almost guarantee satisfaction BUT don't go thinking this is just a porn site. It's a site that people can come to when they need a laugh, need something to help cure the boredom of the daily grind, or just waste some time on.
If you have any criticisms, any ideas or any abuse that you would like to send my way then gimme your best shot. It's all good. Don't like my site? That's fine. The site isn't here for you. Go elsewhere or stop your whinging.
How often do I update? Whenever I feel like it, when I have the time, when someone sends me something worth putting on the site, OR when I get sick of recieving the "get off your ass and update" emails but failing all that it's usually fortnightly.
About me? Not too much to tell really.
I'm 26, spend my spare time either sitting in front of my computer [I have a lot of spare time so I'm always here!], keeping my dog Milla occupied, cruising the coast like all the other dickheads and hanging out with my mates. I bought my first computer on 1st October 1999 and 'Orsm' was born about 8 or 9 months later. It looked a vastly different back then, some may say a little amateurish, but it served it's purpose in teaching me how to do all this web stuff. I wouldn't say the current design is going to take out any awards or anything but a big improvement on the last few designs it definitely is.
I was at school up until mid 2002 studying a Diploma of Network Engineering and getting my CCNA. I felt I'd finally got to the point where it was time to make a decision and either follow through with my classes and graduate or follow my instincts and move on to running Orsmnet fulltime. So far it's been the right move...
I'm also a qualified Cabinetmaker but cant do the heavy work anymore because I screwed my back up in a car accident in '99. Didn't like doing it anyways! There's nothing worse than coming home from work everyday covered head to toe in dust and dirt.
Full credit and huge thankyou's to DtM, Honer and Kook for all their help and input with everything so far. Much appreciated gu's - the site would likely not be here without you.
Oh yeah - here's the Beast... unfortunately the Beast was retired in April '99 thanks to some bastard that couldn't drive straight.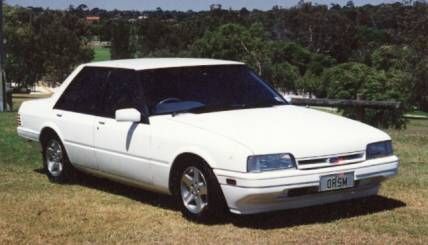 Pop-Quiz anyone? I get heaps of email from you guys wanting to know more about me. Although I don't really understand why, I filled out the following quiz thing to answer some questions.
1. LIVING ARRANGEMENT? In my own pad with the lads.
2. WHAT BOOK ARE YOU READING NOW? Not smart enough to read books!
3. WHAT'S ON YOUR MOUSE PAD? Mouse pad ?
4. FAVOURITE BOARD GAME? Operation!
5. FAVOURITE MAGAZINE? Street Machine magazine
6a. FAVOURITE SMELLS? Fresh After-Shave.
6b. LEAST FAVOURITE SMELLS? Vomit.
7. FAVOURITE SOUND? Farts!
8. WORST FEELING IN THE WORLD? When you shit your pants.
9. WHAT IS THE FIRST THING YOU THINK OF WHEN YOU WAKE UP IN THE MORNING? Must watch 'A Country Practice'.
10. FAVOURITE COLOUR? Blue ofcourse.
11. HOW MANY RINGS BEFORE YOU ANSWER THE PHONE? Depends whos calling! [Gotta love caller ID don't ya?]
12. FUTURE CHILD'S NAME? Fuck Face, Turd or Aggots.
13. WHAT IS MOST IMPORTANT IN LIFE? Friends, Family, and laughing at myself.
14. FAVOURITE FOODS? Anything except Gravy.
15. CHOCOLATE OR VANILLA? Chocolate for me please.
16. DO YOU LIKE TO DRIVE FAST? Shit yeah... only if I'm behind the wheel though.
17. DO YOU SLEEP WITH A STUFFED ANIMAL? No but I do have a 'security pillow.'
18. STORMS - COOL OR SCARY? Too cool.
19. WHAT TYPE WAS YOUR FIRST CAR? XF Ford Falcon.
20. IF YOU COULD MEET ONE PERSON DEAD OR ALIVE? Only one? Jack Nicholson. Michael Douglas. Al Pacino.
21. FAVOURITE ALCOHOLIC DRINK? DOCTOR PEPPER!!! [Alcoholic variety ofcourse]. Show me another alcoholic drink that beats one of those. For the uninitiated - 1/3 Beer, 1/3 Coca-Cola, 1/3 empty. Drop in shooter glass of Amaretto and finish in one mouthful.
22. WHAT IS YOUR ZODIAC SIGN? Virgo.
23. DO YOU EAT THE STEMS OF BROCCOLI? Oh shit yes.
24. IF YOU COULD HAVE ANY JOB YOU WANTED WHAT WOULD IT BE? Retiree.
25. IF YOU COULD DYE YOUR HAIR ANY COLOR? Peroxide Blonde.
26. EVER BEEN IN LOVE? Don't think so.
27. IS THE GLASS HALF EMPTY OR HALF FULL? Both.
28. FAVOURITE MOVIES: Shawshank Redemption, Bicentennial Man, Forrest Gump, Fifth Element, Top Gun, Demolition Man, Blood Sport...
29. DO YOU TYPE WITH YOUR FINGERS ON THE RIGHT KEYS? Hell no...
30. WHAT'S UNDER YOUR BED? Carpet... floor...
31. WHAT IS YOUR FAVOURITE NUMBER? 21!
32. FAVOURITE SPORT TO WATCH? Aussie Rules Football. The only REAL Football there is!
33. FAVOURITE WEB SITE/S: Orsm.Net, Fark.com, StileProject.Com
34. FAVOURITE PLACE YOU'VE VISITED? Dunsborough/Eagle Bay!!! Best place in the world and only 3 hours by car from where I sit.
35. FAVOURITE THING TO DO IN YOUR SPARE TIME? Play with dog and go cruising.
36. LAST BIG TICKET ITEM YOU PURCHASED? Paul Oakenfold - Unfortunately didn't get to stay for most of his set though... long story...
37. FINISH THIS STATEMENT: I KNOW I'M GETTING OLD WHEN... I stop making crude jokes, laughing at retarded people and looking hot chickee babes.
Anyways, enough about me. [does anyone really care!?]
Enjoy. Mr Orsm.