Welcome to the end of the beginning.
I had the week! You know the one where everything just breaks at once? THAT one. It actually started a few weeks ago when our Samsung refrigerator began freezing the fuck out of everything. I'm sure their tech support people were a little surprised a Samsung product was bunking the trend and not catching on fire. It took a bunch of phone calls and "press these 2 buttons for self-diagnostics mode" before they would send a repair guy by which point the problem had magically resolved itself. The technician must've thought I was a retard. His exact words were "We can't diagnose a problem we can't find". He would not make a good armchair psychologist.
Water... this has actually been going on for a while. Remember a little while back I mentioned a water main exploded a few doors down and they worked all night to fix it? Yes I knew you would. Ever since then our water has been randomly brown. Yeah yeah it's apparently safe to drink and the brown stuff is just stirred up sediment that's always in the pipes but who the fuck wants to drink brown water? How do we know something hasn't broken somewhere and we're drinking poop water? It now goes brown 2-3 times a week. Annoying AF.
Tuesday was when it all started to go pear shaped. Came home from some exercising and headed straight for the bathroom. Brushed my teeth and noticed that the water wasn't draining. The plug is one of those stupid press down types... and that's what I did... and that's where it stayed. So I was like "Fuck you, plug. You're not the boss of me!" and strode defiantly out to the other bathroom. Began brushing my teeth and noticed, again, that the water wasn't draining. The plug is one of those stupid press down types... and that's what I did... and that's where it stayed. I'm not sure what the odds of two different basin plugs seizing at exactly the same time are but... it must be rarer than something that is really, REALLY rare... like common sense... or skinny Americans... or funny Australians. Anyway I grabbed some tools, disassembled and found blockages of the nastiest goops ever seen. De-gooped and carried on.
Later in the day was electricity's turn. I've been electrocuted once before; way back in my factory days. There was the cocksmoker called Heath who worked there. He thought he was king shit but in reality he was just an abusive bully with inadequacy issues. Long story short, Heath behaved like an animal and was the one responsible for damaging a powerboard which I inadvertently put my finger in when trying to use it. Long, long story short, getting electrocuted fucking hurts. Anyway... I walked into the kitchen and noticed all the appliances were off. Go to the main board, flick the thingy back on but it immediately flicked back off. Over and over. Fuckerrrrr. I begin switching everything off and by process of elimination realise there's an outdoor power point full of water. No way I am touching the thing and still waiting for the electrician to show up and fix his crappy work.
Next was the laundry. I had been trying to wash a shirt I need for this weekend all day. Every time I put the washer on it would get ten minutes into the cycle, hang for another 10 or so then give an error code on the panel. It's an old washer; manual is long gone and the internet isn't much help. So I just start tinkering and eventually find a little drain thingy. Uncap it and water begins flushing out. No probs - it will just run into the nearby floor drain... which it did... but turns out that it was blocked too! Some light flooding, quite a bit of mopping and further disassembly later, I discovered a bra underwire had come loose and messed some shit up. Heroically removed the pieces, claimed victory, reminded everyone how lucky they were to have a person of my calibre living amongst them... and then noticed the washing machine was blocking up again. Lesson: in future just give it like 30 or so seconds before boasting.
It wasn't all bad though and this story thankfully has a happy ending. I was making breakfast this morning and needed Vegemite for my toast. Opened the cupboard, grabbed the Vegemite and heard a sudden *crack* as a jar of marmalade fell to its death. Suck shit marmalade - no one likes you!
The only other mentionable is our neighbour's laptop which inexplicably died and fell to me to repair. Several rounds of questioning took place because it just wasn't adding up. My expert diagnosis was ultimately that fiercely shaking a computer of any sort isn't good for it.
And that is that. Time to get on with it and I'm back with a brand new invention. Check it...

Huuuge Balls!Courageous Pilots Fly Straight Into The Eye Of Hurricane Matthew - Killer ClownsThese Insane, Seriously Disturbing Scare Pranks Are Complete Nightmare Fuel - Classic Ali GFarmer Loses His Will To Live After An Interview With Ali G. I Have Never Seen This One Before! - Look Again!50 Completely Innocent SFW Photos That Will Conclusively Prove You Have A Dirty Mind - Twolling Wight?Satanist Girl Has Football Down To A Science - Target Porn!An Outside Caller Tricked The Operator Into Transferring Their Call To An Extension That Happened To Be For The Overhead Speakers... Then They Just Played Porn Audio Down The Line! - Awkward AsianI've Never Seen Someone So Happy To Get Gang Banged In The Mouth...But I Guess Anything Beats Being Back Home Making Soccer Balls In The Rice Fields. - OH FFS!College Student Given Failing Grade After Accidentally Referencing Porn Star - *BOOM*Landmine Defusing Goes Wrong


Boob TypesExperts Have Revealed That There Are Nine Official Types Of Breasts - Ultra SexyOlympia Valance Areola Peek On The Red Carpet - Stunning KylieBusty Blonde Kylie Page In The Shower! This Is Outstanding. She Is Outstanding! - Hipster HuneeJulia Decker Is An Instagram Model Who Gets Naked For Her Photographer Friends. Really You Don't Even Need To Be That Hot To Make It On Insta, You Just Need To Get Naked... - Ffffffuuuck!Suicidal Man Leaves Nothing To Chance - 70's PornogThe 70's Weren't Just About HAIRY COCKS AND PUSSIES.... These Freaks Were DEVIANT As FUCK! - Wife PloughedShe Got Him A Camera For Their Anniversary. And He Filmed Her Getting Railed From Behind By A Strange Cock. - Punks FuckWhen They're Not Slam Dancing And Screaming Anarchy, These 2 Punks Like To Strip Down A Fuck Like Rabid Monkeys. - Double A


Kinky TeenKinky American Blonde Teen Is So Fucking Hot With Those Big Tits And Curvy Ass - Incredi-blowI've Never Seen A Girl Do This With Her Hair... But I'd Love To Try It! - Blasted AF!Maybe Its The Residual Radiation In The Air.....Or All The Sushi. But These Cock Explosions Would Make Godzilla Proud! - PoképornThe Only Way She'll Fuck Is If She's Dressed Like Pokemon? - Ferris SlutWhen It's Time To Cut Your Girlfriend Off... - Cuban GoddessRachel Vallori Is Naked For Some Famous Photographer You've Never Heard Of. - Fake...?Fake...? - Fitness BabeHere's Big Boob Cara Ruby Getting Naked After A Workout! I'd Like To Give Her Another Workout In The Shower If Ya Know What I Mean!!? - Hard NipsAshley James Rock Hard Pokies While Out On A Walk - Hotttt!!Busty Blonde Wants To Get Her Boobs Bigger


A man and a wife were in bed one morning when the wife said "I had a strange dream last night. I dreamed I was at a penis auction. Long penises were going for $100 and thick penises were going for $300". The husband asked "What would mine go for?" The wife replied "They were giving ones like yours away for free". The husband said "I also had a dream last night about an auction where they were selling juicy vaginas for $500 and tight vaginas for $1,000". "How about mine?" the wife asked and the husband replied "That was where they were holding the auction".
--
I was walking down the street and I punched of a white guy and then I was arrested for assault. The next day after I got out, I punched a black guy and I was arrested for impersonating a police officer.
--
Maria, a devout Catholic, got married and had 15 children. After her first husband died, she remarried and had 15 more children. A few weeks after her second husband died, Maria also passed away. At Maria's funeral, the priest looked skyward and said "At last, they're finally together". Her sister sitting in the front row said "Excuse me, Father, but do you mean she and her first husband, or she and her second husband?" The priest replied "I mean her legs".
--
During his monthly visit to the corner barbershop, this fellow asked his barber for any suggestions on how to treat his increasing baldness. After a brief pause, the barber leaned over and confided that the best thing he'd come across was, err, 'female juices'. "But you're balder than I am" protested the customer. "True" admitted the barber "but you've gotta admit I've got one hell of a moustache!"
ORSM VIDEO
IT'S PROBABLY THE BEST THING TO EVER HAPPEN TO ONLINE PORN. SERIOUSLY. EVER. HERE'S WHY YOU'LL CARE
A Catholic Priest, a Baptist Preacher and a Rabbi all served as Chaplains at a local university. They would get together two or three times a week for coffee and to talk shop. One day, someone made the comment that preaching to people isn't really all that hard, a real challenge would be to preach to a bear.
One thing led to another, and they decided to do an experiment. They would all go out into the woods, find a bear, preach to it, and attempt to convert it to their religion.
Seven days later, they all came together to discuss their experiences.
Father Flannery, who had his arm in a sling, was on crutches, and had various bandages on his body and limbs, went first.
"Well" he said "I went into the woods to find me a bear. And when I found him, I began to read to him from the Catechism. Well, that bear wanted nothing to do with me and began to slap me around. So I quickly grabbed my holy water, sprinkled him and, Holy Mary Mother of God, he became as gentle as a lamb. The Bishop is coming out next week to give him first communion and confirmation".
Reverend Billy Bob the Baptist, spoke next. He was in a wheelchair, had one arm and both legs in casts, and had an IV drip.
In his best fire-and-brimstone oratory, he exclaimed "WELL, brothers, you KNOW that we Baptists don't sprinkle! I went out and I FOUND me a bear, and then I began to read to my bear from God's HOLY WORD! But that bear wanted nothing to do with me. So I took HOLD of him and we began to wrestle. We wrestled down one hill, UP another and DOWN another until we came to a creek. So I quickly DUNKED him and BAPTIZED his hairy soul. And just like you said, he became as gentle as a lamb. We spent the rest of the day praising Jesus. Hallelujah!"
The Priest and the Reverend both looked down at the Rabbi, who was lying in a hospital bed. He was in a body cast and traction with IVs and monitors running in and out of him. He was in really bad shape.
The Rabbi looked up and said: "Looking back on it, circumcision may not have been the best way to start".
THE REAL SEXY WIVES OF THE INTERNET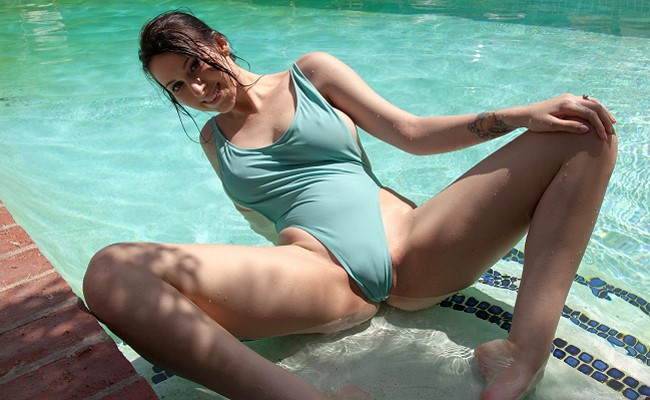 DEA officer stops at a ranch in Texas, and talks with an old rancher. He tells the rancher "I need to inspect your ranch for illegally grown drugs". The rancher says "Okay, but do not go in that field over there" as he points out the location.
The DEA officer verbally explodes saying "Mister, I have the authority of the Federal Government with me". Reaching into his rear pants pocket, he removes his badge and proudly displays it to the rancher. "See this badge? This badge means I am allowed to go wherever I wish.... on ANY land. No questions asked or answers given. Have I made myself clear? Do you understand?"
The rancher nods politely, apologises, and goes about his chores.
A short time later, the old rancher hears loud screams and sees the DEA officer running for his life chased by the rancher's big Santa Gertrudis bull!
With every step the bull is gaining ground on the officer, and it seems likely that he'll get gored before he reaches safety. The officer is clearly terrified.
The rancher throws down his tools, runs to the fence and yells at the top of his lungs... "Your badge! Show him your BADGE!!"
ORSM VIDEO
A woman is learning how to golf. She has been teaching herself to play for more than three months and she is really bad. She decides to consult a golf pro.
When she sees the golf pro, she explains how bad she is and he tells her to go ahead and hit the ball. She does. The ball goes about 50 yards into the brush slicing to the right. The golf pro says to the woman "I can see that you have a lot of problems. Your stance is bad, your head is all over the place, and the worst thing is that grip".
When she asks what can be done to fix the situation, he suggests "Grab the club gently, as if you were grabbing your husband's 'club'. When the feeling is right, go ahead and swing". She does just that and the ball goes off the tee perfectly straight for about 275 yards.
The golf pro says to the woman "That is unbelievable, I didn't think you would do that well. But now on to your next problem... how are we going to get that golf club out of your mouth?"
36 SECRETARIES WHO DO SO MUCH MORE THAN ANSWER THE PHONE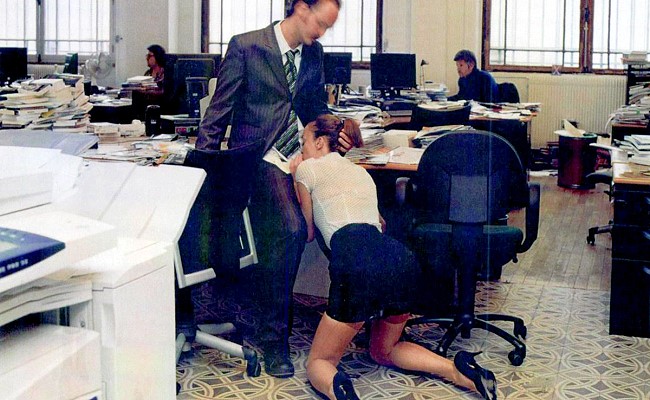 Why is MyFreeCams.com one of the most awesome websites in the history of forever? Firstly, there are hundreds of hot models online at any given time AND you can watch their live webcam feed in HQ with sound AND chat. Secondly, you don't need a credit card or have to install any dodgy software - it's all absolutely free! And finally, why do I sound so fucking excited? Because MyFreeCams really is that brilliant. Click here to check it out now!
ORSM VIDEO
The FBI is considering three men to be hired. They bring them in to speak with the interviewer separately.
The first man comes in and sits down. The interviewer asks him "Do you love your wife?" He replies "Yes I do, sir". "Do you love your country?" asks the interviewer. "Yes I do, sir". Interviewer continues "What do you love more, your wife or your country?" he replies "My country, sir". The interviewer looks at the man "Okay. We brought in your wife. Take this gun and go into the next room and kill her".

The man goes into the room, and all is silent for about 5 minutes. He comes back, with his tie loosened and he is all sweaty. He puts down the gun and leaves.
The second guy comes in and sits down. The interviewer asks him the same questions, and the responses are the same. The interviewer gives him a gun, and tells him to go kill his wife. The guy puts the gun down and says "I can't do it..."

The third guy comes in, the same thing happens. The interviewer gives him a gun, and tells him to go kill his wife. The guy goes into the room, and BLAM! BLAM! BLAM! BLAM! BLAM! BLAM! This is followed by a bunch of crashing sounds that end after a few minutes.
The guy comes out of the room with his tie loosened, and puts the gun on the table.
The interviewer looks at him and says "What happened?!?!" to which the guy replies "The gun you gave me was filled with blanks so I had to strangle her!"
ORSM VIDEO
Want to contribute to Orsm? Just click here and do eeeet!!
An old man is walking down the street one afternoon when he sees a woman with perfect breasts.
He says to her "Hey miss, would you let me BITE your breasts for $100?" "Are you nuts?!" she replies, and keeps walking away.
He turns around, runs around the block and gets to the corner before she does. "Would you let me bite your breasts for $1,000?" he asks again. "Listen you! I'm not that kind of woman! Got it!!"
So the little old man runs around the next block and faces her again "Would you let me bite your breasts -just once- for $10,000?!" She thinks about it for a while and says "Hmmm $10,000... okay just once, but not here. Let's go to that dark alley over there".
So they go into the alley, where she takes off her blouse to reveal the most perfect breasts in the world. As soon as he sees them, he grabs them and starts caressing them, fondling them slowly, kissing them, licking them, burying his face in them - but not biting them!
The woman finally gets annoyed and asks, 'Well? Are you gonna bite them or not?" "Nah" says the little old man... "too expensive!"
GOING NUDE IN PUBLIC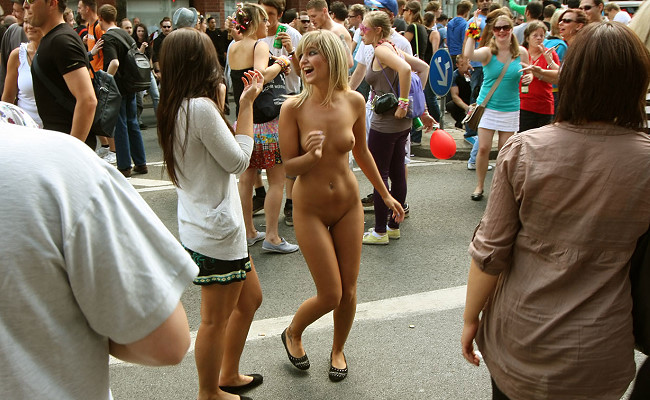 A man came home from work, sat down in his favourite chair, turned on the TV, and said to his wife "Quick, bring me a beer before its starts!"
She looked a little puzzled, but brought him a beer. When he finished it, he said "Quick, bring me another beer. It's gonna start!"
This time she looked a little angry, but brought him a beer.
When it was gone, he said "Quick, another beer before it starts!"
"THAT'S IT!" She blows her top "You bastard! You waltz in here, flop your fat ass down, don't even say hello to me and then expect me to run around like your slave. Don't you realise that I cook and clean and wash and iron all day long!?"
"The husband sighed "Oh shit... it's started..."
RANDOM SHITE
PICTURE THIS: YOU GO TO A WEBSITE. HOOK UP WITH AN ACTUAL REAL GIRL. GET A BILL FOR $0. HERE'S HOW
One by one, all the senior members of the company's Board of Directors were called into the chairman's office until only Ted, the junior member, was left sitting outside.
Finally it was his turn to be summoned. He entered the office to find the chairman and the other ten directors seated around a table. He was invited to join them, which he did.
As soon as he sat down, the chairman turned to Ted, looked him squarely in the eye, and with a stern voice, asked "Have you ever had sex with Mrs. Foyt, my secretary?"
"Oh, no, sir, positively not!" Ted replied. "Are you absolutely sure?" asked the chairman "Honest, I've never been close enough to even touch her!" "You'd swear to that?" "Yes, I swear I've never had sex with Mrs. Foyt, anytime, anywhere" insisted Ted.
"Good... then you fire her".
ANYONE WHO SAYS BIG BOOBS AREN'T IMPORTANT IS WRONG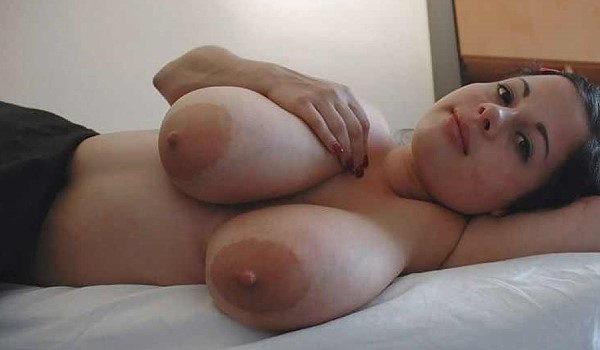 A couple decided to head to Alaska for a romantic weekend.
When they got to the cabin it was cold so the wife asked her husband to go chop some wood for that fire place. He came in after 5 minutes and told his wife that his hands were cold, so she said her put your hands between my thighs to warm them.
So he did and went back outside to finish chopping wood. He came in after another 5 minutes and said "Honey my hands are cold again". So she tells him here put your hands between my thighs to warm them. So he did and then he went back out to chop some more wood.
5 minutes has passed and he went in again and said "Honey my hands are cold again". She then said "Damn don't your ears ever get cold?"
LET'S HEAR IT FOR SOLO FUN WITH A VIBRATOR!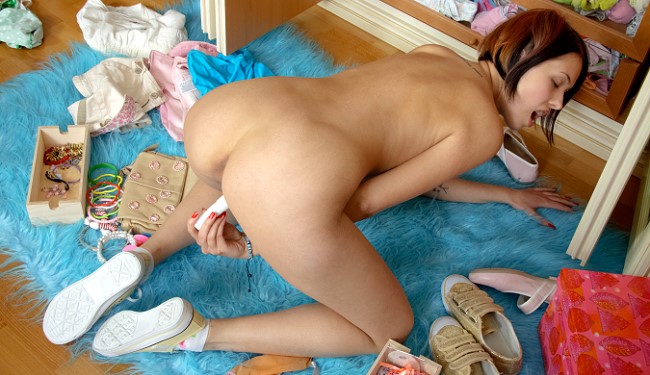 Tony had just finished reading a new book entitled, 'You Can Be The Man of Your House.'
He stormed to his wife in the kitchen and announced "From now on, you need to know that I am the man of this house and my word is Law. You will prepare me a gourmet meal tonight, and when I'm finished eating my meal, you will serve me a sumptuous dessert. After dinner, you are going to go upstairs with me and we will have the kind of sex that I want. Afterwards, you are going to draw me a bath so I can relax. You will wash my back and towel me dry and bring me my robe. Then, you will massage my feet and hands. Then tomorrow, guess who's going to dress me and comb my hair?"
His wife paused for a moment before replying "Probably the fucking funeral director would be my guess".
ORSM VIDEO
Aaaaaaaaaaaaaaaaaaaaaaaaaaaaaaaaaaaaaaaaaaaaaaaaaaaaaaaaaaaaaaaaaaaaaaaaaaaaaaaaaaaaaaaaand done.
-Follow me on Facebook and Twitter and Instagram. All the SFW stuff you see on Orsm now flows daily on to your favourite social network.
-Check out the archives. They like when you look at them like that.
-Next update will be next Tuesday... if Tuesday is the new way to spell Thursday.
-Tell your friends, family, colleagues, co-workers and neighbours to check out ORSM-DOT-NET else my friend Ray will grab you by the pussy.
-Need to clear your conscience? Judge me? Want to fight me? Threaten me? Sit on my lap and talk about the first thing that pops up? Show me the twins? Then go for it! Just make sure you email me here!
Until next time be good, stay off the chems and tongue my balls, baby. Enjoy. Mr. Orsm.