Missy Quinn, 16, in her £16,000 wedding dress, has enjoyed a £100,000 white wedding paid for by her father who lives in a caravan In the end, making Missy's wedding dreams come true cost her father - who lives in a caravan and surfaces driveways for a living - a whopping £100,000. But as his princess, who hasn't been in a classroom since she was nine and wants to be a glamour model, posed for photographs, her father Simon, 35, declared it was worth every penny. 'I'm very proud of her today,' he said. Missy was just happy to be the undisputed centre of attention. Her dress, studded with Swarovski crystals, and with a 10ft wide train, was so heavy that it took ten guests to help her struggle out of the Rolls-Royce Phantom that brought her to the church.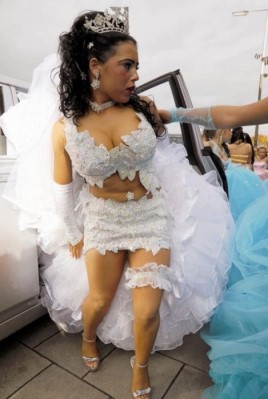 Missy with groom Thomas Moghon, 17, her mother Theresa and father Simon 'It was huge. I wanted to outdo everyone else's wedding dress,' she said. 'It was extremely heavy and just standing in the church was really difficult. But despite all that, I felt just like Cinderella.' The bill was around five times the cost of the average British wedding. Missy said: 'It cost a fortune, but I've always wanted a big wedding and my dad has been saving for ages to pay for it.' She met Thomas at Alton Towers theme park when she was 13.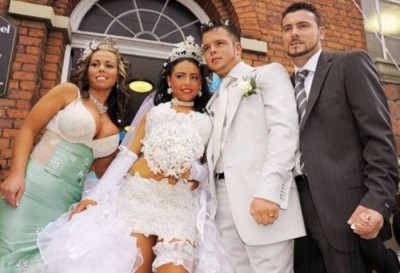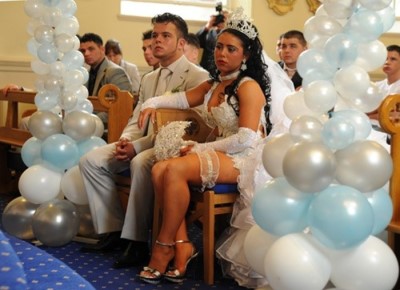 They continued to date despite her traveller family leaving their caravan park in Stoke-on-Trent every summer to tour the UK while Thomas lived with his parents in Wolverhampton. Missy said: 'I just knew he was The One from the beginning. He's perfect.' Her mother Theresa, 33, who married Missy's father at 16, said: 'I was surprised they wanted to get married so young in this day and age. But we could see they were madly in love.' The couple married six days after Missy turned 16 at St Mary's Catholic Church in Congleton-Cheshire. After the ceremony-guests in feathers and crystals enjoyed champagne and an all-day buffet at the reception. Girls as young as nine showed off bikini tops, high heels and make-up. Guest Victoria Docherty, 23, who wore a £700 hotpants and bra outfit, said: 'This isn't unusual - it's just what we do at weddings. It's all very extravagant. Everything is paid for by the bride's daddy.' Missy and Thomas honeymooned in Turkey before moving into their own £18,000 caravan - a wedding gift from her parents.