Hello boys and girl, men, women, and insignificant others. Here we are once again two long weeks since the last update so I shall do what I always do and welcome anyone who is new to the site... so welcome.
Winter is finally upon us although we haven't had tonnes of rain yet ... it's just been fucking cold. It seems to have gone from "oh I how I love you sweet sweet air-conditioner" to something about me caving and wanting to buy a mini heater for my bedroom. Maybe I'll just switch the ceiling fan off for the next few months and see if that helps...
My only real highlight, if you would call it that, of the last few weeks is that I am currently living all on my lonesome. As yet we haven't found a new housemate to share with us and my other roomie is on an extended holiday up north for the next 4-5 weeks.
So finally my wish has come true - I'm living by myself and YES it is everything I hoped it would be and more! By far the best thing is that fact that there is no noise in the house... no one to use the shower or slam a door at 7am on their way to work when I've only been asleep for 3 hours and no one looking over my shoulder watching what I'm doing when I'm trying to work. Basically way less distractions than usual which is allowing me to be way more productive that I normally am.
Aside from all that there hasn't been a hell of a lot going on. Now that we've entered this season of perpetual cold it limits what you can do. For instance, I can't always repair the lawn that the dog has destroyed for no apparent reason because a) its raining b) not everyone carries roll-on lawn this time of year and c) grass doesn't grow too well when it's cold so I end up having to replace it again anyway.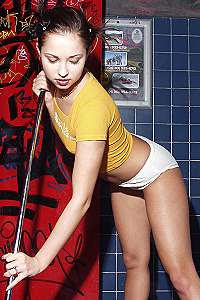 This being the case I tried a different approach earlier this week. Normally Milla [the aforementioned dog] sleeps in the laundry with the door semi-ajar so she can come in and out as she pleases but not into the actual house itself. It occurred to me that if I let her have free reign of the place at nite time she would just sleep on the couch and possibly leave my poor lawn alone. It didn't take long for me to realise that my plan was flawed after she set up camp outside my bedroom and made whimpering noises for the next couple of hours until I finally fell asleep. Needless to say my plan failed and the lawn was no better off come morning.
This is undoubtedly the most fucking annoying thing about dog ownership. I can deal with cleaning up shit and taking her for a walk when I really can't be bothered but NOTHING in this world annoys me more than waking up and seeing the lawn completely trashed. I love her to death and don't regret getting a dog one bit but my best advice is if you are thinking about getting a pooch of your own is to make sure you KNOW what you are getting in to.
Another favourite past time of mine to fall by the wayside for the foreseeable future is being able to jump in the car and go for a Sunday cruise. The quintessential goal behind cruising is to check out the chicks... which is of course followed closely by the typical Holden/Ford rivalry [ie. my car is better than yours so fuck off] but obviously at this time of the year there's limited people out and about which means no hot babes along the coast parading their bits in bikinis.
I can handle the cold, I can handle no cruising, I can even just handle my car being winter dirty but I sure as hell am going to miss watching the chicks strut their stuff... at least for the next 6 months anyway.
Well, I suppose it's not as bad as it seems cause I can always see chicks on the beach from the northern hemisphere struting their stuff on BeachBods.com. BeachBods is a site put together by the guys from NewbieNudes.com. Same great self-posted photo theme, but all pics of hot ppl on beaches, rather than just the full on nudity that NewbieNudes provides.
I can think of two reasons why you haven't checked out Revenge TV yet. First up it's because you are new to the net and haven't heard about what will long be remembered as one of the greatest sites to ever be surfed. Secondly, because you are a spastic. This is truly the ultimate revenge site - thousands of vids and pics of ex's that managed to leave a jilted lover in their wake. How does that jilted lover get his own back? Revenge TV is how! Click here to see what I mean..
Ever heard of MyFreePaysite.com? It's the web's only FREE adult megasite where you can see the hundreds of nude webcam girls, check out the Voyeur Dorm, watch Snoop Dogg fuck bitches while he raps about it, and even download the Paris Hilton video all for free. Plus they've got tons of streaming full-length porn movies. And all you need is an email addresss to join! Shit, they'll even let you signup with a free hotmail account! You will not believe this, just go over there for yourself and have a look!
The amazing Lindsay Lohan in some deluxe nip slip action...
The Bali-Mooners - 40 Mistakes Of Sex - The Personal Trainer - Bad Neighbour - Nigerian Mail Scam - S or SE?
Fully Sick - The Berg Theory - The Ultimate Job - Buy Your Own Island - Cool Nerd Mods - 50 Free HP

A couple were going out for the evening. They'd gotten ready, all dolled up, dog put out, etc. The taxi arrives, and as the couple start out, the dog shoots back in the house. They don't want the dog shut in the house, so the wife goes out to the taxi while the husband goes upstairs to chase the dog out.
The wife, not wanting it known that the house will be empty explains to the taxi driver:"He's just going upstairs to say good-bye to my mother."A few minutes later, the husband gets into the cab.
"Sorry I took so long" he says. "Stupid bitch was hiding under the bed and I had to poke her with a coat hanger to get her to come out! Then I had to wrap her in a blanket to keep her from scratching and biting me as I hauled her ass downstairs and tossed her in the back yard! She better not shit in the vegetable garden again either!"
The silence in the cab was deafening.
A priest, a Pentecostal preacher and a rabbi all served as chaplains to the students of Northern Michigan University in Marquette. They would get together two or three times a week for coffee and to talk shop.
One day, someone made the comment that preaching to people isn't really that hard. A real challenge would be to preach to a bear. One thing led to another, and they decided to do a seven-day experiment. They would each go into the woods, find a bear, and preach to it.
A week later, they're all together to discuss the experience. Father O'Flannery, who has his arm in a sling, is on crutches, and has various bandages, goes first. "Well," he says, in a fine Irish brogue, 'Ey wint oot into th' woods to find me a bear. Oond when Ey fund him Ey began to read to him from the Baltimorre Catechism. Well, that bear wanted naught to do with' me and begun to slap me aboot. So I quick grabbed me holy water and, THE SAINTS BE PRAISED, he became as gentle as a lamb. The bishop is cooming oot next wik to give him fierst communion und confierrmation."
Reverend Billy Bob spoke next. He was in a wheelchair, with an arm and both legs in casts. In his best fire and brimstone oratory he proclaimed, "WELL, brothers, you KNOW that we don't sprinkle... WE DUNK! I went out and I FOUND me a bear. And then I began to read to him from God's HOOOOLY WORD! But that bear wanted nothing to do with me. I SAY NO! He wanted NOTHING to do with me. So I took HOOOLD of him and we began to rassle.
We rassled down one hill, UP another and DOWN another until we come to a crick. So I quick DUNK him and BAPTIZE his hairy soul. An' jus like you sez, he wuz gentle as a lamb. We spent the rest of the week in fellowship, feasting on God's HOOOOLY word."
They both look down at the rabbi, who is lying in a hospital bed. He's in a body cast and traction, with IV's and monitors running in and out of him.
The rabbi looks up and says, "Oy! Preaching to the bear was easy, but he got a bit touchy about the circumcision."
Three women go down to New Mexico one night, get drunk, and wake up in jail, only to find that they are to be executed in the morning, though none of them can remember what they did the night before.
The first one, a redhead, is strapped in the electric chair, and is asked if she has any last words. She says, "I am from Grace University, and believe in the almighty power of God to intervene on the behalf of the innocent." They throw the switch and nothing happens. They all immediately prostate themselves; beg for her forgiveness, and release her.
The second one, a brunette, is strapped in and gives her last words, "I am from the Creighton School of Law and I believe in the power of justice to intervene on the part of the innocent." They throw the switch and, again, nothing happens. Again, they all immediately prostate themselves; beg for her forgiveness, and release her.
The last one, a blonde, is strapped in and says, "Well, I'm from the Auburn University , Auburn, Alabama and I just graduated with a degree in Electrical Engineering, and I'll tell you right now, you ain't gonna electrocute nobody if you don't plug this thing in."
A travelling salesman visits a small town in the north and sees a circus banner reading "Don't miss the amazing Scotsman."
Curious, he buys a ticket. The tent goes dark. Suddenly, trumpets blare and all eyes turn to the centre ring. There, spot lit in the centre ring is a table with three walnuts on it. Standing next to the table is an old Scotsman. Suddenly the old man lifts his kilt, whips out a huge penis and smashes all three walnuts with three mighty swings. The crowd erupts in rapturous applause as the elderly Scot is carried off on the shoulders of the crowd.
Twenty years later the salesman visits the same little town and he sees a faded sign for the same circus and the same "Don't miss the amazing Scotsman."
He can't believe the old guy is still alive, never mind still doing his act. So, he buys a ticket. Again the centre ring is illuminated. This time instead of walnuts, three coconuts are placed on the table. The Scotsman stands before them, suddenly, he lifts his kilt and smashes the coconuts with three swings of his magnificent member. The crowd goes wild!
Flabbergasted the salesman requests a meeting with him after the show. "You are incredible," he tells the Scotsman. "But I have to know something; you are older now, so why switch from walnuts to coconuts?
"Well," says the Scot, "My eyesight's not what it used to be."
The last four ex-U.S. Presidents are caught in a tornado, and off they whirled to OZ. They finally make it to the Emerald City and stand before the Great Wizard.
"WHAT BRINGS YOU BEFORE THE GREAT WIZARD OF OZ?" Jimmy Carter steps forward timidly, "I've come for some courage." "NO PROBLEM!" says the Wizard. "WHO IS NEXT?" Ronald Reagan steps forward, "Well... I... I think I need a brain." "DONE," says the Wizard. "WHO COMES NEXT BEFORE THE GREAT AND POWERFUL?" Up steps George Bush Snr sadly, "I'm told by the American people that I need a heart." "CONSIDER IT DONE." says the Wizard.
There is a great silence in the hall. Bill Clinton is just standing there, looking around intently, but doesn't say a word. Irritated, the Wizard finally asks, "WHAT DO YOU WANT?" "Is Dorothy here?"
| | |
| --- | --- |
| I've got absolutely no idea where this little gem came from... just one of the hundreds of thousands of files on my coomputer that seem to randomly appear out of no where. Regardless, I can say with all honesty that it's one of the funniest clip's I have seen posted on the site in a very long time... or at least since that grape stomping vid from a while back. Check it... | |
A farmer named Clyde had a car accident. In court, the trucking company's fancy lawyer was questioning Clyde. "Didn't you say, at the scene of the accident, 'I'm fine,'" asked the lawyer. Clyde responded, "Well, I'll tell you what happened. I had just loaded my favourite mule, Bessie, into the..."

"I didn't ask for any details", the lawyer interrupted. "Just answer the question. Did you not say, at the scene of the accident, 'I'm fine!'?" Clyde said, "Well, I had just got Bessie into the trailer and I was driving down the road...."

The lawyer interrupted again and said, "Judge, I am trying to establish the fact that, at the scene of the accident, this man told the Highway Patrolman on the scene that he was just fine. Now several weeks after the accident he is trying to sue my client. I believe he is a fraud. Please tell him to simply answer the question."

By this time, the Judge was fairly interested in Clyde's answer and said to the lawyer, "I'd like to hear what he has to say about his favourite mule, Bessie".

Clyde thanked the Judge and proceeded, "Well as I was saying, I had just loaded Bessie, my favourite mule, into the trailer and was driving her down the highway when this huge semi-truck and trailer ran the stop sign and smacked my truck right in the side. I was thrown into one ditch and Bessie was thrown into the other. I was hurting, real bad and didn't want to move. However, I could hear ole Bessie moaning and groaning. I knew she was in terrible shape just by her groans.

Shortly after the accident a Highway Patrolman came on the scene. He could hear Bessie moaning and groaning so he went over to her. After he looked at her, he took out his gun and shot her between the eyes. Then the Patrolman came across the road, gun in hand, looked at me, and said "How are you feeling?"
"Now what the hell would you say?"
Two Indian families immigrate to Australia. The fathers of both families are keen to integrate into Australian society, so they decided to have a competition to see after one year who was more Australian.
After one year they get together. The first guy goes "I'm so Australian, I own a house with a quarter acre block, I drink beer, I love vegemite, I smoke, I own a Holden and I'm about run down to the pub and put a bet on the horses and pick up another slab of beer!"
To which the other replies "Fuck off you towel-head curry muncher."
In Jerusalem, an American female journalist heard about an old Rabbi who visited the Wailing Wall to pray, twice a day everydayfor a long, long time.

In an effort to check out the story, she goes to the holy site and there he is. She watches the old man at prayer and after about 45 minutes, and when he turns to leave she approaches him for an interview. "I'm Rebecca Smith from CNN, sir, how long have you been coming to the Wailing Wall and praying?"

"For about 50 years," he informs her. "That's amazing! What do you pray for?" "I pray for peace between the Jews and Arabs. I pray for all the hatred to stop and I pray for all our children to grow up in safety and friendship."

"And how do you feel, sir, after doing this for 50 years?" "Like I'm talking to a fucking brick wall."
One day God calls down to Noah and says, "Noah me old china, I want you to make me a new Ark". Noah replies, "No probs God, me old Supreme Being anything you want after all you're the guv..."
But God interrupts, "Ah, but there's a catch. This time Noah, I want not just a couple of decks... I want 20 decks one on top of the other". "20 DECKS!", screams Noah. "Well, OK Big Man, whatever you say. Should I fill it up with all the animals just like last time?"
"Yep, that's right, well... sort of right... this time I want you to fill it up with fish", God answers. "Fish?", queries Noah "Yep, fish... well to make it more specific Noah, I want carp - wall to wall, floor to ceiling - Carp!"
Noah looks to the skies. "OK God my old mucker, let me get this right, you want a New Ark?" "Check". "With 20 decks, one on top of the other?" "Check". "And you want it full of Carp?". "Check"
"Why?" asks the perplexed Noah, who was slowly but surely getting to the end of his tether. "Dunno", says God, "I just fancied a Multi-Storey Carp Ark".
An 80 year old man goes to a doctor for a check-up. The doctor is amazed at his shape. "To what do you attribute your good health?" The man answered, "I'm a turkey hunter and that's why I'm in good shape. Get up before daylight, chase turkeys up and down mountains."
The doctor says, "Well, I'm sure it helps, but there have to be genetic factors. How old were you dad when he died?" "Who says my dad's dead?"
"You're 80 years old and your dad's alive? How old is he?" "Dad's 100. In fact, he turkey hunted with me this morning." "What about your dad's dad - how old was he when he died?" "Who says my grandpa's dead?"
"You're 80 years old and your grandfather's still living? How old is he?" "118." "I suppose you're going to tell me he went turkey hunting this morning?" "No. He got married."
The doctor looks at the man in amazement. "Got married? Why would a 118 year old guy want to get married?" The old-timer answers, "Who says he wanted to?"
A guy was walking down the street when he sees a woman with perfect breasts. He says to her, "Hey, miss, would you let me bite your breasts for $100?" "Are you nuts?" she replies and walks away.
He turns around, runs around the block and gets to the corner before she does. "Would you let me bite your breasts for $1,000?" he asks again. "Listen, sir, I'm not that kind of woman. Got it?"
So the guy runs around the next block and faces her again. "Would you let me bite your breasts... just once for $10,000?" So the woman thinks about this for a while and says, "Hmmmmm, $10,000?" She thinks a bit "OK, but just once, and not here. Let's go to that dark alley over there."
So they go to the alley and she takes off... her blouse to reveal the most perfect breasts in the world. As soon as the guy sees them, he jumps on them and starts caressing them, fondling them, kissing them, burying his face in them... but not biting them. Finally, the woman gets all annoyed and says, "Are you gonna bite them or what?" "Nah," he replies. "Costs too much!"
One night, a man and a woman are at a bar downing a few beers. They strike up a conversation and quickly discover that they're both doctors. After about an hour, the man says to the woman, "Hey, how about we sleep together tonight? No strings attached. It'll just be one night of fun."
The woman agrees. So they go back to her place. She goes into the bathroom and starts scrubbing up like she's about to go into the operating room.
She scrubs for a good 10-20 minutes. Finally, she goes into the bedroom and they have sex for an hour or so. Afterwards, the man says to the woman, "You're a surgeon, aren't you?" "Yeah, how did you know?" "I could tell by the way you scrubbed up before we started." "Oh, that makes sense," says the woman.
"You're an anaesthesiologist, aren't you?" "Yeah," says the man, a bit taken aback. "How did you know?." The woman answers, "I didn't feel a fucking thing!"
Sitting behind a couple of nuns at a baseball game, three men were annoyed because the nuns' habits partially blocked their view. They decided to badger the nuns in an effort to get them to move.
In a very loud voice the first guy said, "I think I'll move to Utah because there are only 100 nuns living there." The second guy spoke up and said, "I want to go to Montana because there are only 50 nuns living there." The third guy said, "I might go to Idaho because there are only 25 nuns living there."
One of the nuns turned around, and in a calm, sweet voice said, "Why don't you go to hell - there aren't any nuns living there!"
A young blonde was on vacation in the depths of Louisiana. She wanted to take home a pair of genuine alligator shoes in the worst way.... but was very reluctant to pay the high prices the local vendors were asking for the highly prized shoes. After becoming very frustrated with the "no haggle on prices" attitude of one of the shopkeepers, the blonde shouted, "Well then, maybe I'll just go out and catch my own alligator, so I can get a pair of shoes at a decent price!" The shopkeeper said with a sly, knowing smile,"Little lady, ya'll just go and give it a try, why don'cha!"
The blonde turned on her heel and headed out toward the swamps, determined to catch herself an alligator. Later in the day, as the shopkeeper is driving home, he pulls over to the side of the levee where he spots that same young woman standing waist deep in the murky bayou water, shotgun in hand. Just then, he spots a huge 9-foot gator swimming rapidly toward her. With lightning speed, she takes aim, kills the creature and, with a great deal of effort, hauls it onto the slimy swamp bank. Lying nearby were several more of the dead creatures.
The shopkeeper stands on the bank and watches this scenario in amazed silence. Just then, the blonde struggles and flips the gator on its back. Then, rolling her eyes heavenward and screaming in great frustration, she shouts out, "Damn it! This one is barefoot, too!"
An Irish girl went to London to work as a secretary and began sending home money and gifts to her parents. After a few years they asked her to come home for a visit, as her father was getting frail and elderly. She pulled up to the family home in a Rolls Royce and stepped out wearing furs and diamonds.
As she walked into the house her father said "Hmmm, they seem to be paying secretaries awfully well in London." The girl took his hands and said, "Dad, I've been meaning to tell you something for years but I didn't want to put it in a letter. I can't hide it from you any longer. I've become a prostitute."
Her father gasped, put his hand on his heart and keeled over. The doctor was called but the old man had clearly lost the will to live. He was put to bed and the priest was called. As the priest began to administer Extreme Unction, with the mother and daughter weeping and wailing, the old man muttered weakly, "I'm a goner, killed by me own daughter! Killed by the shame of what you've become!"
"Please forgive me," his daughter sobbed, "I only wanted to have nice things! I wanted to be able to send you money and the only way I could do it was by becoming a prostitute." Brushing the priest aside, the old man bolted upright in bed, smiling. "Did ye say prostitute? Bejasus... I thought ye said a PROTESTANT!!"
HOW DOES UNRESTRICTED ACCES TO 12 OF YOU FAVOURITE PORN SITES ALL FOR THE PRICE OF ONE SOUND?
TOO GOOD TO BE TRUE? NO WAY! CHECK THIS SHIT OUT @ ALLSITEACCESS.COM!
READER MAIL
TONNES of mail in the last couple of weeks and as per usual I am doing my utmost to clear it. I've also noticed that the amount if viruses landing in my inbox has dropped below a 1000 a week so happy days huh!? Anyway, if you wanna comment on something in the site, wanna send me pics of your drunk mate who vomitted on him/herself or just feel the need to expose yourself for all to see then you can drop me a line here.
MikE wrote:
Subject: In response to your video of the Lion Attack.
You are indeed correct that they are beautiful creatures. In fact I think all animals are beautiful creatures. In the past I wouldn't normally think like this but I was doing research on a school paper and that changed my mind. That video pissed me off as all fuck. WHO THE FUCK DO THEY THINK THEY ARE? Going into his domain and shooting him. I wish they would have gotten themselves killed. And what pissed me off was they were celebrating it. Stupid fucks. Give me a fucking gun and I'll let them loose and go hunt them fuckfaces. Let's see how they like it. Humans think they have this dominance over all animals. This is their fucking land too. We invavded their territory, and for that they invade ours and their naturalal instinct is to attack. So we go ahead and just kill them. Dumb ass fucking humans. I don't know the whole story of that video but fuck those people and one day I hope karma gets back at them and they get killed by a herd of lions. Now I may be a little harsh on human kind, some of us do care, but there are so many fucktards out there like this stupid group of people. Like you said I wish that lion had gotten a better attack at that guy. Like cutting his fucking throat.
ALLAN wrote:
Subject: lion video
that vid fucked me up... very sad shit. see - i own guns and i have killed. if i came across those hunters shooting that lion... they would have had a little surprise... they would have all been dead and lion food within 8 shots in 8 seconds. i think we need more people...to hunt the people...that hunt the animals.
Fenton wrote:
Subject: Lion Vid
Ive never felt so sick..................... I wish I could give those cunts a bullet from one of thier own guns. They truly give humans a bad name. How can they think they are all that?? Killing a lion with a gun. WOWWW. Such manly behaviour. I reckon thay should take it on with no weapons.............Then we will see whos the Man!.
smurfy face wrote:
Subject: Can I get a special treatment ?
Dear orsm. how do you do? I have got an awful problem prevents me from browsing your amazing site. I have a very strong proxy on my internet accounts. I think that you can help me go around this problem by sending me your page since it's published for free and that if you can send videos in .ZIP format. oach ... that will be a lot of headache for you. thanx a lot
Evan Brown wrote:
Subject: picture of me
i used sharpie

Seeing my name scrawled across some guys knob is not one of the things I aspired to when growing up... as a matter of fact it's really kinda freaky. -Orsm
<with held> wrote:
Subject: RS
Keep up the great site. Why is it that there are some boring bastards out there that have nothing better to do other than wreck the hard work you put in to make your site as good as it is. I've attached a couple of pictures you might want to use.
Lauren

wrote:

Subject: RSPCA fined

News just at hand, the RSPCA has been fined heavily for its use of slave labour at their animal refuge depot's. So much wide spread use of cheap labour has been occurring over the past 10 years that amnesty international has taken an active interest in the case and is pursuing injunctions through the United Nations.

RSPCA officials have responded saying the allegations are unfounded but our picture has the final word.

Mike McDonough

wrote:
Subject: CONCORDE'S LAST FLIGHT


The red planes are Britain's version of the Blue Angels. They are called The Red Arrows. What a fitting send off for such a fine airplane
john doe wrote:
Subject: wanker john doe.of the year
Dear Mr. Awesome, I gleefully write an entrée in the wanker of the year award.. I live in vermont, USA .. it gets very cold here in the winter. where I live is surrounded by plenty of skitrails, ski resorts and well..... sugaring/syruping attractions.. ie: COLD AS FUCK! so anyhow. I know this kid named bobby whos known for partying. we go out to a bar and live it up. I got a ride, he decides to stay, get a little more fucked up than we were already. it must be around -15degreesF .. he decides hes walking home, cant find a ride.. he walks half way, gets in some guys jeep.. hrmmm, warm? no.. its softtop.. colder than outside.. he passes out.. wakes up in hospital of hypothermia.. the people that owner the jeep woke up to go to work and found a frozen, drunk.. smelling highly of alcohol popsicle. they brought him to the emergency room and yet... its now spring.. he has a car that sat over the winter that was covered withs now to make a snowbank. hes driving it and gets pulled, no inspection, no insurance, no drivers license.. yummy... meanwhile, works 20 hours a week and only makes minimal ammount.. spends on booze... he is my friend...
David wrote:
Subject: student needs help plz :P
hey i know your busy and all and not even in america but there is a new president running this year who wants to change alot of the ways america works, i realise you get tons of email but id really like you to just post a link to his site to help get him reputation. www.darrenforpresident.com. he seems like he knows what america needs and i want to help him out, im an 18 year old guy just trying to help someone out, if you do post your great, if you dont your still great and have the best site around, anyhow, catch your next update.... david
Miss Lisa wrote:
Subject: perth, wa
Hey Mr Orsm, i live in regional Wa and its great to seee someone from the remoted part of Aus doing something fantastic. Your site kicks the shit, and im femail so that says something even better. Shit about people trashing the site, and we have to pay. so i dont reckon ill be able to access your site and stuf when that happens which sucks fat juicy cock...

just wanted to mention to you about a piss of of mine alrite...

thousands of other West Australians and myself of course are fed up. Firstly because the tour people that bring bands out send all us ppl who enquire about the rescheduling,the same generic email saying that they will try there best to bring bands (when they are ready scheduled to play in eastern states) this is what happened to BLink 182... Drummer broke his foot so they rescheduled aus tour, but what a surprise perth isnt rescheduled. well i say fuck them. There are heeps of great bands that dont come to perth such as opeth,sevendust, dillinger escape plan, sick of it all and killswitch engage. US West Aussies dont really care if the promoters Perth is a hole coz it , but the truth is we have some mighty dedicated fans and all concerts (well most) scheduled here would get maximum attendance and im sure that we'd fill all venues. We also have many suitable venues here, like Challange Stadium, Waca, Arena Joondalup and Burswood Dome incase you didnt know that. and then i get some shit via email that "We are currently trying to find a venue that is available and suitable for a Blink 182 show in Perth". I mean fucking comeon, if the stupid government bothered to keep the entertainment centre up none of this shite would be happening
Why do the promoters say that they are sorry for the inconvenience when it doesnt really bother them, and they arent going to the concert. what about the many people who bought tickets and have to get a refund. I know for a fact that most of the fellas at rockit (held march 14)wanted to see Blink. and then we get it was a festival thing, so we arent rescheduling. WHO CARES if it was a festival. WE ALL WENT TO SEE BLINK. W paid to see Blink. If blink werent scheduled not nearly as many people would of gone.
There were thousands. even more than the crowds of any other single concert. like 25000 in fact. that means lots of money for BLink 182 and those for organising for them to come out. It is out of our control what bands do. but youd think the people that organise events would TRY so hard to get bands to perth. They are letting us ALL down.
I wish they would Just think how bad it feels when YOU go to a concert and find that it is cancelled and not rescheduled. Im sure theyd be pretty pissed off. Thats how all of perth feels ALL the time. BRISBANE AND SYDNEY were rescheduled dont you think you should try your hardest to get them back to perth... Wish the promoters didnt try the sympathy (ie. sorry for the inconveinence) because they dont have a fucking clue how we feel..
Id appreciate if you post this and we can get a bit of an opinion going, coz i dunno about you but im pissed right off about all this biased eastern states shit.. Keep up the sick work mr orsm. x Miss Lisa x

Roman wrote:
Subject: Greetings from Austria!
Hi Orsm! I've been a regular to your site for over year now, and I can tell that it's definetly the best waste of time on the net I've seen so far. I've never wanted to be one of those guys who just tell you that "Your site rules, man!" without conributing something useful. well here it is: This pic was taken in Vienna, Austria a week ago. Well, to all who think that their country has the monopole for shitty truck drivers - eat this. It's all yours - I hope to see it on your next update, and NO I'm NOT one of those shitheads who tell you to hurry the fuck up. Take your time. I know it's worth the wait - at least it always was. cheers, mate!
<

with held

> wrote:
Subject: My boyfriends bitchy friend
Don't identify me please. Here are some photos of the bitch that my boyfriend is sleeping with. Found them on his digital camera. Great site you have btw.

Beej wrote:
Subject: [no subject]
Hey Orsm. Please find attached picture of me and a guy we met in Vegas in 2002. I had to admire the honesty and we slipped him a fiver for his troubles. He stank like the bottom of a yaks jock strap. All the best mate, thanks for a great site.
Majd S wrote:
Subject: ass
i m not really sure how can i add this pic to Orsm.net , but i said i ll give u this pic of a drunk bitch's ass, & maybe u can tell me if u ll add it or not.

Yep... it's a good ass. -Orsm
Buzz Ace wrote:
Subject: he's a bitch
Mr orsm site is bangen man. please post these pics on ur webpage so my boy can see how i spread his ass to the world. YO james D this is ur BOY. is Wayne Brady going to have to choke a bitch? ha ha i just wanted to see if i can put ur pics on the page for all the millions of fans to see ur ass. ORSM BITCH!
<with held> wrote:
Subject: pics
Hey - thought you might like these pics. The first one is of a crater in Southern California. The other two are what's left of a Honda Civic car door and a 90 dollar piece of beef after shooting it with a 30 caliber machine gun and assorted sub machine guns. Love the site.
gigi jojo wrote:
Subject: Some photos for turning into priceless pictures ...
Can you make a priceless picture from tis photos? is for true my ex while being my ex ... it took me a lot of time and hidding a camera on the pocket .. then went to the camp wit a lot of soda for drinking ...then out in the camp .she had to piss next to the car ...please submit this photo ! she deserves it ..i can tell you !! i send you two of the photos ...ah! priceless pics are COOL!!
Fred

wrote:

Subject: this site

Hi, just a quick note to let you know how much I enjoy your site. Here are a couple of pics my cousin sent me from a storm in New Brunswick on Canada's east coast. I will trade your weather anytime. All the best from Canada and keep up the great work.
Nic Brown wrote:
Subject: car crap
Hey wassup orsm? Nic Brown here with more car drawings for ya. I was really stoked that you put my last car drawings up for everyone to see man so i thought i would send some more for the punters. Incidentally if anyone in the Perth area or Australia for that matter is interested in contacting me about doing some drawings for them then i now run a part time illustration and design business designing project cars and show cars as well as like just car portraits and that. So get in contact with me at nbdesign AT indigo DOT net DOT au and i'd love to help you out. Cheers all, stay cool.
A man is celebrating his daughter's 18TH birthday. And is pondering "I'm so glad this is my last damn child support payment. Month after month, year after year, those... damn payments!"
So he calls his girl to come over to his house and says, "Baby, I want you to do me a favour. Take this last check to over to your mum, and tell her this is the last damn check she's going to get from me."
Later I want you to tell me the expression on her face. The girl takes the check home and the following day comes back to her Dad's house. He is anxious to hear what the bitch had to say and what she looked like, so he asked, " now what did she have to say?" His daughter says, she told me to tell you THAT YOU AIN'T MY DADDY!
WORTH A SURF
This is the section that is totally aimed at giving some of the little guy's a go... the guy poor that works his ass off in the hope that YOU, the mean surfer, will stop by and check out his shit... so go check out their shit! Anybody wanting their site linked should go here first. [Now would be a good time too because I am starting to run out of sites to link!]
Heaven 666 - Device Band - Frat Guy Antics - Rate My Pink Bits - Perth Rock City - Negative Shock - World Gallery
Dear Mum and Dad, Our scoutmaster told us to write to our parents in case you saw the flood on TV and were worried. We are OK. Only one of our tents and two sleeping bags got washed away. Luckily, none of us got drowned because we were all up on the mountain looking for Chad when it happened.
Oh, yes, please call Chad's mother and tell her he is OK. He can't write because of the cast. I got to ride in one of the search and rescue jeeps. It was neat. We never would have found him in the dark if it wasn't for the lightning. Scoutmaster Walt got mad at Chad for going on a hike alone without telling anyone. Chad said he did tell him, but it was during the fire so he probably didn't hear him.
Did you know that if you put gas on a fire, the gas can will blow up? The wet wood didn't burn, but one of the tents did. Also some of our clothes. John is going to look weird until his hair grows back.
We will be home on Saturday if Scoutmaster Walt gets the car fixed. It wasn't his fault about the wreck. The brakes worked OK when we left. Scoutmaster Walt said that a car that old you have to expect something to break down; that's probably why he can't get insurance. We think it's a neat car. He doesn't care if we get it dirty, and if it's hot, sometimes he lets us ride on the fenders.
It gets pretty hot with 10 people in a car. He let us take turns riding in the trailer until the highway patrolman stopped and talked to us. Scoutmaster Walt is a neat guy. Don't worry, he is a good driver. In fact, he is teaching Terry how to drive on the mountain roads where there isn't any traffic. All we ever see up here is logging trucks.
This morning, all of the guys were diving off the rocks and swimming out in the lake. Scoutmaster Walt wouldn't let me because I can't swim, and Chad was afraid he would sink because of his cast, so he let us take the canoe across the lake. It was great. You can still see some of the trees under the water from the flood.
Scoutmaster Walt isn't crabby like some scoutmasters. He didn't even get mad about the lifejackets. He has to spend a lot of the time working on the car so we are trying not to cause him any trouble.
Guess what? We have all passed our first aid merit badges. When Dave dove in the lake and cut his arm, we got to see how a tourniquet works. Wade and I threw up, but Scoutmaster Walt said it probably was just food poisoning from the leftover chicken. He said they got sick that way with food they ate in prison. I'm so glad he got out and became our scoutmaster. He said he sure figured out how to get things done better while he was doing his time. By the way, what is a pedophile?
I have to go now. We are going to town to mail our letters and buy bullets. Don't worry about anything. We are fine.
Love, Ring Monkey
P.S. How long has it been since I had a tetanus shot?
One day, Jimmy Joe was walking down Main Street when he saw his buddy Bubba driving a brand new pickup. Bubba pulled up to him with a wide grin. "Bubba, where'd you get that truck?!?" "Bobby Sue gave it to me" Bubba replied.
"She gave it to you? I knew she was kinda sweet on ya, but a new truck?" "Well, Jimmy Joe, let me tell you what happened. We were driving out on County Road 6, in the middle of nowhere. Bobby Sue pulled off the road, put the truck in 4-wheel drive, and headed into the woods. She parked the truck, got out, threw off all her clothes and said, 'Bubba, take whatever you want' so I took the truck!"
"Bubba, you're a smart man!. Them clothes woulda never fit you!"
On July 20, 1969, as commander of the Apollo 11 lunar module, NeilArmstrong was the first person to set foot on the moon. His first words after stepping on the moon, "that's one small step for man, one giant leap for mankind," were televised to earth and heard by millions the world over.
But just before he re-entered the Lander, he made the enigmatic remark: "Good luck, Mr. Gorsky."
Many people at NASA though it was a casual remark concerning some rival soviet cosmonaut. However, upon checking, there was no Gorsky in either the Russian or American space programs.
Over the years many people questioned Armstrong as to what the "good luck, Mr. Gorsky... Statement meant, but Armstrong always just smiled.
On July 5, 1995,in Tampa Bay, Florida, while answering questions following a speech, a reporter brought up the 26-year-old question to Armstrong. This time he finally responded.
Mr. Gorsky had died, so Neil Armstrong felt he could answer the question. In 1938 when he was a kid in a small midwest town, he was playing baseball with a friend in the backyard.
His friend hit the ball, which landed in his neighbour's yard by the bedroom window. His neighbours were Mr. And Mrs. Gorsky. As he leaned down to pick up the ball, young Armstrong heard Mrs. Gorsky shouting at Mr. Gorsky: "SEX! YOU WANT SEX?! YOU'LL GET SEX WHEN THE KID NEXT DOOR WALKS ON THE MOON!"
One evening, in the midst of dinner preparation, our 10-year-old daughter asked, "Mommy, what's puberty?" My wife was rushed at the moment, so she suggested that Peggy look up the word in the dictionary, after which they could talk about it.
A few minutes later, Peggy returned. Her mother asked what the dictionary had said. "Puberty means," announced Peggy, "the earliest age at which a girl is able to bear children." "What do you think of that?" my wife asked. "I'm not sure," Peggy relied. "I've always been able to bear children. It's adults I can't bear."
Marty wakes up at home with a huge hangover. He forces himself to open his eyes, and the first thing he sees is a couple of aspirins and a glass of water on the side table. He sits down and sees his clothing in front of him, all clean and pressed.

Marty looks around the room and sees that it is in perfect order, spotless, clean. So is the rest of the house. He takes the aspirins and notices a note on the table "Honey, breakfast is on the stove. I left early to go shopping. Love you." So he goes to the kitchen and sure enough there is a hot breakfast and the morning newspaper. His son is also at the table, eating.
Marty asks, "Son, what happened last night?" His son says, "Well, you came home after 3 A.M., drunk and delirious. You broke some furniture, puked in the hallway, and gave yourself a black eye when you stumbled into the door."

Confused, Marty asks, "So, why is everything in order and so clean, and breakfast is on the table waiting for me?" His son replies, "Oh that! Mom dragged you to the bedroom, and when she tried to take your pants off, you said, "Lady, leave me alone, I'm married!"
My great-uncle came to town and insisted on taking the entire family out to eat. We ended up at an Italian place that could spare a room at the last minute. He was seated at the head of the table with his perfectly coiffed wife of 56 years to his right. The waitress stood over him as he looked at the menu.
"Would you like to try our boiled octopus?" she asked with her pen ready. "No," he grunted. "I don't eat any kind of 'puss'." I burst into laughter. His wife looked at me. "Well it's true," she frowned. "He doesn't."
Three men who were lost in the forest were captured by cannibals. The cannibal king told the prisoners that they could live if they pass a trial. The first step of the trial was to go to the forest and get ten pieces of the same kind of fruit. So all three men went separate ways to gather fruits.
The first one came back and said to the king, "I brought ten apples." The king then explained the trial to him. "You have to shove the fruits up your butt without any expression on your face or you'll be eaten."
The first apple went in... but on the second one he winced out in pain, so he was killed.
The second one arrived and showed the king ten berries. When the king explained the trial to him he thought to himself that this should be easy. 1...2...3...4...5...6...7...8... and on the ninth berry he burst out in laughter and was killed.
The first guy and the second guy met in heaven. The first one asked, "Why did you laugh, you almost got away with it?" The second one replied, "I couldn't help it, as soon as I saw the third guy coming with pineapples..."
A lawyer was visiting Bangkok. He went to the most exclusive Escort Agency and asked if he could take Sue-Lin to dinner. "Yes", said the Madam. It will cost you $100 for Sue-Lin's company. No sex. And she must be back here at 12 p.m."
Sue-Lin was the most stunningly beautiful Eurasian creature the lawyer had ever seen. She was delicate, and statuesque with the perfect trim figure. He wined her and dined her, but before returning her home, he gave her $1,000. "This is a gift", he said. Sue-Lin eyes widened and she told him that he was a wonderful and generous man, and she slipped her hand inside his pants and gave him the best hand-job he had ever experienced.
Before she left him, he said "Will you have dinner with me again tomorrow night?" "Oh yes, most certainly", she replied." I will cancel all my previous engagements."
The next night, the lawyer wined and dined Sue-Lin again. He could not get over her beauty, and at the end of the evening, gave her another $1,000 and said, "Sue-Lin, this is a gift just for you."
Sue-Lin was overcome with gratitude and had a tear in her eye. "You are the most generous person I have ever met", she said and she lent over and gave him the most amazing blow-job he had ever experienced.
Before she left him he asked "Sue-lin, would you come to dinner with me again tomorrow night?" "Of course I will!", said Sue-Lin. "I will do anything for such a kind, generous man."
So he wined and dined Sue-Lin again, and this time he invited her back to her apartment, where he gave her another $1,000. This truly overwhelmed Sue-Lin. She quickly undressed and fell into the lawyer's arms on the bed, where they made wild, passionate love until five in the morning in ways he did not know even existed. Then the lawyer told Sue-Lin that he had to leave as he was catching a plane for Sydney at seven o'clock that morning.
"Sydney!", said Sue-Lin. "You didn't tell me you came from Sydney! I have a sister who lives in Sydney!" "Yes, I know", said the lawyer. "She is the one who sent you the $3,000."
It took me bloody hours to get the RS section done for this update - I combed through thousands of pics, ended up with several hundred on the short list and eventually managed to get it down to what you we have here. Please enjoy...

RS - RS - RS - RS - RS - RS - RS - RS - RS - RS - RS - RS - RS - RS - RS - RS

RS - RS - RS - RS - RS - RS - RS - RS - RS - RS - RS - RS - RS - RS - RS - RS
A circus owner runs an ad for a lion tamer and two people show up. One is a good-looking older man and the other is a gorgeous blonde. The circus owner tells them, "I'm not going to sugar coat it. This is one ferocious lion. He ate my last tamer so you guys better be good or you're history. Here's your equipment - chair, whip and a gun. Who wants to try out first?"
The girl says, "I'll go first." She walks past the chair, the whip and the gun and steps right into the lion's cage. The lion starts to snarl and pant and begins to charge her. About half way there, she throws open her coat revealing her naked body. The lion stops dead in his tracks, crawls up to her and starts licking her feet and ankles. He continues to lick her entire body and then rests his head at her feet.
The circus owner's mouth is on the floor. He says, "I've never seen a display like that in my life." He then turns to the older man and asks, "Can you top that?" The older man replies, "No problem, just get that lion out of the way."
In the nursing home Ethel loved to speed in her wheelchair and charge around the nursing home, taking corners on one wheel and getting up to maximum speed on the long corridors. Because the poor woman was one sandwich short of a picnic, the other residents tolerated her, and some of the males actually joined in.
One day, Ethel was speeding up one corridor when a door opened and Kooky Clarence stepped out with his arm outstretched. "STOP!" he shouted in a firm voice. "Have you got a licence for that thing?" Ethel fished around in her handbag and pulled out a Kit Kat wrapper and held it up to him. "OK" he said, and away Ethel sped down the hall.
As she took the corner near the TV lounge on one wheel, Weird Harold popped out in front of her and shouted, "STOP! Have you got proof of insurance?"
Ethel dug into her handbag, pulled out a drink coaster and held it up to him. Harold nodded and said, "Carry on, ma'am."
As Ethel neared the final corridor before the front door, Crazy Craig stepped out in front of her, stark naked, holding a very sizeable erection in his hand. "Oh, good grief," said Ethel, "Not the breathalyser again!"
A very attractive lady goes up to a bar in a quiet, rural pub. She gestures alluringly to the bartender who comes over immediately. When he arrives, she seductively signals that he should bring his face closer to hers. When he does she begins to gently caress his full beard.
Are you the manager?" she asks, softly stroking his face with both hands. Actually, no," the man replied. "Can you get him for me? I need to speak to him" she says, running her hands beyond his beard and into his hair.
"I'm afraid I can't," breathes the bartender. "Is there anything I can do?" "Yes, there is. I need you to give him a message," she continues, running her forefinger across the bartender's lips and slyly popping a couple of her fingers into his mouth and allowing him to suck them gently.
"What should I tell him?" the bartender manages to say. "Tell him," she whispers "there is no toilet paper, hand soap, or paper towels in the women's bathroom...."
Well folks that about rounds out this update and I hope you enjoyed it because more blood sweat and tears than you could possibly ever know went into putting the fucker together... well okay... maybe I am SLIGHTLY exagerating but I was forced to go on a speed bender for 5 days straight to get it all done. Fingers crossed that the resulting paranoia pertaining to a rather scary 'boogy man' hunting me down will be gone after a nice long sleep. I'm sure I will find out in the morning but if this is the last update I ever post you'll know that he is real...
Anyway until next time be good, stay off the chem's and for god's sake make my god damn day and give a little would ya!? Enjoy. Mr. Orsm.